A difficult result to take; a difficult game to establish thoughts and feelings about. Danny Gallagher assesses Liverpool's latest European trip.
This game we love is one defined by moments and fine margins.
It's a Mohamed Salah snap-shot against the post. A James Milner effort curled straight at the 'keeper.
A Lionel Messi freekick from another realm.
We leave Barcelona knowing what we always knew. What we've known all season. Liverpool are a bloody good footballing side, and gave the self-styled artists of European football a run for their money in their own back yard.
A 3-0 scoreline wasn't befitting of the Reds' performance, but the time to lick wounds is not now.
Travelling support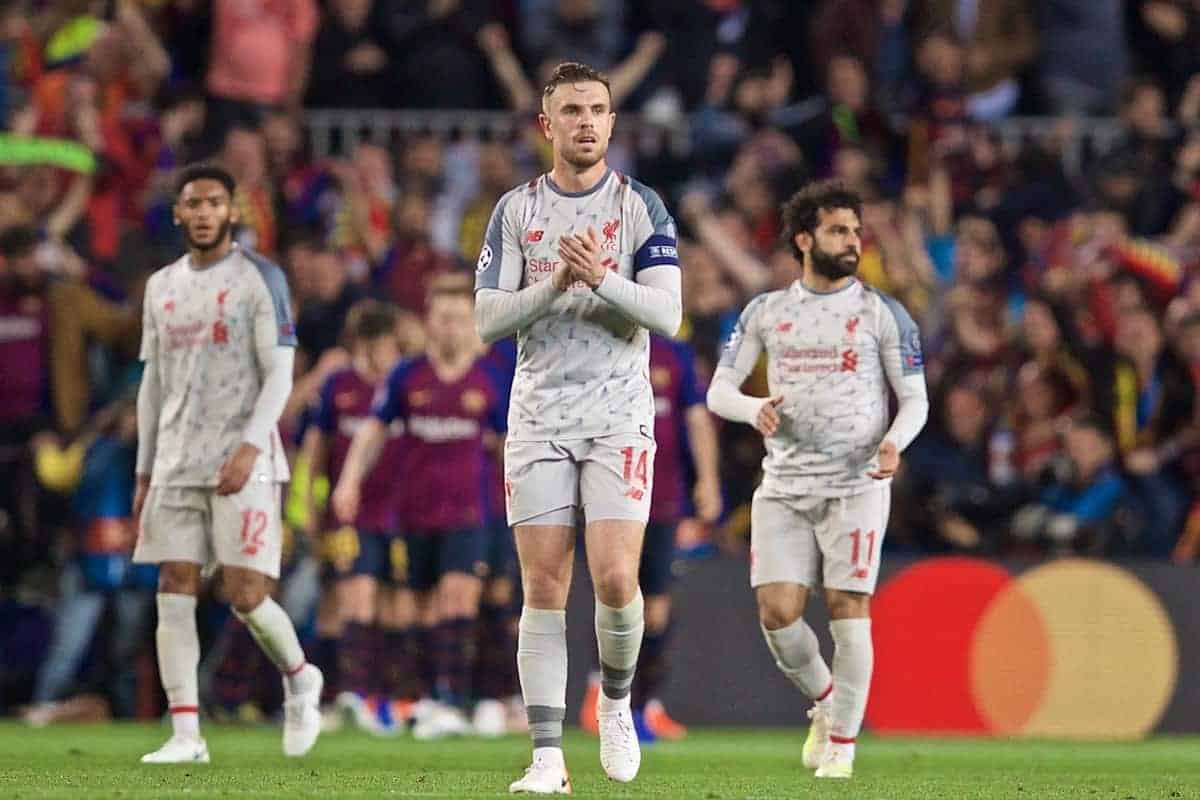 Cooped up in the attic of the Camp Nou, the travelling Kop bristled with energy and anticipation ahead of kick-off, as they had done in the days leading up to the tie.
For 48 hours the famous alleyways of Las Ramblas were streaked various shades of red. Locals aiming to make a quick profit, selling beers by the single tin, were treated to impromptu lessons in Scouse.
Barcelona embraced Liverpool and Liverpool embraced Barcelona, save for a few idiots and the fountain debacle which places a blot against the club's name, yet should not tarnish a fanbase who remain one of the most respectful and well-travelled in Champions League history.
As Plaça Reial, in the city's old gothic quarter, accommodated more and more Reds, the realisation of the occasion began to kick in for many.
Stage. Set. #LFC pic.twitter.com/yz3pVUtzPc

— Danny Gallagher (@Danny7Gallagher) May 1, 2019
This was Liverpool, immediately back in the Champions League semi-finals like absolute business as usual. Many neutrals even had Jurgen Klopp's men as narrow favourites heading into the opening clash.
The dry, midday Catalonian air was soon dashed in a thick, vivid glow as a flare dispersed a cloud of red mist.
Beneath, a group of young Reds ignited the chant of Virgil van Dijk, reverberating around all four walls a tribute to Liverpool's Dutch colossus.
Smiles from ear to ear kind of stuff. Perhaps barely old enough to fully recollect Istanbul, yet relishing the new era.
That's what this Liverpool is now about. The past is very much the present, the Reds are going places. Whether the first leg has put an end to this season's European dreams or not.
Game time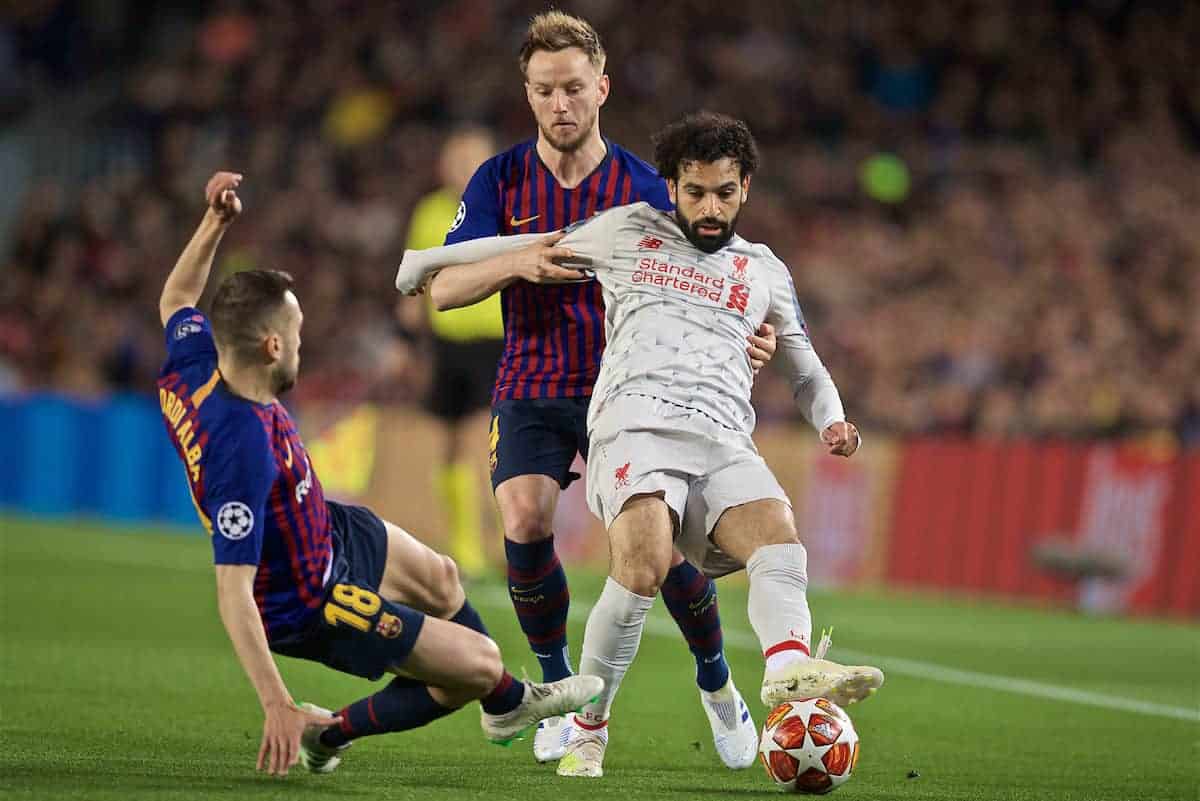 As the Camp Nou broke into its own rendition of Allez, Allez, Allez, so too did the travelling Reds—picking up once the Catalans had finished what felt like manufactured verse. Scouser Tommy soon followed, bleeding authenticity.
The home faithful soon became too preoccupied with whistling at the Champions League anthem, drowning out the notes with any form of high-pitched offering.
This felt like a business empire taking on the passion of old school football. On this occasion, the Reds came out second best. And, sometimes, you just have to hold your hands up.
The part which grates is the fact Liverpool didn't even play badly. They put in a shift, and every man fancied it.
Joel Matip couldn't get in the team last season, but went in on the mercurial Lionel Messi like his life depended on it. Limbs everywhere, reading the game like a veteran, time and time again.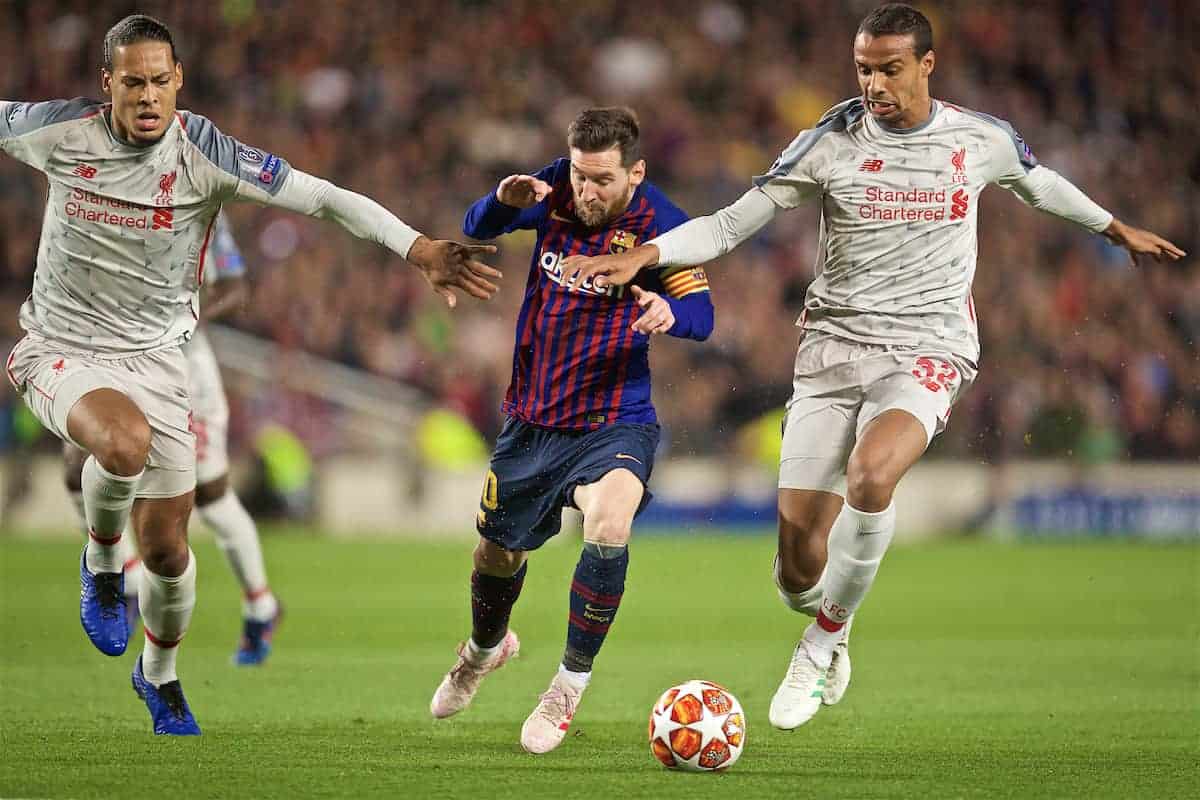 By his side, Andy Robertson continued to bomb down the illuminated flank unfazed. The eyes of thousands burning into the side of his head. An £8 million man from Hull, taking to Barca's backyard in a complete state of fearlessness.
Belief never left those travelling Reds as the goals started to trickle in. "Why did he celebrate?" one youngster asked his old man as Luis Suarez came back to haunt the Reds.
There was, of course, no answer. No answer to that question, but an immediate answer from the upper tier of perhaps Europe's finest ground. The away contingent never failed to give it some, but there's only so much a handful can do inside a cauldron of a stadium which hosts near 100,000.
And then there was Messi. In and out of the game, flashes of brilliance stitched into barren periods.
He was tackled, again and again. The greatest of all time knew what he was up against, but then comes those game-defining moments.
Looking forward, looking onward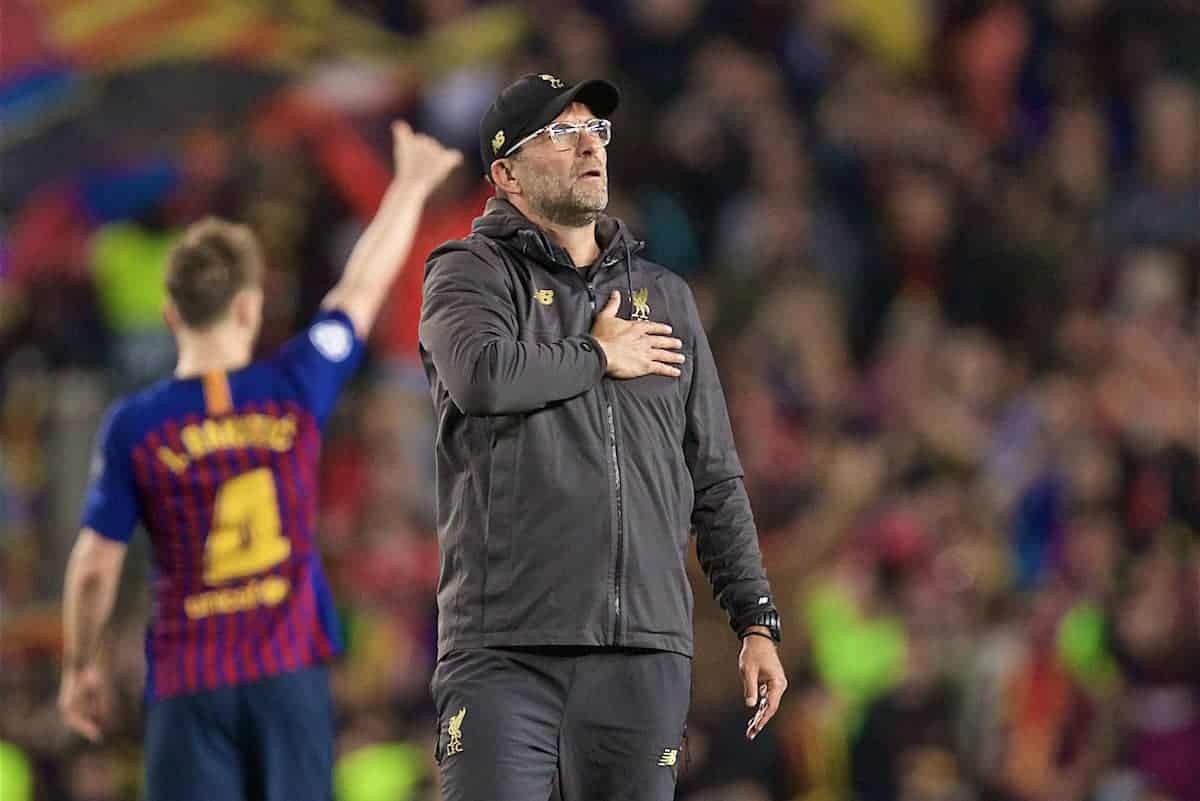 After being held back, Reds poured out of the stadium unsure what to think, unsure how to feel. It's not over, and it can't be seen as such. An early goal at Anfield is, however, most certainly needed.
Liverpool aren't just visiting the top table, they now dine there with a personalised place holder. Klopp's reign was built on turning doubters into believers.
Now the world doubts, and now the Reds must believe like never before. Anfield has to pull something special out of the bag which will be talked about throughout the ages.
There again, if somebody asked me to put forward any team in Europe which could beat Barcelona 3-0 at home…I know who I'd pick.