The media thought Liverpool were taught a lesson for poor finishing by a sensational Lionel Messi display in the first-leg 3-0 loss to Barcelona.
Champions League dreams are all but over after the Reds were punished for a lack of ruthlessness in front of goal.
Luis Suarez's first-half opener and a second-half Messi brace inflicted brutal damage at Camp Nou to leave Jurgen Klopp's side on the brink of elimination.
The scoreline doesn't tell the full story of a night that saw Liverpool play very well for large parts, but the Reds paid the price for passing up countless opportunities.
It's difficult to see a route back and here is how the media assessed the harsh defeat.
The media had praise for the performance but thought Liverpool were taught a harsh lesson…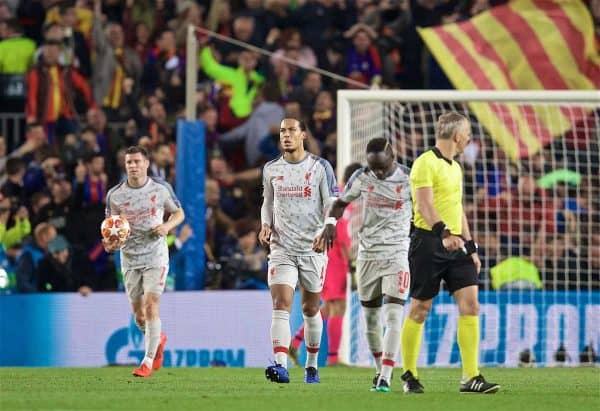 The Liverpool Echo's Ian Doyle felt that a 3-0 loss was completely undeserved and admired the Reds for playing with such confidence on the top stage:
And for that they merited much more than this deflating, demoralising and most likely decisive defeat.

[…]

Klopp's men took the game to Barcelona, dominated for large periods and played with the confidence needed on such occasions.
The BBC's Saj Chowdhury thought the performance was impressive and thought Klopp could ask for no more from his players:
What more could Klopp ask of his men in the second leg on Tuesday after a display where they constantly probed and pressured the competition favourites?

Maybe some luck could have gone their way.
ESPN's Dave Usher thought the courage of the performance showed how far Liverpool have come:
Not many sides will go to Camp Nou and take the game to Barcelona as impressively as Liverpool did.

That's a sign of the progress made by the Reds in the last couple of years, but successful sides score when they need to and Liverpool did not take their chances here.
Meanwhile, the Guardian's Daniel Taylor felt Klopp's side were taught a brutal lesson in the ruthlessness needed to compete at the very top of European competition:
For Liverpool, it was a harsh reminder about the realities of the Champions League at its highest level.

[…]

At this stage, however, the teams that generally succeed are the ones with the clinical edge.
The Independent's Miguel Delaney assessed that there is no shame in the loss but thought it showed that Liverpool are still short of the required quality:
Liverpool didn't really deserve that kind of defeat and certainly shouldn't take much shame in it, but that's also the real point.

This is what this level is all about. This is what winning prizes and reaching the end line rather than just going the distance is all about.
Also writing for the Independent, Simon Hughes thought the Reds were given a taste of their own medicine, being picked off as a result of their own ambition:
Yet Liverpool have meted out similar lashings on opponents who have come at them, like they did at Barcelona so they appreciated the associated risks, surely.
The watching journalists noted how several fine margins went against Liverpool on the night…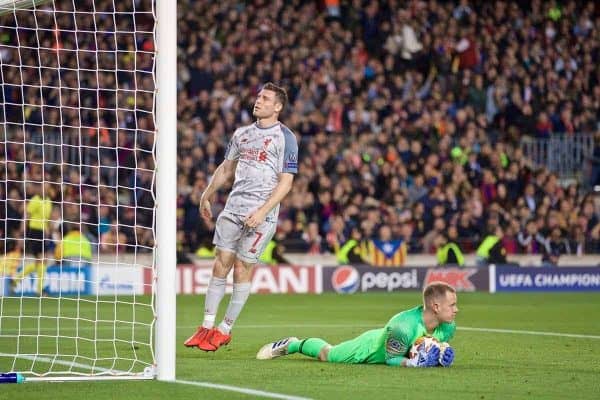 The Mail's Martin Samuel thought the loss of Roberto Firmino was a killer blow as the Reds lose so much without the unique Brazilian:
Firmino was a huge loss for Liverpool and Georginio Wijnaldum in his place only served to enhance admiration for the skill levels of elite forwards.
Standard Sport's David Lynch thought that experiment with Gini Wijnaldum in Firmino's role didn't work badly, but assessed the Dutchman's lack of striking instinct as a big issue:
To be fair to the flexible Dutchman, he showed some excellent touches at times to bring others into play, as the Reds' usual line-leader so often does.

Unfortunately, he lacks that striker's knack of getting quick shots off, and so Barca were able to manage his threat in the box while keeping an eye on Mohamed Salah and Sadio Mane.
The Mirror's Matt Maltby bemoaned Liverpool's bad luck in losing Naby Keita to injury, and noted how the Reds weren't the same force after the Guinean's withdrawal:
Henderson is undoubtedly a talented midfielder, but Keita's departure appeared to hit Liverpool hard – and moments later they were behind.
The Independent's Mark Critchley felt the defeat was slightly self-inflicted by a "curious" team selection from Klopp:
Jurgen Klopp has very few on his too, but the curious line-up he selected for this defeat may go down as one of them unless Liverpool can turn the deficit around.
Pondering Liverpool's struggles on the biggest occasions, Lynch thinks it's more than just bad luck costing the Reds, with a lack of top-level quality being the bigger issue:
However, it is telling that Jurgen Klopp's side so often find themselves on the wrong side of that shakedown in big moments such as these.

As they lurch toward the end of another season contemplating the possibility of zero trophies being added to the Anfield cabinet, they might need to wonder whether there is more to this than 'the narrative' conspiring against them.
Reporters were sympathetic to Klopp's side for being on the receiving end of some magic from Messi…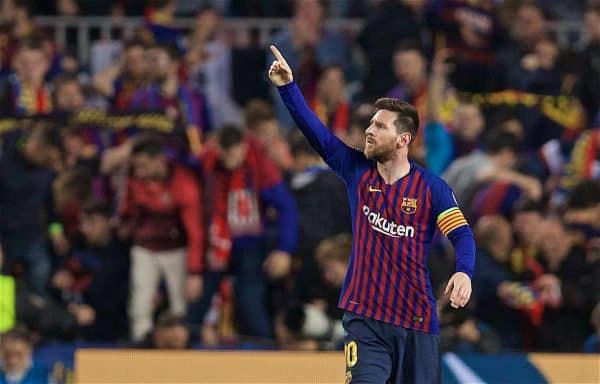 First off, ESPN's Mark Ogden explained how some rough treatment dished out to Messi provoked him into delivering an unstoppable performance:
The best way to deal with Lionel Messi is to treat him like football's version of The Incredible Hulk: Don't make him angry and you might just be spared an ordeal of pain and humiliation.
Writing for Goal.com, Neil Jones said Messi's brilliance was a brutal demonstration of the quality needed to triumph in European football's elite competition:
His 30-yard free-kick was a work of art, speared into Alisson Becker's top right-hand corner with otherworldly brilliance. It may have broken Liverpool's resistance once and for all.

This is the reality of this level, a level that Klopp's side showed they belonged at for 75 minutes.
Rik Sharma, also writing for Goal.com, explained how performance level is irrelevant for Barcelona because of Messi's unique ability:
Barcelona's Champions League gameplan stems from the fact that with their captain up front, they can play worse than their opponents and still win, Messi essentially serving as their rip-cord.
Such was the brilliance of Messi's performance Liverpool can only take the game as another developmental step, according to Delaney:
This should be another part of the team's education rather than anything to get too deflated about, since Messi delivered yet another footballing lesson.
Surprisingly, the watching journalists think the tie isn't over just yet…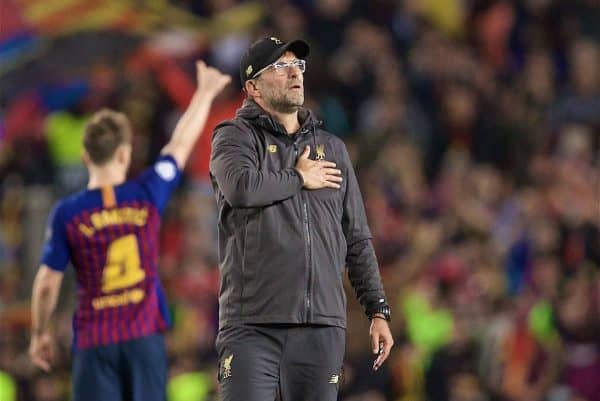 The Liverpool Echo's James Pearce thinks the manner of the defeat means the Reds simply have to move on and bounce back positively:
For Klopp, the most pressing challenge will be to ensure that the hurt from this punishing setback doesn't linger. The Reds simply don't have time to feel sorry for themselves.

[…]

There's too much still at stake for any hint of negativity to creep in. Liverpool have showcased their powers of recovery at times this season and they need to do it again.
Lynch thinks if Klopp's side can score early and the first of the night at Anfield then Barcelona could wobble:
The tie might be all but over for most, but the Anfield crowd are among the minority who will believe in their team's chances.There is no place quite like the Reds' home ground on European nights, and the supporters' task for the second leg could not be clearer.

[…]

An early goal would certainly light the blue touch paper and who knows how Barca might react?
Taylor believes Liverpool can take hope from Barcelona's reliance on Messi as well as from their own attacking performance – minus the finishing:
More than anything, Liverpool will have to cling to the hope that Messi can somehow be restrained. At times Barça's plan seemed to revolve around nothing more than getting the ball to him, sometimes even when he was not the best option for the pass, and hoping he would be able to weave past however many defenders stood in his route.

[…]

At the same time, Liverpool will have to recall the occasions when they showed they were capable of inflicting damage of their own.
And discussing what Liverpool can do differently in the second-leg, Taylor thinks Klopp has to start Trent Alexander-Arnold over Joe Gomez for greater attacking threat:
Presumably, Klopp will decide to recall Trent Alexander-Arnold for the second leg.

[…]

Gomez acquitted himself well but Alexander-Arnold would be a more attacking option.
Finally, Jones thinks that if Liverpool can pull off a miraculous comeback in the second-leg it would even top Istanbul:
This club has produced some of the greatest fightbacks in footballing history, so writing them off is never advisable.

If they turn this one around, though, it will top them all.