Jurgen Klopp has called for his Liverpool side to "celebrate the situation with good football" as they embrace the challenge ahead against Barcelona at Anfield.
The Reds face a daunting task on Tuesday night as they look to turn around a 3-0 deficit and book their place in the final of the Champions League.
Luis Suarez's opener and a brace from Lionel Messi gave Barcelona an undeserved scoreline at the Nou Camp, given how impressively Liverpool played, and now Klopp's side have it all to do on home soil.
Speaking at his pre-match press conference on Monday afternoon, the manager acknowledged the difficulty in progressing to the showpiece clash at the Wanda Metropolitano.
But Klopp still took an emphatic approach, calling for a "celebration" from both players and supporters in what could be "the last Champions League game of the campaign."
"To delete the word 'almost' is the plan," he said, when asked how he would approach the game based on an "almost perfect" performance in Catalonia.
"It looks like you have to be perfect, we should try that. That's all, doing it step by step.
"Creating an atmosphere, using an atmosphere, celebrating the situation with good football.
"It should be a football party, we don't drink during the game so we should celebrate it with football.
"It's possible it will be the last Champions League game of the campaign, so let's celebrate it, with our legs, our lungs, good decisions, sensational atmosphere.
"Then we will see what the outcome is."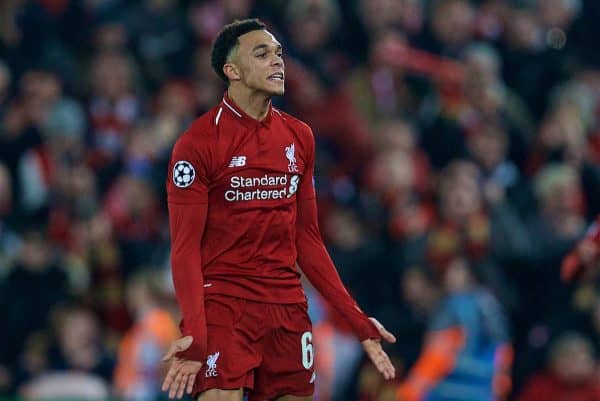 Speaking after Klopp, Trent Alexander-Arnold was asked to reflect on his manager's comments, and particularly in the context of the 4-3 win over Borussia Dortmund in 2016—a game he watched from the stands.
"I was here as a fan. Like you said it was one of those special nights, one that you won't forget," he explained.
"You always remember where you are when those types of things happen.
"It's important for us to give that belief, I'm sure the fans believe we have it in us.
"Obviously, realistically it's a really uphill battle for us, but I think it's important to have that belief as well.
"There's a slim possibility, but the possibility is still there.
"As a team we've got to go out there and be fearless and to not hold back at all, that's the only way we get the result.
"If we get caught up with thinking about the players they've got and fearing them, holding players back, it's not going to work for us.
"It's about all getting involved and scoring as many goals as possible."