Liverpool have been allocated 16,613 tickets for the Champions League final at the Wanda Metropolitano Stadium in Madrid on June 1.
More than 50,000 fans saw the Reds book their place in the final courtesy of a dramatic and incredible 4-0 win over Barcelona at Anfield, in the semi-final second leg.
But with Atletico Madrid's stadium of just over 67,500, and only just over 16,600 of the available tickets going to the Reds, supporters face an anxious wait to claim their seat for the final.
The Reds will find out on Wednesday night whether they will face Ajax or Tottenham in the final.
Ticket prices have also been announced by Liverpool, split into several categories.
Category 1: £513 (£410 restricted view)
Category 2: £385 (£308 restricted view)
Category 3: £154 (£120 restricted view)
Category 4: £60
Quite how or why there are 'restricted view' seats in a brand new stadium which only opened in 2017, is baffling.
Liverpool have confirmed they also have a "further allocation of 300 top category seats that, in line with UEFA guidelines, will be used as part of the players' allocation, the club's UEFA Youth League team's players and staff, travelling club staff, and VIPs."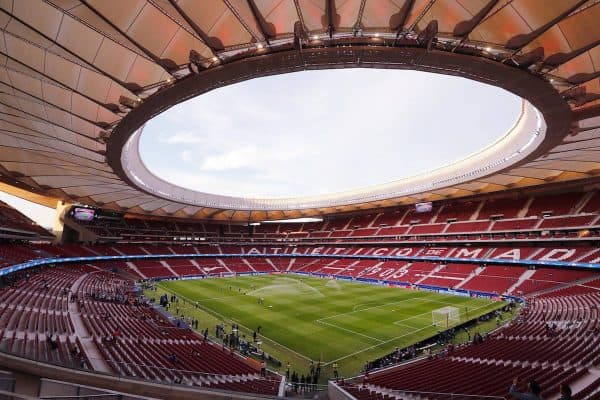 There are also limited disabled access tickets available within the allocation, with the club stating "UEFA has provided an allocation of 31 pairs of wheelchair and personal assistant tickets, and 25 pairs of easy access tickets, priced at £60 per pair."
There will be a priority right holders sale from 9.15am on Tuesday May 14 and Season ticket holders, Members and fan card holders with seven or more Champions League games recorded will be able to purchase tickets from 8.15am on Wednesday May 15 until 8am on Thursday May 16.
LFC say all fans eligible to purchase under these requirements are guaranteed a ticket.
For the remaining fans, those who have six Champions League matches from this season can be entered into a ballot on the following dates:
Adult/junior combined – (one adult and one junior only) from 9am on Thursday May 9 until 8am on Friday May 10
Adult disabled – from 9am on Thursday May 9 until 8am on Friday May 10
Adult only – from 9am on Friday May 10 until 8am on Monday May 13
In addition, for those unable to get a ticket, it has been reported that Liverpool will not be able to have large screens set up at Anfield as they did last year, due to concerts being held at the stadium this summer. This is yet to be confirmed either way by the club.