Jurgen Klopp has repeatedly spoken about this Liverpool squad wanting to write their own history, this Saturday they have the opportunity to do just that – and live in the memories of Reds fans forever.
I'M not sure when the Google Maps Street View car is next due to take updated photos in Liverpool – if only there was a search engine containing such information – but I hope it was here this week.
 
There's hardly a street left in the city that doesn't have at least one house bedecked in Liverpool flags, banners, posters, scarves or giant cardboard cut-outs of Virgil van Dijk and Mo Salah ahead of the Champions League final. And that's just the homes that haven't gone over the top.
 
I swear the telephone wires have been replaced by red and white bunting on some roads. I've seen giant flagpoles, more commonly found on town halls, standing in gardens with fully-raised Allez Allez Allez flags fluttering above them and come Saturday night I wouldn't be surprised if there are houses with roof tiles painted in red and white ala those chequered flags in 1977.
 
Can you imagine the fume amongst the Blues, those loyal Manchester Hotspursalona supporters, if the Street View car was touring the city now to ensure the current scenes are on Google Maps for years to come? They'd have to move to the blue moon instead of just singing about it.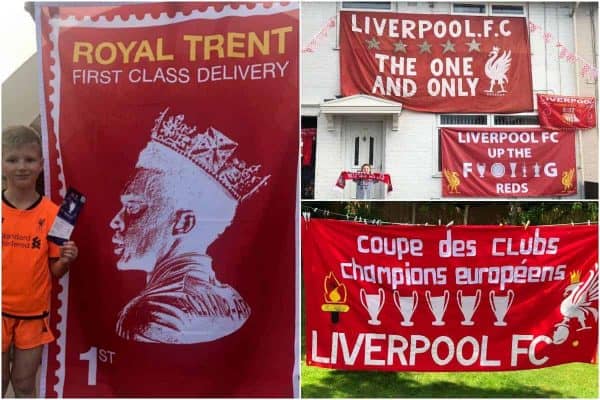 Such a striking show of support, as there was for Kyiv, around the city (and also in other areas) is a visible reminder of just what the European Cup means to Liverpudlians. We have an affinity for that trophy like no other. To paraphrase a club slogan, it means more, something that is blatantly obvious on European nights at Anfield.
 
Our desperation to win the league title is palpable, but during the last two seasons, in which the Redmen have been unbeaten at home in the Premier League, the three best atmospheres were against Barcelona, Manchester City and Roma – in that order – in the Champions League.
 
If This is Anfield ran a 'would you rather win the Premier League or Champions  League' poll I'm confident 'Premier League' would get the most votes due to the fact that we've not been champions for so long, yet when big home games come around in both competitions the atmosphere is always better in Europe. Actions speak louder than words.
 
It says a lot about the Scouse psyche, the mentality of being different and being proud of it. There was a willingness to embrace European competition right from that very first European Cup game against KR Reykjavik in 1964 and since then Kopites have used LFC's European adventures to shout about our team, our city and our people. And pick up boss trabs.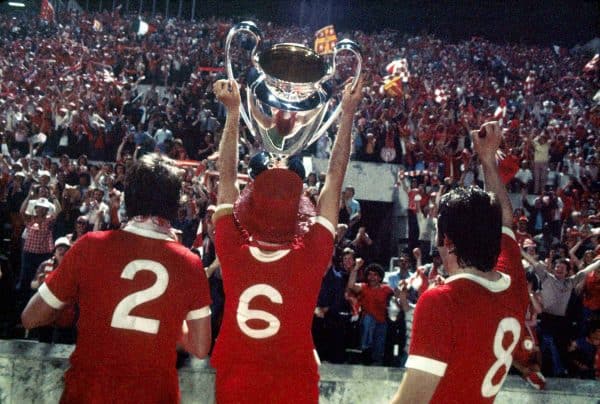 Anfield's greatest nights? All in Europe.
LFC supporters' most famous banners? All about Europe.
The opening line from our best team (not player) song in the last decade or so? 'We've conquered all of Europe'.
We didn't even have a song to celebrate having more league titles than any other club between 1976 and 2011, despite being immensely proud of it.
 
Being kings of England is great, but being kings of Europe is better. That's why there are so many memories and stories about Rome '84, but hardly any of Notts County '84 – an almost forgotten day when Joe Fagan's Reds pipped Manchester United to the league title with a 0-0 draw at Meadow Lane.
 
I mention 1984, Liverpool's treble season (the first treble won by any English club), because that was also the year when Tottenham won their most recent European trophy, the UEFA Cup. With a London team having already lifted the UEFA Cup in front of their 68 travelling fans in Baku this week, here's hoping 1984 repeats itself and the European Cup returns to Merseyside.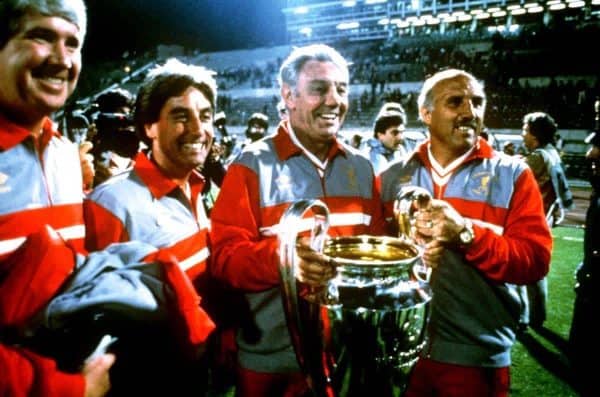 Spurs fans think it must be their year given the dramatic way they have reached the final for the first time in their history, but Liverpool supporters believe ol' Big Ears belongs at Anfield. Our name has already been on that big silver cup five times and when we won it in Istanbul it was for keeps.
 
To make it six the players will have to earn it.
Spurs have arguably been the best team to come to Anfield for the last two seasons with both contests settled with stoppage-time goals, but having attended Liverpool's Champions League final media day at Melwood this week I've got no doubts whatsoever that Jurgen Klopp's players are ready to go one better than they did in Kiev.
 
There was a business-like confidence about the players. An assured focus, a steely belief. The 7-a-side training games Klopp and Pep Lijnders – who ran the hour-long session that we were able to watch – put on were hugely competitive with sharp passing, good finishing and plenty of banter, not least from Andy Robertson who has the voice of a future Liverpool captain. We're also taking a goalkeeper with us this year.

 
They all know what they're playing for in Madrid. Not just a Champions League winners' medal, but genuine legendary status. They know how much our five European Cup winning teams are revered by Liverpool supporters, they know they will gain eternal acclaim if they can follow in the same bootprints at Estadio Metropolitano. They want that feeling.
 
They are one game of football away from being champions of Europe, from winning a sixth European Cup for Liverpool Football Club. They know our history. Now it's their turn to make it.
---
 
* Chris McLoughlin writes for This Is Anfield each week; he's also senior writer for the Official LFC Matchday Programme and LFC Magazine, both available here.