Immediately after Man City's 6-0 victory over Watford in the FA Cup final, a Man City fan found himself in the Wembley press box ranting about Mohamed Salah.
City secured a remarkable treble on Saturday evening when they steamrolled past the Hornets in a manner that highlights the gulf in wealth among English sides.
While Watford are far from destitute, their squad has been assembled on a significantly smaller budget than Pep Guardiola's—and, in turn, Jurgen Klopp's too.
In the buildup to the final, Guardiola took exception to a perceived imbalance in the media's perception of Liverpool and City's achievements, claiming a bias against his side.
"If Liverpool had won the Premier League it would have been an 'incredible' achievement. When City win it is, 'oh, it's OK. It's an achievement'," he told reporters.
This is, of course, overlooking the oil-fuelled millions that have been pumped into his squad, with City spending over £100 million in seven of the last 10 seasons, including over £250 million in 2017/18.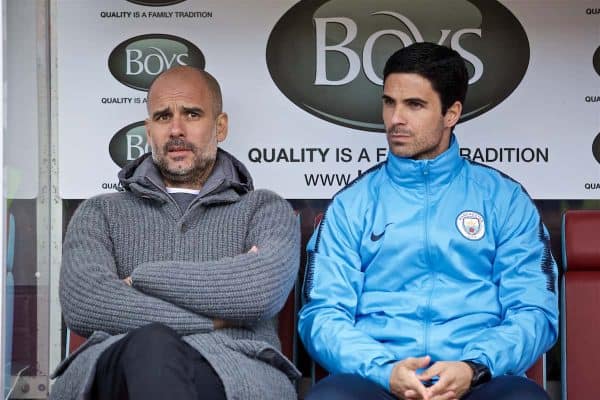 His club are currently under investigation for allegedly breaching UEFA's Financial Fair Play rules, and after the game Guardiola himself angrily refuted a question regarding a possible payment outside of his contract from City.
There is no denying City's quality as a side, and their achievements are hugely impressive, but the manager's stance rightly leaves this under a cloud.
And this has clearly fed into, or been inspired by, the club's support, as an altercation between journalists in the press box at Wembley on Sunday and one fan highlighted:
Language content: Man City fan gets into press box and complains about media covering Salah pic.twitter.com/mz2mm8J27n

— Rob Harris (@RobHarris) 18 May 2019
The Associated Press' Rob Harris, who later questioned Guardiola on the prospect of payments from Abu Dhabi, filmed the scene.
"We've done the domestic fucking treble, no one's ever done it before, but you'll all have Mo Salah on the back of the fucking papers tomorrow," the supporter spat.
It was a bizarre statement, and only further highlights the insecurity of City fans in their ongoing 'rivalry' with Liverpool.
There is good and bad among every fanbase, as they are unfortunately a growing reflection of society, but to immediately accuse the media of a bias towards Salah after your side wins "the domestic fucking treble" is telling.
City's celebrations were emblazoned on the front and back pages of the Telegraph, the Mail, the Independent and the Observer on Sunday, among others.