The media assessed Liverpool's "miraculous" 4-0 comeback against Barcelona as the Reds' greatest-ever performance and were in awe of the Anfield factor.
What a night. What a team.
Anfield witnessed its greatest-ever European night as the Reds overturned the 3-0 first-leg deficit to run out 4-3 winners and reach the Champions League final.
Braces apiece from Divock Origi and Gini Wijnaldum capped off a truly special performance from every single player, Jurgen Klopp and from the incredible Anfield crowd.
It is a night that will be talked about for generations to come and one that takes the Reds to the cusp of a sixth European Cup triumph.
Here's how the media assessed a breathtaking night at Anfield.
Reporters unanimously assessed the result and performance as Liverpool's best ever…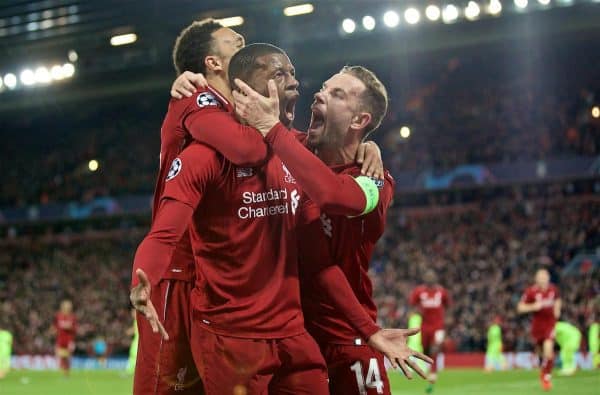 ESPN's Dave Usher simply wrote that "this one tops them all":
There have been many momentous Anfield nights in Liverpool's European history but this one tops them all.
With the biggest statement of the lot, the Mail's Martin Samuel declared the comeback even better than Istanbul:
Better than Istanbul? Yes, go on then. It was better than Istanbul. Barcelona are better than AC Milan. Lionel Messi is better than Kaka. And Liverpool now are better than Liverpool then.
The Liverpool Echo's Ian Doyle said this is the new defining European night of Liverpool's history against which all others will be judged:
This wasn't just another famous European night.

This is THE new, defining European night, surpassing Inter Milan, Saint-Etienne, Olympiakos, Chelsea and absolutely everything else.
The Mirror's David Maddock assessed it as the greatest performance ever produced by a Liverpool team:
Surely it was the greatest performance in the club's entire history too. Even with Istanbul, even with Rome. This surpassed them all as Jurgen Klopp made the impossible happen.
The Guardian's Barney Ronay went one further, assessing it is the best European performance produced by any English club:
There may have been more gloriously unbound nights in English football's European history but this was an occasion that stands on its own, the night when the shadow trophies and cups seemed to fade and Liverpool found a moment of pure joy.
Meanwhile, from a Barcelona perspective, Goal.com's Rik Sherma labelled the result "one of the darkest moments" in the Spanish club's history:
Tuesday's meltdown will go down as one of the darkest moments in Barcelona's history. It really was the collapse of the century.
The media thought the Reds outfought, outplayed and outshone Barcelona in every aspect…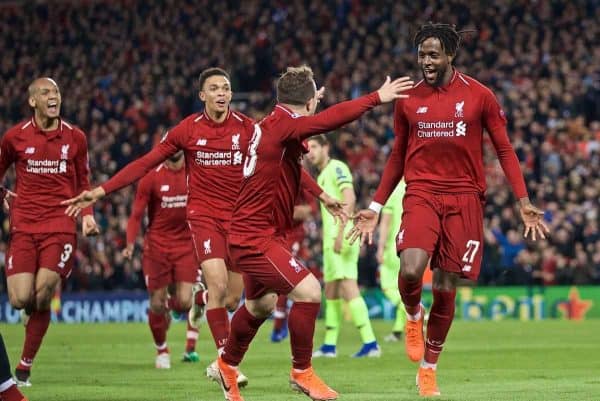 ESPN's Mark Ogden explained how Barcelona simply "crumbled" under Liverpool's "intensity and hunger":
Valverde was right. Barcelona were rolled over. So much for the best team in Spain; they simply crumbled when faced with Liverpool's intensity and hunger.
The BBC's Chris Bevan noted how Barcelona couldn't cope with the Reds' relentless pressing and the tempo of Liverpool's play:
Just as Klopp promised before the game, Liverpool did not stop – maintaining an astonishing tempo to press, harry and hassle their illustrious visitors, and ultimately defeat them.
In a damning assessment, the Independent's Mark Critchley thought Barcelona lacked the stomach for a scrap:
Liverpool, clearly, wanted to upset and disrupt their opponents. They wanted a dogfight. They got one.
The watching journalists were in awe of the quality of the performance considering the emotion inside Anfield…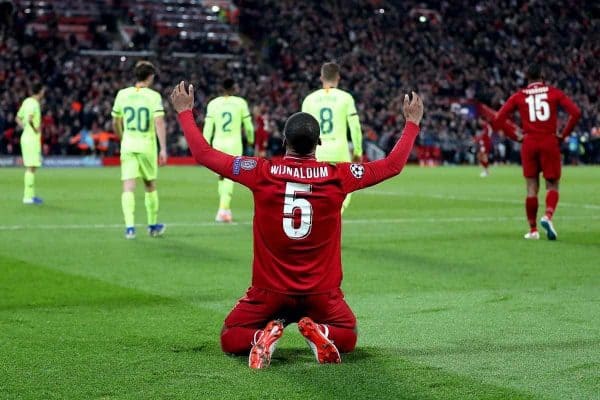 Samuel thought Liverpool delivered a complete performance of "footballing excellence":
What a performance it was. Liverpool did not just defeat Barcelona physically, but technically, tactically, and ultimately intellectually, too.

[…]

This was a magnificent performance, of not just courage but footballing excellence.
Ronay assessed the display as a Klopp-inspired performance in all its glory:
It was classic red fury from the Klopp-metal playbook. When they come out and play like this there is something brilliantly reckless about them.
The Independent's Miguel Delaney felt that the quality as well as the emotion of the performance must be recognised, assessing that Liverpool "were too special" for Barcelona:
This was the story of supreme belief, but to reduce the story of this game to that would be too simplistic. Liverpool were too special.

The anatomy of this most incredible of wins was really about the mind of Klopp, and the legs of his team, speed of thought mixed with speed of play to blow Barca away.
Writing for Goal.com, Neil Jones thought it was a night that illustrated everything the Reds have become under Klopp:
This is what Klopp has created. This is what this club has become, a fusion of emotion and passion, quality and cunning. Winners.
The Guardian's Daniel Taylor was full of praise for the way Klopp's side rose to the occasion when other teams would have shrunk after such a first-leg loss:
Another team might have shrunk because of what happened to them at the Camp Nou. Not Liverpool, though.
Delaney was in awe of the belief and "irrepressible" resolve that Liverpool displayed:
Klopp has instilled this team with irrepressible of resolve. What is so incredible impressive is that nothing can seem to suppress them; nothing can seem to cow them. This was the spirit of Istanbul, and then some.
Taylor thought it was an even more incredible effort considering the deflating events that took place at the Etihad just 24 hours earlier:
And, as if that was not enough, there was the added pressure that suddenly, with Manchester City back on top of the Premier League, there was the distinct possibility that a season of sustained brilliance would end with no reward.

Perhaps they used that for extra motivation.
Jones praised Liverpool for overcoming several set-backs to deliver the miracle and assessed the belief in the squad as key:
All those knocks – Salah's misfortune, Firmino's injury, the loss of Andy Robertson here – were taken and brushed off. They rode their luck at times, with Alisson Becker immense in goal, but who could begrudge them this?

This is what happens when a very special team believes in itself, and feeds off a very special atmosphere.
Reporters assessed it was a night in which the Anfield factor shone in all its glory…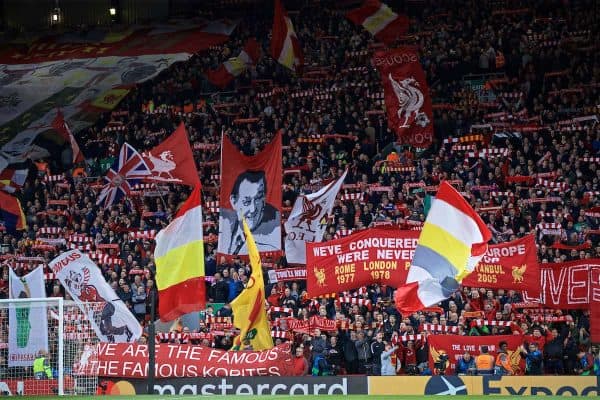 First off, Maddock said the Anfield factor "destroyed" Barcelona and believes that it was the best atmospheres ever produced at the famous old stadium:
This great, majestic, magnificent team was reduced to rubble by an atmosphere which destroyed them.

[…]

Never before has this famous old stadium been shaken to its very foundations like this. The noise, the sheer power of the Kop was greater even than in the 2005 semi, which is regarded as the benchmark.
For the Liverpool Echo, David Prentice described how Anfield's "powerful force" "shook Barcelona to the core":
And perhaps most importantly of all, the Liverpool fans believed. There were no doubters inside Anfield at kick-off time. They believed and the noise they generated shook Barcelona to the core.

[…]

But most of all this was about the power of Anfield. It exists. And it's a powerful, powerful force.
Sherma described how Lionel Messi was "swallowed up" by Liverpool's intensity and the "raucous" Anfield crowd:
The Argentine, usually so decisive and so compulsive, was swallowed up by Liverpool's intensity and desire.

Driven on by the raucous Anfield crowd, Jurgen Klopp's side barely gave the Argentine room to breathe, let alone move.
Surprisingly little was discussed of the final, but the Telegraph's Sam Wallace thinks Liverpool will be the favourites in Madrid:
The kings of the comeback are back again playing football on the edge and this time they will be favourites against whoever emerges triumphant in Amsterdam on Wednesday night.
Countless individual displays were lauded by the press…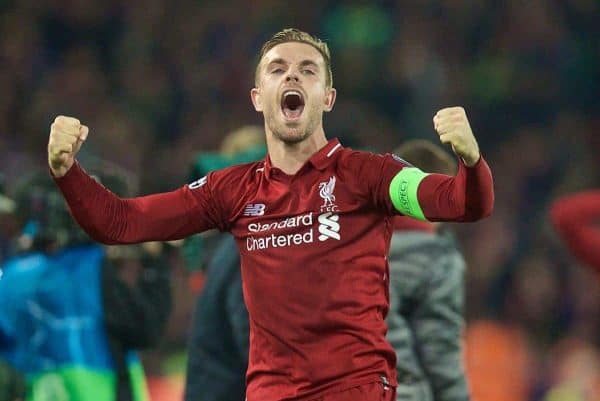 Standard Sport's David Lynch singled out Alisson's display and thought this was the night that the Brazilian proved he is a truly top drawer 'keeper:
Has Alisson Becker ever had to save that many shots in a single match since signing for Liverpool?

[…]

The 26-year-old is a magnificent shot-stopper, who deserves his place in the Champions League final as much as any of his teammates.
Usher thought Fabinho was the pick of the bunch:
On a night when Liverpool had countless heroes, Fabinho might just have been the pick of the bunch.

[…]

He set the tone early with his tackling and aggression, and he didn't let up. Even in the closing minutes he was there harrying Messi out of possession. Very few players could have kept Messi this quiet, but Fabinho's display was monstrous.
Doyle assessed Trent Alexander-Arnold as Liverpool's best performer, delivering a display belying his years:
They were all heroes, every single Liverpool player. But nobody, over the course of the 90 minutes, could compare to Alexander-Arnold.

[…]

It's incredible to consider that, given this performance of such maturity and talent, Alexander-Arnold is still only 20 years old, the right-back only just getting started on his hopefully long career.
Lynch also poured praise on Jordan Henderson, "who embodies what being a Reds captain is all about":
This is a man who embodies what being a Reds captain is all about: courage, commitment, quality.

He showed all of those characteristics against a Barcelona midfield that might have outstripped him in terms of raw talent, but never in terms of desire.
Critchley focussed on Divock Origi's unlikely rise and believes the Belgian will now always be remembered as one Liverpool's best ever big-game players:
But in their place came someone who was close to leaving the club last summer. Instead, he is now close to being remembered as one of the best big-game, big-moment players in its history.
Finally, Usher reserved praise for Klopp, assessing the German delivered a perfect performance with the right selection and for inspiring his team to dream that a comeback was possible:
His selection options were limited due to injuries, but the players he brought in did themselves and the club proud. Not least Origi, who was given the nod at centre-forward and produced two goals, while Wijnaldum came off the bench to score twice himself.

Klopp managed to convince his players they could achieve the impossible, and they did.