Liverpool signed four players last summer for the first team and all have played their part in a tremendous campaign—but which has been the best performer?
Last summer was one of specific and pinpoint precision in the transfer market for the Reds.
We knew the weaknesses and Michael Edwards and Co. moved quickly (for the most part) to bring in reinforcements, starting just a couple of days after the 2018 Champions League final.
It was Fabinho who came in first, to the surprise of many, while Naby Keita's arrival was already confirmed a year in advance.
Xherdan Shaqiri eventually made his switch from relegated Stoke City on a reduced fee deal thanks to a release clause, and the big discussion of the summer was ended when the goalkeeper position was filled by Alisson Becker.
Four signings, a combined outlay of around £170 million—and one squad built to compete on both major fronts. Here's a look at each new arrival and how they fared in their debut campaign at Anfield, from least impactful to the best.
No. 4: Xherdan Shaqiri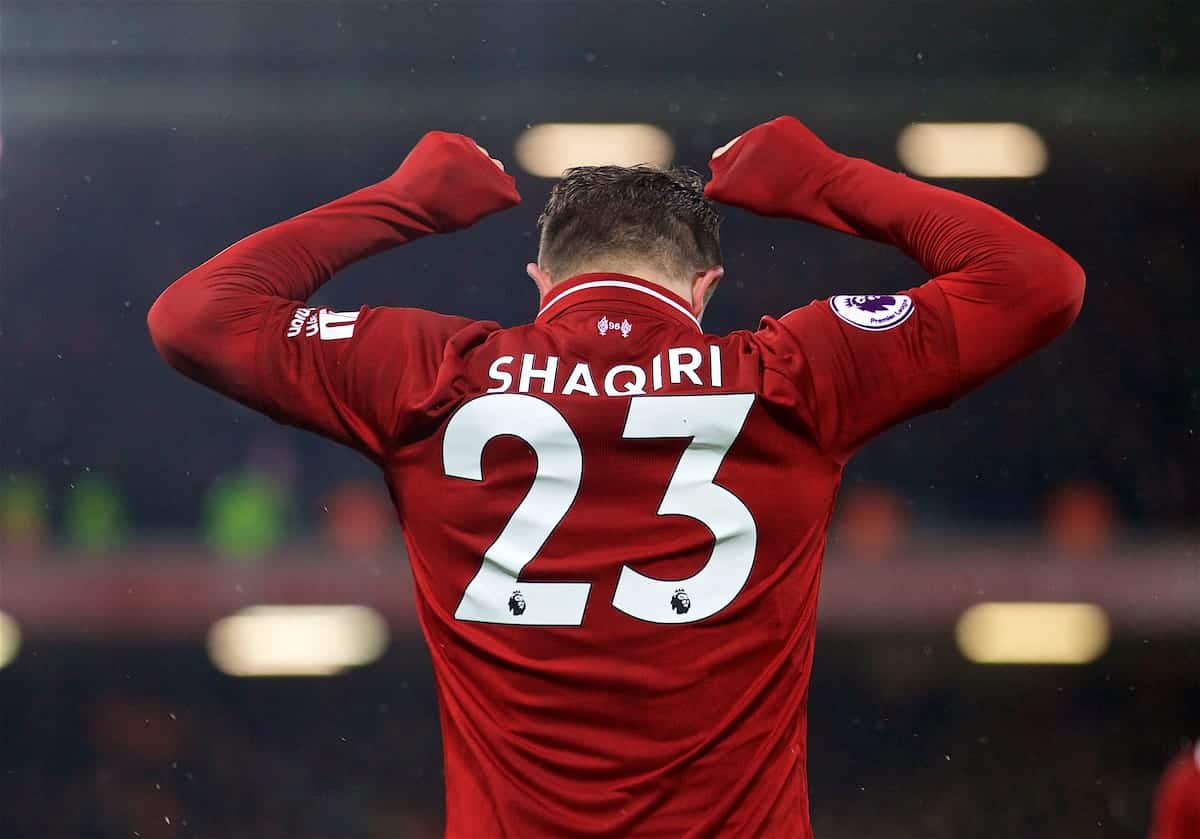 Something of an up-and-down season for Shaqiri, who promised so much after joining from Stoke.
His start of 18/19 was impressive in flashes, but it was the middle couple of months which really saw him hit the heights. He made himself a starter for a short period of time, but that wasn't long-lasting enough to consider Shaqiri anything more than the 12th man of the squad in 2018.
After the turn of the year, his fortunes certainly took a turn for the worse.
Barely used by Klopp throughout February, March or April, there were worries over training or personal issues until it came to light that he had been dealing with a long-standing injury.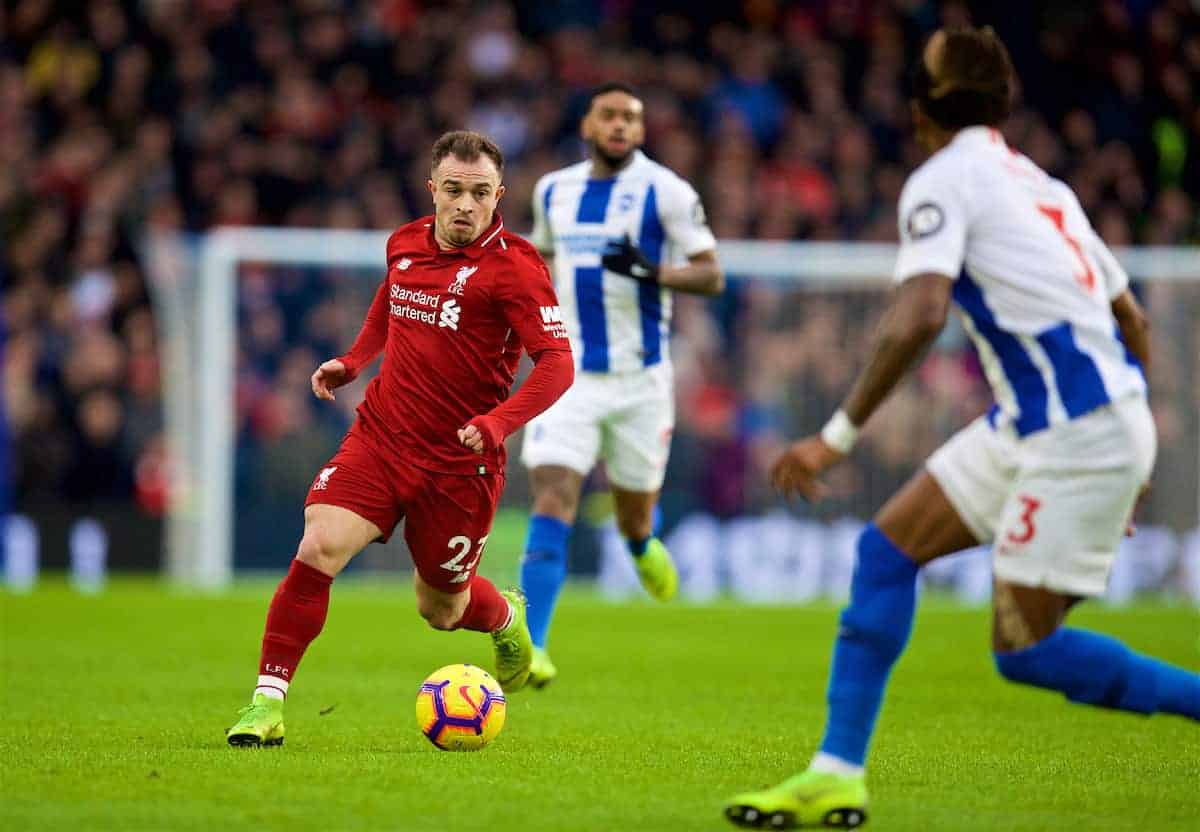 A return to involvement saw Shaqiri claim assists against Newcastle and Barcelona in back-to-back matches in May—his first goal contributions of the calendar year.
Best moment: Brace against Man United to help win the game.
Worst moment: Just 19 Premier League minutes between 5 February and 25 April.
Needs to work on: Consistency, for certain. The Reds need game-changers on the bench and he didn't really offer that at all in the second half of the season.
Next season: A bigger fight for minutes, given a probable extra forward to compete with and a potential promotion from the youth ranks. Hopefully those mysterious injury issues clear up, too.
Overall grade: 7/10 as a signing, but only 6/10 for his actual season.
No. 3: Naby Keita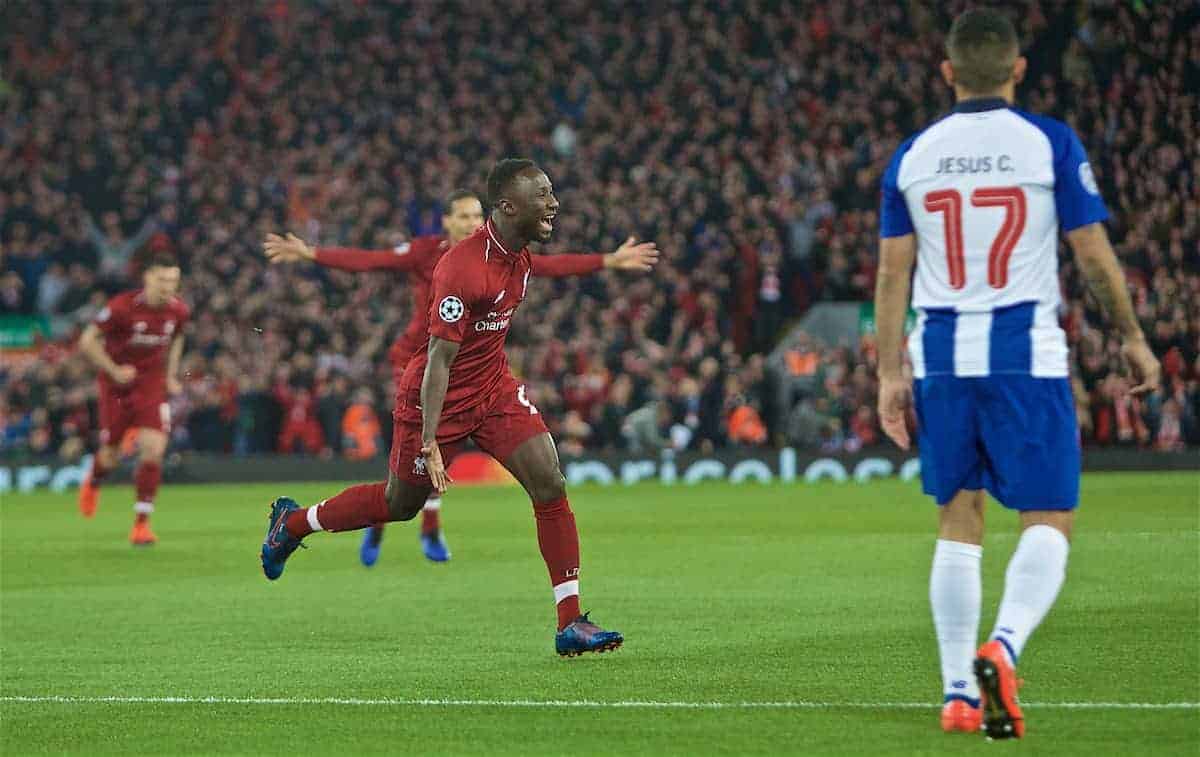 We waited a long time to see Naby Keita in red and the early signs were hugely encouraging as he shone in pre-season and looked for all the world as though he'd slot straight into Klopp's team and system.
It didn't quite go to plan, though, as the midfielder suffered issues with injury and consistency, splitting his campaign into three key patches.
First up was his regular involvement early on, the forging of potentially exciting partnerships with Daniel Sturridge and Sadio Mane down the left channel and glimpses of his ability to drift past players and open up defences.
Later came a spell out of the team; muscle strains and midfield rotation left him largely an onlooker for months.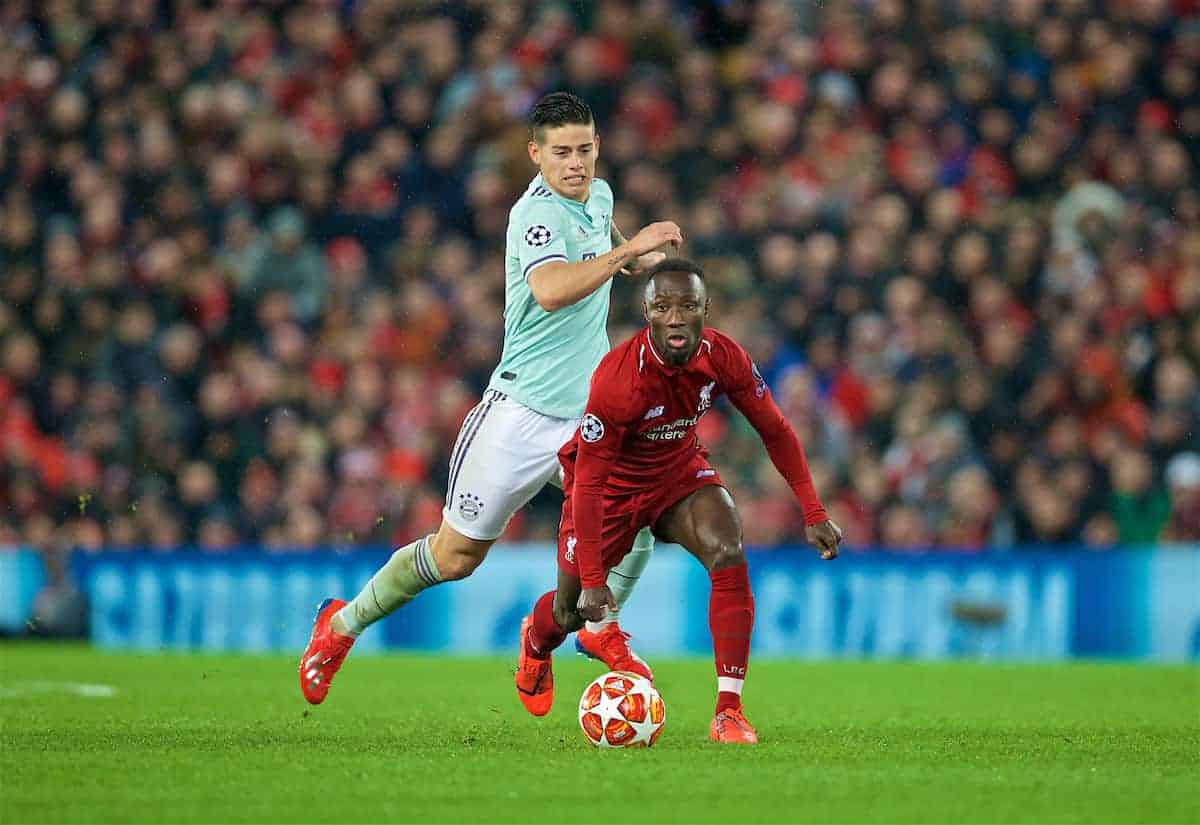 But, more recently, Keita rediscovered his better form and a sure touch in front of goal, scoring three goals in April and becoming a key starter again—before injury once more ended his season early.
Best moment: Finally donning the No. 8 jersey and his end-of-season form.
Worst moment: The injury against Barcelona in the first leg which will see him miss the final in all likelihood.
Needs to work on: Resilience, ability to impact matches more quickly once involved in play and the self-confidence to show his great dribbling, shooting and playmaking abilities with greater frequency.
Next season: A regular in the team again, for sure. Whether that's as a guaranteed starter or a rotation option again is down to his consistency.
Overall grade: 7/10. The promise of much more is there, but we didn't quite see it enough in his debut campaign.
No. 2: Fabinho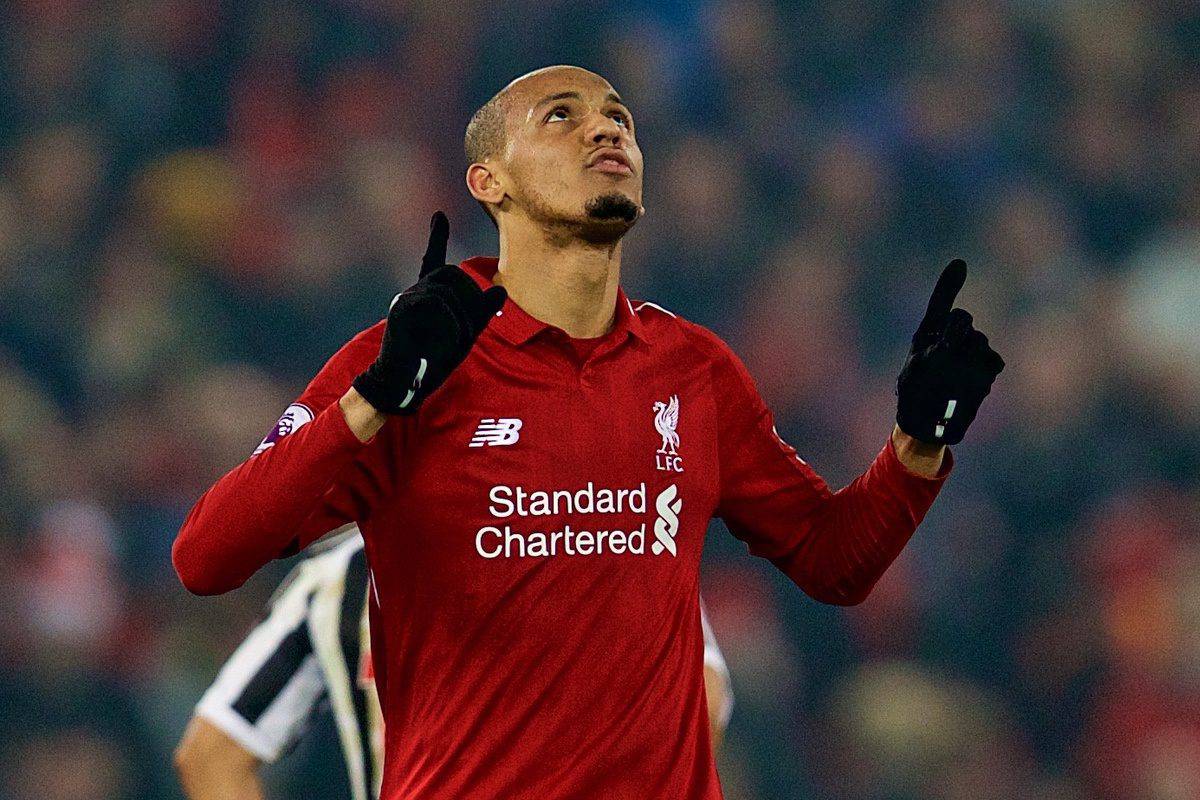 It's difficult to describe just how important the signing of Fabinho was.
Ever since Javier Mascherano departed, Liverpool have been crying out for this player; someone who excels in winning back possession, who stops the opposition at will, who has the know-how and awareness to thrive in the role naturally.
And who is an absolute expert in performing the dark arts whenever necessary.
Fabinho took time to win a place in the team—his league debut came in late October and his fifth start came in December—but after Klopp decided he knew enough about the tactical approach and put him in the lineup, he quickly became one of the most important.
It's not hyperbolic to suggest he's often the player Liverpool can do without the least.
A game-changer off the bench at times thanks to his ability to dominate the middle, the Brazilian has more often been the reason for the other midfielders' resurgence of form in the second half of the campaign.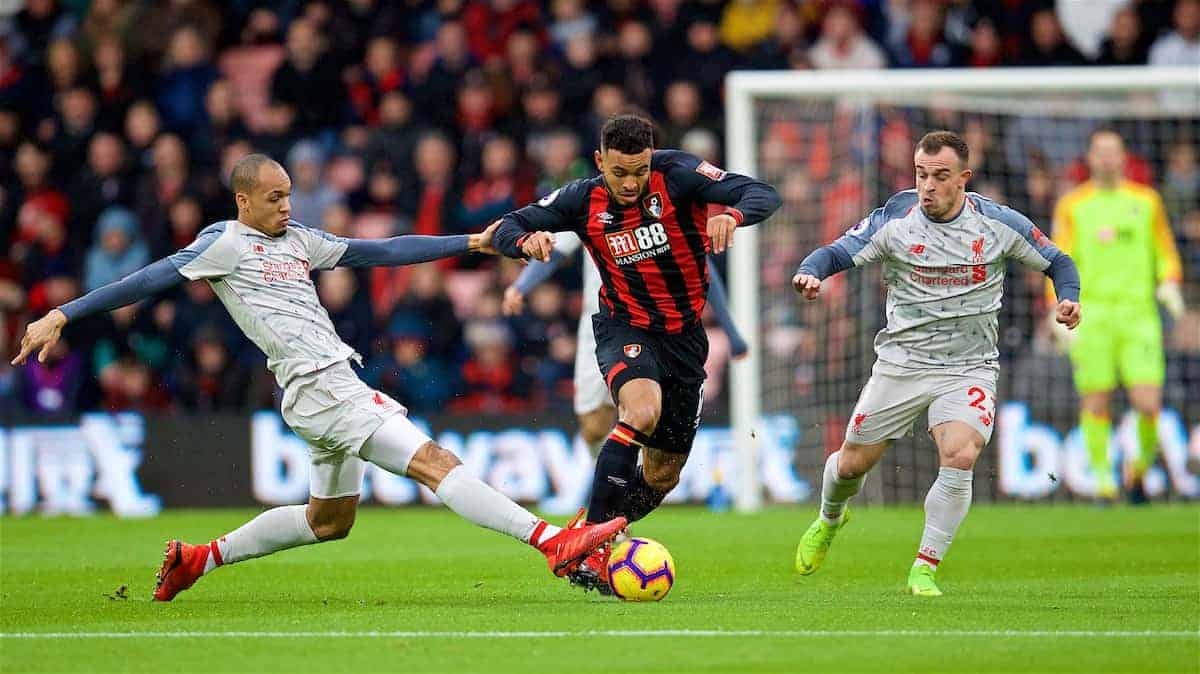 An absolute monster in the centre of the park, regardless of whether it's in regard to tackling, passing, tracking runners, covering positions or bossing the game aerially.
Best moment: His second-leg performance against Barcelona was breathtaking, but in truth he had several of those domineering performances over the course of the campaign—including at centre-back against Brighton.
Worst moment: A head injury at Cardiff looked painful and briefly worrying. Other than that, missing the first eight games of the league season with a watching brief was frustrating.
Needs to work on: Hard to pick out too much. Maybe he could change his squad number away from No. 3?
Next season: If he plays all of next season to the standard he performed in 2019, he'll be in the running to succeed Virgil van Dijk as Player of the Year.
Overall grade: 9/10, with only a single mark deducted to make room for the inevitable step-up next year with a full campaign in the team.
No. 1: Alisson Becker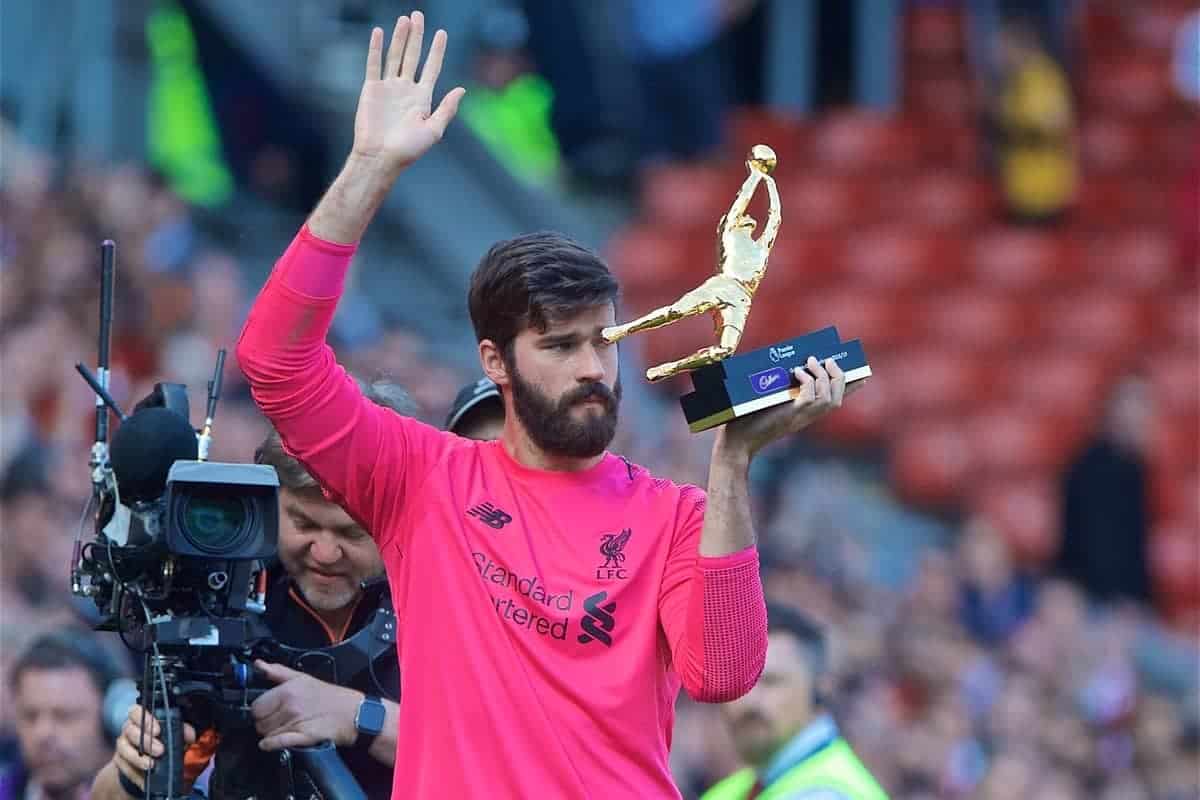 There was a time when Liverpool were relentlessly linked with Asmir Begovic and Jack Butland.
Supporters could be forgiven for taking a second or two, to offer silent thanks to Edwards, Klopp and Co. that the final decision lay in a rather different direction.
Alisson has been outstanding, a massive presence in goal for the Reds from day one, culminating in him winning the golden glove award during his debut campaign—and being behind the defence with the best record in the Premier League this season.
Vital saves, aerial dominance, impressive footwork, great consistency and tremendous anticipation have all been on show, again and again, as Alisson demonstrated just why he was good value even at a world record fee.
It's fitting, perhaps, that the No. 1 in our ranking will indeed take over the No. 1 shirt next season.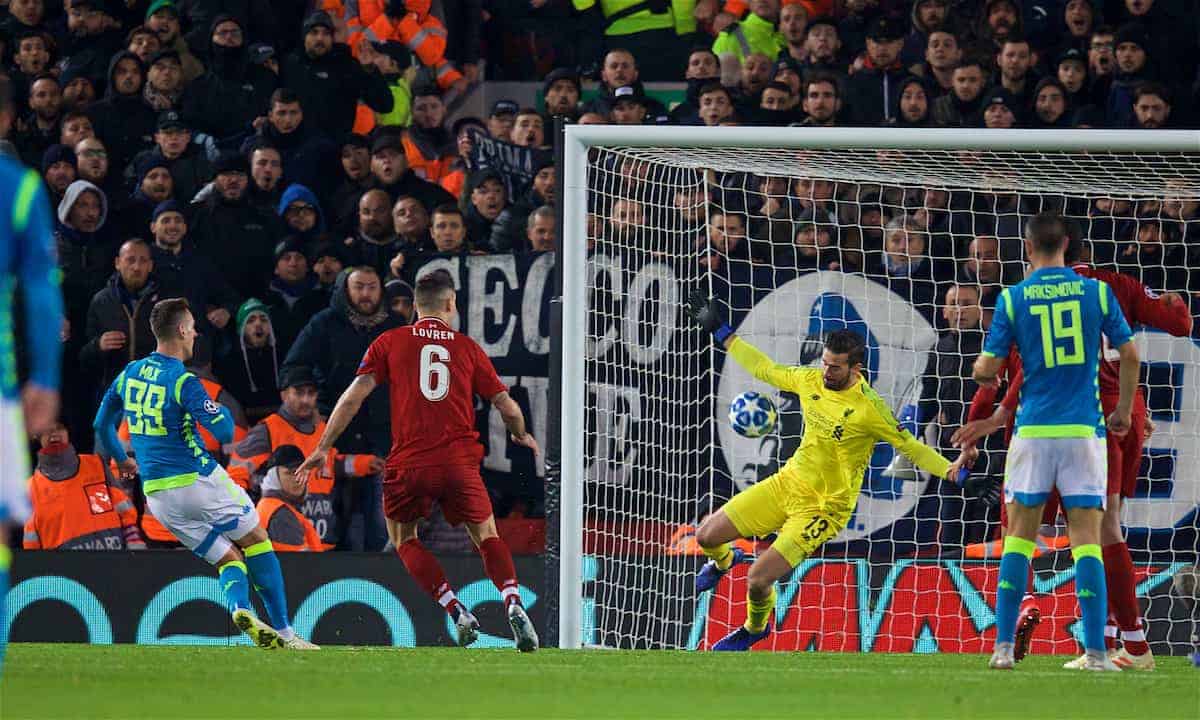 Liverpool, at last, once more have a goalkeeper worthy of leading the team to major success.
Best moment: Toss-up between his enormous save against Napoli in the dying moments and his 90-minute performance against Barcelona at Anfield. He has kept the Reds in the fight for silverware in Europe.
Worst moment: The terrible early mistake which cost a goal against Leicester, losing possession inside his own penalty box.
Needs to work on: Perhaps how quickly he distributes the ball at times, from feet when being closed down, but really he's as close to elite as the Reds could have envisaged.
Next season: One of the best in the world again. A driving force behind the push for titles.
Overall grade: 9/10. The Reds couldn't have signed a more perfect goalkeeper.
And the sales…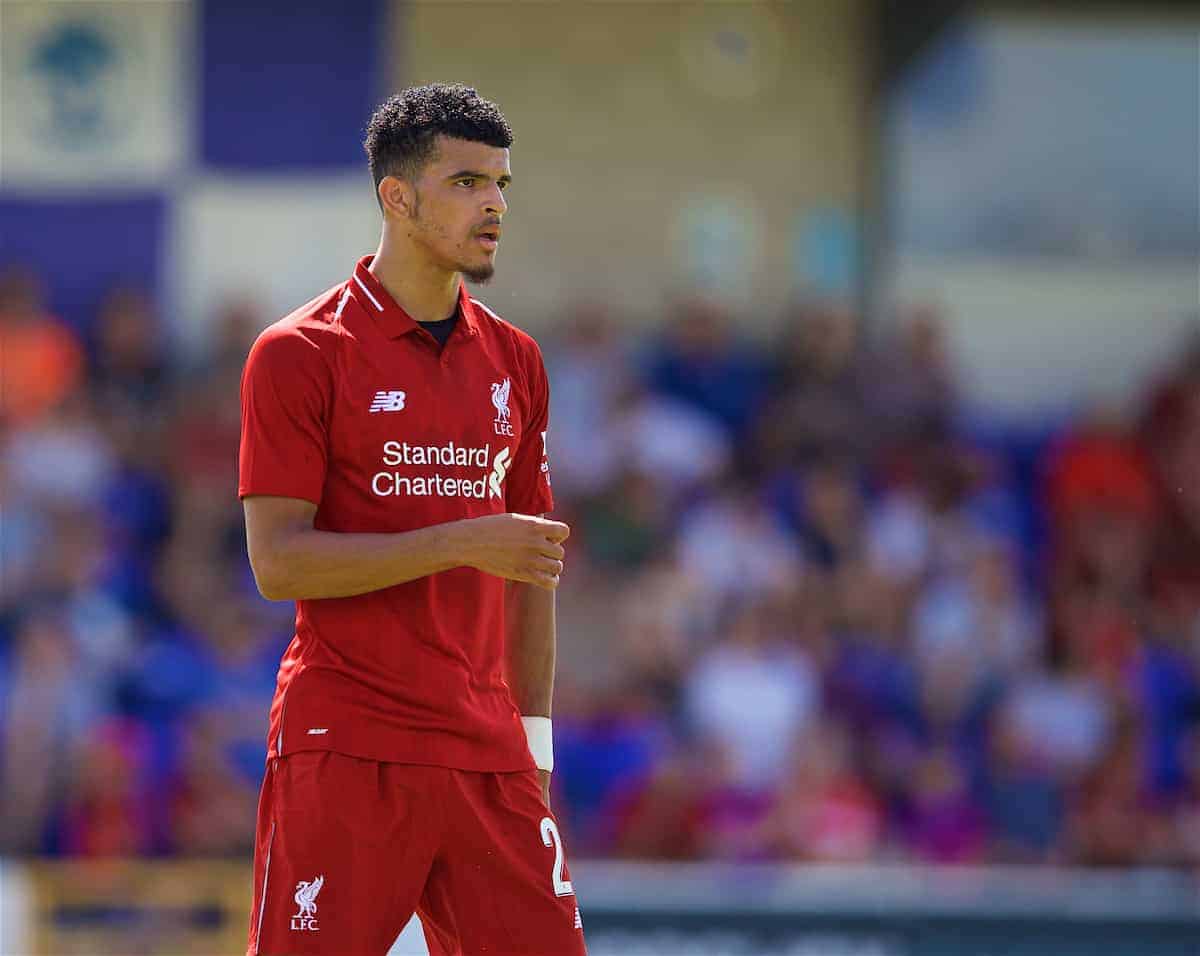 A quick word on the sales of this season, ranked from the worst deals to the best:
6. Emre Can – Could have missed him, didn't really, could have kept him, but not at the expense of destabilising the club's new contract ethos. 5/10
5. Ragnar Klavan – Given the low fee, we could have kept him as back-up but he deserved the chance to play elsewhere. 6/10
4. Jon Flanagan – Had nowhere else to go in his Liverpool career. 6/10
3. Danny Ward – Receiving a decent fee for a third-choice 'keeper with minimal top-flight experience was more good work from Edwards. 9/10
2. Danny Ings – A loan with a permanent deal included, Ings always offers industry and an outlet, but rarely the quality needed at the elite level. A good sale for the Reds. 10/10
1. Dominic Solanke – A great fee attained for a player who was no longer involved. £19m and he didn't play once for the Reds this term—or score once for Bournemouth in the second half of the season. 10/10