Liverpool left it late again, but recorded a huge three points with a 3-2 win at Newcastle to ensure the title will go to the final day of the season.
Newcastle 2-3 Liverpool
St. James' Park, Premier League
4 May, 2019
Goals: Atsu 20′, Rondon 54′; Van Dijk 13′, Salah 28′, Origi 86′.
Postman Trent delivers again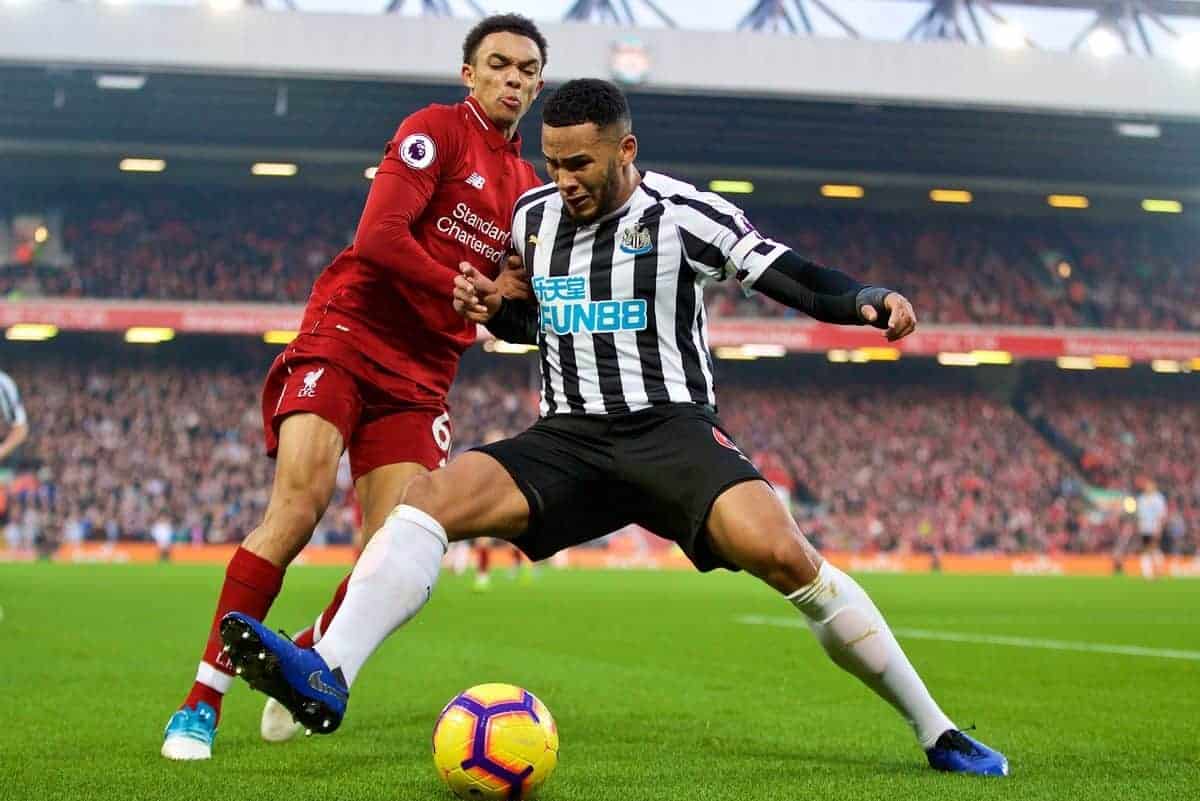 For whatever reason, Liverpool's set-piece use seems to waver between dynamic and dangerous… and wasteful and wild.
At St. James' Park, it was very much the former, with Trent Alexander-Arnold in particular putting some excellent balls into the Newcastle box, both from corners and open play.
The right-back was the central character in all three first-half goals: he produced a perfect corner for Virgil van Dijk's header and a great cross for Mo Salah's finish.
In between, a handball block on the line led to Christian Atsu scoring the rebound; without that equaliser, Trent would surely have been red carded.
It was a more left-focused approach in the second half so Trent wasn't as active—though it's fair to suggest having him over the ball on a free-kick late on would have been in the minds of Newcastle defenders, expecting a slight out-swinger…before Xherdan Shaqiri delivered to Divock Origi.
Henderson the shapeshifter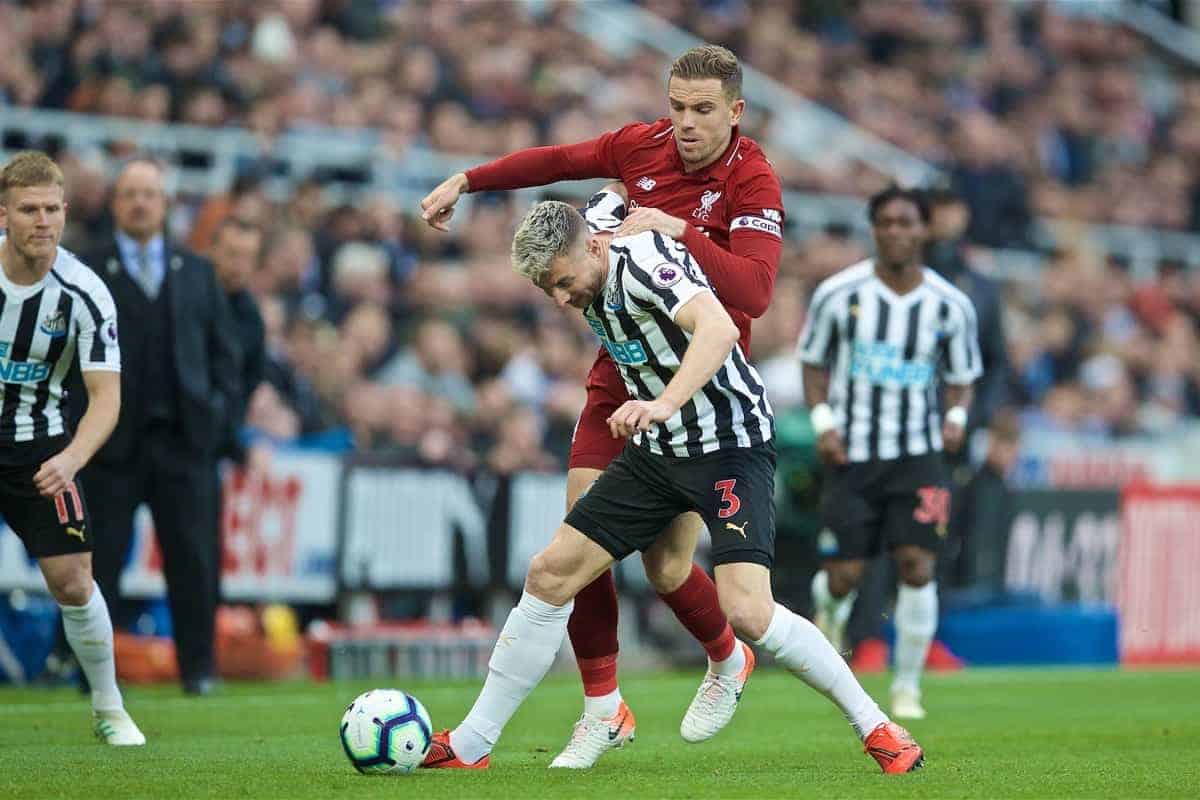 A first-half performance from the captain which needs to be replicated against Barcelona in the second leg.
Jordan Henderson was everywhere: nominally a third midfielder, but actually such an energetic presence and an aggressive runner that he helped the Reds alter their shape and approach to attacking with regularity.
He was the only midfielder who surged into the box, offering an extra creating-or-scoring option, while in open play the Reds were frequently either in a diamond or box midfield: Salah and Sadio Mane highest, Daniel Sturridge between the lines, Henderson joining him.
This movement, this aggressive type of press, was huge for Liverpool for a lot of the game here and will be again in midweek.
Even when his ball use wasn't the greatest at times, Henderson continued to drive the team on, keep the press line high and get himself involved in the game.
Captain's approach in the mental side, for sure. We'll need better with the midfield end product midweek, however.
Sturridge, Origi and the big upcoming choice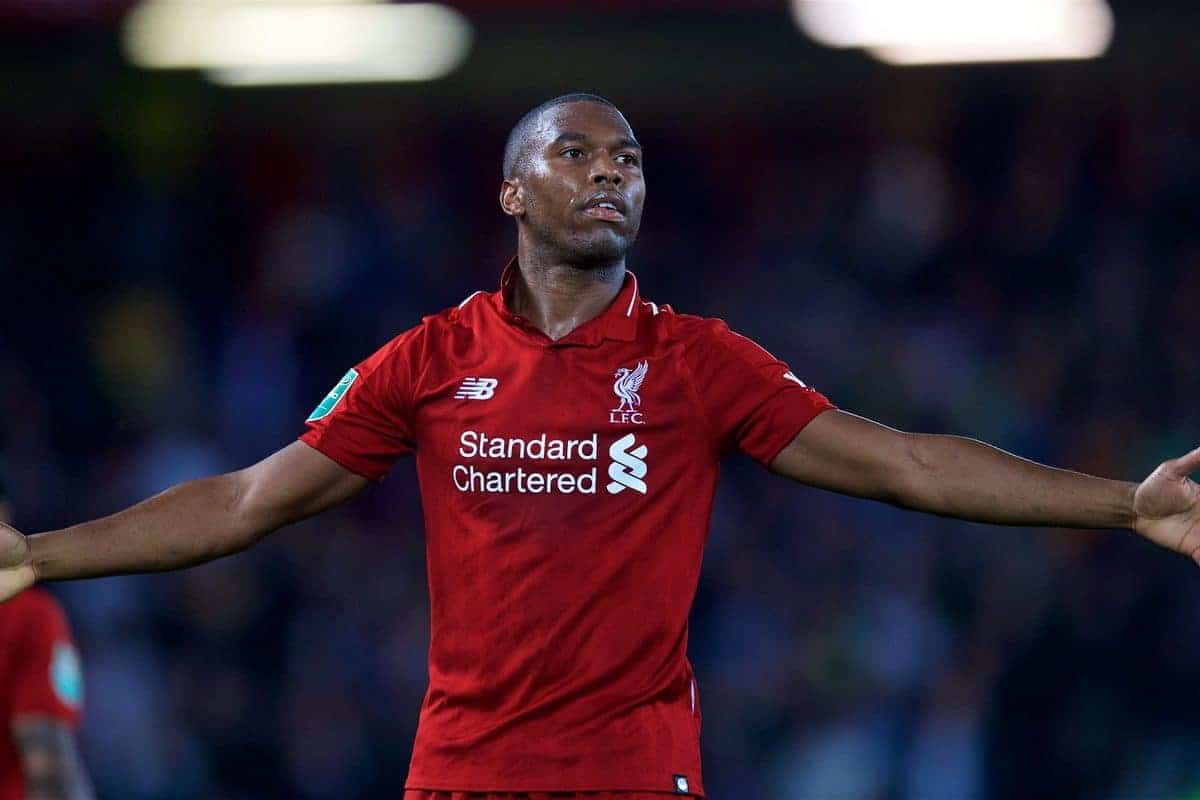 This was a big opportunity for Sturridge, starting a second league game in a row and with a huge second leg to come in Europe in midweek.
With Roberto Firmino struggling for fitness and Wijnaldum having struggled in the No. 9 role last week, there was certainly a starting spot up for grabs.
Initially, Sturridge showed good movement, clearly—as noted above—dropping out of the forward line to create that diamond the Reds utilise so well.
On the ball, though, is where we needed to see more from the No. 15 and particularly with regard to finishing, always one of Sturridge's greatest traits.
A lack of rhythm, a lack of continuity: perhaps both contributed, but either way Sturridge spurned two good chances to find the net on the night.
One strike from distance wasn't easy, perhaps, but on his favoured boot and with the angle, he'll have expected to hit the target. A second-half strike, hit first-time and perfectly weighted in the pass, should have found the net, simple as that.
By contrast, Divock Origi came on and did what he does: be direct, be a target to hit on the diagonal…and cause havoc around the goalmouth.
The Reds need one starter on Tuesday and quite possibly two. Origi, rather than Sturridge, might have given Klopp most cause for inclusion.
Salah's unfortunate ending…again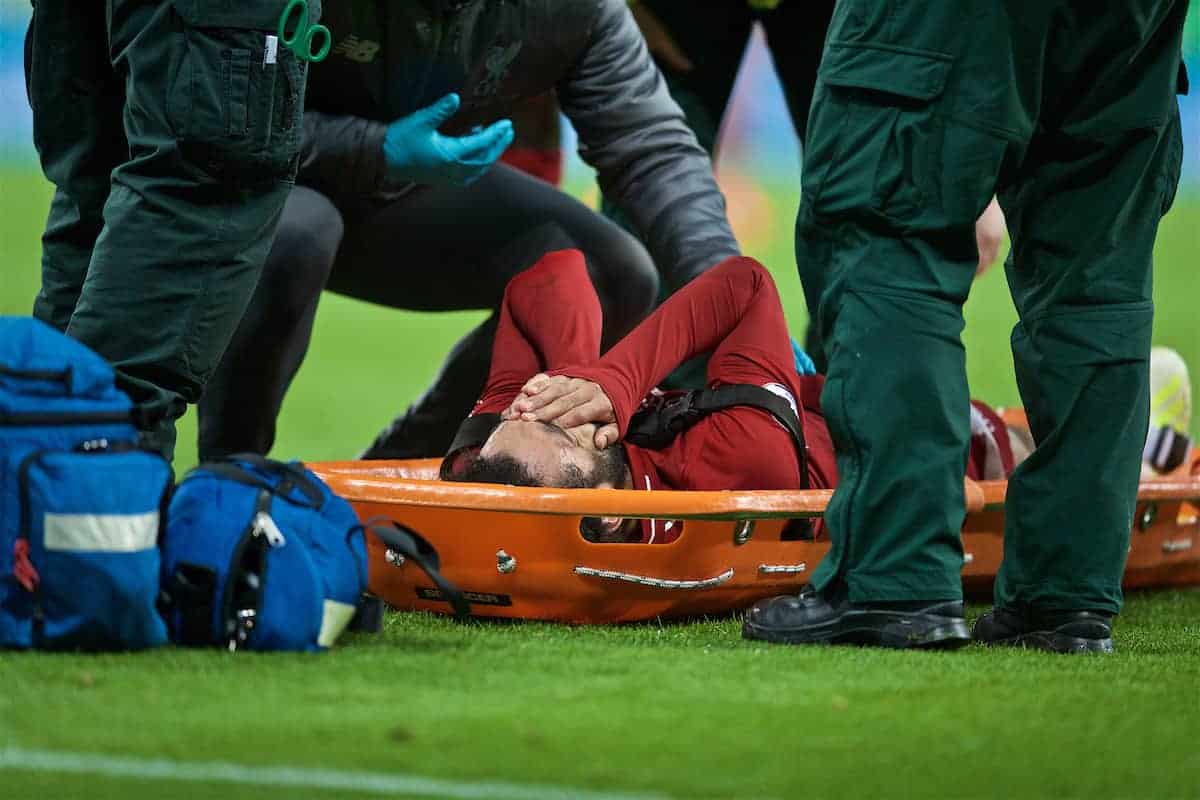 Such bad luck. Last season, it was the Champions League final (and in turn the start of the World Cup); this term it looks like being the Champions League semi-final and the final day of the season which will be a Premier League title-decider.
Salah was clearly distraught going off, but had little choice.
He didn't move after the collision with the Newcastle keeper, worryingly, and was stretchered off. As well as the obvious head concerns, it appeared that the medical staff were checking his neck in a precautionary manner.
The hope will be for no lasting damage to Liverpool's key forward and that he recuperates quickly.
Even so, it's unlikely he'll feature over the next week for the Reds, leaving a big hole in the attack.
Earlier in the game he had scored a fantastic 22nd goal of the season—which may well be enough to secure another Golden Boot.
Monday, Tuesday and late, late goals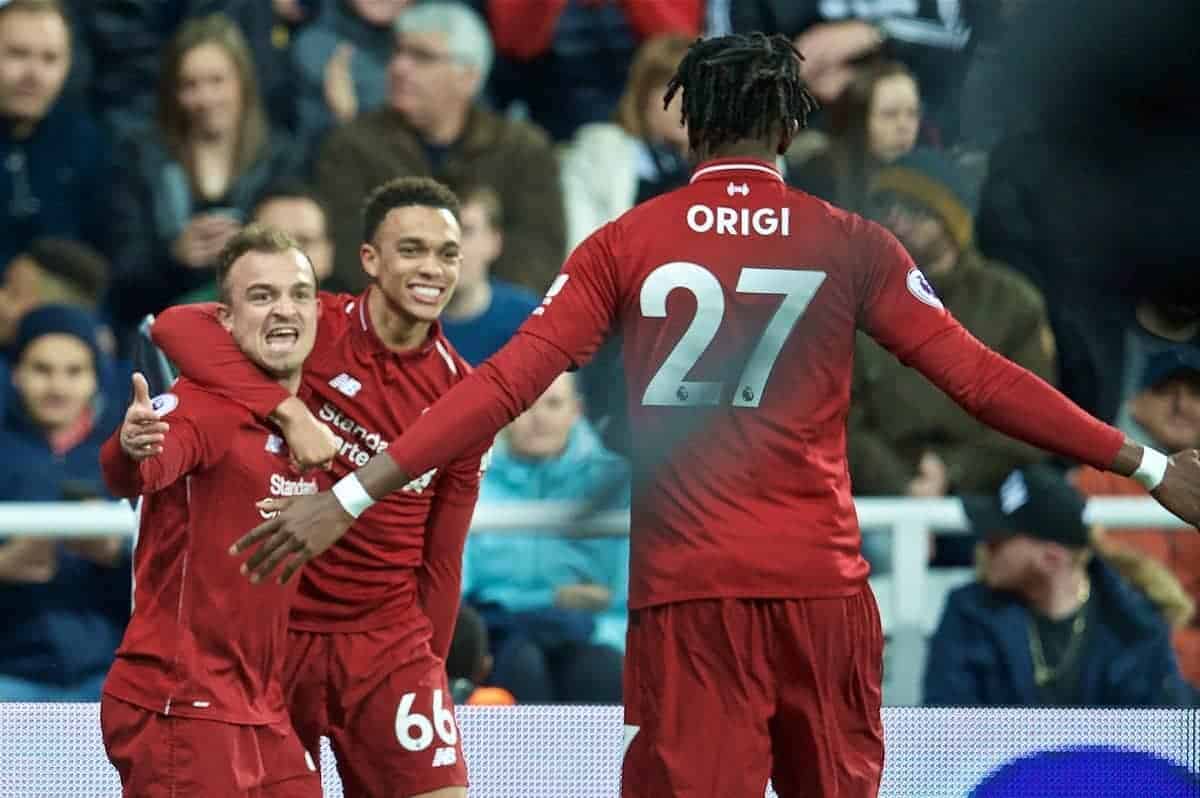 Liverpool, top of the league! Liverpool, Liverpool, top of the league…with one game to play.
Unbelievable as it is, the Reds being two points clear at this stage still do not have the title in their own hands.
Monday night could be everything or nothing: Man City face Leicester in their game in hand, while their last day of the season sees them face a now-safe Brighton after Cardiff were relegated.
Liverpool can't worry too much about it either way; they'll still to win on the final day and they still have a huge occasion at Anfield on Tuesday.
The focus must now switch to recovery ahead of the Champions League second leg against Barcelona, where the Reds need to score three without reply to avoid elimination.
But consider a less-strenuous task: Liverpool need to score two. Because imagine, this team, this season…needing a single goal in the final 10 minutes of a match. They've done it over and over, again and again, when it has been most needed, as they did here again against Newcastle.
Jurgen Klopp will maintain that level of belief in his squad, and so should the fans…should the scenario arise.
To get to that point, though, a mix of good defence against the counter-attack and a much more clinical edge than in the first leg is required.
4-2-3-1, Shaqiri to start, Mane through the middle? These are now all very real concerns for the boss to be pondering.
For now, though, Liverpool's fight on two fronts remains alive and well and optimism can again begin to grow ahead of a hopefully memorable European night at Anfield.