A tense final day of the 2018/19 Premier League season found Liverpool in a familiar position for Sir Kenny Dalglish, in the dugout 24 years ago on this day, May 14, 1995.
Kenny Dalglish often had Kopites in raptures, but his final championship on Anfield soil came with Blackburn Rovers.
There wasn't much to celebrate for Reds in 1995. It had been five years since the club had won the league, and to make matters worse Man United were on the verge of winning three in a row.
To cap it all, the man who had delivered Liverpool's last title was now tearing it up at Ewood Park.
Dalglish became manager of Rovers in 1991, winning them promotion to the Premier League in 1992 and immediately setting his sights on the title.
Blackburn's owner, Jack Walker, handed him £50 million to spend. With record transfers around £5 million, such an injection of cash would have a huge impact.
By the end of the 1994/95 season Rovers were top of the league, with United in hot pursuit.
Dalglish brought his team to Anfield on the final day. United were second, two points behind but with a superior goal difference.
Kenny needed a win; Ferguson needed a favour from Liverpool.
Arguments broke out among Reds, with some saying they wanted Liverpool to lose and others furious that anyone could countenance such a thing. It made for a very strange atmosphere.
The players brushed off suggestions they'd hand the league to Blackburn. Nevertheless, in the 20th minute Alan Shearer put Rovers 1-0 up with Liverpool offering little in attack.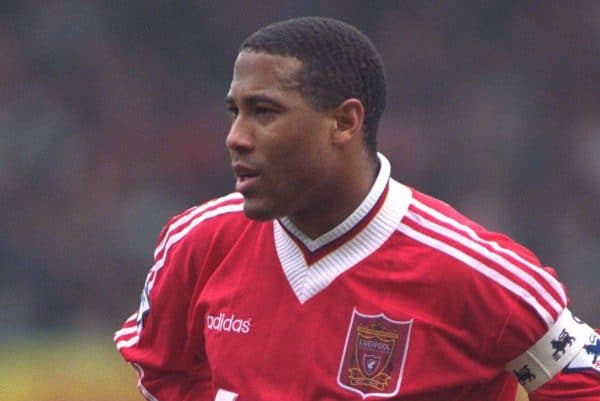 Kopites were getting angry. Old habits die hard and despite their pre-match ambivalence they began to urge their team on.
Cries of "Liverpool, Liverpool!" rang out. It worked and in the 64th minute John Barnes levelled at the Anfield Road end.
Rovers supporters panicked, but West Ham were holding United to a 1-1 draw. If it stayed that way everyone at Anfield would be happy.
The game drifted aimlessly into injury time, and the Kop stirred once more. In the dugout, Kenny stood with arms folded and face a study in anxiety.
Liverpool continued to probe for a winner. Then in the dying seconds, Liverpool won a free-kick 20 yards from goal and Jamie Redknapp sensationally put Liverpool in front.
The player recalls that the response to his late winner was "muted." That's disputed, and videos of the game tell a different story.
In the end United failed to win. Blackburn were champions regardless of the loss.
As Kenny celebrated, Kopites burst into a rendition of the Monty Python anthem 'Always Look on the Bright Side of Life'.
The song had become a United chant, but it would echo ironically around the streets of Anfield that day.
---
Jeff Goulding is the author of two Liverpool books; 'Red Odyssey: Liverpool FC 1892-2017' and 'Stanley Park Story: Life, Love and the Merseyside Derby'.