Liverpool fell to a 3-0 defeat at the hands of Barcelona in the Champions League, ensuring there were plenty of talking points for fans after the game.
Despite a good performance, the Reds were left to rue a host of missed chances as Jurgen Klopp's men were made to pay for missed chances.
Liverpool were the dominant side for much of the game at the Nou Camp, but it was the Catalan side who put the Reds to the sword with an elite level of ruthlessness in front of goal which failed to be replicated by the Reds.
Luis Suarez's strike and a Lionel Messi brace proved the difference and ensures the Reds have it all to do in the second leg of the Champions League semi-final at Anfield on Tuesday.
This Is Anfield's Joanna Durkan (@JoannaDurkan_) and Matt Ladson (@mattladson) were joined by Jonathan Higgins (@Jhiggins3) to breakdown the highs and lows from the defeat, and discuss if Liverpool can turn it around.
The good…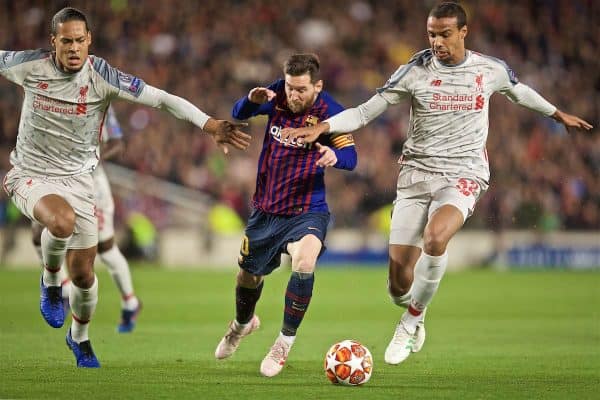 Jonathan: For me, without being anywhere close to their best, Liverpool were pretty impressive for large periods and in large areas of the pitch.
We caused Barcelona all sorts of problems, particularly in the second half, and the fact that they had to resort the dark arts of the game to break up Liverpool's momentum of and shift to a defensive formation speaks volumes.
Liverpool created a number of big goal scoring opportunities and on another day, would have scored three or four goals, easily.
A quick glance at the statistics shows you Liverpool had more possession, shots on goal and more accurate passes than Barcelona. Not many teams come to the Nou Camp and do that.
The reaction of the home supporters practically during that dominant second-half display tells you everything you need to know.
While Lionel Messi will inevitability be the headline maker and be on the receiving end of superlatives, you have got to give credit to the Liverpool defence for the way they corralled him.
So much so for large periods of the game, he was a figure of huge frustration.
Joanna: Look, the scoreline in no way reflects Liverpool's performance, as Jonathan said the Reds were dominant for a large part of the game and Barcelona were there for the taking- we certainly got under their skin.
For me, Sadio Mane and Andy Robertson were brilliant on the left-flank. The former could have, and should have scored but he worked tirelessly throughout, like Robbo who also made a number of vital interceptions.
The pair were top notch, but Joel Matip has to be singled out for praise after yet another stellar performance. The centre-back stood up to the challenge of facing on of Europe's most prolific attacks in his stride.
He's positively changing my perception of him game by game.
Ultimately, it's a head-scratcher this one. All you can do is put your hands up in submission when Messi comes to the party as he did after having been successfully contained for most of the game.
Doesn't mean the result hurts any less, however.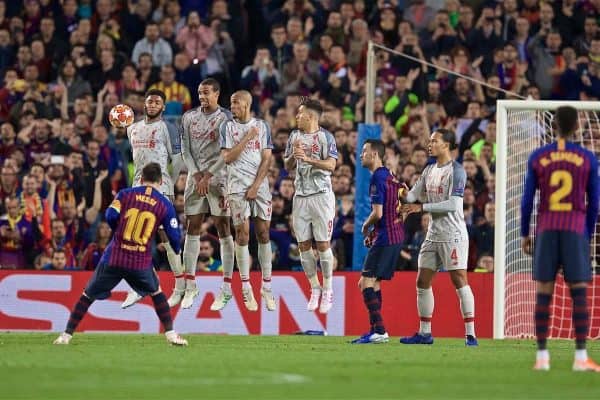 Matt: What was good? Well Messi's free-kick was pretty good wasn't it. Sometimes you have to appreciate the opponent.
Of course, from our perspective it was not good, and the awarding of the free-kick for that third goal was an absolute joke.
As Jonathan and Joanna have said, Liverpool played well for the most part, especially just after half-time. But then Barca switched shape and brought on Semedo and we struggled to get back our dominance thereafter.
Also good, the atmosphere in and around the city on matchday. Yes, an isolated incident lets everyone down, but there were over 5,000 Reds in this superb city and I personally didn't see a hint of trouble.
The bad…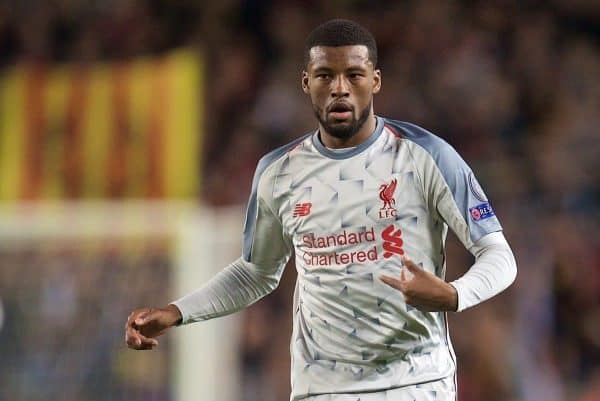 Jonathan: The sense of frustration from everyone with an emotional attachment to the football club probably tells you everything you need to know.
The fact that Liverpool were able to play so well until they hit the final third is extremely frustrating.
Creating a raft of very score-able chances but coming away with a critical away goal just rubs salt into wounds.
While Gini was a willing participant, the decision to play him as No.9 didn't work.
No one can question his work rate, but at times he looked like a lorry on a Formula 1 track. The little subtle touches and understanding of what runs to make was brutally exposed as multiple attacks broke down in the final third.
Naby Keita been forced off the pitch early in the first half was a sickening blow and really disrupted the momentum of the game, let's hope it's not a serious injury and he will be able to return for the second leg.
Joanna: I'm going to have to resort to a list for this to make sense of it all:
The wasted opportunities, of which there were plenty, and no away goal. And how Salah did not score is beyond me!
Wijnaldum leading the line, was a passenger and only goes to show the need for another quality addition in attack to support the regular front three.
Would be wrong to have had lofty expectations, but Joe Gomez gave the ball away far too often and lacked the quality needed as a right-back in this system.
Keita's injury swung the game in Barca's favour, can only hope it is nothing serious with only a few games remaining.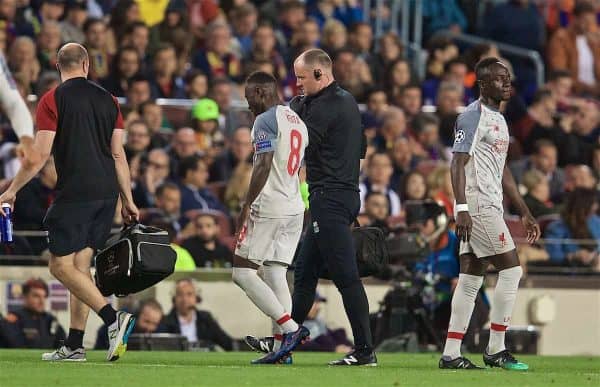 Matt: Jonathan's point about the emotional toll in this is correct. The prospect of ending this season trophyless is pretty soul destroying to be honest.
Klopp has been a master at keeping morale high within the squad and he has a massive job on his hands now ahead of Newcastle, the second leg… and then into the summer if indeed we do end without anything to show for what has been an incredible campaign.
Bad for me also was, that this was much like the final last year in that injury to one of our front three massively affected the outcome of the match.
Sorry, but bringing on Divock Origi to try salvage an away goal – an away goal that would have massively changed the tie – is not good enough and we all know where we must strengthen in the summer.
Having said that, we had Shaqiri sat on the bench yet again. I find the whole situation with him absolutely baffling.
…and are Liverpool capable of turning the tie around?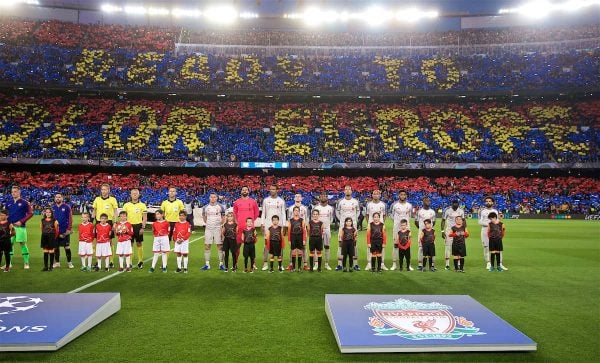 Jonathan: No one is doubting the uphill battle Liverpool have on their hands now. Should Liverpool do the unthinkable it would be a feat bigger than Istanbul.
That being said you would expect Anfield to be rocking next week. Liverpool need to start really aggressively and play with the tempo that allowed them to dominate large chunks of the game.
Without an away goal it's even more difficult, but Liverpool have shown they have the tools and players to cause Barcelona problems, get an early goal and you never know what might have.
The priority has to be to restore some pride and as we know more than anyone, football can be a very strange old game.
Joanna: I'm going with a cliché; you can never say never.
This team and the Anfield faithful relish having our backs against the wall, the feeling when everything seems to be against you is what we thrive off and what European nights have been built on.
Realistically, Liverpool have a mountain to climb. Had we pinched an away goal I would have been feeling a lot more confident of our chances considering the prospect of keeping them at bay at Anfield seems a lofty challenge.
It'll take something special to overcome the deficit, but Barcelona have recent history with relinquishing a comfortable lead – as Alisson and Roma can attest to having overcome a 4-1 defeat to progress into the semi-finals with a 3-0 win.
For me, Roberto Firmino is key. His absence was duly noted on Wednesday and he could be the catalyst for a fast start to the game, and it will no doubt also come down to who gets the nod in midfield.
There are goals to be had against Barcelona and I'd find it hard to believe that Liverpool will again suffer the same lack of potency in the final third.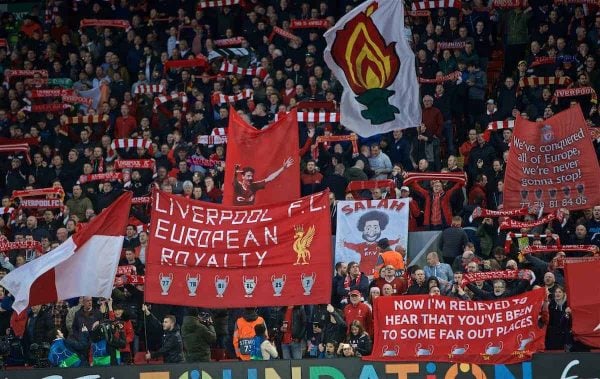 Matt: A lot could depend on the result at Newcastle on Saturday. If we were to not win there, then I think the crowd could be pretty deflated.
We need a statement performance on Saturday to give everyone a lift and a big 'we can do this'.
The problem is, if we attack they will counter and a goal for them pretty much ends it.
We're probably capable of it, but it would need Barcelona to have an off-night and everything to go for us, and I just can't see that happening, sorry.