Gini Wijnaldum stressed that the Liverpool supporters "made it possible" as they head into the Champions League final after an incredible semi-final triumph.
Losing 3-0 to Barcelona at the Nou Camp and then winning 4-0 at Anfield in the second leg was a remarkable achievement for the Reds, and now they take on Tottenham in Madrid on Saturday.
Unfortunately, only 16,600 tickets were allocated to both clubs for the final, despite the Wanda Metropolitano holding 68,000, with UEFA deeming the remaining 34,800 essential for their corporate partners.
Speaking as part of Liverpool's media day at Melwood, Wijnaldum acknowledged this as he delivered a message to the fans.
"A message to the fans? Thank you for your support," he said.
"They made it possible to win the game at Anfield 4-0, I think it would be way more difficult if we played the game somewhere else.
"During the whole season they've supported us quite good, even after bad results they were still there to support us. It's a compliment to the fans.
"I don't know what to say to the fans that don't have a ticket, it's difficult, what can you tell them? I feel sorry!
"I think everyone deserves to be there, especially if you support your team through the whole season.
"But that's something we can't control, there's an amount of tickets and I think UEFA decide where the tickets will go.
"It's not up to us that everybody can have a ticket—I would if I had them, but unfortunately I don't!"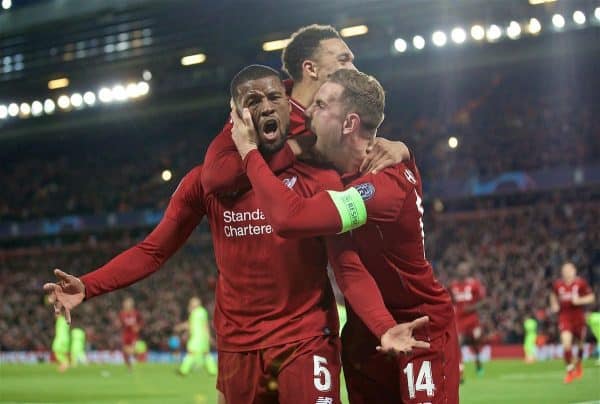 Wijnaldum came off the bench to score twice in the thrashing of Barcelona at Anfield, and after the game revealed he was "angry" with Jurgen Klopp for leaving him out.
That anger was harnessed perfectly as he tore the Liga champions apart, and the Dutchman reflected on this ahead of a game he is likely to start but will see 12 others named as substitutes.
"First of all it is a really disappointing thing for the player himself, but in the end it's a team sport," he continued.
"You know when you come in you don't only play for yourself, you play for your team, the supporters, your club.
"You have to forget the disappointment you have and try to give [everything] for the time [you have].
"That's what I did. You forget that you're angry, you try to succeed.
"At the end I think even as a player you [forget] you were sitting on the bench and the disappointment you had. That's the best way to react."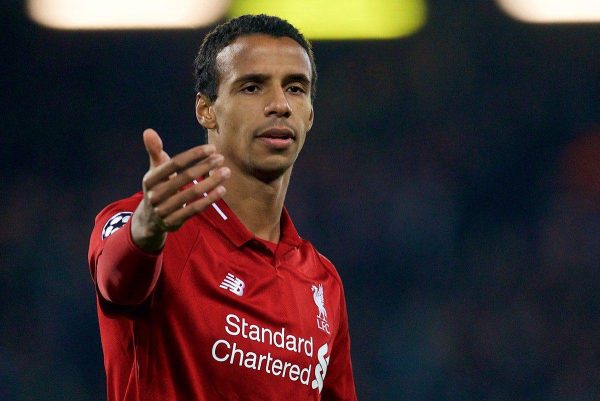 Joel Matip joined Wijnaldum for the press conference, and despite largely answering with short sentences, offered an encouraging stance on the pressure of such a big game.
"It's quite fine, it's one of the biggest games. I just want to enjoy that I have the opportunity," he said.
"That's the kind of game you always want to play as a kid.
"It would be stupid to make more pressure than there is, even one week before.
"In the game, the tension has to be there, one before in training, OK, but not all day."