If ever a team performance yielded near 10-out-of-10 displays across the entire lineup, it was Liverpool's Tuesday night win over Barcelona.
Every player had a part to play, from the starters to the subs, back to front.
It was, all told, as near to perfection as is likely to be seen against once of the finest teams on the planet, particularly taking into account their hefty lead and the injuries throughout the Reds' squad.
Here we run through the entire group of 14 players who featured at Anfield, picking out their best individual moment from the 90 minutes plus stoppage time.
Of course, lots of them had a huge number of impressive contributions and we've had to whittle it down to one apiece—so feel free to respond with your own choices in the comments section!
Alisson Becker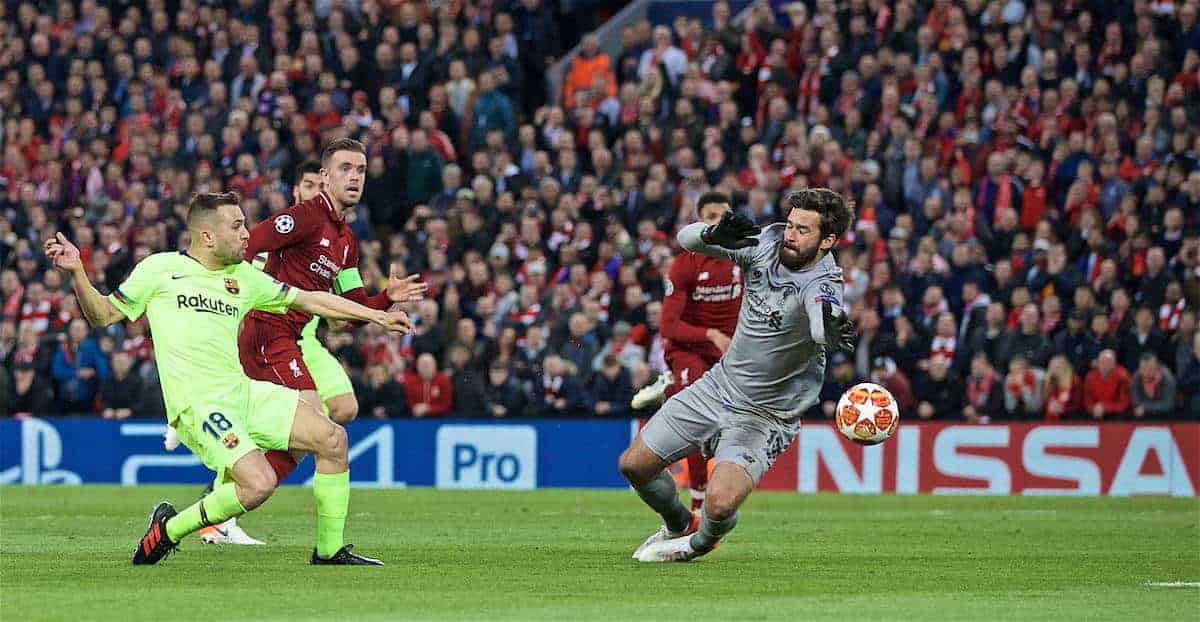 Alisson's handling was excellent all night; not just the saves and catches themselves, but the areas he deliberately pushed the ball away into.
Biggest of all, though, was his one-on-one save against Jordi Alba.
In stoppage time in the first half, an away goal for Barca at that point would have killed the mood and the Reds' control of the match, but as the left-back latched onto Lionel Messi's through pass, Alisson came out, huge and commanding.
He stayed big, closed the angle and got a strong hand to the ball—and even jumped up quickest to gather the rebound.
Trent Alexander-Arnold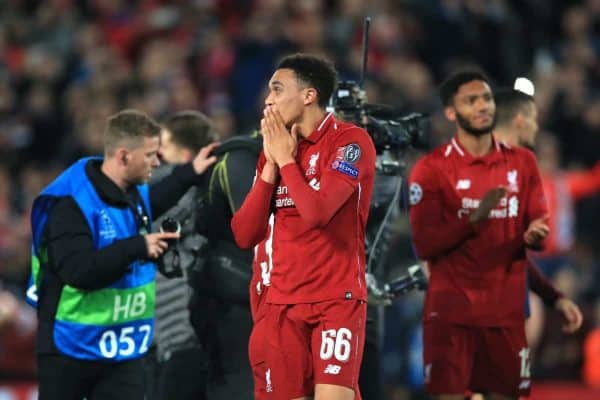 A simply magnificent all-round performance, counting two assists to his name yet again.
But the biggest and best moment came late in the game, as Alexander-Arnold's opportunism saw him take a quick corner, before most players on the pitch were settled or ready, leading to the Reds' killer fourth goal.
Aside from the intelligence to spot the chance, Trent's execution—rushing, one chance, no do-overs—was exceptional. His pass was right on the money and the Reds were rewarded.
Joel Matip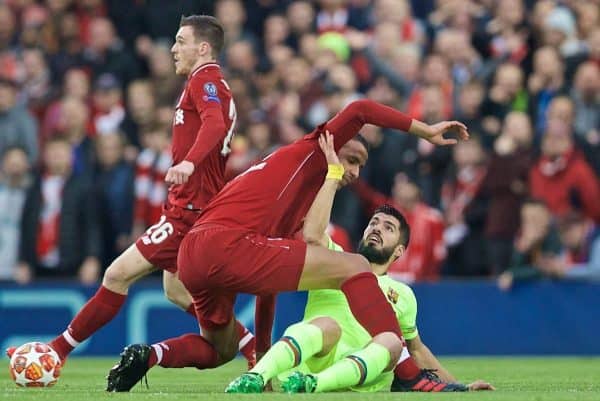 One moment in the game seems to have been overlooked entirely, but here a combination of Matip's reactions and Barca's tendency to filter everything through Lionel Messi saw the Reds escape.
Fifteen minutes in, Jordi Alba was played in one-on-one with Alisson—but instead of running in and shooting, or squaring, or doing anything at all as Barca were three-on-one, he opted to cut the ball back to Messi.
Matip reacted like lightning, strode across and got a huge challenge in, stopping the Barca forward just as he was teeing up a shot from about 12 yards out.
Virgil van Dijk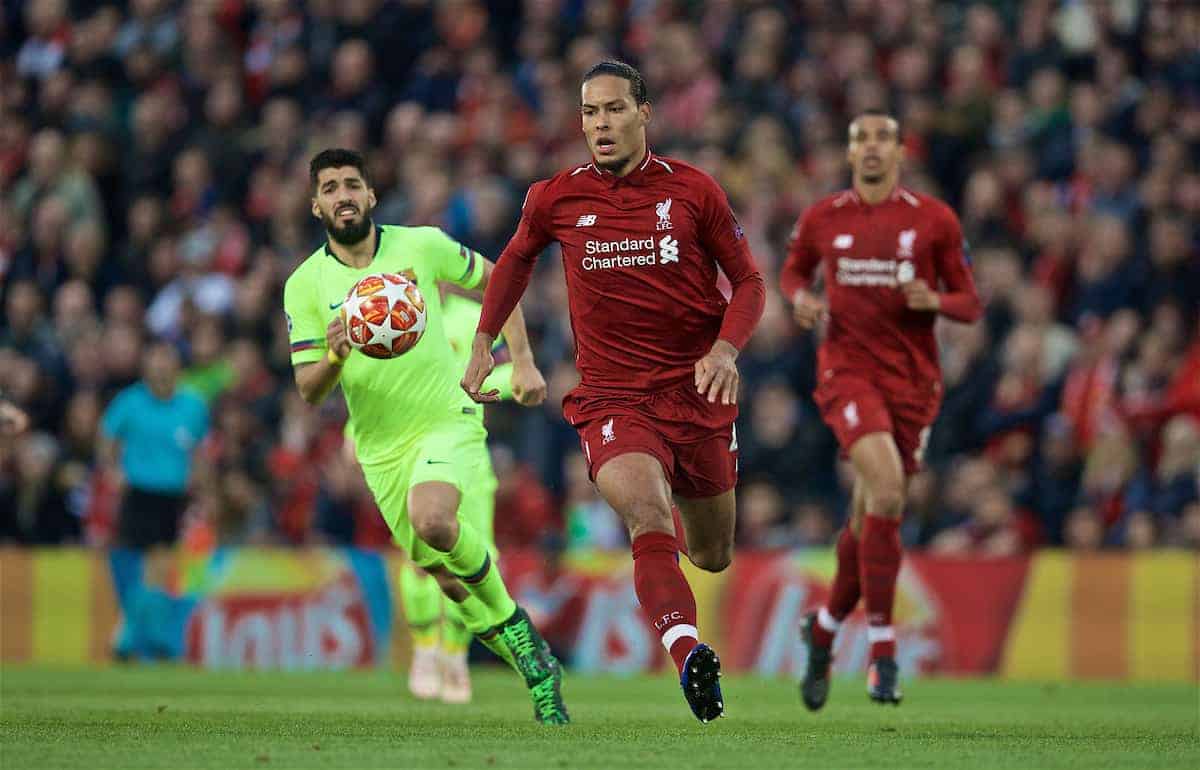 While Matip's big defensive intervention came near the start, Virgil van Dijk's came near the end.
The Reds were four goals to the good but a single Barca strike would have knocked them out, and a swift move down their right, the Liverpool left, looked like creating the chance they desired so much.
Until, that is, big Virgil stepped across, took up a perfect position, and intercepted the dangerous delivery.
Timing, balance, concentration and utter surety.
Andy Robertson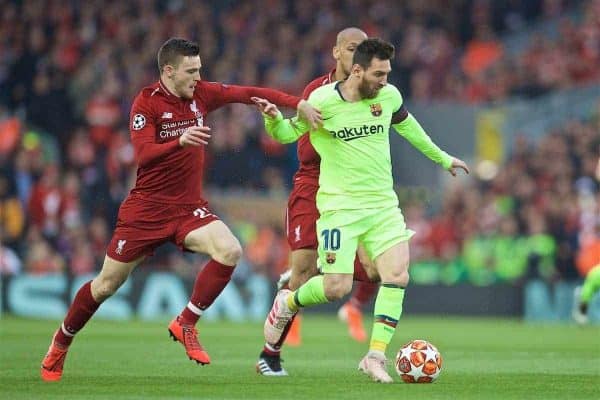 We often associate Robertson's best moments with actions in the attacking third of the pitch, but he has shown his finest defensive work of late again, too.
Robertson made a crucial interception midway through the first half; a Luis Suarez run saw him evade the centre-backs to race on toward a lofted pass, but Robertson was alert.
A run from left-back to the centre of the penalty box saw him stretch to reach the ball first, with Suarez otherwise in with a straightforward chance on goal.
Another vital interception from a back line member.
Fabinho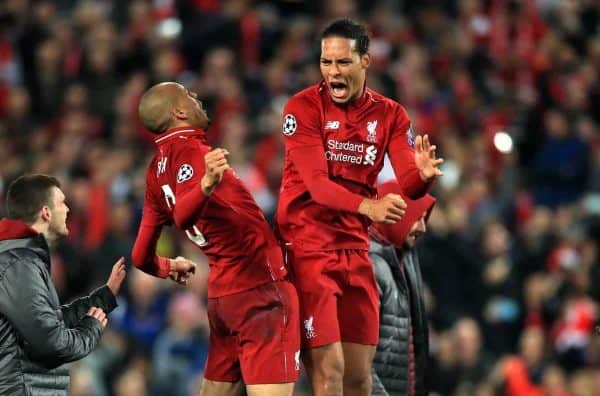 One of the many monstrous performers on the night, Fabinho perhaps saved his best for last.
With Liverpool coming under some pressure and trying to get over the line with the 4-0 win, Fabinho won possession inside his own half an immediately set about winding down the clock with a fabulous run.
His storming dribble, after 95 minutes of relentless work rate, saw him burst away from three Barca players, buy his defence time to reorganise and even win a free-kick, brought down by Messi.
Jordan Henderson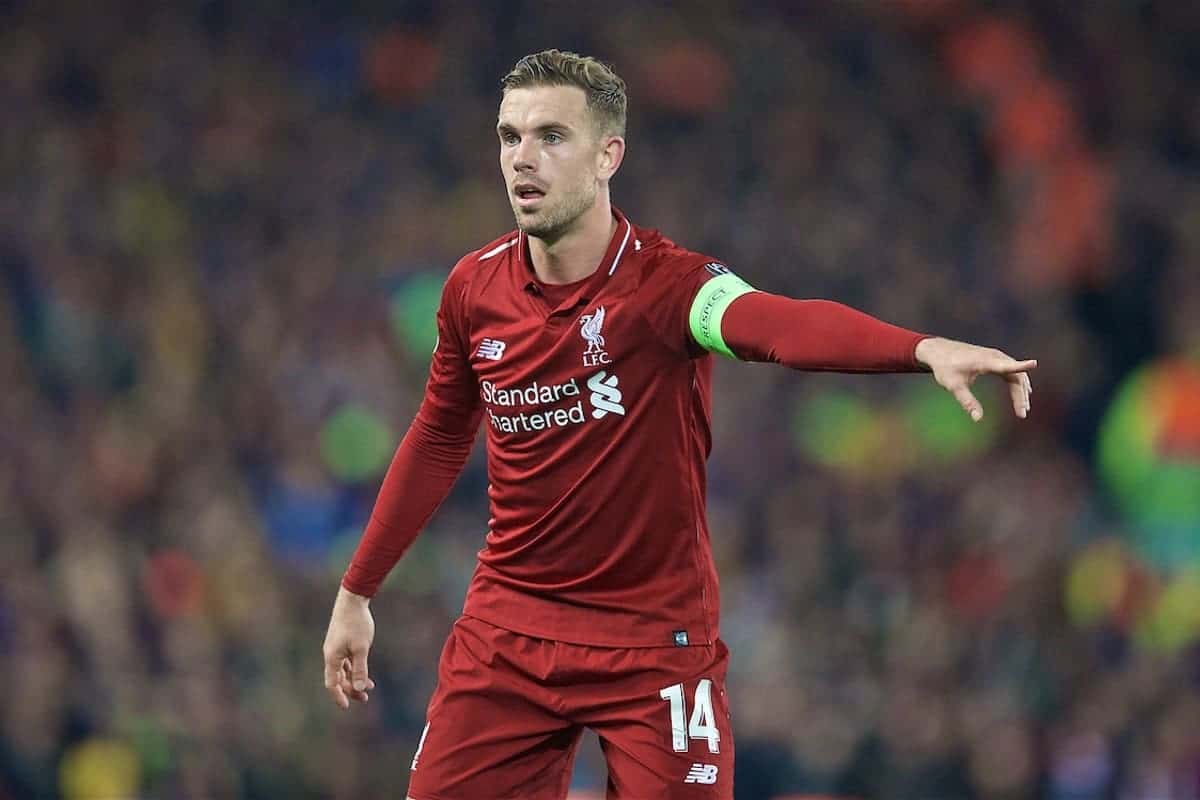 Easy: his reappearance after the interval.
Henderson looked done before the break, hurt in a challenge and struggling to move; treatment at half time, including a pain-killing injection, meant he could come back out for the second half.
He was imperative and unstoppable thereafter.
James Milner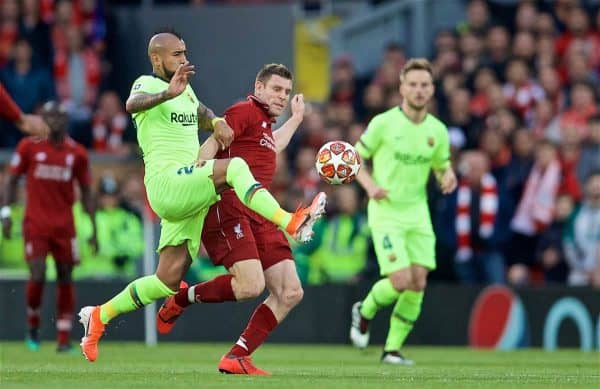 Running down most of the last two minutes with dribbles down the left wing and winning successive free-kicks!
So much to admire about his selfless second half, as Milner played three positions all told during the course of the night.
Xherdan Shaqiri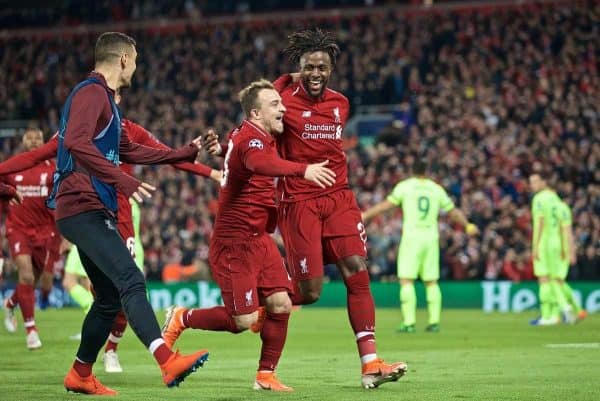 The Swiss winger worked his socks off in an unexpected start at the most vital of junctures in the season.
On the ball, though, he provided one classic moment of Shaqiri quality: a brilliant cross, from the left, ten minutes into the second half.
It was inch-perfect, beautifully weighted—and he claimed the assist as Gini Wijnaldum buried his header.
Sadio Mane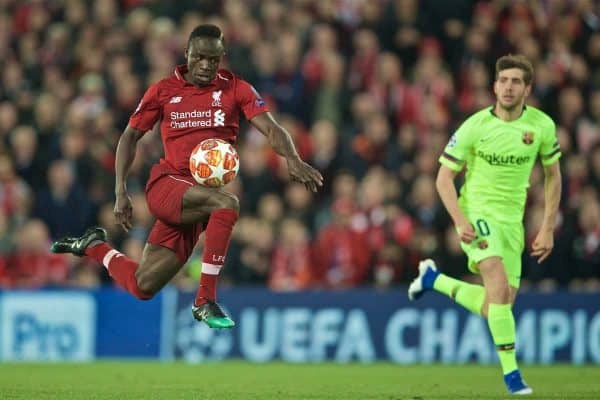 Awesome all night long, but a lot was in short, sharp build-up play or in off-the-ball team-work based movements—such as getting completely taken out in the lead-up to Wijnaldum's first goal.
But one moment of excellence came just after Barca had begun making their changes, including bringing on Nelson Semedo who changed the flow of the first leg.
Not this time; Mane dominated him.
Around the 75-minute mark, a ball switched toward Semedo was short and Mane was onto it in a flash, despite all the work which had come before. He wanted it more, he fought for it more, beat his man to the ball and then outstripped him for pace, winning a foul in the end.
Divock Origi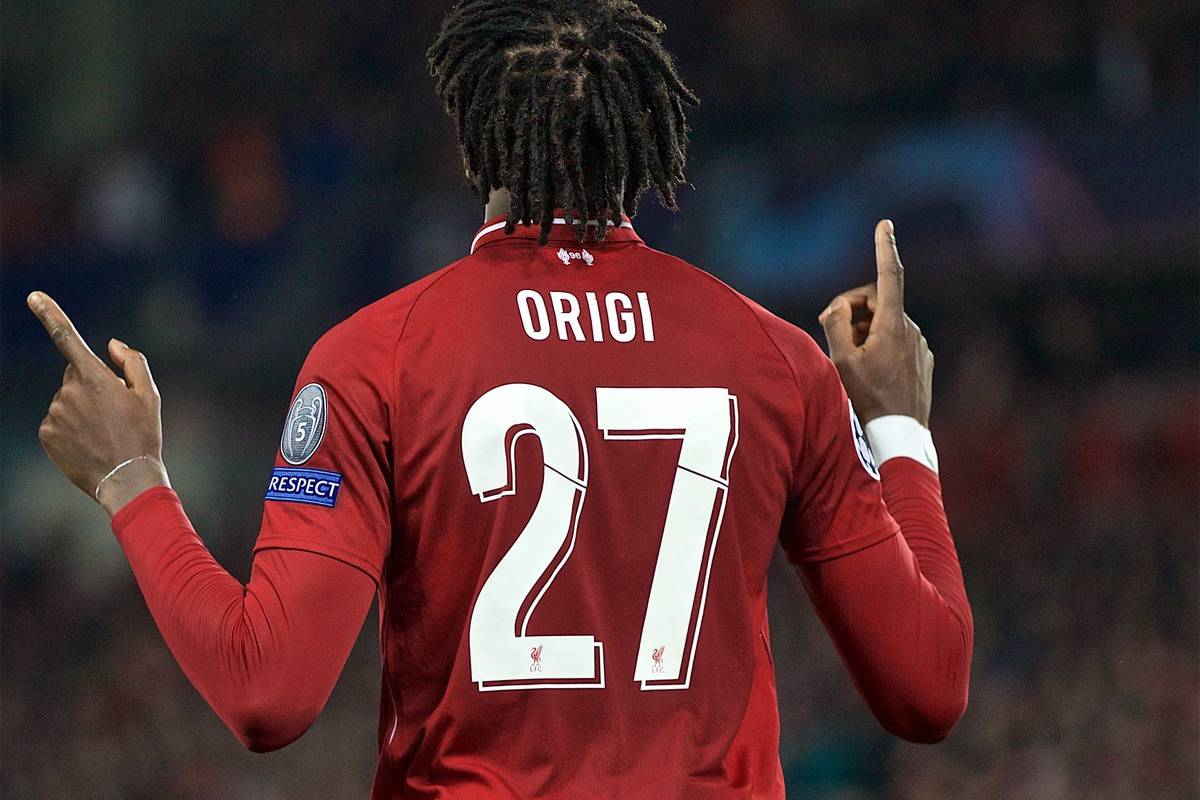 The first goal was important, of course, to start the Reds on their way—but that fourth for Liverpool, the brace for Origi, was something else.
No longer was it about extra time, overcoming a three-goal deficit or any kind of comeback; instead, Origi's swept-home finish meant it was Liverpool ahead for the first time in the tie.
Instinctive, predatory, perfectly timed and gloriously taken, this was the sweetest finish the Belgian striker is ever likely to hit.
Gini Wijnaldum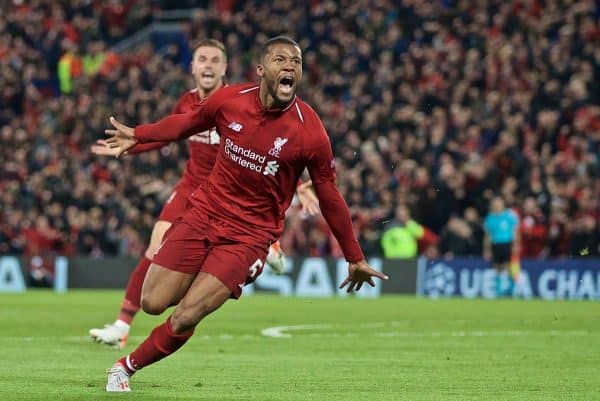 Never has a 45-minute appearance been so full of commanding and telling instances on the ball.
The most imperative and memorable of them all, though, was Gini's second goal: a quite sublime header—and yes, it was his best moment above the incredible show of skill and strength later on.
Without Wijnaldum's second goal, none of what came afterward mattered half as much, or even could happen.
His movement was intelligent, his intention absolute; the leap, the use of neck muscles, the perfect placement: this was a textbook near-post header.
Joe Gomez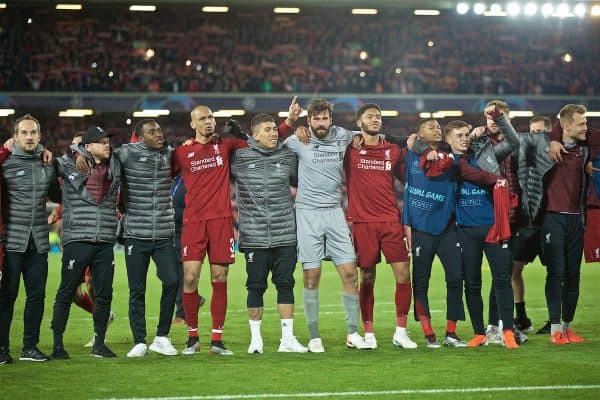 A headed clearance off a deep cross in the final minute of the game.
Daniel Sturridge
Four pressing actions in a row to force Barcelona either back or across the pitch, just after he came on.
Exactly what he was brought on to do!