Jurgen Klopp could do little more than to look ahead with optimism after seeing his Liverpool side's valiant efforts undone as they lost 3-0 at Barcelona.
The Reds were the better side for large portions of Wednesday night's Champions League semi-final first leg, but their wastefulness and the clinical finishing of their hosts put paid to their efforts.
Luis Suarez scored the opener against his former side in the first half, before a pair of strikes—including an incredible free-kick—from Lionel Messi put the game to bed.
Liverpool still have an opportunity to progress to the final as Barca head to Anfield next week, but will need a major effort to overturn the deficit and not concede any away goals.
For now, however, Klopp is turning his attention to the trip to Newcastle on Saturday, with the Premier League title hunt still on.
"I said that I'm really proud of them, that I really liked the game, that it's wonderful," he said of his message in the dressing room.
"But we don't have to think about the next game against Barcelona, now we play Newcastle, that's where all our focus is.
"So go to the hotel, have a proper sleep, get up in the morning and fly home and prepare for Newcastle, that's how it is.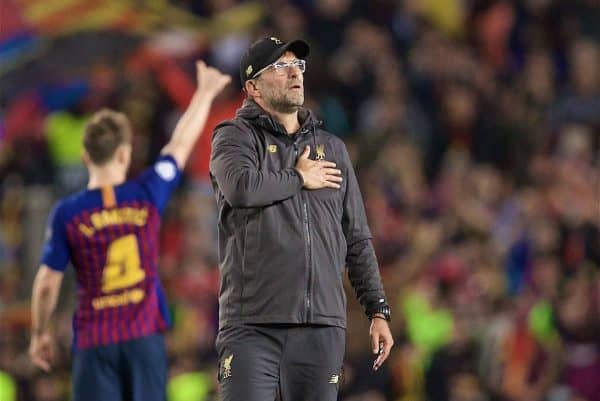 "Whatever happens, these boys, I couldn't be more proud of them.
"We know the result and people who didn't see the game will say strange things about it—we accept that, it's easy—it's just how they always strike back in these kind of games.
"At the end of course it's still a 3-0, whatever I think about the game, and that will not change, but it's OK.
"Let's fly home and play Newcastle, and then we'll play another time against Barca."
Klopp offered expected praise for Messi, saying "in these moments he's unstoppable," but added that "apart from that I was really happy with how we defended the whole Barca team, and Lionel involved."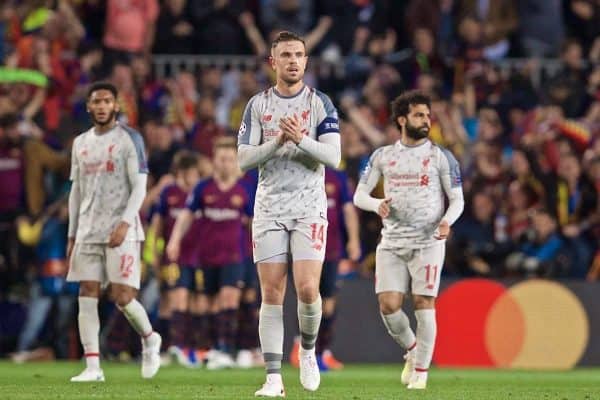 And asked whether he believes Liverpool can still reach the final with a result at Anfield next week, the manager gave a realistic response.
"Because it's football, yes. But before this game we had a bigger chance, let me say it like this!" he said.
"It's difficult. What can I say? It's Barcelona, if they can play for counter-attacks [at Anfield] that doesn't help us a lot. That's difficult to avoid.
"Because it's football, we should still try, but it obviously didn't make our life easier.
"And it's not the night for being really mouthy and telling you it's exactly what we wanted, half-time, score an early goal and all that shit.
"It will be another really difficult game."