Jurgen Klopp was realistic and optimistic over Liverpool's chances of overturning a three-goal deficit and beating Barcelona to the Champions League final.
The Reds need to score at least four in normal time to book their place in the final for the second season running, after losing 3-0 at the Nou Camp last week.
Barca's margin of victory in the first leg flattered them significantly, as they were largely outplayed by Liverpool on home soil, which gives Klopp at least slim hope of a famous comeback.
The manager reflected this when addressing reporters at Anfield on Monday afternoon, taking a realistic approach to his side's hopes of extending the season, but still confident of a strong display.
"The approach is we try to win the game. I thought that makes sense!" he said.
"The situation with the 3-0 at Barcelona is not the situation you want to have before you play the second leg.
"You cannot play against Barcelona and tell the world 'watch this, after 10 minutes we are level and we try to turn it around', it's not like this.
"We try to win the game, and if we have the [aggregate] result to get to the next round [we will].
"Until then we just have to try to win the game. That's the way we will do it.
"Together with our supporters it was a long season, and there's at least a little chance to make it longer, if not these are the last two home games of an incredible season.
"And I think we should celebrate it with a good performance on the pitch and a very, very good performance in the stands. That would be nice."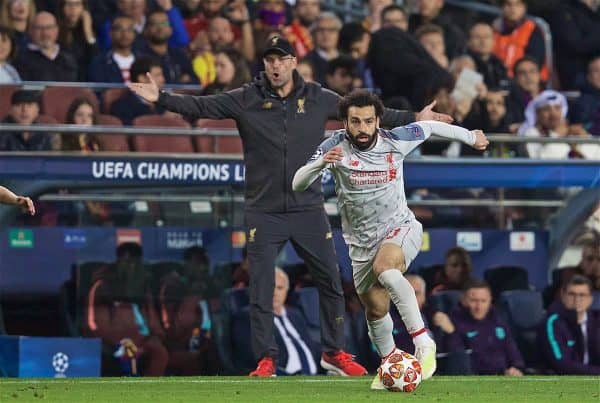 Klopp confirmed early on that both Mohamed Salah and Roberto Firmino would be unavailable for the tie, with the former set to return from concussion for the final game of the Premier League on Sunday.
This deprives Liverpool of two of their most important forwards, while despite losing Ousmane Dembele to injury at the weekend Barcelona can still field Lionel Messi, Luis Suarez and Philippe Coutinho.
Both Messi and Suarez scored in the first leg, and particularly thrived after Coutinho was brought off and Ernesto Valverde switch to a 4-4-2.
"Wherever Messi is it will be difficult to deal with, wherever Suarez is it will be difficult to deal with," Klopp said.
"You take risks against Barcelona only, they punish you. I still like the way we tried it [at the Nou Camp], we still defended apart from one situation."
Klopp called for a "football party" at Anfield as Liverpool try to accomplish an unlikely feat, and the Anfield crowd will no doubt be key to helping nullify Barca's threat and propel the Reds to the final.
* Video source: ISNTV