Jurgen Klopp insisted Liverpool are "ambitious as hell" as they prepare to keep their Premier League title hunt alive with a trip to Newcastle on Saturday.
The Reds suffered their first loss in 20 games on Wednesday night, as they fell to a 3-0 defeat at Barcelona despite largely outperforming their hosts.
Losing at the Nou Camp is certainly a setback, but Klopp cannot afford for it to sap the morale of his squad as they still remain in pursuit of silverware in both the league and Champions League.
Their odds have dropped dramatically, for sure, but with their clash at St James' Park coming two days before Man City host Leicester, Liverpool can put the pressure on their rivals with victory.
"We don't have to doubt that, the boys are completely on fire," he said when asked if he now needs to motivate his players to respond.
"There was nothing, when you are in the race and you see you can win it you don't get tired, that's how it is.
"If it's the 400m race and you're in between the last three, it doesn't happen a lot that you see one of them really [drop off] and two go.
"That doesn't happen, because then you get this second [wind], the boost, an extra tank, you find something.
"We are ambitious as hell, we want to [win], but we still know it's not 100 percent in our hands.
"But the only thing we can do is to beat Newcastle, and that's unbelievably difficult!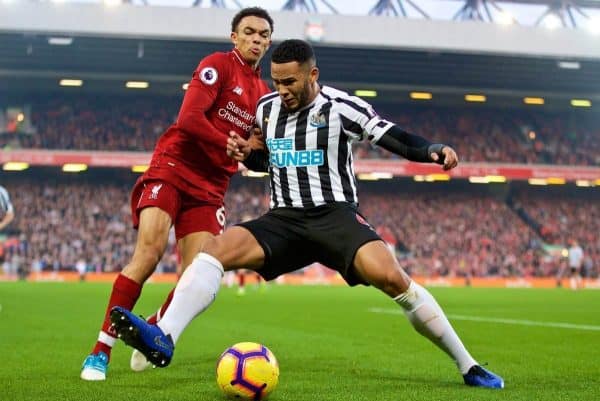 "That is our problem, not what other teams are doing on Monday night or whatever, that's not our problem. Our problem is really how to find a way to beat Newcastle.
"We respect them so much, and Rafa is doing an incredible job there, again. It will just be difficult, that's how it is.
"But we still try, we are in a very positive mood, looking to the game we know [it's] difficult but we still want to play it.
"We wouldn't rather play Sunderland because they are round the corner, we want to go there and play the game, and we will see what we get for it."
Klopp also spoke "bad news" on Naby Keita's season-ending adductor injury, an update on Roberto Firmino's fitness, Alex Oxlade-Chamberlain's role in the run-in and Gini Wijnaldum's use as a No. 9.