Joe Gomez thrived in the first half of last season before Joel Matip emerged to take the mantle in the second, but who should partner Virgil van Dijk next term?
Although Jurgen Klopp will head into the 2019/20 season with the majority of his best starting XI in mind, one position which will make him pause for thought is who will join Van Dijk at centre-back.
Last season saw both Gomez and Matip stake their claim for the role, with the former impressing in the early stages before injury struck.
This was an untimely break which paved the way for Matip to rise to prominence and help steer the Reds to a sixth European crown.
After a four-month absence from the team it can be easy to forget how Gomez matched Van Dijk stride for stride and proved that he is an elite centre-back in the making.
But the turn of the new year proved to be Matip's time to shine as he emphatically answered every question thrown at him during a consistent run of form which saw him appear in 20 of Liverpool's last 23 games of the season.
It leaves Klopp with a conundrum on his hands: does he return to a partnership which thrived early last season or stick with a duo who proved instrumental in Liverpool's European glory?
This Is Anfield asked fans on Facebook and Twitter who should start as Van Dijk's partner, and there was only one winner.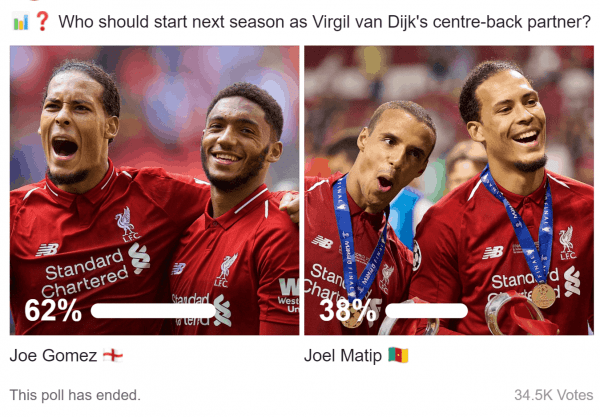 Of the 34,500 fans who voted, 62 percent were of the view that Gomez should be the man to line up alongside Van Dijk at the start of the 2019/20 season.
The feeling among some fans was that the England international is Liverpool's future and he deserves to return to the team despite Matip's imperious run of form late on.
"It's savage to say after his second half of the season, but I'd drop Matip and give Gomez the nod!" Dan Phillips explained.
"The age that Gomez is at now is where he will learn the most and there isn't no one better than VVD."
This was a view shared by Daniel Fiore, who wrote: "Gomez first pick and [is the] future. Matip did a commendable job."
"Van Dijk and Gomez were fantastic together until his injury. Matip has done well, but Gomez is better," Mark James Bergqvist argued.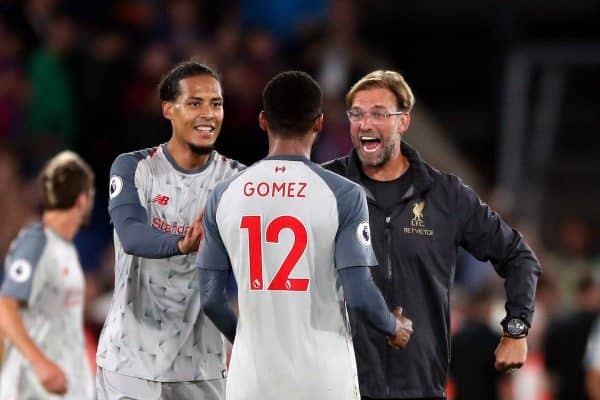 Conversely, for many it was a case of Matip having earned his place in the starting lineup and Gomez needing to fight to take it back.
Isaac Stannard wrote: "Matip all day long. The bloke stepped up massively this season.
"Let Joe come back at his own speed. He's shown before he is undoubtedly class, but he also has time on his side.
"More than impressed with how the season started but can't just take Joel out given that he was a massive part of the team that conquered Europe."
"Matip's not put a foot wrong, deserves a chance to carry on. It's his place to lose and Gomez needs to fight for it," Darren Warren agreed.
Faisal Miah echoed Stannard and Warren's sentiments, writing: "Great problem for the manager to have but I'd have to say Matip and VVD looked extremely solid and seemed to have developed great understanding last season."
"People forget that Gomez was playing really well before he got hurt, [but] Matip slid into the role seamlessly and carried the torch," Clayton Elkins added.
"I don't think you could go wrong with either of them."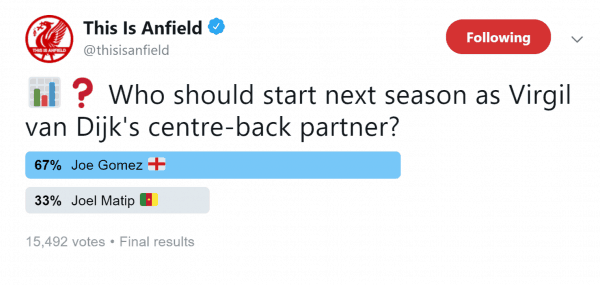 It was a similar state of affairs on Twitter as of the 15,492 fans who voted, 67 percent felt Gomez should be given the nod.
@johnnyste_ was looking well into the future, writing: "Gomez, obviously. For the next decade."
And despite Gomez's convincing win in the poll, fans—much like those on Facebook—commented that the 22-year-old needs to win his place back as Matip doesn't deserve to be dropped to the bench.
"Gomez is the future but it's Matip's place to lose. He's been immaculate since coming into the side and in no way deserves to be dropped," @shornKOOMINS argued.
"Gomez is going have to wait for Matip to get injured."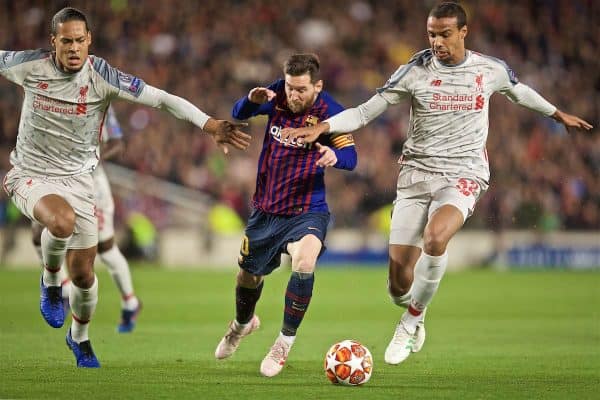 "Lots of things can change between now and the start of the season, e.g. form, fitness level, etc," @TakkiLFC explained.
"In best shape, I'd go for Joel definitely. I love Joe and his composure but still think Joel earned his place and did brilliantly last season."
This is an opinion also held by @Lewismithl1996, who wrote: "Matip doesn't deserved to be dropped, he's shown multiple times he's good enough to partner VVD."
@NeilGillman echoed Elkins' thoughts, writing: "Matip was excellent. Gomez is the future.
"Hard call but for the first time I can remember it's not a case of worrying about whether whoever lines up alongside VVD is good enough, but rather which of the very good options to choose."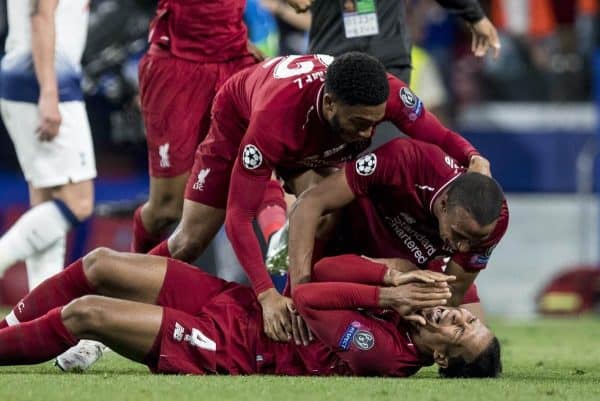 The results and subsequent comments show that you can make a case and argument for either Gomez or Matip to make the right-sided centre-back spot their own next term.
Pre-season could prove to be decisive for both players in their bid to impress Klopp.
But, as many fans noted, it is a welcome dilemma to have in the heart of defence after a number of years with few quality players to chose from.