Triumph in the Champions League final will remain one of the best memories for the Liverpool squad, made even better as they shared it with their families.
The Reds were favourites in Madrid, and though their clash with Tottenham was far from outstanding in terms of football, goals from Mohamed Salah and Divock Origi secured the club's sixth European Cup.
At the end of a continental campaign that saw them defeat the likes of Paris Saint-Germain, Napoli, Bayern Munich, Porto and Barcelona, this served as a just reward.
With the majority of the estimated 100,000 fans in the Spanish capital wearing Liverpool's colours, and a phenomenal 750,000 turning out back home for Sunday's trophy parade, the significance of this win was clear.
For the players and Jurgen Klopp's staff, this was underlined by the presence of their families as they celebrated a priceless victory.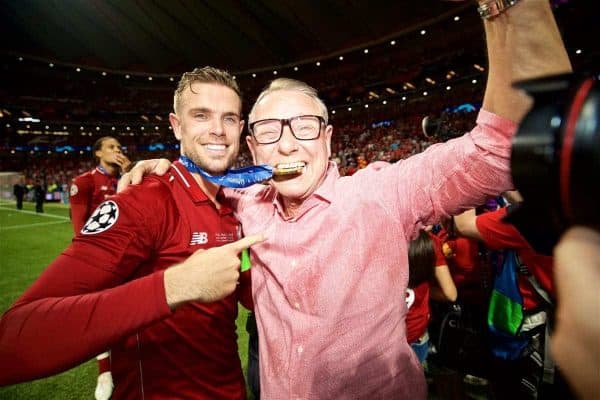 Jordan Henderson's father, Brian, was interviewed by Optus Sport in the aftermath, sharing a story of the captain's childhood dream of playing in a Champions League final after a long embrace with his son.
"[He's done it] not only once, but twice, and now he's won one. Absolutely delighted for him," he reflected.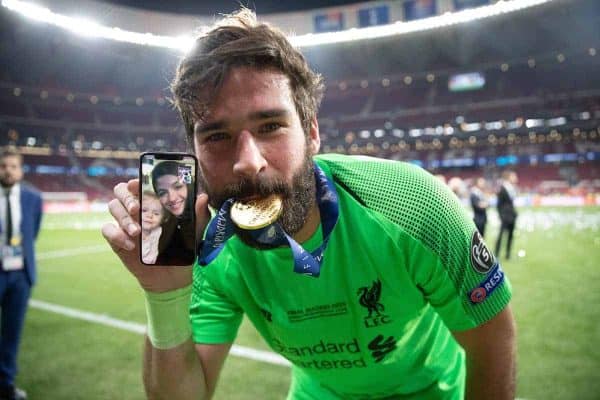 Meanwhile, on the pitch, Alisson was FaceTiming his wife, Natalia, who was unable to attend the Wanda Metropolitano as she is expecting their second child.
Just look at the tears on Alisson's face, as he experiences the emotional scenes at the parade. Arguably one of our most important players this season. I love this guy. pic.twitter.com/Z9HphPaGOG

— ' (@VintageFirmino) 3 June 2019
The emotion of the experience was painted on the goalkeeper's face on the open-top bus in Liverpool the following day, breaking down in tears surrounded by his team-mates.
Just witnessed another @ohmeohmy_liv love story. Mrs Klopp cheering her husband on a bin ? Credit:ktyliv #lfc #ynwa pic.twitter.com/oYxEUUjtCi

— OhMeOhMy_Liv (@OhMeOhMy_Liv) 2 June 2019
Watching on from the streets was Ulla Klopp, Jurgen's wife of 14 years, who climbed on top of a bin to get a closer look at her husband as he was lauded by hundreds of thousands.
After the parade, which saw Gini Wijnaldum drop his phone off the side of the bus during a live stream on Instagram, the Dutchman showed his winner's medal to his grandmother, Francina Mayland.
Gini Wijnaldum, his grandmother Francina and his Champions League winner's medal.

She brought him up from the age of five and walked him 45 minutes to training in Rotterdam as a youth player. pic.twitter.com/fVAUSBJvWe

— Jack Lusby (@jacklusby_) 3 June 2019
Francina brought Wijnaldum up after his mother moved to Amsterdam when he was five years old, and the sight of the 84-year-old wearing her grandson's medal is a heartwarming one.
"When I was young, I used to go to training so early in the morning that the trams in Rotterdam weren't running yet so my grandma would walk there with me even though it took 45 minutes," Gini told the Mail in February.
"She said again: 'Why are you thanking me? I'm your grandma. I have to do it. I didn't do it for you to be a professional football player, just to keep you off the street, but if you can make something of it, great'."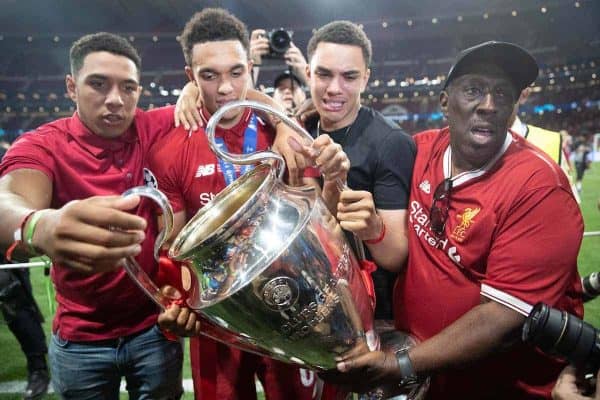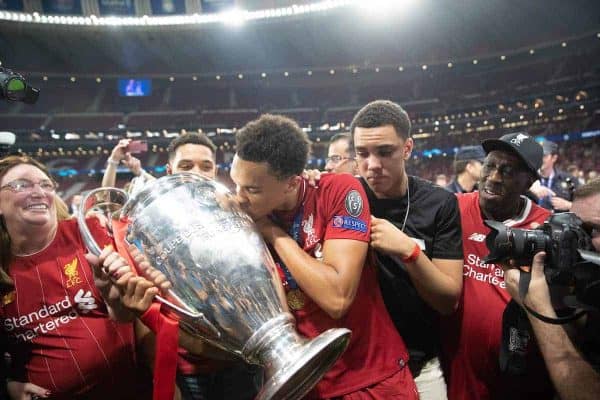 The same pride etched on Francina's face could be found on the family of Trent Alexander-Arnold, as they joined the celebrations with the trophy at full-time.
Trent's mother, Diane, is widely credited as one of the biggest influences in the upbringing of such a humble, charitable young footballer, and the 20-year-old still lives at home with his family.
These are just five of many stories to come out of Liverpool's legendary night in Madrid, and they show how much this trophy means to everyone involved with Klopp's squad.