Though the temptation is to delve into transfer talk and ambitions for the season ahead, Liverpool fans should be savouring a sixth European Cup for much longer.
It's amazing how quickly things move on in football. It's a world where everyone is onto the next thing before you've got your head around what's just happened.
Liverpool won the Champions League less than a week ago but two players—Daniel Sturridge and Alberto Moreno—are getting off, Adam Lallana has announced he's staying, the Reds have been linked with about 25 players and there's even been talk that Jurgen Klopp is planning a one-year sabbatical from football in 2022.
2022! I don't even know what I'm doing at 20:22pm tomorrow night let alone in 2022, although to be fair to Jurgen if he is planning a big holiday it does pay to book time off work early and finding the best B&Bs in Benidorm can be a time-consuming process on TripAdvisor.
I've not been a fan of taking sabbaticals since Loris Karius took one from being a goalkeeper in Kyiv last year and I won't be taking a break from celebrating Liverpool's sixth European Cup win any time soon either.
If you're up for basking in the glory of Madrid for a little while longer you've come to the right place. Sharks in Bilbao have basked less.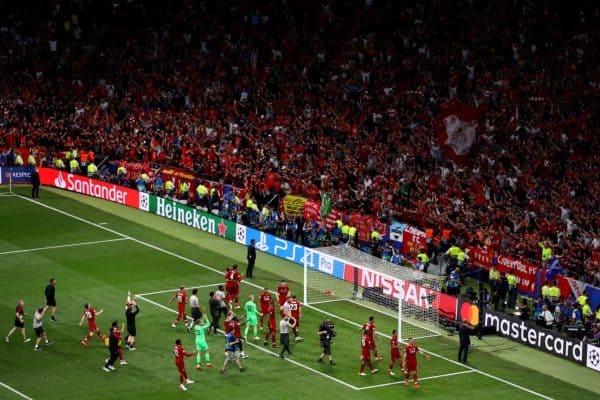 Madrid 2019 was brilliant. Maybe as good as it gets when you take the off-the-field festivities—not least the incredible scenes at the BOSS Night fan zone at Avenida Felipe II—into account, although those of you not lucky enough to get a match ticket may see it differently.
Whether you got into the ground or not, Madrid was rojo. There surely can't have been a bigger gathering of Liverpool supporters in a European city for a competitive match.
There were travelling Kopites on every street, in every square, in every taverna, in every restaurant, in every Metro station, on every train, in every taxi.
I was half expecting to check into my hotel room to find a load of Reds bouncing on the bed singing the Sad-i-o Mane song.
Thankfully, that didn't happen (although returning back to the hotel at 3am after the game to discover they'd run out of beer was catastrophic) but even before a ball was kicked the sheer number of Liverpool disciples to have made the pilgrimage to Madrid emphasised just how big our football club is.
What was it Shankly said about Chairman Mao?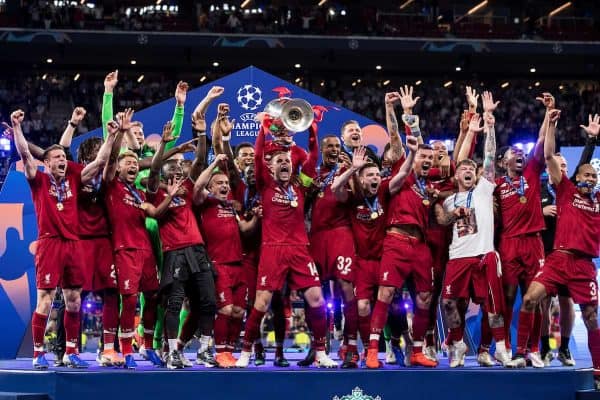 That doesn't make getting tickets any easier, now or in the future, but it doesn't half help to make Liverpool look like the club to aspire to play for right now.
Champions of Europe with that show of support in Madrid and on the streets of Liverpool for the homecoming, plus Jurgen Klopp in charge? Why wouldn't you want to play here?
Yes, the Champions League final itself was even more boring than non-Liverpool fans telling you it was boring, but then I don't recall our honours list reading 1977 (great game), 1978 (dull), 1981 (snorefest), 1984 (meh), 2005 (WTF just happened?) on the Champions Wall at Melwood.
We won. We're champions of Europe. Again.
And when the full-time whistle went all that mattered amidst the wild celebrations was the 2-0 scoreline, not how we won it or that it was so hot in the Wanda Metropolitano that Andy Robertson slapped factor-50 suncream onto his boots and a slow, cagey game was inevitable.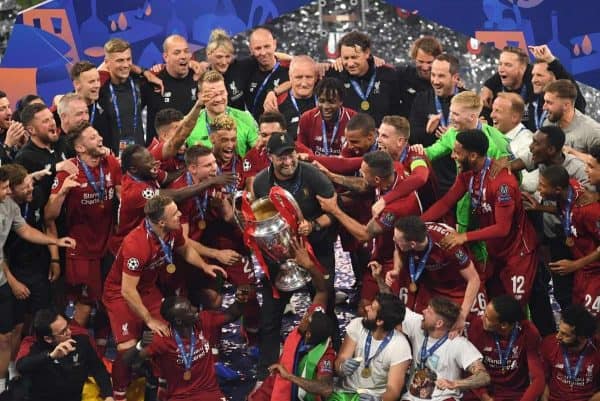 Putting a trophy—the biggest trophy—on the sideboard is huge for Liverpool and Klopp.
One League Cup win in 12 seasons and Klopp's run of cup-final defeats have both been valid criticisms of underperformance, but winning the European Cup ends all that.
We are the champions. Champions of Europe. We've won it six times. Not just in the past, but in the present.
And, given Klopp has a 100 percent record of reaching European finals as Liverpool manager, you'd fancy the Reds to make a right go of trying to retain it in Istanbul next year.
Obviously the 'you've still not won the league' jibes will start again soon, probably when the 2019/20 Premier League fixture list is announced on Thursday, but for now it is time to enjoy what has been achieved, not what is to come.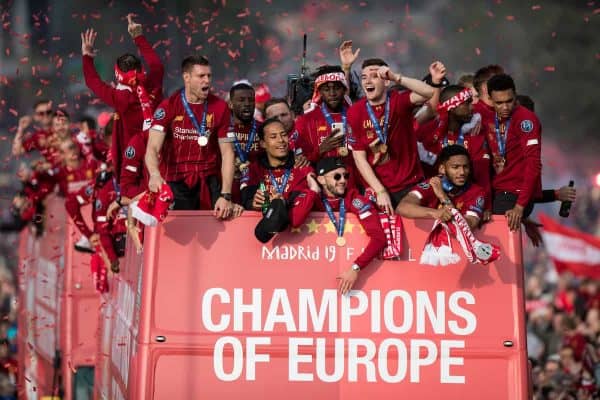 Madrid 2019, and Liverpool's 2018/19 season as a whole, created memories that will last for a lifetime. Watching the Reds win the European Cup with friends, families and fellow Liverpool supporters is special.
So make the most of it. Because you can never be certain if it'll happen again.
---


Chris McLoughlin writes for This Is Anfield each week; he's also Senior Writer at Reach Sport, the team that have produced the Official Champions Of Europe Souvenir magazine – Let's Talk About Six Baby. Order it here.