What do you do after a night of celebrating winning the biggest trophy in club football? You celebrate all the next day, too, of course.
Social media was absolutely ablaze with an incredible collection of videos and photos on Sunday afternoon, each of them capturing Liverpool's Champions League parade from a unique standpoint.
Only the vantage points were different, as fans, players and club staff alike revelled in the joy, the passion, the emotion…in the sheer amount of Red.
For those lining the streets, there was a wait to endure…or rather, to enjoy, as even that became part of the occasion, part of the celebration of being part of a club as massive as Liverpool.
The bus isn't due on the Strand for another 2 hours ? pic.twitter.com/ka9zYX0vMi

— This Is Anfield (@thisisanfield) June 2, 2019
https://twitter.com/danroan/status/1135215191053000705
Just wow.

Photos by @CultureLPool pic.twitter.com/n24k6Dv7yI

— IndependentLiverpool (@IndpndtLiv) June 2, 2019
As the bus made its way toward the city centre, there were some streets to go past lined with local fans…
The Reds!#SixTimes pic.twitter.com/QXbMe9hI1e

— Steve Harrison (@AintreeIron) June 2, 2019
I Love this Club ?????? #liverpoolparade #liverpool #lfc pic.twitter.com/BwjEeJWNM4

— Adil (@Adil_Certi) June 2, 2019
@LFC #liverpoolparade pic.twitter.com/0WNH5VaxYa

— Gerry G (@gerry_graceffa) June 2, 2019
…and others absolutely jammed full of riotous, joyful, delighted Reds.
Oh my days, I have never seen anything like Childwall Fiveways just now! #LFCParade pic.twitter.com/f4VYAXwpCJ

— Joe Thomas (@joe_thomas18) June 2, 2019
#LFCparade pic.twitter.com/NiUzk9xSTK

— LFC Photo (@LFCphoto) June 2, 2019
Catching a glimpse of their heroes was what these supporters wanted…but the occasion was every bit as important, as relevant and as deserved for the actual players—who were also keen to capture the moments to remember.
What. A. Feeling. ?? #YNWA pic.twitter.com/CoqUuGEHts

— Trent Alexander-Arnold (@trentaa98) June 2, 2019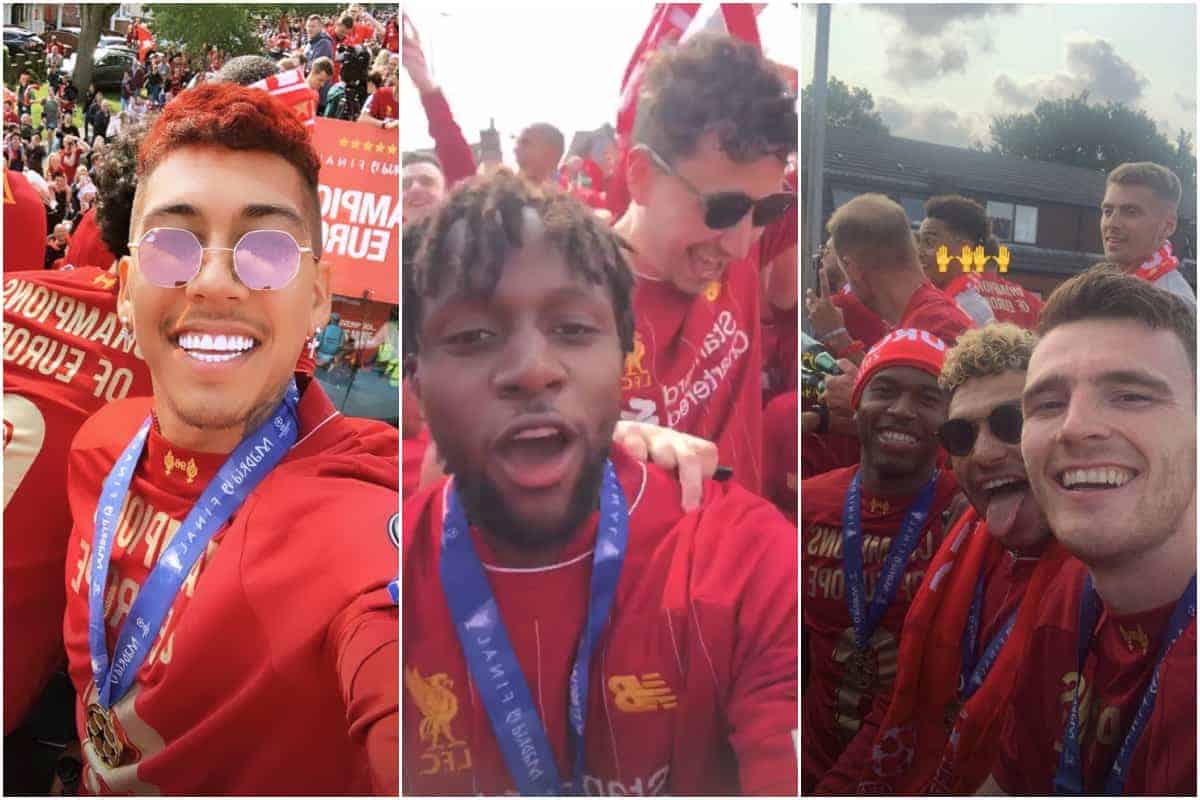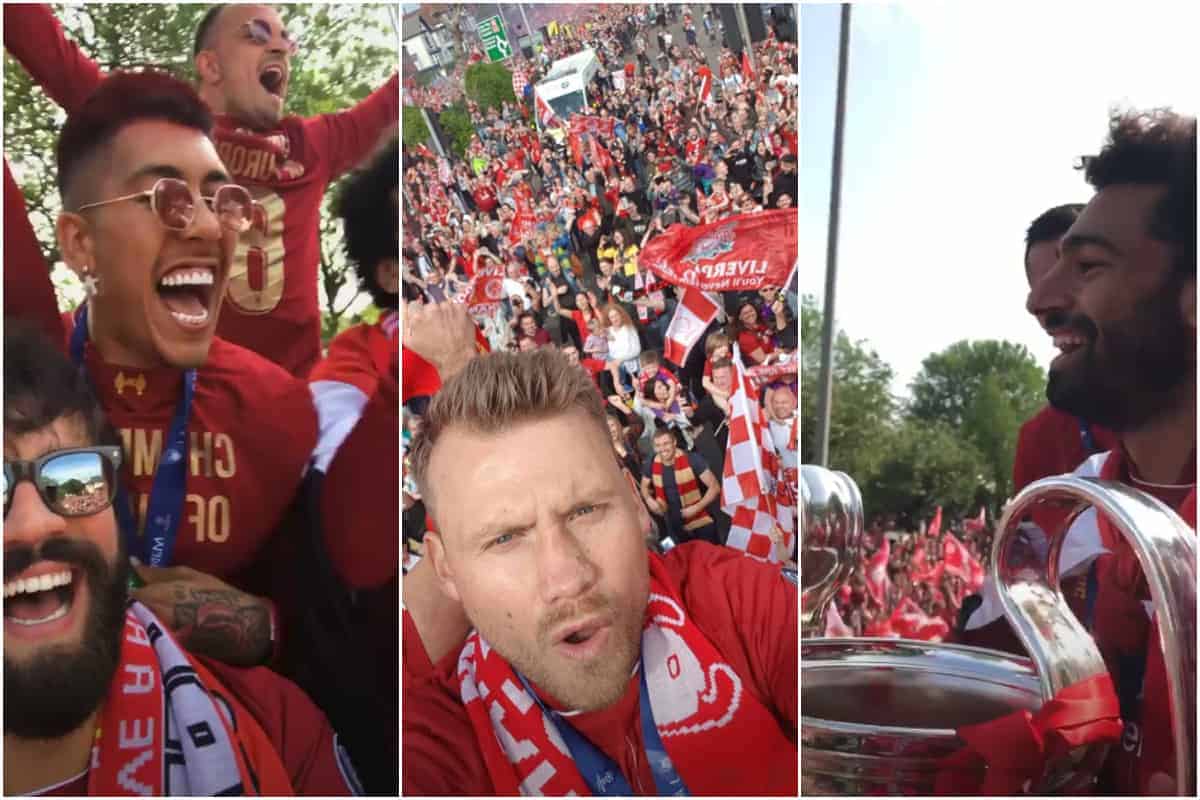 Unbelievable, thank you Reds! #YNWA ? pic.twitter.com/Y2Q5iuRJjR

— Virgil van Dijk (@VirgilvDijk) June 2, 2019
It wasn't all about the videos either—sometimes a picture tells more than a thousand words!
https://twitter.com/dkurtenbach/status/1135235370029912064
https://twitter.com/angelcakepics/status/1135236420111609857
https://twitter.com/NPASHawarden/status/1135238990024589314
Love it! pic.twitter.com/xlnmBjV7aR

— Sai (@TheEngancheRole) June 2, 2019
https://twitter.com/TheEngancheRole/status/1135261122028638208
Jurgen gave the count…though we're not sure if he's referring to European Cups won or the number of beers he had while hanging off the back of the bus!
— Andrew Beasley (@BassTunedToRed) June 2, 2019
Let's talk about six, baby!#LFCParade pic.twitter.com/9ZGRAa04vb

— Dian (@dianqamajaya) June 2, 2019
Once the bus approached the end destination, it was apparent just how incredible the support was, just how magnificently the fans had put themselves out to welcome back a team which gave everything for them this season.
Amazing pic.twitter.com/zqNy8gpr4m

— [Not] Gregarious (@lfcgregarious) June 2, 2019
We do things different here ?? pic.twitter.com/In9vRj6RU4

— Stanley House 6?? (@StanleyHouseLFC) June 2, 2019
Individuals make the difference, but the collective is always worth more, as Jurgen himself loves to point out—so the efforts of the city itself deserves recognition and respect.
???? Our team. Our city.#SixTimes

[? @Chris78Williams]https://t.co/XYomHTcRL1 pic.twitter.com/cP4IbSkdM9

— This Is Anfield (@thisisanfield) June 2, 2019
Welcome home lads @LFC ????? #SixTimes | @CultureLPool | @lpoolcouncil pic.twitter.com/OHSVe70tsM

— VisitLiverpool (@VisitLiverpool) June 2, 2019
What an amazing afternoon – #Liverpool turned red for #LFC thanks to @lpoolcouncil & @CultureLPool for the #fireworks to greet the team pic.twitter.com/hFTU6zqMny

— CAMILLA MANKABADY (@Danishgirl4) June 2, 2019
CHAMPIONS OF EUROPE!! ?? pic.twitter.com/NTAhqbam4E

— Joanna Durkan (@JoannaDurkan_) June 2, 2019
Liverpool are back, and so is the European Cup!