Steven Scragg writes from somewhere in France on the way back from Madrid. He didn't get a ticket, but it didn't matter. Liverpool FC are Champions of Europe. Again.
We don't win the European Cup in unremarkable backwaters.
Rome, London, Paris, Rome again, Istanbul and now Madrid. Liverpool Football Club cut an immortal swathe through the most iconic cities when it comes to lifting 'old big ears'. We get to see the greatest footballing wonders.
We are the chosen ones.
Gravity had to be adhered to eventually. This Liverpool and this Liverpool manager couldn't be denied silverware for any longer.
I've rarely been so certain of a win, and what it has done, is that it has given a blindingly talented squad of players a taste for success that they will want to experience again and again. This is now the Liverpool of our detractors nightmares, as a very alive reality.
No, it wasn't our greatest performance of an incredible campaign, but neither did we play all that well in the 1978 and 1981 finals. Sometimes the greatest victories have to be chiselled out. What you will remember from this is the fast start; what you will remember from this is Divock Origi drilling home that crucial second goal.
Without warning, you will be blindsided on a dull Tuesday morning by the same feeling of euphoria you felt at the final whistle. A whistle that signalled Liverpool's coronation as champions of Europe. Six times European champions.
I was blessed enough to be in Madrid, but not blessed enough to have a ticket for the game. It was the first time I hadn't been in the stadium for a Liverpool European Cup final for the first time since 1985.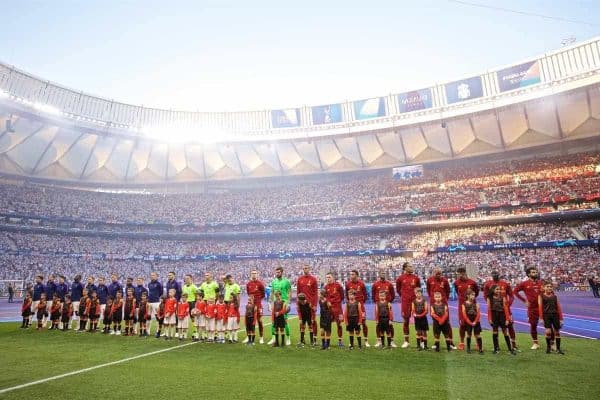 UEFA got it wrong once again; UEFA will continue to get it wrong in future. The number of decent match going reds who made the pilgrimage to Madrid, only to miss out on a ticket was astronomical. One watched it in a betting shop near the Bernabeu.
As ever with these occasions however, the collective will to be there is simply magnetic. We leave an indelible mark upon the places we congregate in.
The fan park was bouncing. Some things simply cannot be unseen. John Barnes performing Rapper's Delight in front of thousands will stay with me forever.
It was basically a day of fate. I walked past one bar, where through a window a familiar face was peering. Within seconds I was bouncing up and down locked within the bear hug of half a dozen reds I went to Istanbul with.
Some things are just meant to be. After we lifted the Cup I was straight back to them for an impromptu street party.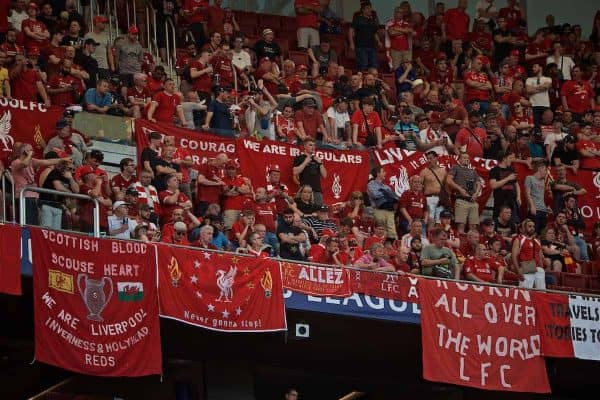 The bar where I watched the match was completely unprepared for what had visited it. Bemused locals, out for a meal were drawn in by the passion of these strange people who had been in the sunshine of the fan park all afternoon.
A table full of Real Madrid fans began by willing on Tottenham, but soon switched sides, not so much because of the early goal, more so due to wanting to tag on to the general vibe of the Liverpool fans. Phones were out and videos taken of these unexpected, yet compelling interlopers.
Just before kick off the television packed in. Mohamed Salah's penalty was watch on a mobile phone. It was joyous in an unsatisfactory way.
They always say how important it is to respond positively to conceding an early goal. It can work the other way sometimes though. Scoring an early goal can scatter the senses, as it is something you can't budget for. It is only something you can hope for.
The experience of last year's final was our greatest advantage. Beyond that it was Spurs deployment of Harry Kane. He upset their balance.
It doesn't matter that it wasn't for masterclass. We won it.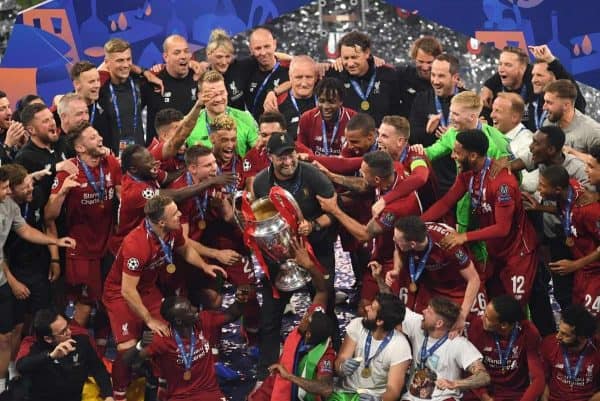 The 2018/19 Liverpool could never have finished the season empty-handed. They were just too good for that.
In the end, Origi settled the issue and Jordan Henderson followed in the footsteps of Emlyn Hughes, Phil Thompson, Graeme Souness and Steven Gerrard, by becoming a Liverpool European Cup winning captain.
Didn't he wear it well when he lifted it?
One minor complaint though. I don't like the way that they have pinned back the ears of the current trophy. Would it be rude of us the bend them back out again?
Up the European Cup winning reds.