There have been seasons of rollercoaster emotions before, but have you ever experienced one quite like that? Alex Malone assesses the 2018/19 campaign and looks ahead to a very bright red future.
In the league, we were relentless. Each successive win bringing renewed hope, only to be ultimately replaced by disappointment as the only team within a million miles of our best ever points total failed to crack.
It seems almost surreal that a team can lose a single game in the world's toughest league yet still come up short. 97 points would have won England's top division in 116 of the 119 seasons it has been in existence. 2.55 points per game is by far and away Liverpool's best ever points/game total in our illustrious 127-year history, eclipsing the 2.33 points/game in the 1978/79 season.
In the Champions League, it was similarly dramatic. Three disappointing away defeats in the group stage had left progress hanging precariously. We were one draw – one goal even – away from elimination by Napoli. Even now, when I watch Alisson's miracle save in those final seconds at Anfield, I relive the 'Gudjohnsen' moment from 2005.
Then of course, came the ultimate comeback; considered by many as surpassing Istanbul as Liverpool's greatest ever comeback… the taming of Messi; the humbling of Barcelona.
It all culminated in that truly magical moment of triumph in Madrid that has put Liverpool well and truly back among the European elite and with rejuvenated global adulation.
The Manager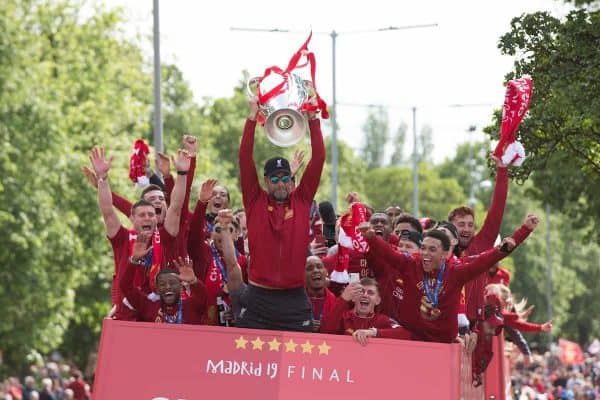 I still occasionally pinch myself to make sure we really do have Jurgen Klopp as our manager.
No-one else in world football could possibly be such a perfect match for our glorious club, our unique culture, our magnificent city and our unrivalled history.
This is a man so fiercely dedicated in his role as custodian of our club, yet so humble and gracious in his approach.
This is a manager who inherited a club languishing in 10th place in the Premier League, had survived administration and Roy Hodgson, and had – let's be honest – become more or less a selling club to so-called 'bigger clubs.'
Even the most die-hard Reds had begrudgingly accepted that as soon as Barcelona (a team who now have one less Champions League title than us) or Real Madrid came calling, it was inevitable that our elite players would move on. Hell, we were even losing players to Chelsea back then!
But Klopp's approach was that there is no bigger club than Liverpool Football Club. He saw absolutely no reason why English Football's most successful club (and Europe's 3rd most successful) should bow down to anyone. He saw a club with over 600 million fans worldwide (and growing) going about their business saddled with an unwarranted inferiority complex.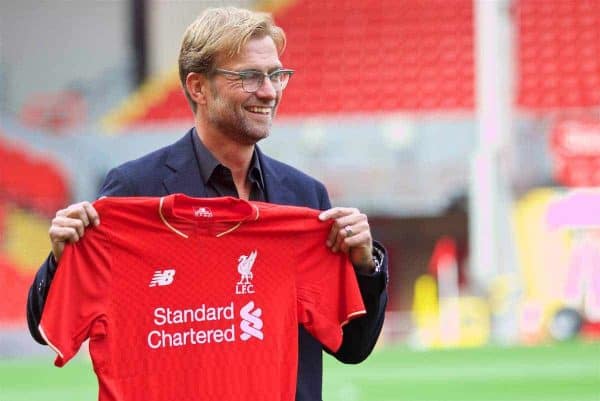 And he told us, right up front.
He reprimanded us for leaving the ground early. He scolded us for being doubters. He reminded us that holding your head low is for others but holding your head up high is quintessential Liverpool.
Our anthem tells us so, but it took Jurgen Klopp to remind us.
He woke us up as fans, and as a club. We were, to use a well-worn but accurate phrase, 'a sleeping giant,' but until the arrival of Jurgen Klopp there were few signs the slumber was over.
In little over three and a half years, he has transformed just about everything. The entire club is mirroring the manager. It is smiling again, it is positive again, it is defiant again – and we all believe again.
So let's take a look back (with a bit of an eye looking forward) at this recent, brilliant campaign.
The Defence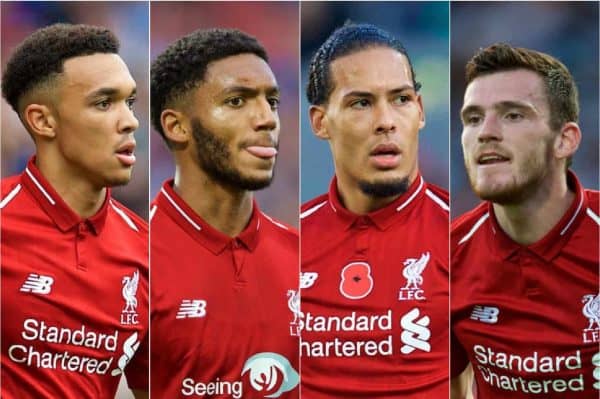 What worked?
Just about everything.
From the colossus in goal to the flying full-backs to the man mountain named Virgil van Dijk.
Joe Gomez was playing the football of his life until injury, only for Joel Matip to step in and play the football of his life for the remainder of the season.
This was the fewest goals a Liverpool team has conceded since 1978/79. 22 goals conceded in 38 games is a testament to the outstanding collective.
The highest ever number of assists by two defenders (23), the player of the year and the highest number of clean sheets (21) are a testament to individual brilliance.
Andy Robertson and Trent not only topped the squad in terms of assists, but they were also in 1st and 2nd place in terms of tackles made (80 and 61 respectively).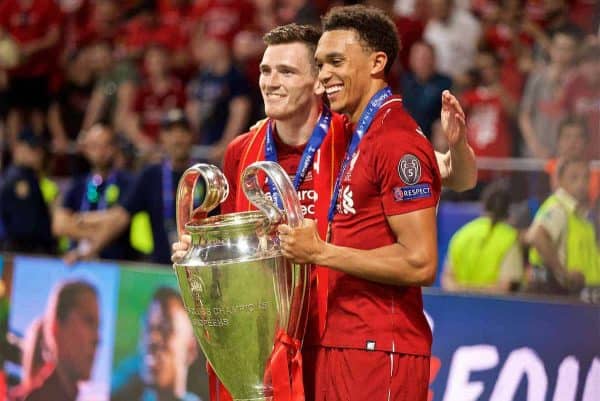 The ages of this 'first choice' (assuming Gomez) back five are: 26, 25, 27, 22 and 20. Matip is also a mere 27. All at their peak, or yet to reach it.
This was the first season this quintet had ever played together, and as we all know, familiarity breeds improvement.
The worrying thing for the other Premier League clubs is that the countries best defence is only going to get better.
What next?
In goal, Alisson is about as 'first choice' as it is possible to be due to his incredible performances and level of consistency this season. So, a high-quality back-up who is willing to play second fiddle is required. Simon Mignolet's Liverpool days are likely over, and Caoimhin Kelleher has time, but not experience, on his side. It would be high risk to rely solely on Alisson without adequate backup.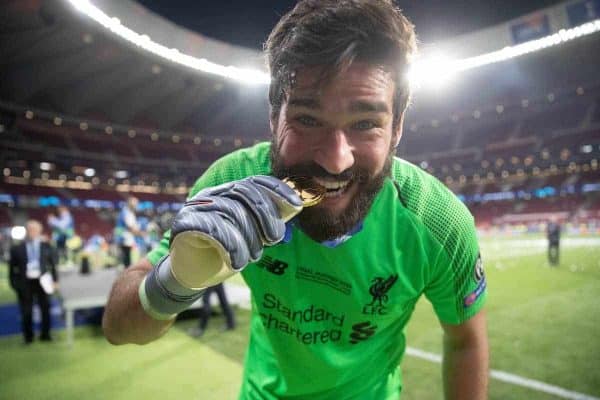 Across the back four, we are in fine fettle in term of centre backs, but I think it's fair to say we need top quality back-ups in the full-back positions.
Three of our back five (Alisson, Van Dijk and Robertson) along with Mo Salah played the most minutes of all players in the entire squad. While it highlights their importance, it also highlights how fortunate we were that each avoided injury.
Who could have replaced them at the same level of consistency and excellence had they suffered long-term injury? You could possibly offer up either Fabinho or James Milner, but the reality is both are top-class midfielders, and midfield is where they are most effective. As such, adding full back cover surely has to be a priority moving forward.
The dilemma is in finding players of the desired calibre and mindset; players who understand they're unlikely to be first choice and willing to accept a squad role.
But it's exactly these kinds of conundrums our manager seems to take in his stride, and I have no doubt he will do so again.
The Midfield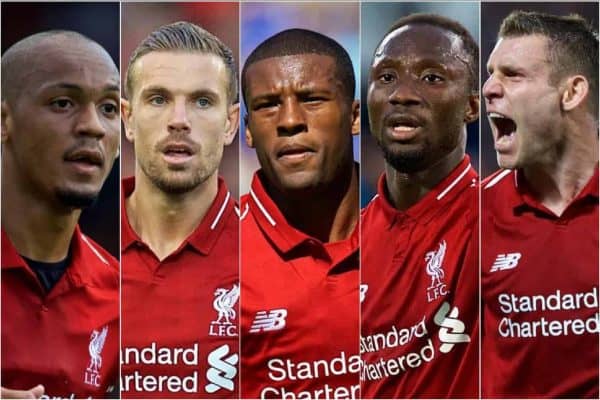 What worked?
A team with the league's second-best attack and best defence cannot possibly achieve such stats without a functional, effective midfield.
The effort, application, drive and determination of each were relentless and faultless. Everyone to a man played a part in Klopp's unique brand of high intensity, dynamic football.
The three most-trusted lieutenants (Milner, Wijnaldum, Henderson) ran further than anyone else's midfield; they had over 6,000 touches and made almost 5,000 passes between them. As a foil for the defence as well as defending from the front, they were dominant in most games.
As the season progressed, Fabinho evolved from hesitant and nervous to powerful and imperious and looked every bit a world-class talent in the making.
Naby Keita's season was unfortunately disrupted by a series of injuries, and although I retain high hopes for him, history begets apprehensive about players so injury prone (Lallana, Sturridge etc.) Time will tell for Naby.
What next?
When a team collects 97 points in the league and wins the Champions League, you would expect there would be a significant contribution of goals and assists from midfield. There wasn't.
Milner (4), Henderson (3) and Wijnaldum had a grand total of seven assists – Wijnaldum did not have a single assist all season. They scored only nine goals between them, which includes Milner's penalties.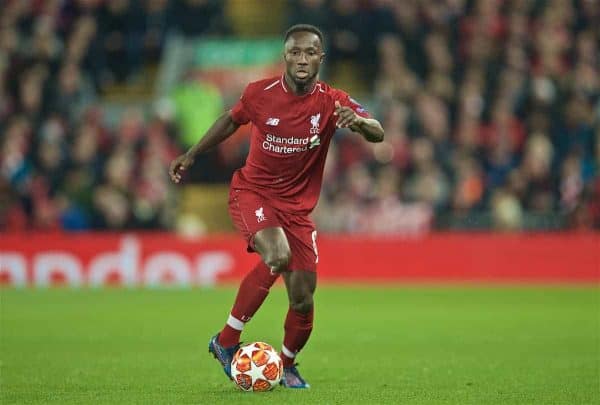 Keita and Fabinho added a further three goals and three assists between them. That's 12 goals and 10 assists from the five main midfielders in 38 league games. It's not enough.
While the midfield played a big part in the overall team achievement, the dearth of goals and assists from midfield suggest an area of opportunity going forward. Industry, heart and endeavour can never be underestimated, but neither can guile, creativity and goal threat from midfield. It's the latter where the stats don't lie and may well be a focus going forward.
The good news is that we may already have solutions within the current squad. Next season will see the much-anticipated return of the dynamic Alex Oxlade-Chamberlain as well as the further integration of Fabinho and Keita into the midfield fold.
But one more top class addition for the number 10 role shouldn't be ruled out either.
The Forwards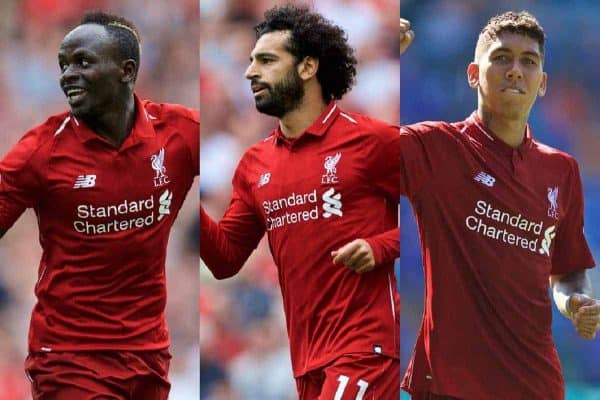 What worked?
56 more league goals for the incredible trio of Salah, Mane and Firmino. There is no finer attacking trio in Europe, and for anyone who disputes that, it's worth remembering that this is the only front three with two successive Champions League finals on their CV and 97 points in their domestic league.
With all three committed to the Liverpool cause for the foreseeable future, expect even more fireworks from them next season. The best defences in England and across Europe have thus far been unable to tame them, and their peak years are still to come.
2018/19 was supposedly the season where defences 'caught on' to Salah and how to stop him. To be fair, they did work it out to an extent. The problem was, their solution was to double up on him, thus leaving gaps for Mane to exploit instead.
As such, Mo scored a few less; Sadio a few more. I'm reminded of the funfair game called 'Whack-a-mole' – beat one down and the other one pops up. So they now have a new conundrum to ponder… how to stop both of them while also keeping Bobby Firmino quiet. I await their masterplan with great interest.
What next?
With Daniel Sturridge and Dominic Solanke departed and Ben Woodburn and Rhian Brewster yet to make the first team breakthrough, the attacking depth is somewhat limited.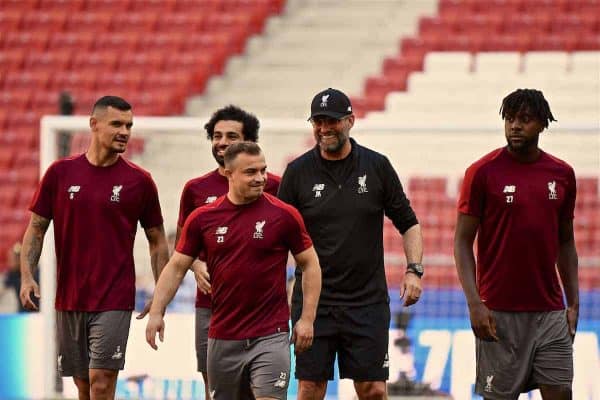 Xherdan Shaqiri certainly had his moments – some of them fantastic – but was too often overlooked and underutilised by the manager. For reasons I don't profess to have any inkling about, it seems he has not fully convinced Klopp of his worth.
Divock Origi meanwhile has written his name into Anfield folklore, but it remains to be seen if he'll be written too often on Jurgen's team sheet. Miracle moments aside, his overall play has not yet proven him a consistent, elite quality alternative to the first-choice front three.
Given the various question marks regarding each option outside the main three, I would consider a high-calibre addition to the attack to be a strong possibility.
Next season – Hopes and Expectations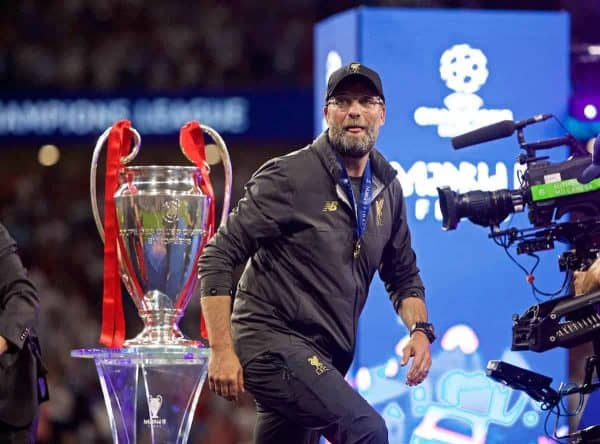 In Klopp's three years and eight months in charge, he has taken this team on a continuous and rapid upward trajectory. With them now having experienced the sweet taste of success, they'll hunger for more.
We may be Champions of Europe, but Klopp will quietly reflect just how close to elimination we came with three group stage and one knock-out defeat. Perfectionists don't like that and he'll want to fix it.
Similarly, while 97 points was fantastic, the cold harsh reality for Klopp will be that it wasn't enough; in fact, it wasn't enough to have beaten Man City to the title in either of the last two seasons.
Both are realities which will not be lost on our wonderfully obsessive manager. City got one over on us and that will be a key motivator for him. Klopp knows that however tough the obstacle, put enough pressure on it and it will crack.
With the foundations for success now well and truly laid and a Champions League winning squad assembled, there is a sincere belief that this is a Liverpool team built to stay; that further title tilts are not just a possibility, but an expectation.
With the trophy monkey off both the backs of the manager and his team, maybe – just maybe – the stage is finally set for a new era of Liverpool dominance.