Mohamed Salah has been criticised as "clearly wrong" in his support of Egypt team-mate Amr Warda, after he was dropped for alleged sexual harassment.
Warda was sent home from the Africa Cup of Nations on Wednesday after the release of social media exchanges between the PAOK midfielder and several women.
One of those was British-Egyptian model Merhan Keller, who shared screenshots of WhatsApp conversations with the 25-year-old which the Independent described as "lewd, inappropriate and occasionally aggressive."
In response, Salah took to Twitter to issue a statement of support for his compatriot, although stressing that "women must be treated with the utmost respect" and that "'no' means 'no'":
Women must be treated with the utmost respect. "No" means "no". Those things are and must remain sacred. I also believe that many who make mistakes can change for the better and shouldn't be sent straight to the guillotine, which is the easiest way out.

— Mohamed Salah (@MoSalah) 26 June 2019
We need to believe in second chances… we need to guide and educate. Shunning is not the answer.

— Mohamed Salah (@MoSalah) 26 June 2019
This follows an interview with TIME magazine in April, after being named in their list of the 100 most influential people of 2019, in which he advocated change in the treatment of women.
"I support the woman more than I did before, because I feel like she deserves more than what they give her now, at the moment," he explained.
Salah referenced attitudes towards women "in my culture and in the Middle East" and insisted change is "not optional."
However, in the wake of his support of Warda, the Liverpool forward has been criticised by a number of journalists and members of the media in his native Egypt and abroad.
Many noted how this would not, in fact, be Warda's "second chance," with Portuguese publication Record reporting in 2017 that a loan spell with Feirense would be cut short after he "harassed the wives of two team-mates":
We give second chances when those who committed a mistake are punished for their action, then comes the inclusion. But protecting misogynists from the consequences of their actions is not inclusion, it means that YOU are complicit.

— Mai Shams El-Din (@maishams) 27 June 2019
Imagine it is your daughter Macca

— Samar D Jarrah (@SamarDJarrah) 27 June 2019
You give someone a second chance when they are showing remorse for what they did! When they are willing to take responsibility and apologise to their victims, the women who had to endure his sexual harassment. But what you just did right now is enable a repeat sex offender!!

— Mona Seif (@Monasosh) 27 June 2019
They already gave him more than chance, it is not about one mistake, it is a common attitude with many girls.

— Mirna El Helbawi (@Mirna_elhelbawi) 27 June 2019
You mean a 3rd one, maybe 4th.

— Manar M. Sarhan (@ManarSarhan) 27 June 2019
If you really think we need to change the way we treat women in our culture, then punishing Warda for repeatedly harassing women is how start. This is one time in which the Egyptian Football Association is clearly right & you're clearly wrong. Warda has to face consequences

— Timothy E Kaldas (@tekaldas) 27 June 2019
Furthermore, Keller herself spoke to the Mirror this weekend claiming she would be "in jeopardy" if she returned to Egypt from her home in Dubai, as "people will attack me in the streets" because Salah "is God and he can do no wrong."
"I understand the human side of it, that it is his team-mate and he is trying to take his side and he is trying to support him," she said.
"But my concern here is that you can do that on a private level.
"You can go to him and tell him that he made a mistake, 'make sure you don't do that again, I would advise you to make a public apology and just focus on yourself and your career and let's just get through this'.
"You know what he has done, so the fact that he is still siding with him is really, really painful."
Keller added: "I am not trying to take him down or sabotage [Salah], because this is the accusation that I get from a lot of people. I think it is important to highlight that."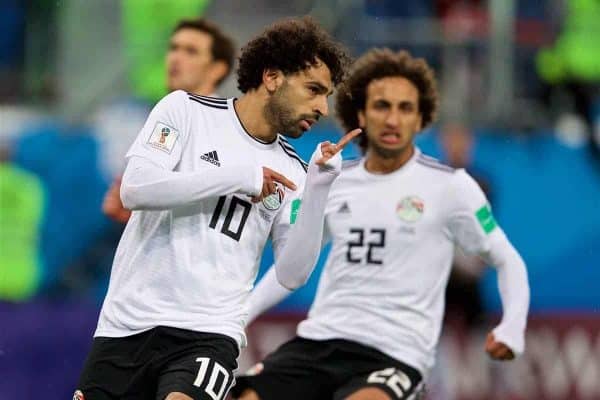 Her comments are certainly rational, and on face value it appears Salah's stance—though well-intentioned with a leaning towards rehabilitation, rather than expulsion—is misguided.
"He was trying to be statesmanlike but ended up equivocating and, by extension, endorsing," the Guardian's Nick Ames wrote on Sunday.
"Salah's intervention was clumsy rather than malign; then again, it is about time that was eliminated from any form of discourse as a valid excuse."
This only serves to cloud a tournament in Salah's home country that should see him further cement his status as one of world football's best players—having scored in the 2-0 victory over DR Congo on Wednesday.
Egypt are next in action on Sunday evening, when they take on Uganda in the final game of Group A, with Warda expected to be in the squad after he was reinstated—seemingly under pressure from senior figures—on Friday.