A study by Stanford University has found that instances of Islamophobia in the city of Liverpool have dropped by 18.9% since Mohamed Salah joined in 2017.
Salah is undoubtedly one of the most popular players in Jurgen Klopp's squad, with the Egyptian King cementing his status as a global icon following his £34 million arrival from AS Roma.
The 26-year-old has scored 71 goals and laid on 29 assists in 104 games for the club, with a remarkable 100 direct goal contributions averaging at almost one per outing.
His 71st goal came in the second minute of the Champions League final, as he exorcised the ghosts of Kyiv to help fire the Reds to their sixth European Cup.
He will remain a legend at Anfield as a result, but the influence on Liverpool spans far beyond the Kop, as research by Stanford University reveals.
Ala' Alrababa'h, William Marble, Salma Mousa and Alexandra Siegel based their study on "936 county-month hate crime observations, 15 million tweets from UK soccer fans and an original survey experiment of 8,060 Liverpool FC fans."
They found that the city of Liverpool experienced an 18.9 percent drop in hate crimes since Salah's signing, along with a 51.4 percent decrease in anti-Muslim tweets from Reds fans.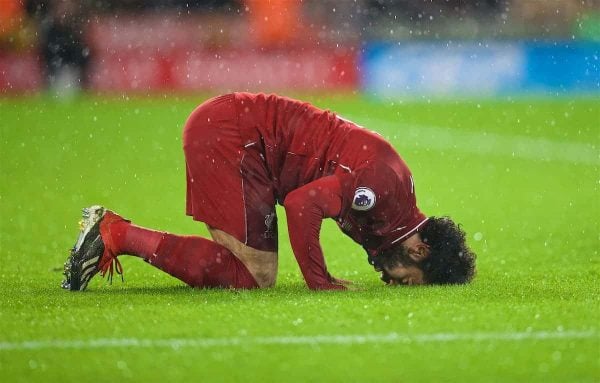 It is suggested that "these results may be driven by increased familiarity with Islam," which certainly posits the No. 11 as an overwhelmingly positive role model.
"Positive exposure to outgroup celebrities can reveal new and humanising information about the group at large, reducing prejudiced attitudes and behaviours," they add.
Though it is certainly difficult to quantify the beliefs of a city populace, this study's evidence reinforces the "humanising" effect of Muslim players in football.
Salah is not the only Muslim in the Liverpool squad, with Sadio Mane, Xherdan Shaqiri and Naby Keita also followers of Islam.
On Tuesday, the quartet celebrate the beginning of Eid al Fitr, a festival to mark the end of Ramadan, with Shaqiri and Mane both taking to Instagram to wish their followers Eid Mubarak:
Salah was named among TIME magazine's 100 most influential people of 2019 in April, with Klopp lauding his influence as a high-profile Muslim.
"He's a role model in so many different things. It's really, really nice to have him, and Sadio as well," the manager said.
"Both are Muslims and live that in a world where these things are very often discussed in a dangerous manner, where people think 'they are all like this' or 'they are all like that'.
"We know that's not true, but it is nice to have somebody around full of joy, full of love and to do what he is doing around his religion."
John Oliver, profiling Salah as part of the issue, wrote: "Mo is an iconic figure for Egyptians, Scousers and Muslims the world over."