At just 20, Trent Alexander-Arnold became a Champions League winner with Liverpool on Saturday night, and said his "dreams came true" in Madrid.
Trent became the youngest-ever player to start in consecutive Champions League finals when he was named in Jurgen Klopp's side to take on Tottenham.
And the right-back, who won't turn 21 for another four months, produced another impressive display as Liverpool weathered the storm and earned a comfortable 2-0 win.
Mohamed Salah opened the scoring in the second minute from the spot, before substitute Divock Origi doubled the tally with three left of the 90, and speaking to BT Sport after the game, Trent described it as "something special."
"It's hard to even put into words what's just happened, and the celebrations that are going to happen tonight," he said.
"The season we've had, I think we deserve it more than any other team, and the run that we've had, we beat everyone in our path.
"We've done something special again tonight, an early goal and a late goal has finished them off.
"We've probably been dominated through the main part of the game, but we showed we're a world-class side and we can win anyway.
"When we look back tonight we're not going to think it was a sluggish game, we're going to think 'we've just won the European Cup', and we've just done it for all these fans."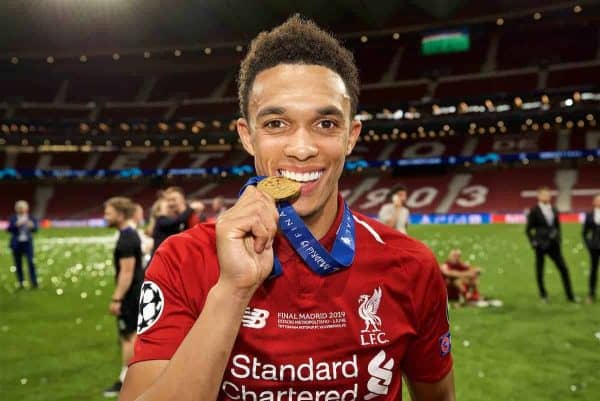 Interviewer Des Kelly referenced the legends that came before Trent in lifting the European Cup for Liverpool, but the academy product remained humble.
"It's hard to think of myself as a legend," he explained.
"For me, I'm just a normal lad from Liverpool whose dreams just come true."