Liverpool winning the Champions League has upset a few people. Liverpool supporters enjoying football has upset a few people.
Nobody enjoys their football in this country quite as much as Liverpool supporters. As an Everton-supporting taxi driver once admitted, when Liverpool are at home it's not a football match, it's an event.
Who gets angry about something they don't envy, or covet?
This Liverpool are going to carry on upsetting people, and we are going to be enjoying the seasons ahead of us.
The scenes on the streets of Liverpool city centre for that indelible homecoming will have scorched the eyes and minds of friends and foes alike.
The Reds are indeed coming up the hill, boys.
Images of Liverpool's Champions League-winning players keep tripping across my path. Each one of them look like the cat that got the cream.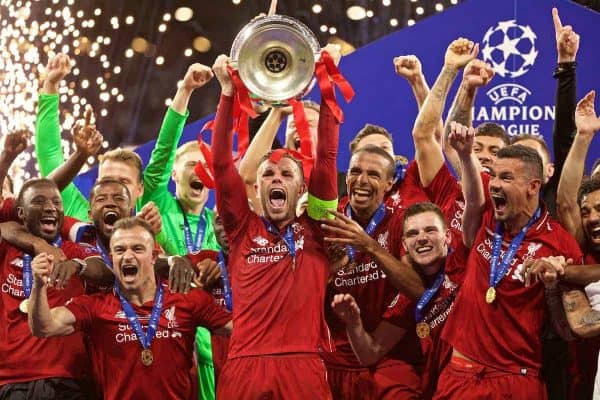 Imagine accumulating 97 points and not winning the Premier League title, only to end the season on the sort of indescribable European high that our biggest rival last season has never experienced.
Imagine winning the very first domestic treble English football has ever seen, and not being the defining image of the season.
It's no wonder some people hate us.
We aren't as universally hated as our biggest detractors would have you believe though. Certainly, many of the Spurs fans who were in Madrid left the Spanish capital with a very different opinion of us than the ones they arrived with.
The centre of Madrid looked good, didn't it?
Well, if you weren't there, I can tell you it was a million times better than it looked. We look so good, because we enjoy our football.
When it comes to being a Liverpool supporter, the secret to it all is to not give a shit what anybody else thinks.
By all means, accept the slaps on the back and the handshakes when they come your way, as you can sift out the insincere offerings and easily identify those who are genuine, but ignore the empty wine bottles that whistle past your ear.
Raise a middle finger and accompany it with your best Johnny Cash snarl. We picked out Ring of Fire as a modern Liverpool anthem for a good reason. It is a belligerent ode of defiance.
Amidst it all, always be open to sharing a pint with all comers. Educate them that we really are the best-behaved supporters in the land…when we win.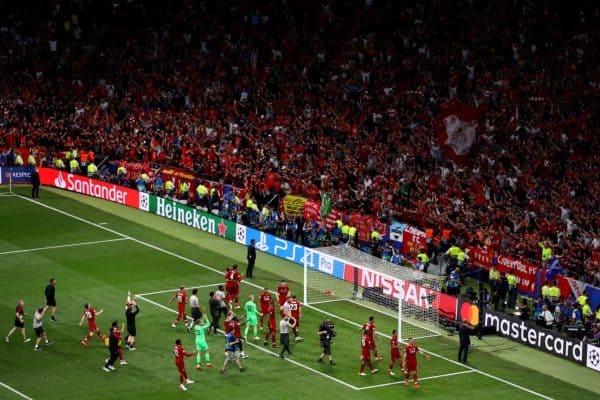 Social media echo chambers and the envious utterances of bitter rivals do not represent us. We are Liverpool FC, not a cartoon villain.
What is football, if it is not a glorious party?
Jurgen Klopp's Liverpool will never be found in the kitchen at parties, it will always strive to be right in the centre of the dance-floor, happy to share the joy, yet ambivalent if people just want to stand there and harrumph in despair at what we do, while secretly wishing they could have a bit of what we are on.
On the back of Madrid, don't waste your summer lamenting the fact that we won't be signing the latest world's best player elect.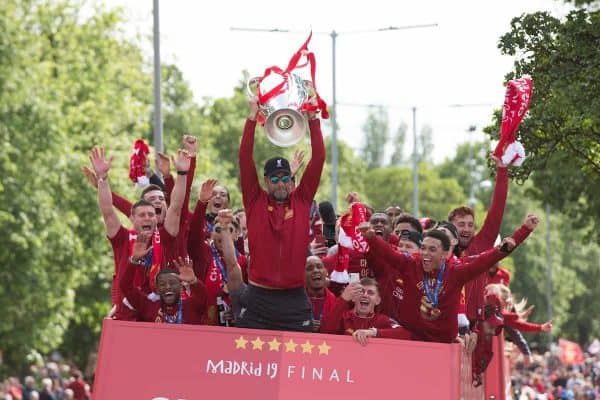 Instead, bask in the glow of being the champions of Europe. Be safe in the knowledge that Klopp will sign the players he feels can add something worthwhile to this wondrous collective we have already assembled.
It takes a certain type of personality to be able to carry a Liverpool shirt across their shoulders and lift the greatest of trophies. No matter what has changed in football, that is one fact that has never changed.
Being a great player isn't enough to make it at Anfield, just as being a great supporter isn't enough.
It is about belonging at Anfield. It is not enough to simply support Liverpool, you must feel Liverpool.
Up the six-time European Cup-winning Reds.
---
If outlandish European glories are your thing, and hey, of course they are, then you might just like this book I have coming out on September 23, all about the wonderful randomness of the European Cup Winners' Cup, which goes by the name of A Tournament Frozen in Time.