The 2000/01 season saw Liverpool secure a historic treble under the expert tutelage of Gérard Houllier. Jeff Goulding tells the full story.
It's Sunday the 20th of May 2001, in Liverpool. The summer sun beats down on the thousands of faces gathered at the junction between Queens Drive and Prescott Road. Hundreds of thousands have lined the streets of the city, to celebrate Liverpool Football Club's return to trophy glory.
Just 24 hours earlier the Reds had thumped Charlton Athletic 4-0 at the Valley. That win would be enough to clinch third spot and a place in the Champions League the following season. It signalled the club's return to Europe's top table for the first time since the 1980s.
However, for the multitude who had turned out to see their heroes take a well-earned trip around the city on an open-top bus, the Champions League was just a bonus, in what had been an incredible season.
The Reds, having won two cups in the 1990s – their last coming six years earlier in 1995 – had just won three trophies in the first season of the noughties.
As I strained my neck to catch a glimpse of the bus, emblazoned with the words 'Tell Yer Ma We Did It!' and the three shiny pieces of silverware, I felt like my city and my team was on the cusp of another incredible era of footballing excellence.
The Reds had played a mammoth 63 games in a gruelling season. They had played every game of every competition they had entered, and they had emerged with the League Cup, the FA Cup and the UEFA Cup.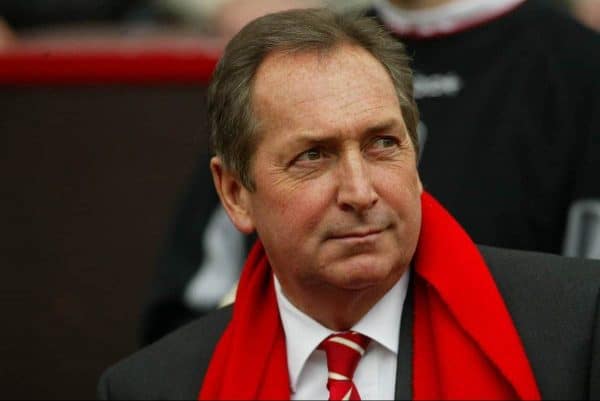 Their manager, Gerard Houllier, had won a historic cup treble, and he would follow that up with a European Super Cup and a Charity Shield, making it five trophies in a single calendar year.
All that and the Champions League to come. I was in dreamland. We were all ecstatic. Houllier surely had secured his place in Anfield folklore, he was now a living legend and would be immortalised in song and banner forevermore.
It hasn't worked out like that, but if you had told me that by 2019 there wouldn't be a single banner on the Kop commemorating Houllier's Reds or that his achievements would not be recognised in verse, I wouldn't have believed you.
By any standard, the Frenchman had delivered an epoch-defining season. And, in the May sunshine of 2001, he practically walked on water as far as I was concerned. Here's how it all panned out.
Foundations for Success Laid Out

This was Houllier's second full season in charge. He had joined the club as joint manager alongside Roy Evans, in 1998. That partnership failed, perhaps predictably, and in the November Roy resigned, leaving Gerard in sole charge.
Liverpool finished in 7th place that season and in the summer of 1999 Houllier began, to use his words, a five-year plan to restore Liverpool to the top again.
He dispensed with the likes of Paul Ince, David James, Steve Harkness, Rob Jones and Jason McAteer. The Frenchman's transfer activity would have broken social media, if it had existed back then, as Gerard proceeded to bring in eight new players.
Sami Hyypiä, Dietmar Hamann, Stéphane Henchoz, Vladimír Šmicer, Sander Westerveld, Titi Camara, Eric Meijer and Djimi Traoré all arrived as Houllier began to reshape the squad. There was also an overhaul of Melwood. The modernisation of the club was in full swing, with players given new rules on discipline and diet.
Season 1999/2000 saw further progress on the field, with Liverpool climbing the league table to fourth. Houllier wasn't content though, and in 2000 Liverpool added more players, with Markus Babbel, Nicky Barmby, Pegguy Arphexad, Grégory Vignal, Emile Heskey, Gary McAllister, Igor Bišcan and Christian Ziege all arriving at Melwood.
The departures of David Thompson, Phil Babb, Dominic Matteo, Steve Staunton, Brad Friedel and Stig Inge Bjørnebye, ensured a net spend of just £5 million and brought a degree of balance to the wage bill.
The arrival of Barmby drew great hostility from across Stanley Park, as this was the first direct transfer between Everton and Liverpool in decades. When Walter Smith – the Blues boss – revealed that Barmby had agitated for a move to the Reds – Everton fans chanted 'Nicky die!' and daubed graffiti on walls around the city, declaring their rage at the transfer.
Houllier, who perhaps should have better understood the city's culture having worked as a school teacher here in the 1960s, joked that he didn't understand the reaction of Everton fans. After all, he said, '…he hasn't changed his religion.'
That may have been true, but, as far as any Blue was concerned, he had done something much worse. Barmby along with fellow signing, Gary McAllister, would go on to heap even more misery on Evertonians during this season. More about that later.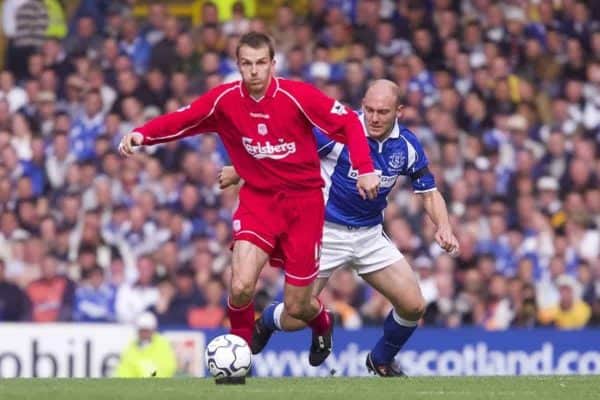 The stage was now set for a momentous season. Gerard Houllier, alongside his assistant Phil Thompson, was about to lead Liverpool to what remains one of the most remarkable seasons in the club's history.
Their start was reasonable but it offered no hint of what was to follow. They won five, drew three and lost two, taking 18 points from a possible 30. Their two defeats were disappointing ones, with the Reds succumbing on the road to Arsenal and Chelsea, 0-2 and 0-3 respectively.
However, it was obvious that Liverpool were building a strong side, based on defensive solidity and the ability to break with pace and punish the opposition.
In goal, Sander Westeweld seemed an upgrade on the inconsistent David James. The centre-back partnership of Hyypia and Henchoz were rock solid and up-front the Reds could rely on Heskey, Owen and Fowler to provide the goals.
By October 29 Liverpool was on course to reach the 3rd Round of the UEFA Cup, after dispensing of Rapid Bucharest and establishing a 1-0 first-leg lead over Slovan Liberec in the 2nd Round. They were gearing up to face Everton in the first Merseyside derby of the season, at Anfield.
The derby had rediscovered its penchant for blood and guts, displays that were more about passion, flying tackles, blood and thunder in previous years. This one broke the mould. The Liverpool Echo, under the headline, 'DERBIES aren't meant to be like this,' had this to say:
'Amid the frenzied atmosphere and tension, creativity is usually stifled and raw aggression wins the derby day.
'But this was a superb spectacle in which both sides played their part to produce a quality yet hugely passionate game of football.'
The Reds were a little tentative to start with and gifted Everton a host of chances, which they squandered, before Liverpool settled into their stride. By the 12th minute the atmosphere in the stands was at boiling point.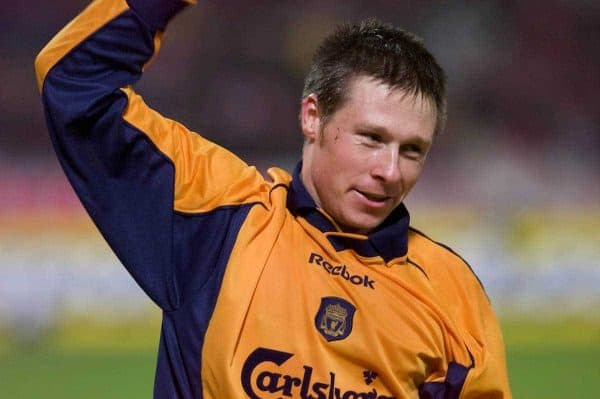 Barmby, understandably was the target of Blue ire. Amid the crescendo of song, cries of Judas could be heard. As if egged on by the travelling support, Mark Pembridge threw himself into a lunging late tackle on his former teammate, earning himself a yellow card in the process.
The home crowd growled and a huge chant of 'BLUE AND WHITE SHITE!' filled the air. Then Barmby provided the perfect answer to his detractors, heading in a cross-come-shot from Christian Ziege.
The goal detonated an explosion in the Kop and a shock wave of frenzied celebration travelled around all four corners of the ground, causing scenes of jubilation amongst the Reds and striking the Blues mute. Barmby celebrated it like a title win.
He'd endured a torrid week and he didn't waste his opportunity to ram the bitter taunts down Blue throats. However, Liverpool failed to build on the moment. Pembridge squandered a gilt-edged chance to level almost immediately and then disaster struck in the 17th minute when Kevin Campbell scored the equaliser.
Campbell had played a pivotal role in the previous derby when he had drawn a brutal foul from a young Steven Gerrard. The resultant red card had been as inevitable as the jubilation amongst the Blues.
However, Gerrard would keep his head in this game, putting in a man-of-the-match display at right-back. Liverpool took hold of the game in the second half, and goals from Emile Heskey (56) and Patrik Berger (78 pen) won the points. The penalty came after Thomas Gravesen ensured the derby red card cliche continued for another season.
Liverpool were third in the league at full-time, while the Blues had slumped to 14th. The season was just getting started though.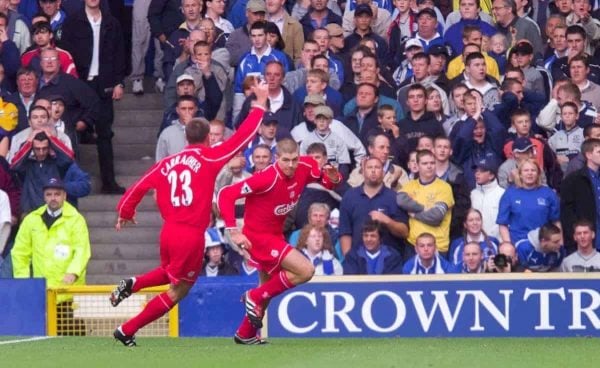 The Reds marched towards Christmas, demolishing Olympiacos in the UEFA Cup and destroying Stoke City 8-0 in the League Cup, who they had met after knocking out Chelsea. The highlights of the win over the Potters were a Markus Babbel debut goal and a hat-trick from Robbie Fowler.
The run-up to Christmas day brought a 1-0 victory over United at Old Trafford and a thumping 4-0 win at home to Arsenal. However, in a mark of the Reds league inconsistency, they slumped to a boxing day defeat on the road to Middlesborough.
But still, the Reds marched on in the cup with a 3-0 League Cup 5th Round win against Fulham. Liverpool had reached the semi-final of the competition and would face Crystal Palace. Kopites could sense silverware for the first time in six years.
January brought the FA Cup and Rotherham United were dispatched easily with a 3-0 win, and then came the semi-final with Palace.
The Reds looked to have blown their chances after they fell 2-0 behind in the second half of the match at Selhurst Park. Goals from Andrejs Rubins (56) and Clinton Morrison (77) stunned Houllier's men. Vladimir Smicer grabbed one back within a minute of Liverpool going two down, but Palace would take their lead to Anfield for the second leg.
The game was marked by a debut game for Jari Litamanen, the Finnish star who had signed for the Reds early in January. The boyhood Liverpool supporter was pure class, but his best years were behind him.

The Reds made no mistakes in the second leg and smashed Palace 5-0. Clinton Morrsion was made to eat his words after he had foolishly criticised Liverpool's forwards for their missed chances. He would endure a miserable evening as the butt of Kop jokes and Liverpool reached the final in fine style.
The Reds ended January by beating Leeds United in the 4th Round of the FA Cup, courtesy of a 2-0 win. It was a small measure of revenge after the Yorkshire side, and specifically Mark Viduka, had humiliated Liverpool at Elland Road earlier in the season.
Liverpool had twice thrown away the lead, however, and had gone down to a 4-3 defeat. Viduka scored all four of Leeds' goals. Their victory in the FA Cup set up a 5th Round tie against Manchester City, which they won 4-2.
The Reds also reached the 5th round of the UEFA Cup after knocking out Roma 2-1 on aggregate. Liverpool had sensationally won the away game 2-0, with two goals from Michael Owen.
However, they lost the home game 1-0 and things could have been worse. The Reds survived wave after wave of attacks as the Italian side went in search of the goal that would have taken the game into extra-time. They even had a decent shout for a penalty waved away.
In the end, it didn't matter, the Reds were marching on in all three cup competitions and the sense of destiny weaving its magic was becoming hard to resist. And, Liverpool supporters were looking forward to a League Cup final in Cardiff's Millennium Stadium to look forward to.
Two of Three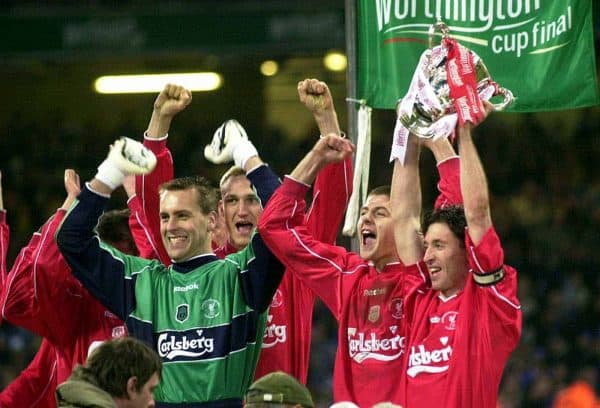 As Wembley was being rebuilt, the national stadium had moved to Wales. The Reds had a real opportunity to win the first English domestic trophy to be contested outside of England. To do that, they would have to beat Trevor Francis' Birmingham City.
The game was played on the 25th February 2001. It would deliver the first of the Red's cup treble, but in true Liverpool style, they made hard work of it.
Things seemed to get off to a great start when Robbie Fowler unleashed a delightful shot from distance that put Liverpool in front on 30 minutes. Then the game failed to live up to expectation and Houllier's men couldn't build on their early lead.
Still, they looked to have done enough when hearts sank in the 90th minute. Birmingham won a penalty and Darren Purse levelled before milking the acclaim of his teammates and supporters, Beckham style.
The game laboured through extra-time and if Liverpool were to clinch their first trophy in six years, they would have to win a penalty shootout. They would hit a perfect five, while Birmingham would squander one of theirs.
With the contest tied at 4-4, Jamie Carragher stepped up to take Liverpool's fifth. He wasn't known for taking penalties but, if he could score, it would be match point. However, when supporters saw the length of his run-up nerves were frayed. He smashed it into the net and the celebrations were as much about relief as anything else.
The pressure was on Birmingham and to everybody's sheer delight, Andy Johnson – who would go on to play for Everton – missed his spot-kick. The Reds celebrated their first of three and Darren Purse's tears were in perfect contrast to earlier hubris.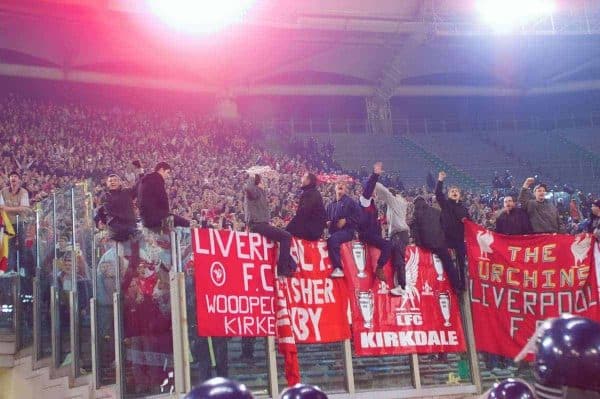 March saw Liverpool reach the semi-finals of the UEFA Cup and FA Cup with victories over Porto and Tranmere Rovers. The game against Tranmere was a crazy affair, with the Reds pitted against a side managed by former Liverpool striker, John Aldridge, at Prenton Park.
Aldo had his men fired up and they gave an incredible account of themselves. Liverpool raced into a two-goal lead with strikes from Danny Murphy (11) and Michael Owen (27), but Steve Yates pulled one back early in the second half. The tie now had all the hallmarks of a classic FA Cup encounter.
Gerrard looked to have quelled Tranmere's resistance, scoring Liverpool's third in the 52nd minute. However, Wayne Allison had other ideas, making it 2-3 just six minutes later. The game went back and forth until Robbie Fowler settled it with an 82nd minute penalty.
There was relief all round and with Liverpool's semi-final opposition to be Wycombe Wanderers, hopes of a second cup final in Wales soared.
Houllier managed a double over Alex Ferguson's United, with a 2-0 win at Anfield, with goals from Gerrard and Fowler. Then it was off to the Nou Camp for the UEFA Cup semi-final, on April 5.
The Reds held out in Spain and brought a 0-0 scoreline back to an incredible Anfield two weeks later. But before they played that game, there was more drama to come.
The Reds laboured at Villa Park in the semi-final of the FA Cup, against lowly Wycombe. Then, deep into the second half, Heskey and Owen seemed to have put Liverpool in the final, with two goals in four minutes. Then Wycombe, who had fought valiantly, grabbed a late goal in the 88th minute. It was a deserved consolation, but the Reds went marching on.
Liverpool were on the brink of one of the club's greatest ever seasons. They had reached their second final and if they could find a way past Barcelona at Anfield, they'd be in their third. That wasn't all though. They still had a realistic chance of top three – only three English teams could qualify for the Champions League in 2001 – but to do that they couldn't afford to drop too many points.
On April 16, just three days before the UEFA Cup semi-final, Everton stood in the way of a priceless three points, at Goodison Park. This game would provide one of the greatest derby moments of all time.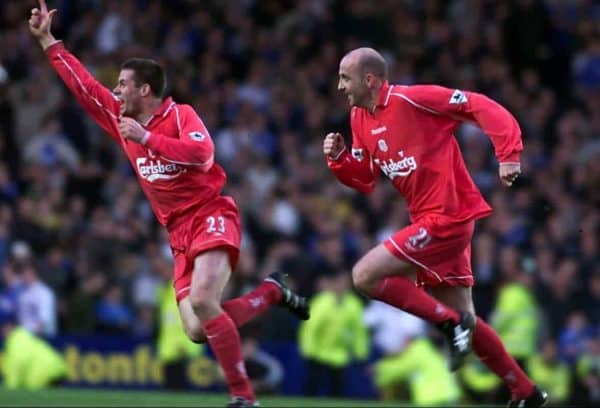 In a rancorous match, played close to the anniversary of the Hillsborough disaster, with emotions raw and the game boiling, Gary McAllister became an immortal. Both teams were tied at 2-2 and the game was into injury time. It looked like Liverpool had slipped up in their pursuit of Champions League football.
Then a young Frenchman named Gregory Vignal made a surging run into the Everton half and was promptly fouled. McAllister lined up the free-kick, stealing several yards in the process. Still, the ball seemed too far out to trouble the Blues' goal.
The Reds' midfielder seemed to indicate that he was going to cross it, as he had earlier in the game. Everton's entire back-line fell for the trick. Instead of curling a pass into the box, McAllister shot low and hard from distance. It sailed into the net and the Liverpool end could scarcely believe what they had seen.
The Reds' bench exploded onto the pitch, and the look of sheer disbelief on Houllier's face spoke volumes. Liverpool had won the game 3-2 and broken Blue hearts in the process. There's no better way to win a derby, and it would send Liverpool into their semi-final showdown with the Catalan giants in fine fettle.
Barcelona arrived at Anfield with a future Liverpool goalkeeper between the sticks and a future manager of Manchester City in midfield. Jose Reina would fail to save a McAllister penalty on the stroke of half-time and a disgruntled Pep would fail to swap shirts with a young Steven Gerrard at full-time.
Liverpool were now in their third cup final and their dreams of a top-three finish were still alive. What a season this was so far. It was about to get so much better.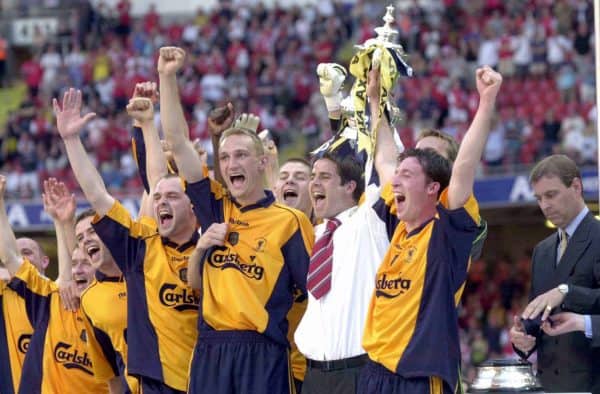 Houllier then led his team on a five game unbeaten run, winning four and drawing one. It was a sequence that sent them back to the Millennium Stadium in confident mood. However, the travelling Red army would once again be required to suffer before tasting glory.
If you're like me, when I watch the DVD of the 2001 FA Cup Final against Arsene Wenger's Arsenal, you'll fast-forward through the first 75 minutes. There is frankly nothing in the first three quarters of that game for Liverpool supporters to enjoy. Arsenal were totally dominant and deserved more than their 1-0 lead.
Liverpool were not to be denied though. Just 11 minutes after Freddie Ljunberg had put the Gunners in front, Michael Owen levelled after Arsenal had failed to handle a set-piece. The Liverpool end was a mass of limbs and waving scarves, as the youngster raced towards them, arms in the air.
There were seven minutes remaining and every Liverpool supporter in the ground would have gladly accepted extra-time and even penalties, if necessary. That wouldn't be necessary though. In the 88th minute, Owen raced onto a Patrik Berger long ball, outfoxed the Arsenal back-line and placed the ball in the only part of the goal that David Seaman didn't have covered.
It was daylight robbery but who cared. The Reds had secured a domestic double. However, there was no time for the players to celebrate. They had a UEFA Cup to win just four days later.
One of Liverpool's Greatest Ever Managers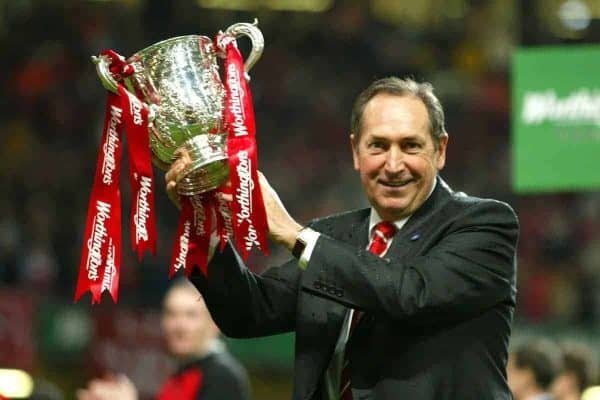 The final against Alaves, at Borussia Dortmund's Westfalen Stadion, has gone down in history as the greatest UEFA Cup Final of all time. Alaves were a tiny Spanish team. In comparison to Liverpool's pedigree they were European minnows, yet they gave the Reds a huge fight.
At half-time, Liverpool were 3-1 up and in commentary Alan Hansen compared them to a pub team. They were anything but. In an eerie shadow of the Reds comeback of Istanbul, the Spaniards were level within six minutes of the restart.
Without just over an hour gone, Houllier rolled of the dice – bringing on Robbie Fowler for Emile Heskey. The Scouse marksman made an immediate impact, forcing Alaves back and giving their defenders no time to think. Then, just nine minutes after coming on, he scored the Reds fourth.
A further change saw Owen swapped for Patrik Berger in the 79th minute, and Liverpool looked to be on course to see the game out. However, the Spaniards would not lie down easily and in the 89th minute, Jordi Cruyff drew Alaves level.
Extra time beckoned and the spectre of the golden goal hung over both sides. Houllier had been a vocal opponent of the new rule change that meant whoever scored first in added time won the game. He would have no complaints, however, when a Gary McAllister free-kick was diverted into the Spaniards' goal by Delfi Geli in the 117th minute.
5-4 to Liverpool. What a crazy game.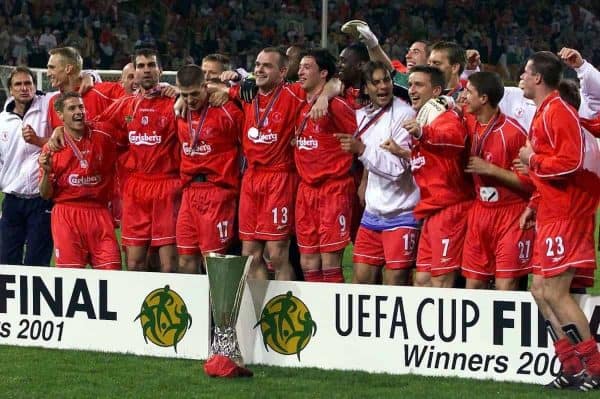 The treble was won. In just four days, the Reds would seal Champions League football with a win at Charlton, setting up that epic homecoming in Liverpool. We had waited six years for a trophy and Gerard Houllier had delivered three and the Champions League.
At any other club, he would be granted the freedom of the city and job for life. Perhaps it's a testament to the stratospheric standards set at the club, that he wasn't.
However, I can't help feel a tinge of sadness that Houllier's legacy isn't celebrated more. To me, he will always be a legend in the history of this club and he deserves to take his place among the pantheon of great Liverpool managers.
That banner on the Kop, the one we call the Scouse Mount Rushmore. It has Shankly, Paisley, Fagan, Dalglish, Rafa and Klopp on it. Well, it has one missing.
Instead of a super six, it should be displaying a magnificent seven, with the Frenchman taking his place alongside Liverpool's greatest managers.
Liverpool, 2000/01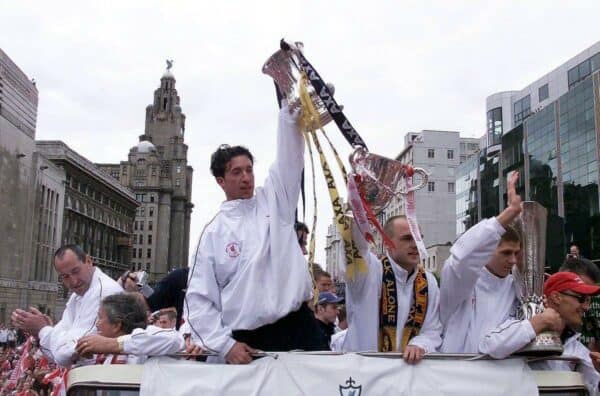 Manager: Gerard Houllier
Captain: Robbie Fowler
Top Scorer: Michael Owen (24, all comps)
Most Appearances: Sander Westerveld (61, all comps)
League Position: 3rd
FA Cup: Winners
League Cup: Winners
UEFA Cup: Winners
Total games: 63
Games won: 38
Games drawn: 14
Games lost: 11
Clean sheets – league: 14
Clean sheets – overall: 28
Total goals: 127