A typically busy pre-season lies ahead for Liverpool and the European champions are set to play at some incredible venues throughout the warmup schedule.
The Reds will play eight matches in order to be ready for what will hopefully be another trophy-winning season.
Each will be played at a different stadium, as Jurgen Klopp's squad start with local friendlies before stepping up to more competitive action as the season draws in.
Some spectacular grounds are set to host the European champions, who will make historic first trips to certain venues and overdue visits to others along the way.
Here's the full lowdown on the stadiums Liverpool visit this summer.
Prenton Park – Tranmere Rovers – July 11, 7.30pm BST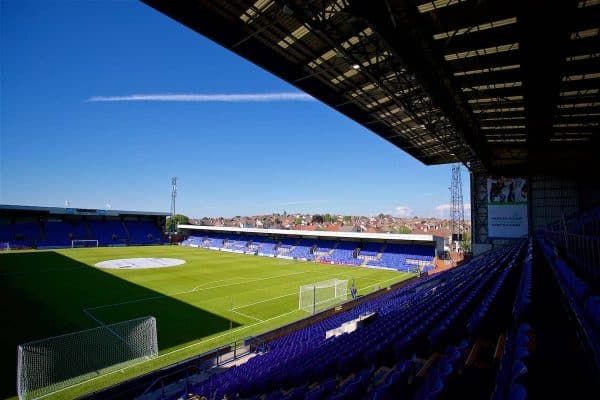 Where? Birkenhead, Merseyside
Home to? Tranmere Rovers, LFC Women & U23s
Capacity? 16,587
---
A routine trip to neighbours Tranmere starts pre-season, with this Liverpool's fourth visit in as many years.
The game will not only mark the pre-season kickoff but also celebrate the success of Merseyside's two trophy-winning clubs—after Rovers won the League Two play-off final at Wembley in May.
Prenton Park is a familiar venue for the Reds by now and has been Tranmere's home since opening in 1912; it also hosts Liverpool's under-23s and Women's sides.
16,587 is the official capacity and it is an ideal place to get underway thanks to the ever-impressive playing surface and friendly atmosphere.
The ground is one of the original, traditional English football venues—with four separate stands including its very own Kop end all tight to the pitch.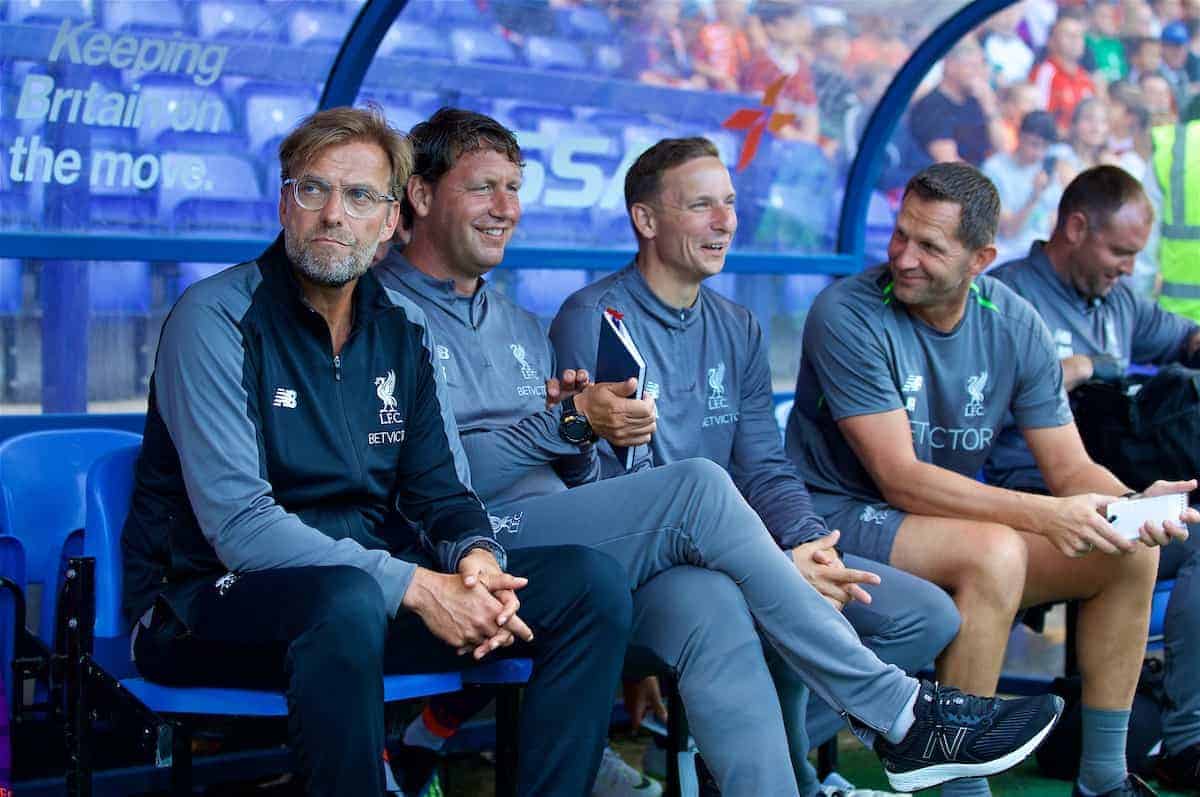 Klopp's squad always enjoy a productive workout at Prenton Park, where Liverpool have won all three recent meetings.
There's a real buzz around both clubs ahead of the new season and it's sure to result in a big crowd turning up for the opener.
Valley Parade – Bradford City – July 14, 3pm BST
Where? Bradford, West Yorkshire
Home to? Bradford City
Capacity? 25,136
---
Liverpool then head to a ground not visited for 18 years to take on League Two Bradford.
Indeed, this will be the Reds' first trip to Valley Parade—and also the first meeting between the sides—since a 2-0 Premier League win in May 2001.
It is a match with a special cause attached: a charity game in aid of the Darby Rimmer MND Foundation established by former Reds defender and Bantams captain Stephen Darby.
Valley Parade is a brilliant stadium—way above fourth-tier level—with an impressive 25,136 capacity.
Originally opened in 1886 for Rugby team Manningham RFC, the venue then became home to Bradford City FC in 1903.
It has changed face considerably since then, none more so than in the reconstruction years that followed the fatal fire at the ground in 1985, which saw 56 fans tragically lose their lives.
Another traditional football venue decked in Bradford's striking claret and amber colours, it sees two huge connected stands overpower a single-tier down the far side.
Away fans are usually housed in the detached, two-tier away stand behind the goal which will surely be full for a special fixture.
Notre Dame Stadium – Dortmund – July 19, 1am BST
Where? Notre Dame, Indiana
Home to? Notre Dame Fighting Irish
Capacity? 77,622
---
The Reds kick off the three-game stateside tour with a historic first trip to one of the USA's most iconic sporting arenas.
It won't be a first just for the Reds though, as this will also be the first football match ever played at the venue in its 90-year history.
Opened in 1930 after two years of construction at a cost of $750,000, the Notre Dame replaced the old 30,000-capacity Carter Field Stadium.
It is an open-air venue, comprising of a huge single-bowl tier—and smaller second tier above–which swallows the field of play making for a stunning scene when full.
Since opening, the venue has had an ever-increasing capacity; originally 54,000 before rising to 80,700 after the addition of the second tier in 1997.
It now stands at 77,622 following the development of luxury hospitality boxes, and majority of the stadium is set in a retro bench-seating style.
The arena—which has accessible wifi for fans—is the traditional home of NCAA team Notre Dame Fighting Irish and boasts a 'field turf' surface which the Reds will have to get used to.
Rarely has the venue been used for anything other than American football, with ice hockey and rugby the only other sports having taken place.
Football now takes centre stage and it couldn't be a more exciting fixture coming against Klopp's former club.
Fenway Park – Sevilla – July 21, 11pm BST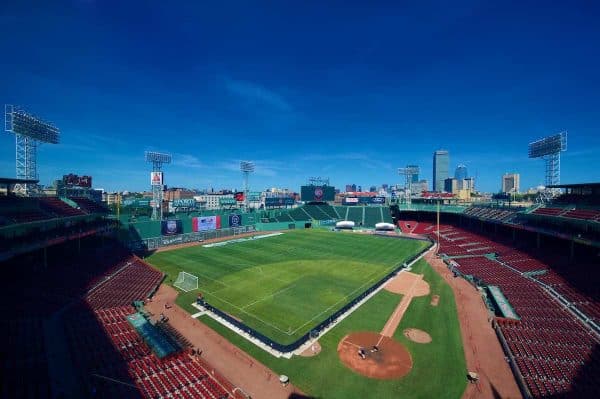 Where? Boston, Massachusetts
Home to? Boston Red Sox
Capacity? 37,949
---
The oldest and widely acknowledged 'original ballpark' transforms to host the European Champions next.
Built in 1912, Fenway Park is the home of Boston Red Sox—owned by FSG—and was once the stomping ground of all-time great of the sport Babe Ruth.
The ground has undergone several renovations but the 37,949-capacity arena still retains its unique heritage, with the stadium design still very much as it originally was.
It makes for a very picturesque venue, one which has hosted baseball's showpiece World Series.
Several other sporting events have taken place here, including the NHL Winter Classic, open-air boxing and even snowboarding championships.
Plenty of concerts have played too, with Stevie Wonder, Bruce Springsteen, The Rolling Stones and more recently Lady Gaga all having taken centre stage.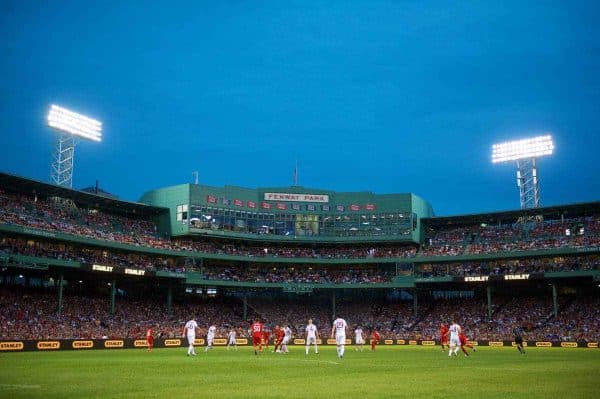 Football has taken off in more recent times and this will be Liverpool's second outing at FSG's spiritual home.
The debut appearance came back in Brendan Rodgers' first pre-season in charge in 2012, with the Reds losing 2-1 to Roma.
Yankee Stadium – Sporting CP – July 24, 1am BST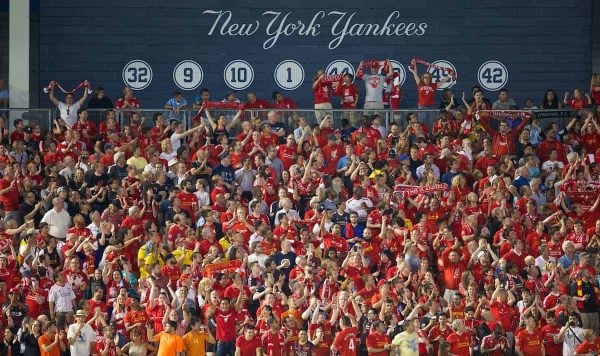 Where? The Bronx, New York
Home to? New York Yankees, Pinstripe Bowl, New York City FC
Capacity? 49,653
---
A more modern baseball venue is next to roll the red carpet out for Klopp's men for another historic game for a different reason.
Remarkably, this will be Liverpool's first-ever meeting with the Portuguese outfit—with the two sides having only come into contact for transfer business over the years.
This momentous first meeting—now to be billed as the Rafa Camacho derby—could not take place on a more impressive stage.
Replacing the old Yankee Stadium, this new venue opened just a decade ago and is the world's most expensively built stadium—constructed for an eye-watering $2.3 billion.
Capacity is 50,960 but drops to 49,653 for football, and makes for a spectacular, imposing arena.
Four tiers tower over the playing surface and the seats closest to the action—part of the famous "legends suite"—are among the most expensive in world sport.
Football is also a recent phenomenon here with the first match being played in 2012—before later becoming home of MLS side New York City in 2015.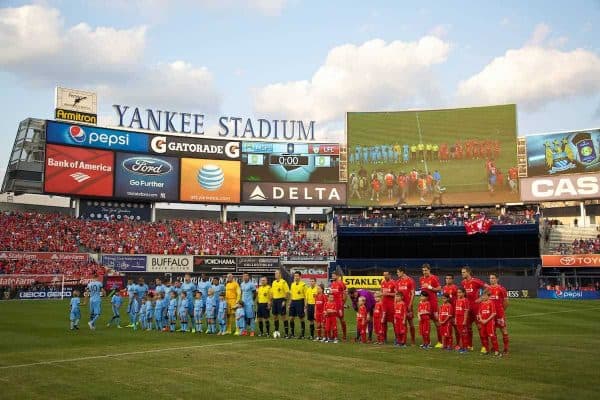 The Reds are back for a second visit five years after the first which came in the International Champions Cup penalty shootout win over Man City.
Bonus fact: Liverpool also played at the old Yankee Stadium back in 1953—drawing 1-1 with Swiss side Young Boys with the legendary Billy Liddell scoring.
Murrayfield – Napoli – July 28, 5pm BST
Where? Edinburgh, Scotland
Home to? Scottish Rugby Union, Edinburgh Rugby
Capacity? 67,144
---
The Reds fly back over the pond for a trip to Scotland and a first-ever visit to Edinburgh's Murrayfield Stadium.
Klopp's side will take on last season's Champions League group stage opponents Napoli for the second summer running.
Murrayfield is traditionally a rugby venue as home of Scotland's union side and is suitably decked out in the traditional navy blue seats while boasting two tiers on all four sides.
The ground originally opened in 1925 but was renovated 70 years later with a new capacity of 67,144—making it the largest stadium in Scotland and fifth biggest in the UK.
Before becoming the all-seater venue of today, Murrayfield was once the scene of a world-record sporting attendance: in 1975, a crowd of 104,000 crammed in to watch a Five Nations clash between England and Wales.
Football has been played here sporadically over the years, with Edinburgh side Hearts having used it as their home in 2003 and recently for the 2017/18 season.
Scottish League Cup semi-finals have also been held here, while Hibernian and Celtic have used the stadium for showpiece friendlies on occasions.
American football has been hosted and several concerts too—with David Bowie, Spice Girls, One Direction and, of course, Scottish folk legends The Proclaimers all having performed.
Stade de Geneve – Lyon – July 31, 6pm BST
Where? Geneva, Switzerland
Home to? Servette FC
Capacity? 30,084
---
Yet another first follows as Liverpool touch down in Switzerland at the 30,084-capacity Stade de Geneve.
Here, the Reds take on Ligue 1 outfit Lyon for the first time since the 2009/10 Champions League group stage.
It's a modern venue having opened in 2003 after three years of construction and is the home of Servette FC.
The stadium is certified at international level despite the modest capacity and is a place that Xherdan Shaqiri will know well, with Switzerland regularly playing friendlies and qualifiers here.
Moreover, three group stage games in Euro 2008—which Switzerland jointly hosted with Austria—were also held at this small but compact, bowl-shaped arena.
While predominantly a football venue, the ground has also staged rugby union games and NLA ice hockey.
Wembley – Man City – August 4, 3pm BST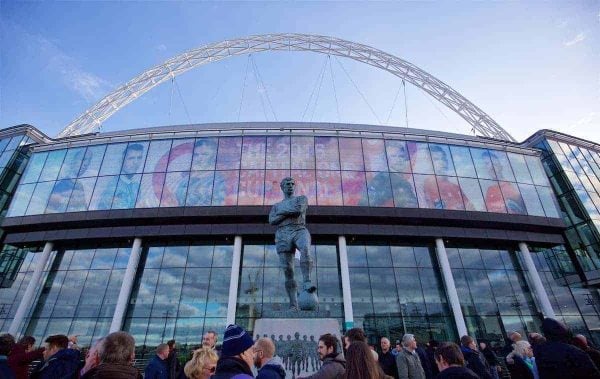 Where? London, England
Home to? England
Capacity? 90,000
---
Liverpool's final preparations ahead of the Premier League kickoff sees the Reds return to the Home of Football.
At the 90,000-capacity national stadium Klopp's side will undertake a first competitive fixture, contesting the Community Shield against Man City.
It will offer the chance for some early silverware and more importantly the moment to make a statement ahead of the new season.
This is Liverpool's first appearance in the competition since 2006, when the Reds beat Chelsea 2-1 at the Millennium Stadium.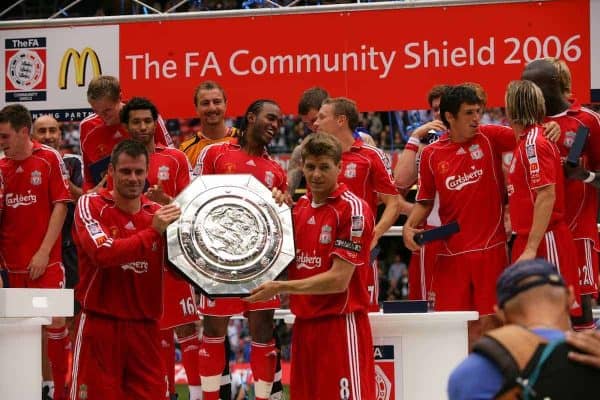 Klopp's side will be looking to produce a similar display to that of the last Wembley pre-season visit—the stunning 4-0 demolition of Barcelona ahead of the 2016/17 campaign.
Coming just days before the campaign opener against Norwich, it will be all about ensuring the Reds are fit and firing to make a winning start when the real stuff starts.