Sevilla midfielder Joris Gnagnon has been labelled "a disgrace" after his awful challenge left Liverpool's Yasser Larouci on crutches on Sunday night.
The Reds took on their Spanish counterparts in the second game of their pre-season tour of the United States, in front of a packed crowd at Fenway Park.
After a spirited but friendly meeting with Borussia Dortmund earlier in the week, Sevilla's ridiculously heavy-handed approach came as a big surprise for Liverpool.
Harry Wilson required treatment after taken an elbow to the eye from Ever Banega, while Gnagnon's childish swipe at Larouci's ankle—with no attempt to win the ball—was the worst of many, many late challenges.
It left the Algerian needing immediate treatment and, after being stretchered off, left the Boston stadium with his foot in a protective boot ahead of a scan on Monday.
Speaking to the Mail's Dominic King after the game, James Milner expressed his frustration at a needless tackle from Gnagnon.
"You don't see many red cards in a friendly," he reflected.
"They said we should have put [the ball] out [for an earlier foul] but it is up to the referee to stop a game.
"If you want to foul, pull a shirt. Don't take a young lad by the knee. Seeing it again it is a disgrace."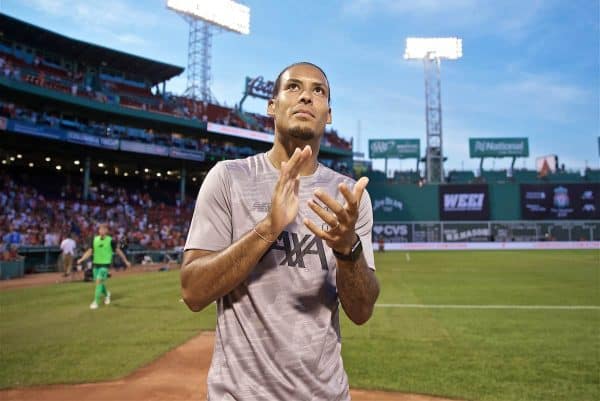 Virgil van Dijk confronted Gnagnon at the final whistle, looming over the French midfielder at the advertising hoarding which served as a makeshift dugout.
He was soon joined by Andy Robertson and Jordan Henderson, along with a throng of Sevilla players, as the 22-year-old cowered in his seat, and speaking to Goal's Neil Jones the Dutchman questioned Gnagnon's integrity.
"I saw it from the side, it's not nice," Van Dijk said.
"Especially when it happens against such a young guy who is playing pretty well this season. I think it says something about him.
"You have to just deal with it, but obviously you don't want to have injuries in a game like this.
"You want to get fit, you want to get back to your best.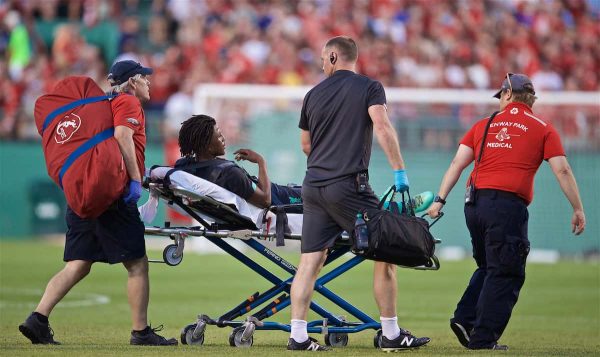 "Obviously everyone wants to win the game, but the most important thing is to get fit. Hopefully for Yasser it is not that bad."
Fortunately, the early suggestions are that Larouci was "lucky" to avoid serious injury, and leaving on crutches was a precaution after such a shocking challenge.
Gnagnon issued a swift apology after the game, along with Sevilla manager Julen Lopetegui.