Jurgen Klopp insists Liverpool must now focus on the future and doesn't want to be asked about the Champions League win anymore.
Klopp enjoyed the greatest night of his managerial career on June 1, clinching Champions League glory and European Cup number six for the Reds.
After a questionable recent record in finals it was a huge moment for the German, as well as the players and fans.
Although the memorable evening against Spurs is not yet two months old, Klopp wants to move on from discussing it.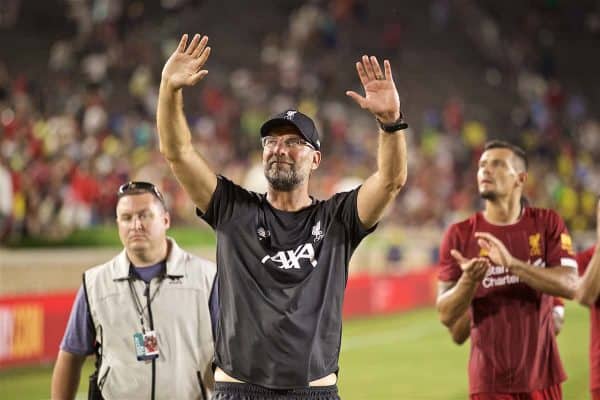 Speaking to the media after Liverpool's 2-2 draw with Sporting CP in New York, the 52-year-old says it's time to look towards the future:
"After this trip nobody should talk to me too often anymore about the Champions League trophy, that's now finished, we don't carry it with us all the time still, so we really can start writing a new book or chapter or whatever."
Klopp's words are encouraging, considering he could easily bask in the glory of being a European champion and allow Liverpool to stand still.
Instead, he is looking ahead to bigger and better things, building on the success rather than seeing it as the peak for this side.
The Reds' pre-season tour of America is now over, with no victories recorded in the three matches against Borussia Dortmund, Sevilla and Sporting.
Klopp was still in a positive mindset regarding the trip, however, but admitted he is looking forward to the next stage of the summer preparations and hinted as to his lineup plans for the next two friendlies: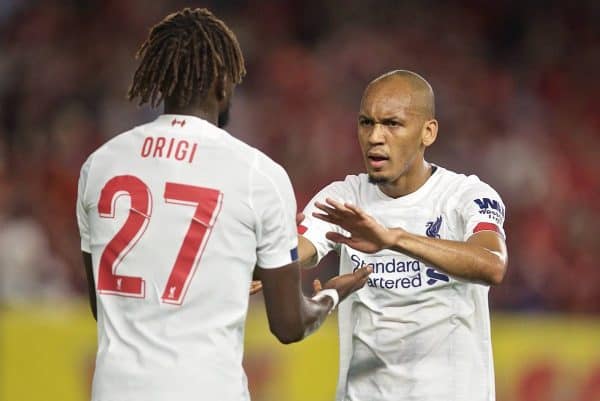 "It was an intense time, an intense week, three games in a pretty short period after a couple of days' training in Liverpool. For the boys who were in from the first day, it was absolutely OK; for the others it was maybe a bit too much, but we had to do it anyway for different reasons.

"So, all good. It was nice to meet all the people who are obviously with us. Tonight it was an outstanding atmosphere, we were stuck a bit in traffic [travelling to the stadium] and I think probably all the people as well who decided to come here. And to show up in the kind [of way] they showed up was nice. That's really good.

"From a sports point of view I'm happy to go back because a different time zone, you need a couple of days to adapt to it and now we are in it, now we leave.

"But it's all OK, we have an important week ahead of us; we go to Evian in France and have a proper training camp there.

"Before that, we have a very tricky game against Napoli. The game against Lyon we pretty much organised only because of the boys who came back, hopefully they can all feature for some minutes in that game, it would be really important."
Further discussing aspects of Liverpool's time in the United States, the Reds manager touched upon why his team have struggled at times.
He made a concerted effort to laud the supporters who have cheered on their heroes, however, and looked ahead to getting key men fit again:
"In Notre Dame and Boston it was 100 per cent the weather. I think we hit the two hottest days of the year, pretty much. When we played that was a big challenge and for the session as well as the games.

"Pitches are always a challenge in America; they are wonderful stadiums but they are usually not soccer stadiums, so it was a bit tricky. Tonight it was really funny because the pitch was not symmetric, but everybody did a really good job to make it happen.

"[The stadium] was really good and I liked it a lot. It is not allowed for me to say too many good things about the Yankees because we are obviously Red Sox, but from a professional point of view they were really nice to us. It was a very good experience, especially for the young boys.

"It was really nice to be here, but it is good as well to go back because we play in England and Europe, so [to go back to] train and play in conditions we are used to."
There is still time to get fully up and running before the campaign starts, though, and a few players clearly need more minutes—and perhaps a more forgiving environment to feature in.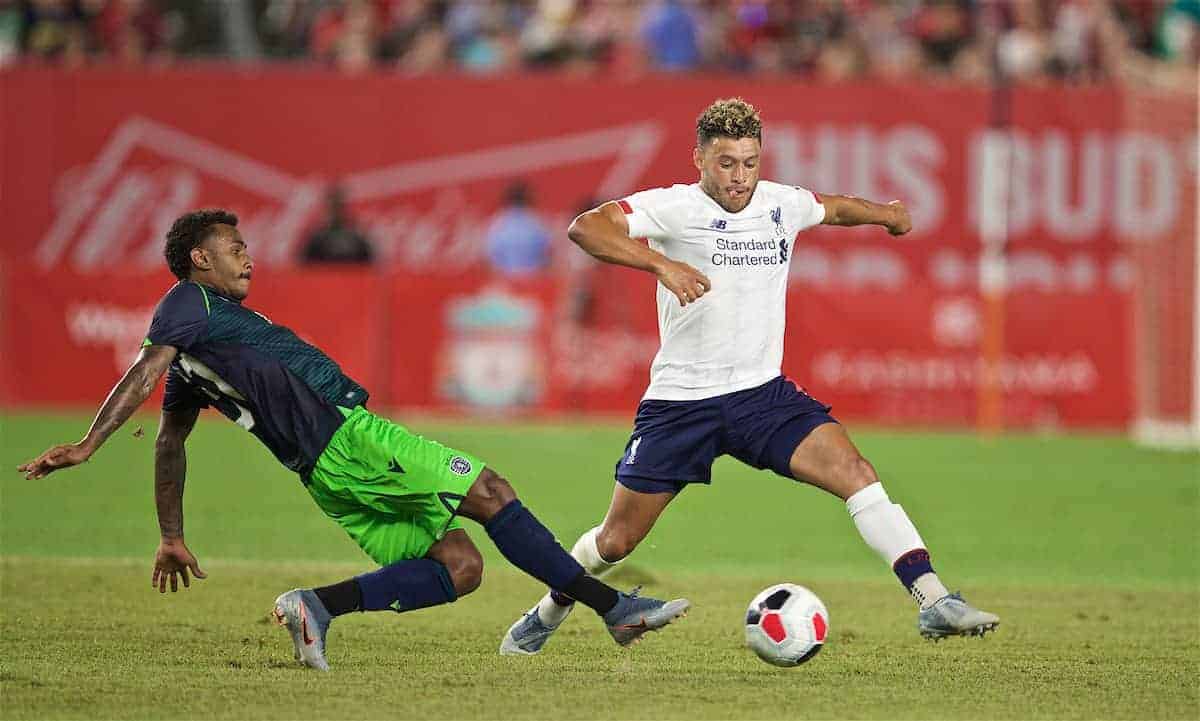 Additionally, the entire strikeforce and goalkeeper Alisson are yet to return, while a couple of seniors remain sidelined through injury.
"Everything is fine. We have had injuries, especially with Clyney now and Paul Glatzel, a young kid, but apart from that we came through so far, that's really important to us.

"Now we get back, hopefully, six players when we get home: Naby Keita should be ready to train hopefully, Shaqiri should be ready to train and then hopefully to play. Mo [Salah], Bobby [Firmino] and Ali [Alisson], and then a week later Sadio Mane as well.

"They are obviously really important players for us. So far, so good, but we have things to improve and we have to make sure we are ready for the start and then continue. That's it."
Liverpool will now prepare to face Napoli at Murrayfield on Sunday evening, as the Reds swap America for Edinburgh.
Then it's a trip to Evian for a training camp, as Klopp alluded to, with the Premier League opener at home to Norwich (August 9) fast approaching.