Liverpool youth Leighton Clarkson may have been the most underrated player in the academy in 2018/19, and big things could soon come for the midfielder.
The young Reds had many standout stars last season, with top goalscorers Paul Glatzel and Bobby Duncan making the headlines and the likes of Ki-Jana Hoever and Curtis Jones earning first-team debuts.
Barry Lewtas' under-18s were particularly impressive, lifting the FA Youth Cup with victory over Man City and finishing second behind Derby in the U18 Premier League.
Across the age groups, only Duncan (43) and centre-back Rhys Williams (40) made more appearances than 17-year-old Clarkson (35).
Clarkson's 30 outings for the U18s were the joint-most under Lewtas, tied with Elijah Dixon-Bonner.
But the midfielder largely flew under the radar, and perhaps to his benefit, as he flourished away from the spotlight in his first full season since leaving the under-16s.
Leighton Clarkson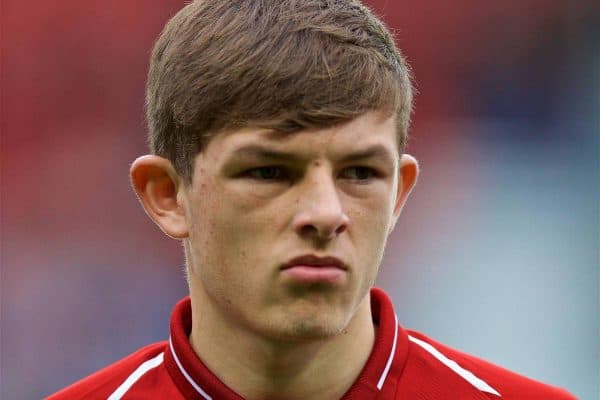 Age: 17
Born: Clitheroe
Position: Central midfielder
Signed from: Blackburn Rovers
Clarkson was initially spotted playing for Sunday League side Clitheroe Wolves, while on the books at Blackburn, and began training with both Liverpool and Man United.
"I had the choice of clubs, but I knew it was only going to be Liverpool," the teenager, who formally joined at nine, told LFCTV in December.
Leaving his boyhood side for one better positioned to nurture his talents, Clarkson has been a regular feature for Lewtas through the age groups, often wearing the captain's armband.
The youngster lifted the IberCup in Denmark at the start of the 2017/18 campaign, and later that campaign went on to make his U18s debut, with Steven Gerrard entrusting him in difficult circumstances.

That came an hour into the Merseyside derby, no less, replacing Rafa Camacho as Liverpool trailed 3-1, but he was unable to inspire a comeback.
He was handed his first start in the following game, however, and it was his delivery from a free-kick on the left which handed the young Reds their opener through Remi Savage, going on to defeat Wolves 2-1.
While that was a mere taste of life in the U18s, the promotion of Lewtas last summer saw him follow his coach on a full-time basis.
Despite only working with Gerrard briefly, Clarkson has unsurprisingly paid tribute to the Liverpool legend as a major influence.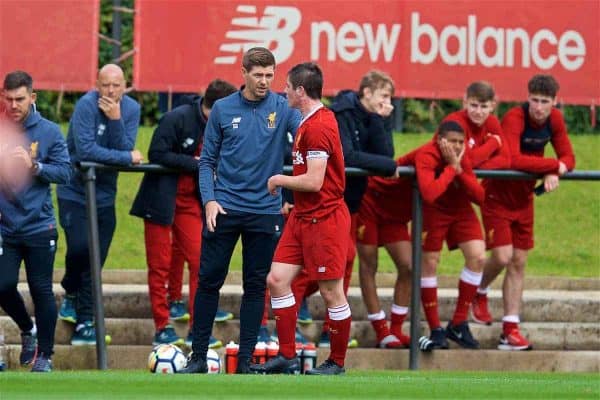 "It was brilliant, I never thought that Gerrard would be my manager one day. For that to happen was a dream," he explained.
"[The sessions] were fun, very vocal, he just loved watching us play, he would never really stop it, just watch us play.
"[He would] help us, especially me when I trained with him, because passing was probably his main strength and it's mine too, so he did help me a lot with that.
"There were times where I maybe could have run more for a ball, or put a foot in more, but Gerrard loved aggression, so he put that into me, to be fair to him.
"I just wanted to impress him every time I was on the pitch."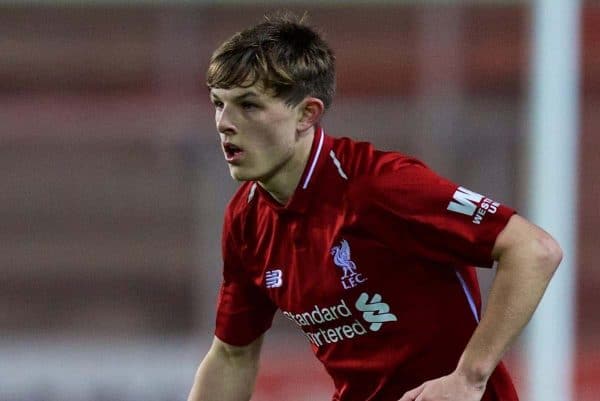 As Clarkson noted, he is a naturally gifted technician, but has honed his game from a roving goalscorer to a more measured, inventive midfielder able to operate in a range of roles.
He is arguably at his best in the engine room as a No. 6, and that is where he more often than not turned out for the U18s in 2018/19, able to pick passes from deep and break up play with his new-found aggression.
One of his biggest strengths is how he keeps his head up and always looks to play a forward pass if possible, and he keeps Lewtas' side ticking.
Speaking to Goal's Neil Jones in April, Lewtas credited Clarkson for filling the creative void left by Jones on his step up to the under-23s, "even if he does it through passing more than dribbling."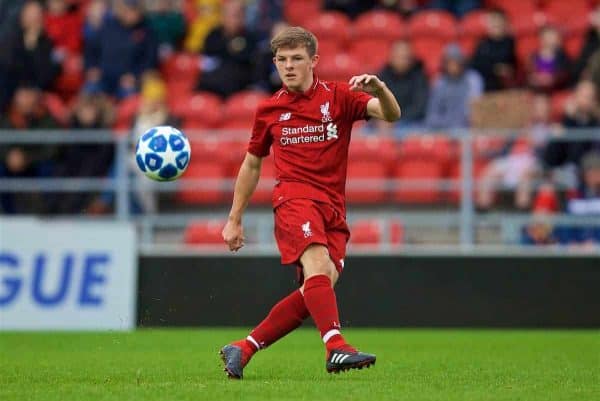 Clarkson can find team-mates both short and long, and he registered the third-most assists for the U18s last season, with 10, behind only Duncan (16) and Jake Cain (13).
He also weighed in with four goals, and one of those—a brilliant direct free-kick to put Liverpool 3-1 up against Everton in the 4-3 mini-derby win in November—showcased a key asset for the 17-year-old.
That game was won by a last-minute goal from Jack Bearne, and again it came via a Clarkson delivery, with the midfielder describing his hand in the victory as "an amazing feeling."
"To play for Liverpool, you want to play in derbies—Man U, Everton—but to score a free-kick, and then to put a ball in, in the last minute, to then win the game, was brilliant. An amazing feeling," he said.
"Early on this season I've let other people take free-kicks. I'm normally on corners and stuff like that, but I knew I'd have a chance, and thankfully it went in."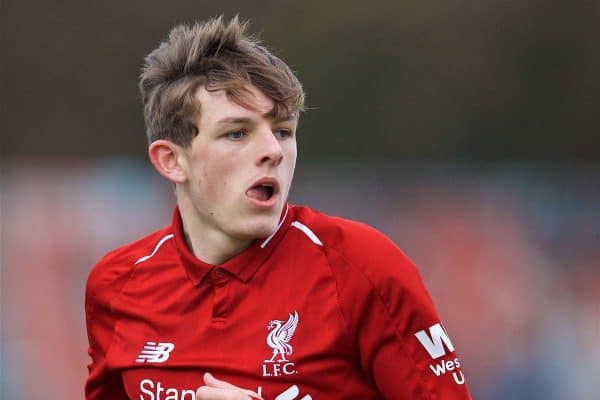 Now Clarkson is the first to every free-kick, and part of his success from set-pieces came through advice from Gerrard.
"It's not more the technique, because he knew I had that in me," Clarkson added.
"But it was more the routine to get up to the ball, whereabouts to aim the ball to make it go into another direction."
While he is clearly adding parts of the No. 8's approach to his own game, there is little comparison between Gerrard and Clarkson as players.
The latter is more diminutive, and prefers to pick locks rather than kick the door down.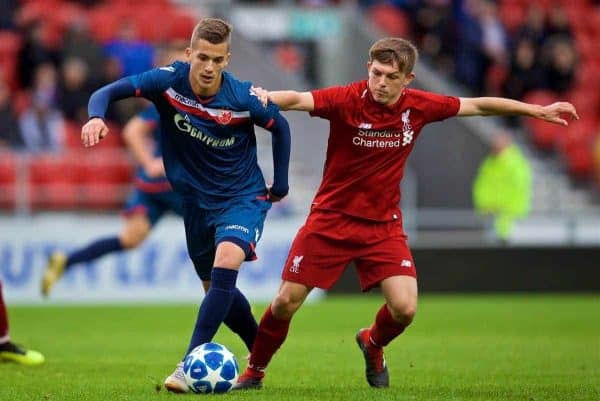 Clarkson's height, or lack of, could be seen as a weakness as he moves up through the ranks, as while at U18 level he is able to use his awareness and dexterity to shift into space, there will be less afforded to him further up the ladder.
It would be interesting, therefore, to see whether he remained as a deep-lying midfielder in the future, as his skillset may be better suited to the No. 10 role as a senior.
There is no need to rush his development, however, as he is only set to turn 18 in October and could well remain with the U18s in 2019/20.
That would allow him and Cain to work on their blossoming partnership in the middle of the park, while being able to supplement Neil Critchley's U23s in the future.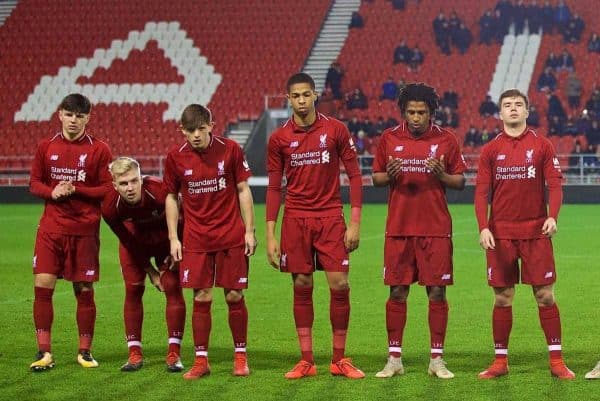 It is difficult to predict, of course, as Jones' rise from the U18s to the fringes of the first team proves, and Clarkson is using his old team-mate's story as inspiration, saying "it drives me on to be in the same position as him."
His ultimate goal is "just to play for Liverpool," and after an excellent first season as a full-time U18, Clarkson can look to take another step in 2019/20.