Marko Grujic will spend another season with Hertha Berlin in the Bundesliga, with his expected return to Liverpool providing Jurgen Klopp with an ideal solution.
After a period of deliberation, and considerable interest, Grujic was confirmed to be rejoining Hertha for 2019/20.
A host of other clubs were believed to be pursuing the Serb, including Bayern Munich, Atletico Madrid, Brighton, Eintracht Frankfurt, Atalanta and Werder Bremen.
But Hertha won the race, and this will be something of a relief for Grujic who, in an interview with Kicker in March, revealed that if he were to head out on another loan, he would "like to stay in Berlin."
The Bundesliga side have paid a £2 million fee up front, with a possible £500,000 extra in bonuses, while they will also cover his full wages and will be penalised if he fails to make enough appearances.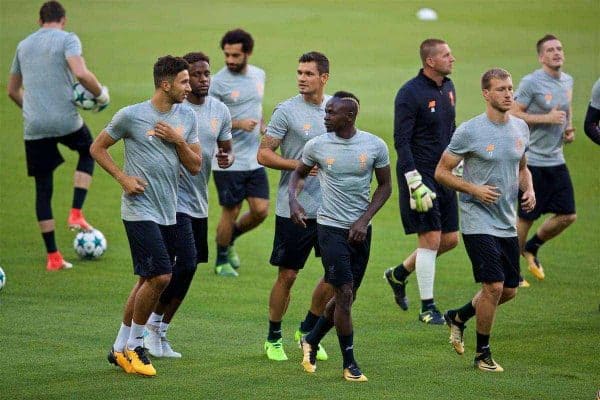 As reports of the deal broke, the crucial caveat was that though Grujic would be moving again at 23, he is considered a key player for the future by Jurgen Klopp.
Grujic's decision to stay with Hertha, who made his return a priority, is seen as a marker of his maturity and a shared belief with Klopp that his development is on the right track.
It may be difficult to envisage, given the manager's faith in the likes of Trent Alexander-Arnold, Joe Gomez and Rhian Brewster at a considerably younger age, but this could be the best agreement for all parties.
And if Grujic is to return to Merseyside next summer, he can provide Klopp with his perfect midfielder.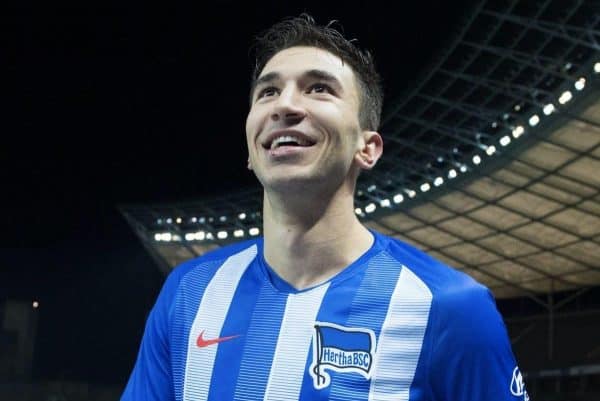 By all accounts, Grujic's first year in Berlin was a major success.
Though a pair of injuries, to both ankles, restricted him to just 23 appearances, his outstanding form throughout earned him admirers across Germany.
For Pal Dardai, who vacated his role as manager this summer, he is "the best midfielder [Hertha] have had in the last 20 years," with the Hungarian comparing him to Stefan Effenberg.
"I've never had a midfielder like Marko Grujic before. For me, he's the new Stefan Effenberg," Dardai said in March.
"He was tall, too, but very safe on the ball despite that, and he always knew when to calm down the team, when to go into a duel and when to move forward.
"You either have that ability or you don't."
Grujic himself described these as "big words," but despite these lofty comparisons he showed no shortage of confidence at Hertha.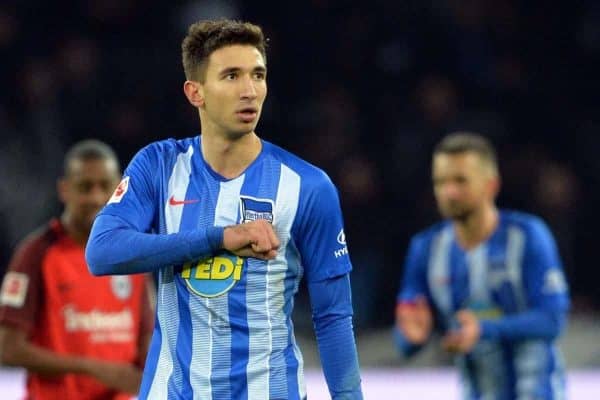 He was regularly their standout performer, scoring five goals and setting up another as he completed the full 90 minutes in 19 of his 23 outings.
He provided the drive in Dardai's midfield, with his long legs allowing him to surge through the middle of the park in a box-to-box role, as well as lending his side composure on the ball.
A familiar criticism of the Serbia international is his perceived lack of discipline, but he picked up as many yellow cards in 22 Bundesliga games as he did in 13 for Cardiff in the Championship in 2016/17, with five.
As a loanee, and still relatively young, Grujic could often be seen roaring his team-mates on, with his big-club mentality a real positive.
This season, he will be operating under a new manager in Ante Covic, who was promoted from his previous role as Hertha II coach to fill the hole left by Dardai.
But Grujic should retain his key status under his fellow Balkan, and unlike if he were to join one of Bremen or Frankfurt, it will take no time for him to settle.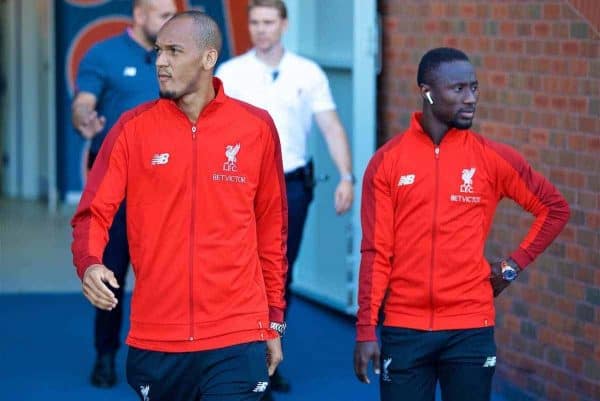 Another season in the Bundesliga, rather than returning to a squad role at Liverpool, allows Grujic to develop further without the risk of stagnating on the bench.
The Reds are particularly well-stocked in midfield, with the additions of Fabinho and Naby Keita last summer, along with the return of Alex Oxlade-Chamberlain, fleshing out a group also including Jordan Henderson, Gini Wijnaldum, James Milner and Adam Lallana.
Even without Oxlade-Chamberlain and Lallana fit, the remaining five all made at least 30 appearances in all competitions, with Keita the only one to feature fewer than 40 times.
Klopp is able to shuffle between this seven-strong group this season, potentially with Harry Wilson able to supplement his options further, while Grujic can still play week in, week out.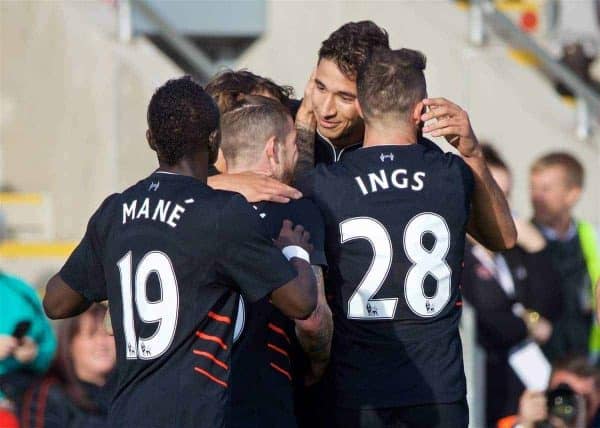 Given he has played just 14 times for Liverpool so far, it is hard to judge Grujic's prospects under Klopp—but he was, after all, his first signing.
Brought in from Red Star Belgrade for £5.1 million in 2016, the Reds fended off interest from Man City, Man United, Chelsea, Juventus, Inter Milan and Wolfsburg to bring him to Merseyside.
Though he joined on the recommendation of Zeljko Buvac, who has now left his position as Klopp's right-hand man, the manager was clearly convinced of his ability.
On Grujic's arrival, he described his new addition as a "big talent" and "a tall boy, but quick and good at technical things," while assistant Peter Krawietz said the club were "very, very optimistic" over his future.
The difference between football in Serbia—where Grujic won the SuperLiga with Red Star in 2017—and in England is stark, and he has noticeably bulked up in the years since.
But while his first phone call with Klopp back in 2015 saw him insist on staying at Liverpool rather than spending time on loan, this appears to be all part of the club's long-term vision.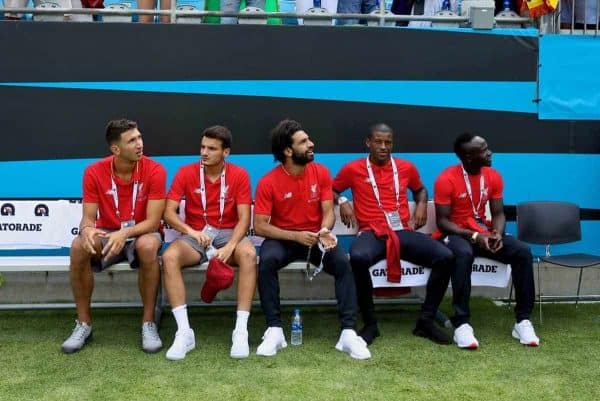 Grujic signed a new five-year contract with the Reds before joining Hertha for the first time last summer, and is still tied to the club until 2023.
This is in line with the likes of Fabinho, Keita, Henderson, Brewster, Virgil van Dijk, Xherdan Shaqiri, Roberto Firmino, Sadio Mane and Mohamed Salah, while Gomez, Alexander-Arnold, Alisson and Andy Robertson are committed to 2024.
That extension was not the typical one-year agreement Liverpool make with their loanees to ensure value retention ahead of a future sale—it seems more of a signal of intent.
Crucially, while the majority of Klopp's midfielders are on long-term contracts, both Lallana and Milner have just one year left on their deals, while Wijnaldum could leave in 2021.
Milner is expected to agree to a further year, while keeping Wijnaldum into his mid-30s should be a priority, but with question marks over Lallana's durability there is a clear opening in Klopp's squad from 2020.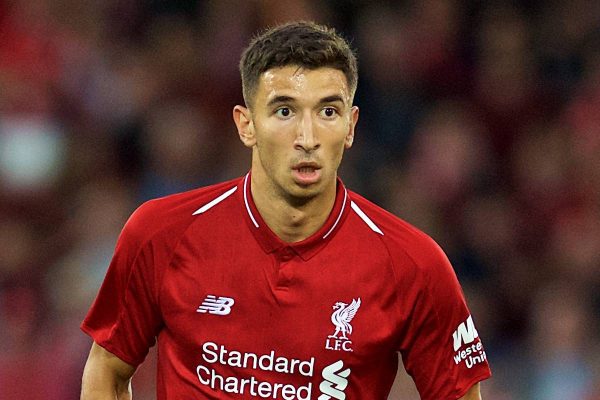 Of course, this could still be a case of the 'buy low, sell high' approach highlighted by Dominic Solanke's £19 million switch to Bournemouth in January and Rafa Camacho's £7 million return to Sporting CP this summer.
But, at this stage, that should not be entertained in Grujic's case.
Instead, a year from now, Liverpool could welcome a 6'3″, muscular, mobile, versatile, 24-year-old midfielder, with close to 150 senior games under his belt, to take a place in the first team.
He could slot in as a No. 6, a No. 8 or, at a push, a No. 10, and could already have close ties within the squad and among the backroom staff.
That won't be a new signing; instead, that could be the very first one Klopp made.