Liverpool FC Women joined the men's first team on the Reds' US tour and it proved an especially fruitful trip for striker Courtney Sweetman-Kirk.
The 28-year-old finished last season as the club's top goalscorer with 13 goals in 26 appearances, making an instant impact following her arrival from Everton Ladies.
And she continued where she left off with a goal in the opening game of the US tour, against the Cleveland Ambassadors in South Bend, and then four against the Metropolitan All Stars in Boston.
Her performance in the closing friendly in the States, watched on by a small but vocal crowd sat on bleachers and a grass bank at Harvard's Jordan Field, provided a fine preview for the campaign to come.
As record heat made way for torrential rain in Boston, a dedicated array of fans including the New England Sports for Women group highlighted the growing thirst for the women's game.
It wasn't a season to remember for the Reds last time out, as the appointment and swift resignation of Neil Redfearn in the summer left his replacement, Vicky Jepson, to piece together a new-look squad and steer them to finish eighth in the Women's Super League.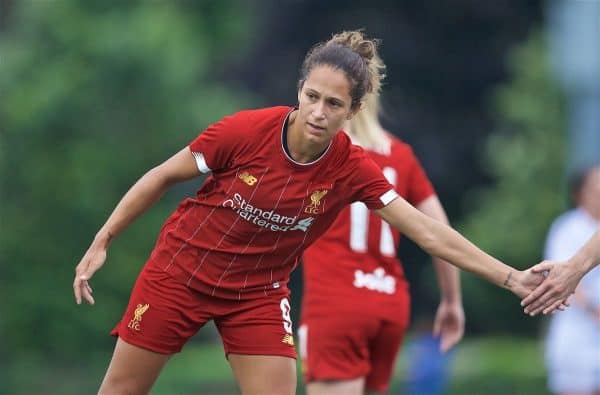 But joining the first team for their tour of the US for the first time, Sweetman-Kirk's goals suggest she is ready to hit the ground running after a "great learning curve" in pre-season.
"It's been fantastic, it's been a great experience," the 28-year-old told This Is Anfield at Harvard.
"It's exposed us to some different things; obviously it's been really hot. I think it's been a great learning curve for us.
"We've got a few new players so it's not just on the pitch, it's off the pitch and a bit of team bonding.
"Being with the whole club, and the men [in the first team], it's been great."
Sweetman-Kirk and her team-mates, including Rinsola Babajide who scored a brace in the 6-0 win over the Metropolitan All Stars, took part in community events throughout the tour, which she feels was hugely beneficial.
"I think everyone was really excited, it was a chance for us to show how professional we are, and what good footballers and professionals we are," she continued.
"So we were just excited to show that, and I think so far we'd like to say that we've done that."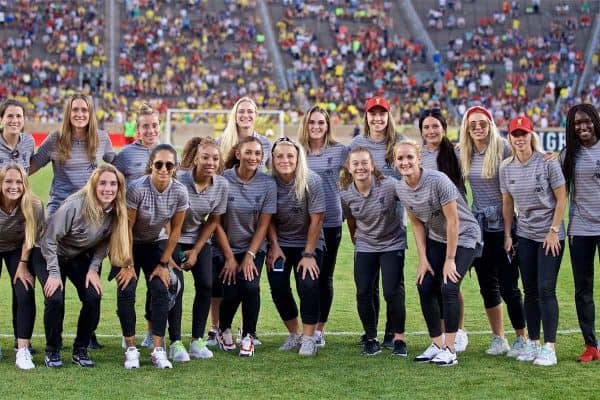 The Reds' trip to the US came on the back of a World Cup which significantly boosted the profile of the women's game, with the United States lifting the trophy in Lyon, and Sweetman-Kirk described the response as "massive."
"You can see it here, obviously America have won it and the reception has been fantastic," the former England youth international explained.
"I know the club will have plans to push that at home and so will the FA, and I think we've got to keep that moving and get as many people to our games as possible."
Liverpool play their home games at Tranmere's Prenton Park, and will head into the new Women's Super League season determined to improve on their up-and-down campaign in 2018/19.
Victories against local sides in the US will have lifted morale, but a bigger test comes against the Coventry United Ladies on July 28, with the season opener coming at home to Reading on September 8.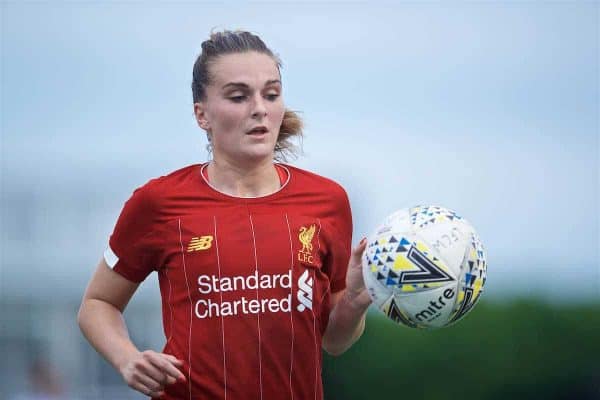 Assessing her hopes for the new term, Sweetman-Kirk added: "It's just about building now, going through pre-season and starting it in a good way."
Jepson has bolstered her squad with the additions of Becky Jane, Melissa Lawley and Jade Bailey, while captain Sophie Bradley-Auckland is among those to have signed a new contract.
"I think everyone's looking good in their own way, we've all come back in a really good place on our off-season programmes," Sweetman-Kirk enthused.
"Mel's got quite a few assists today, so obviously that's nice for her to get in and get that done early. But I'm impressed with everyone to be honest."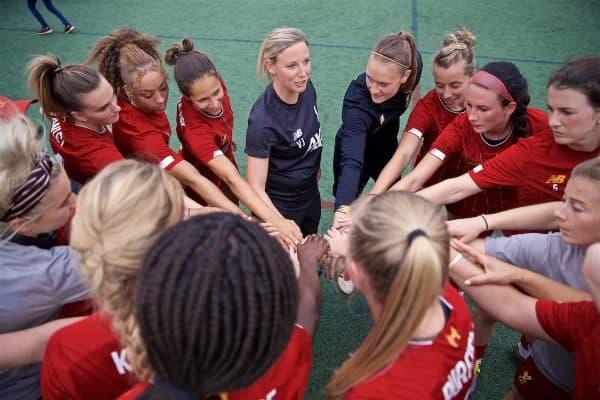 The sight of Jepson urging her players along from the humble college dugout at Jordan Field was an encouraging one: an impressive young manager able to work in a settled environment, free from the spectre of Redfearn's shambolic, short reign.
"That's really important," Sweetman-Kirk agreed, on the subject of a drama-free summer.
"For myself, I came in a bit late to pre-season [after joining from Everton last July] and there was a lot of disruption.
"So from the start, getting everyone knowing each other, and getting a good team bond, that's really important for the continuity all the way through the season."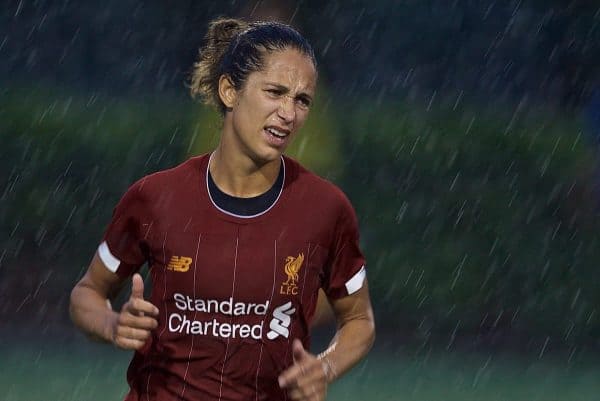 However, unlike the first team who are preparing for another title challenge in 2019/20, the Women are setting their sights on stability in the season ahead.
"Realistically, where we are, [the target is] mid-table," the No. 9 concluded.
"But always to finish as high as we can, and to get a few good cup runs as well in the Conti and FA Cup."
After five goals in two games on Liverpool's pre-season tour, Sweetman-Kirk's input will undoubtedly be key to the Reds' fortunes.