Virgil van Dijk has vowed to help Liverpool to "do a little bit better" than they did last season when 2019/20 kicks off, with the centre-back "not satisfied" yet.
JACK LUSBY in New York
Few players have slotted back into action for the Reds this summer as effortlessly as Van Dijk, whose return for the pre-season tour of the US has been immaculate.
The Dutchman glided across pitches in South Bend, Boston and New York, and though results were not up to the standard set in the previous campaign, the target was fitness and fluency.
It was Van Dijk's second tour with Liverpool, and speaking to This Is Anfield after the 2-2 draw with Sporting CP on Wednesday night, he applauded the reception he and his team-mates received.
"The support, the reaction we got in all the cities was amazing," he explained, in an interview on the Yankee Stadium concourse.
"All of us wanted to get fit and get minutes in our bags.
"We wanted to get results, we could have done better in certain situations but the most important thing is to get fit, stay fit, and obviously I'm happy that most of us came out of it healthy and well.
"Obviously our thoughts are with Clyney and hope he will get a speedy recovery. The rest of us will get back now and focus on Sunday."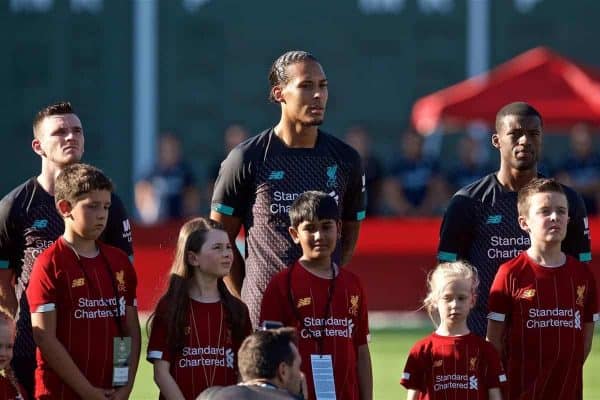 Nathaniel Clyne has joined a long list of players to suffer injuries during the Reds' pre-season, with the right-back facing at least six months on the sidelines after rupturing his ACL.
This leaves Liverpool's increasingly short for the season opener against Man City in Community Shield on August 4—a warmup Van Dijk described as "a game we want to win."
"We're not far away now from the Community Shield game and that's when [the season] gets started really," he continued.
"The important thing is I played 75 minutes, that was the most important thing for me personally.
"Now time to head back, see the family for one day and then we go back on the road."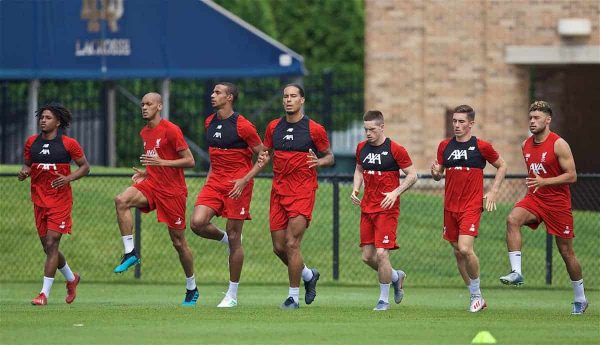 The Liverpool squad flew back to Merseyside directly after the clash in New York, but as Van Dijk revealed, they are set for a tight turnaround as they head to Edinburgh this weekend to play Napoli.
After that is a training camp in Evian and a friendly against Lyon in Geneva, during which Alisson, Roberto Firmino and Mohamed Salah will all return.
The arrival of many of last season's most important players gives the Reds a different complexion ahead of their trip to Wembley next month.
And despite a Champions League triumph in 2018/19, along with a very close-fought title challenge in the Premier League, Van Dijk stressed that "the main thing" is beginning from zero again.
"Everything we did last season doesn't count this season," the 28-year-old told This Is Anfield.
"We will get respect from certain teams but at the end of the day we have to show it on the pitch, the quality that we have."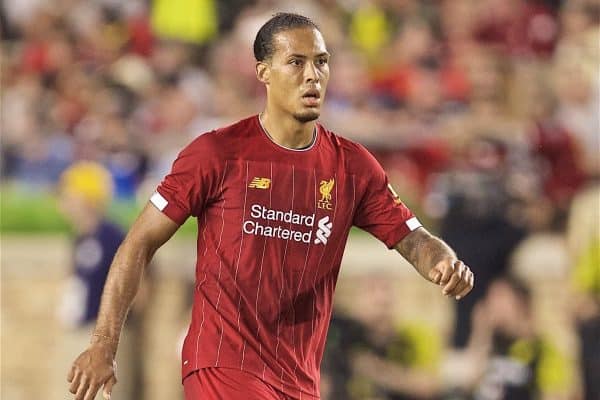 Van Dijk certainly doesn't appear short of fitness following a brief break during the off-season, and his contributions at the back will be vital if Liverpool are to improve on the last campaign.
"Hopefully [we can] do a little bit better than we did last year," he concluded.
"We know it's going to be tough but the only thing we can do is work hard, try it, and it sounds pretty simple like that but that's the aim.
"We're not satisfied, but obviously we can be proud of what we achieved last season."
Van Dijk's attitude is, of course, what should be expected from a top-level professional, as resting on his laurels would be damaging.
The new season will be taken step by step, and while our No. 4 rejected the suggestion victory in the Community Shield would ensure a mental advantage over City, starting the campaign with silverware would be very welcome.