Ahead of Liverpool's trip to Istanbul for the UEFA Super Cup on Wednesday evening, we take a look back at the Reds' three previous wins in this 'final'.
Having won the European Cup five times before the victory in Madrid in June, and the UEFA Cup three times, theoretically you'd think the Reds would have played in this fixture eight times previously.
But the competition format has been a strange one and during the eighties games often didn't take place if teams couldn't find a suitable date, such as in 1981 after Liverpool's third European Cup success when they were due to face Dinamo Tblisi.
Instead, Liverpool have played in the 'European Super Cup' / 'UEFA Super Cup' five times previously.
They lost to Anderlecht 4-3 on aggregate in 1978, and 2-0 to Juventus in January 1985 (for having won the European Cup in '84). Yes, the schedule wasn't always for this game to take place in mid-August.
With the format now clear, Liverpool – the Champions League winners – face Chelsea – the Europa League winners, in Istanbul.
The Reds will be seeking their fourth success in this match, and here's a look back at the previous three.
Liverpool 7-1 Hamburg (On aggregate) – 1977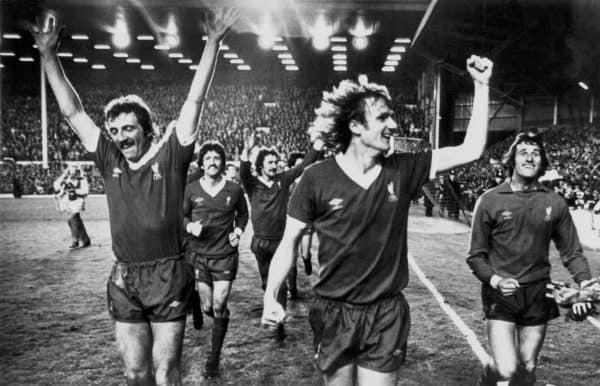 The Reds won their first European Cup back in 1977, having seen off Borussia Monchengladbach in the final in Rome.
That set up a meeting with Hamburg, who had achieved European Cup Winners' Cup glory the previous season – the competition that used to enable Super Cup qualification.
Although the two teams played out a 1-1 draw in Germany, what happened in the second leg outlined Liverpool's class.
Bob Paisley's side annihilated their opponents 6-0 at Anfield, with Terry McDermott the hero with a 16-minute hat-trick either side of half-time.
Phil Thompson, David Fairclough and Kenny Dalglish scored the other goals, before the Reds won a second successive European Cup the following May.
LFC Starting XI (first leg): Clemence, Neal, Thompson, Hughes, Jones, Case, Callaghan, Kennedy, Heighway, Dalglish, Fairclough.
LFC Starting XI (second leg): Clemence, Neal, Thompson, Smith, Hughes, Case, McDermott, Kennedy, Heighway, Dalglish, Fairclough.
Liverpool 3-2 Bayern Munich – 2001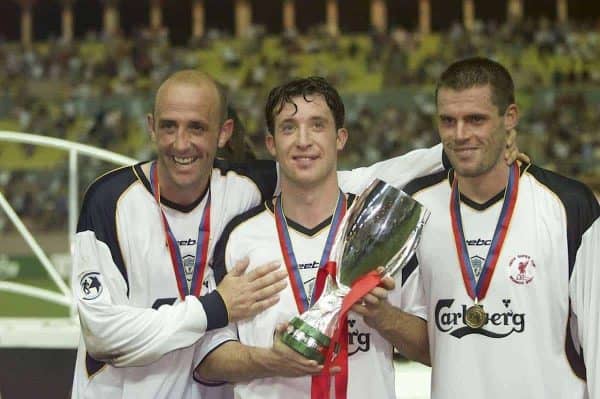 Gerard Houllier's Reds won a magnificent cup treble in 2000/01, also qualifying for the Champions League for the first time since its inception in 1992.
Their memorable UEFA Cup triumph against Alaves in the final meant they faced Bayern Munich in the Super Cup – a star-studded team who had beaten Valencia in the Champions League final four months earlier.
Liverpool's new-found standing among Europe's elite was outlined in Monaco, as they beat the German giants 3-2 in impressive fashion.
New signing John Arne Riise opened the scoring, and by the time Michael Owen and Emile Heskey had also netted, the Merseysiders were 3-0 up early in the second half.
Bayern rallied and threatened to take the game beyond 90 minutes, thanks to efforts from Hasan Salihamidzic and Carsten Jancker, but Liverpool held on.
LFC Starting XI: Westerveld, Babbel, Henchoz, Hyypia, Carragher, Riise, Hamann, McAllister, Gerrard, Heskey, Owen.
Liverpool 3-1 CSKA Moscow – 2005

Four years after seeing off Bayern, Liverpool were back in Super Cup action following the greatest night in the club's history.
The Champions League final victory over AC Milan remains one of the most unforgettable matches of all time and it gave the Reds another opportunity to take centre stage in Monaco.
Standing between Rafa Benitez's team and another trophy were CSKA Moscow, who had been surprise winners of the UEFA Cup after defeating Sporting CP in the final.
Although Liverpool were expected to be superior on the night, they came close to a shock defeat.
Daniel Carvalho's first-half strike looked like being the only goal, but Djibril Cisse rescued the Reds with eight minutes remaining.
Liverpool took charge in extra-time, with Cisse adding another and Luis Garcia putting the icing on the cake.
LFC Starting XI: Reina, Finnan, Carragher, Hyypia, Josemi, Garcia, Alonso, Hamann, Riise, Zenden, Morientes.