Jurgen Klopp is relishing that for the "first time in his career," he is able to head into the new season with the same squad that he ended the last campaign with.
The Reds have been very quiet in the transfer window so far, with few senior players departing and only two teenagers brought in for the first team.
With Alberto Moreno and Daniel Sturridge leaving on the expiry of their contracts, Klopp is set to turn to the academy to flesh out his ranks, while Sepp van den Berg and Harvey Elliott have arrived too.
Despite speculation over their futures, at this stage it seems that Simon Mignolet and Dejan Lovren will both stay too, while Divock Origi has signed a new long-term contract.
This comes following summer after summer, at Borussia Dortmund and Liverpool, that Klopp has been forced to deal with high-profile sales—though the last came midway through 2017/18, as Philippe Coutinho left for Barcelona.
Many of his key players have been absent for much of pre-season, however, while Sadio Mane will only report back on Monday.
But speaking ahead of the Community Shield clash with Man City on Sunday, Klopp embraced a career first, describing this as the club's "transfers."

"It's not exactly like this, because I lost six players for the pre-season, which is 'semi-cool', I would say," he told reporters.
"Now we get them back, first time in my career, now or maybe from next Monday on when Sadio is back as well, the [same] team together from the last year, that's true.
"So we have to use it, but that's how I explained it already a couple of times: these are the 'transfers' we did, keeping the boys together, keeping this team together.
"Staying on our toes we'll be hoping for 100 percent, staying aggressive, staying greedy, all that stuff, then let's go again.
"But I said it [earlier in pre-season], the worst thing that could happen, really, is that we win all six games [before Lyon] easily without six players.
"Because the problems will come in the season, and now we already get a little taste of the problems that will come.
"And we have to make sure that we are ready and prepare the solutions.
"That's exactly what the pre-season is for as well."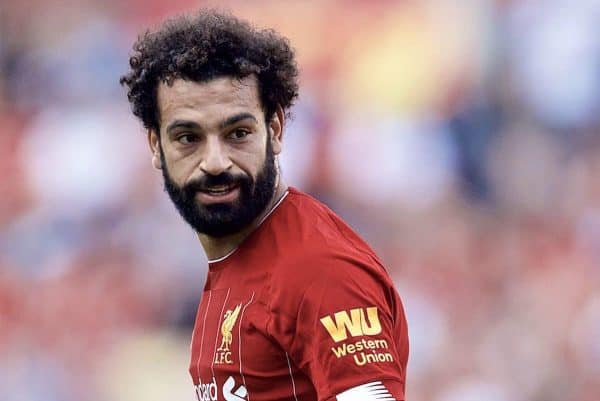 Alisson, Naby Keita, Xherdan Shaqiri, Roberto Firmino and Mohamed Salah all returned to start in the 3-1 victory over Lyon in the final friendly of pre-season.
And while their minutes were required to be managed, their presence prompted a significant improvement, and for Alisson, Firmino and Salah in particular, this comes after a summer spent on international duty.
This saw a decreased in downtime, and late returns to training, but does ensure their fitness has not dropped and, fortune permitting, they will be raring to go on August 4.
"That's the only positive, and Sadio will have only had 16 days when he comes back, so they don't lose as much that much [sharpness]," Klopp continued.
"If you have a six or seven-week break or whatever, then it's different, of course, in the way you have to start.
"But three weeks should be absolutely OK, 16 days for Sadio, he should be OK."
It is likely that the aforementioned quintet are in the squad to take on City, with Klopp presiding over a 24-man group in the closing stages of the training camp in Evian this week—including stand-in goalkeeper Andy Lonergan.
There is no doubt opting for as few changes as possible is a gamble from the manager, but if Liverpool can hit the ground running and maintain that, it could pay off.