Despite his reservations over VAR, Mohamed Salah is insistent that he will see more penalties handed his way this season thanks to its introduction.
The Premier League is the latest to introduce video technology this season, but the system, or more so the rules which it adjudicates over, has already earned widespread criticism.
The major talking points have emerged in each of Man City's games to date, with Raheem Sterling first ruled offside by the smallest of margins against West Ham before Gabriel Jesus' 'winner' against Spurs was ruled out due to a handball in the buildup.
Much of the criticism comes from the emotional aspect of the game being extracted in favour of the most minute details, and it is something Salah is not particularly fond of himself as mistakes are simply part and parcel of the game.
"I don't like it … that's my answer, always. I don't like it. I love football how it is," he said during an interview with CNN.
"It's like that with the mistakes of the referee, with the aggression from the player sometimes.
"It's OK sometimes to protect the players from dangerous play. But OK, that's it, in my opinion, that could be the only reason that happened, just to protect the players.
"But for me, I accepted the football with the mistakes of the referee, mistakes of the player, I don't know, whatever. That's how the football gets more excited."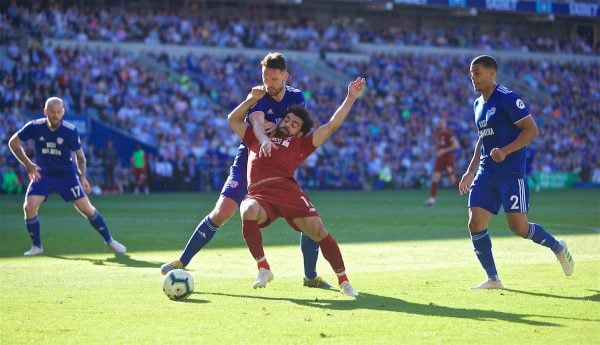 However, the increased scrutiny in and around the box is something the Egyptian feels he will benefit from throughout the season and dispel any notion that he is a diver like some outside the club like to believe.
For an age, it seemed as Liverpool were invisible in the eyes of the referee in the penalty area – with only three awarded in 2017/18 – but the Reds were awarded seven penalties in the league last season, with Salah converting three of those.
And Liverpool's No.11 is confident he will find himself on the right side of VAR decisions this term.
"More penalties for me, you will see that," he said.
But it is not just about scoring penalties or simply finding the net for Salah, who has notched 72 goals in 108 appearances for the Reds, as his job also centres around creating chances for those around him.
"I'm not a striker, I play as a winger, so it's my job not just to score but to also assist, play with the midfield."
"I play on the wing which no one recommended. For a long time I didn't play as a number nine.
"I'm comfortable with that. It's not my first job. Like, the number one his job is only to score but as a winger it's not just to score, it's to give assists … and play with the team. I'll do a lot of things to defend."