The media lauded Mohamed Salah's performance in Liverpool's 3-1 blitz of Arsenal and thought the Reds showed signs of rediscovering top form.
Liverpool passed the biggest test of the season so far with flying colours to maintain the 100 per-cent winning start.
Goals from Joel Matip and brilliant brace from the superb Salah earned the victory, with Lucas Torreira's late strike proving only a consolation for the Gunners.
The Reds looked a lot closer to their best – clearly benefitting from a reduced schedule and vital training time – and Klopp will be delighted with the club-record-equalling 12th straight league win.
Here's how the media assessed a brilliant victory at Anfield.
The media thought Liverpool showed they are now starting to click into gear…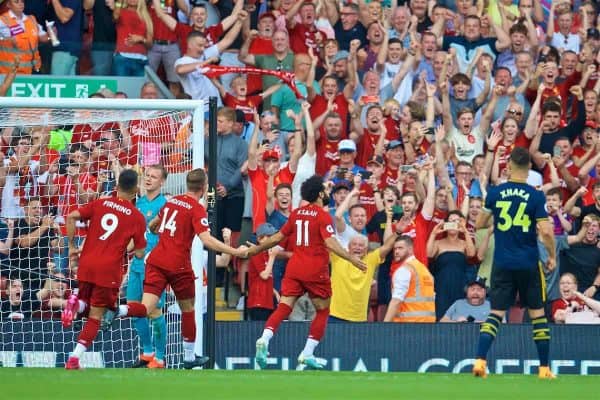 The Mirror's Simon Mullock noted that while the Reds often thrash Arsenal at Anfield, this was still a "special" performance:
Handing out a hammering to Arsenal has become a habit for Jurgen Klopp – but even by his standards this was something special.

[…]

But it was the manner of Liverpool's performance that suggests Klopp is about to preside over another exciting season.
Writing for Goal.com, Neil Jones was in no doubt that Liverpool have now rediscovered their best form, eulogising over the "devastating" second-half display:
Against Arsenal, though, they clicked into gear with a devastating second-half performance.
The Telegraph's Sam Dean labelled the display "a showing of remarkable physical strength" for a fixture so early in the season:
There have been more one-sided affairs than this, but at this stage of the campaign it was a showing of remarkable physical strength.
Certain journalists saw signs from the performance that the Reds could hit the same heights as last season…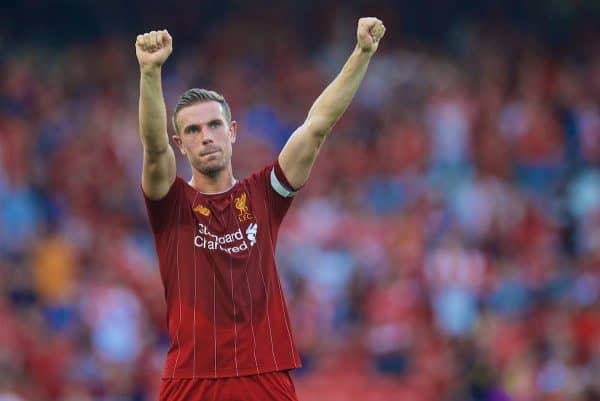 Jones thought this was a statement win which showed Klopp's side can hit the same heights as last season:
And the manner of the Reds' victory, with Mohamed Salah playing a central role, should send a message to those wondering if Jurgen Klopp's side could repeat their form of last season.

Sorry to break it to you, but it looks like they can.
The BBC's Phil McNulty believes Liverpool's electric start has illustrated the belief the Reds have in being able to go one step further:
Klopp's side missed out on the title by a single point despite only one loss, to champions Manchester City, last season – and three wins from three has quickly put the marker down that they intend to go one better and claim that first title in 30 years.
Matt Stead, writing for Football365, praised Klopp's team for finding the way to maintain last season's "rhythm" to make a fast start:
And as Liverpool established a new club record for consecutive Premier League wins, it [rhythm] has rarely felt as important during his reign.

Only three teams have ever been on longer runs. No other club currently has more than one straight league win. […] Liverpool, five games, three competitions and less than three weeks deep, have done wonderfully to maintain a Champions League-winning momentum.
And taking a more general outlook, Stead also thought the game showed just how far ahead of the rest of the Premier League Liverpool and Man City still are:
Yet here was a game that emphasised how the gap between 'one of' and the plain old best has perhaps never been as pronounced.

[…]

The chasm is only getting wider.
The watching journalists were in awe of Salah's match-winning showing…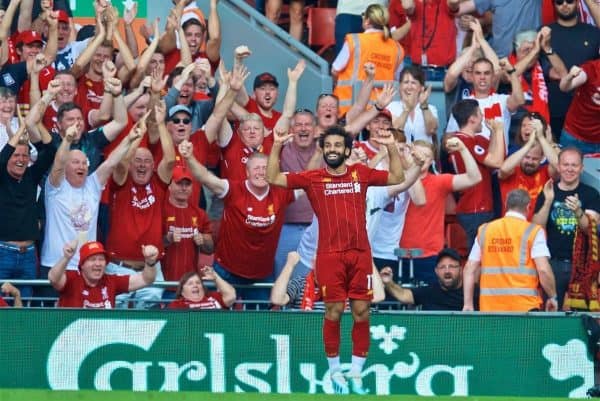 The Mirror's Jake Polden feels the No.11 has got his swagger back and that no defence in world football could cope with the Egyptian in such form:
Mohamed Salah's second half performance was so good that he probably could have beaten Arsenal if he was the only Liverpool player on the pitch.

[…]

There's a swag about Salah again. There's probably not a single defence in the world who can deal with him when he's in this mood.
Jones assessed Salah's stunning second goal as a reminder that the No.11 is still "one of the world's elite attackers":
And then, 10 minutes later, came an ominous sight for Premier League defences, a reminder that this remains one of the world's elite attackers, a player capable of breath-taking moments of individual brilliance.
The Mirror's Andy Dunn afforded Salah some of the highest praise, labelling the Egyptian the Premier League's "most exciting performer" now Eden Hazard has gone:
With Eden Hazard out of the picture, Salah's status as the most exciting performer in the Premier League is surely beyond question.
There was tactical discussion on how and where Liverpool won the contest…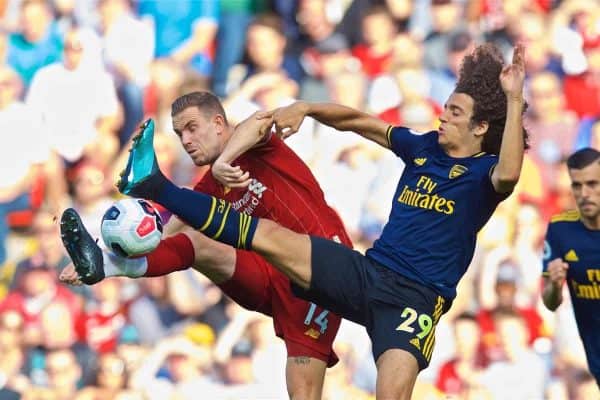 McNulty simply felt Liverpool's success came down to Arsenal failing to cope with the Reds' "ruthlessness and intensity":
Once again, despite taking their time to hit top gear, Liverpool's ruthlessness and intensity simply proved too much for Arsenal.
The Liverpool Echo's Ian Doyle thought the game was won by the Reds' "control" of midfield:
Liverpool's domination – firing in 25 shots compared to Arsenal's nine – came from their control in midfield, Klopp having recalled Fabinho and Henderson to join Gini Wijnaldum in the engine room.
Richard Jolly, for The National, thought the key was Liverpool's full-backs exploiting Unai Emery's "naïve" narrow system:
Unai Emery experimented with a formation lacking anyone outside the width of the penalty box. It rendered him looking naïve.

The flaw in the masterplan was that it allowed Liverpool's full-backs, famously excellent attackers, a licence to roam. It was inevitable one supplied a goal.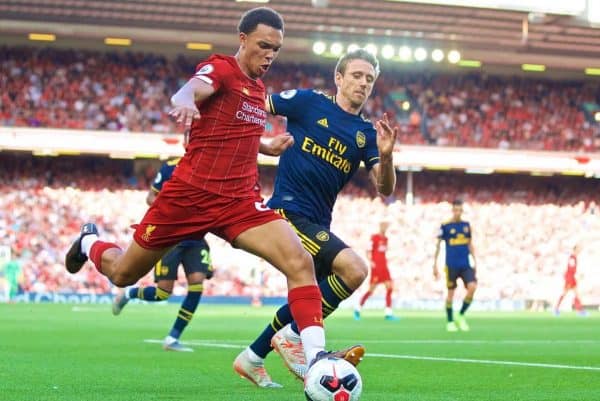 However, the Guardian's Jonathan Wilson had sympathy for the tough task Emery had in finding a system to nullify Liverpool's unique attacking threat from all areas:
By playing a diamond in midfield, Unai Emery in effect surrendered the flanks to the forward surges of the best pair of attacking full-backs in the Premier League, Trent Alexander-Arnold and Andy Robertson.

To an extent that is testament to the multiplicity of threats Liverpool pose. As Pep Guardiola has pointed out, there is probably no side in the world that attacks with such fury and such a range of options from narrow positions.
On a separate note, Standard Sport's David Lynch discussed Liverpool's set-piece threat and explained how this is an increasingly important weapon in big games:
Liverpool's front three are rightly highlighted as their biggest overall goal threat, but it is the fact that they can hurt you in so many different ways that makes them a truly great team.

And set-pieces are just one of the many weapons in the Reds' arsenal, as they proved in profiting from one just as their visitors looked to be getting settled. They aren't always pretty to watch, but goals like those set the platform for big wins, as was the case here.
Moreover, Lynch saw one negative with the late sloppiness, explaining that it must be eradicated before it becomes a bigger problem:
It marked the end of a period in which the Reds' passing had been uncharacteristically sloppy and their pressing not quite as sharp as before.

There will be tighter games where letting your foot off the gas in such fashion is punished, and Klopp will be keen to stamp that out of his team's game.
Certain reporters singled out other Reds for praise…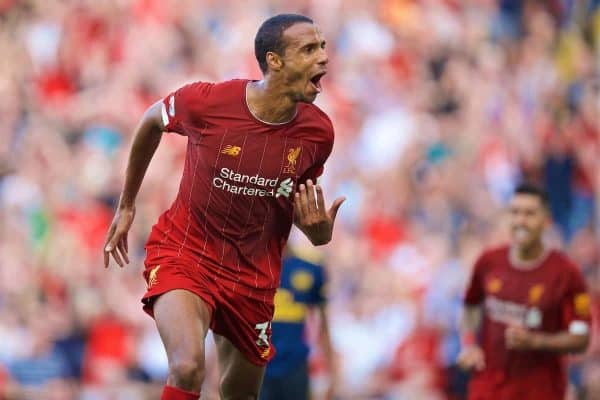 ESPN's Gustav Elvin thought Roberto Firmino had an excellent afternoon, labelling the Brazilian as "integral to Liverpool's success":
No goals or assists but the Brazilian striker was integral to Liverpool's success. He picked out Salah with a brilliant pass to draw the penalty for the second goal and Firmino did his usual work in terms of drawing attention and proving a threat.
And Lynch thought Matip had a brilliant game while stating that the Cameroonian deserves to be the first choice option to partner Virgil van Dijk currently:
However, Matip's performance against Arsenal may well have finally made his manager's mind up for him – for the foreseeable future, at least.

As well as scoring the crucial opener, the former Schalke man was a rock in defence and a constant architect of Liverpool attacks with his incisive passing and ability to dribble. As hard as it might be on the improving Gomez, Matip deserves to keep his shirt until injury or form dictates otherwise.