Liverpool went the distance against Chelsea to lift the UEFA Super Cup after penalties in Istanbul, leaving fans with plenty to discuss post-match.
The Reds' second opportunity to add their first piece of silverware for the 2019/20 season saw them return to a familiar city in Turkey, which holds special memories of one particular European night.
And the location wasn't to be the only similarity on the night as Liverpool first found themselves behind through Olivier Giroud before a Sadio Mane strike forced extra time.
Liverpool's No. 10 would again find the net soon in the early stages of the added half-hour, only for a controversial penalty to hand Chelsea a way back into the clash.
With a shootout needed to crown a winner, Adrian proved the hero as he saved Tammy Abraham's strike to seal the trophy.
This Is Anfield's Joanna Durkan (@JoannaDurkan_) and Matt Ladson (@mattladson) were joined by Jonathan Higgins (@Jhiggins3) to break down the highs and lows from the encounter and discuss Roberto Firmino's brilliance.
The good…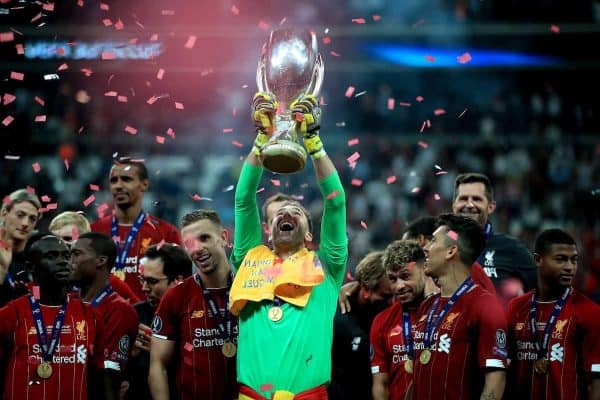 JONATHAN: In the aftermath of the celebration from Madrid, Klopp spoke about his belief that this was the first of many pieces of silverware for his Liverpool side.
As obvious as it sounds, the best thing for me was getting used to that winning habit on the biggest European stage available.
Watching the Hendo shuffle will soon become a regular occurrence, along with those cheesy one-liners from Klopp.
While the whole team performance won't live long in the memory, it's another night where the team showed great character and fighting spirit.
After a sloppy opening 45 minutes, the reaction after the break was very pleasing.
Special praise has to go to Adrian's fairytale story. Most importantly, though, that winning save in the shootout will surely give him more confidence in his unexpected rise to the first-choice Liverpool goalkeeper.
Oh, and two goals on the big occasion from Mane after five minutes of pre-season football isn't bad either is it?!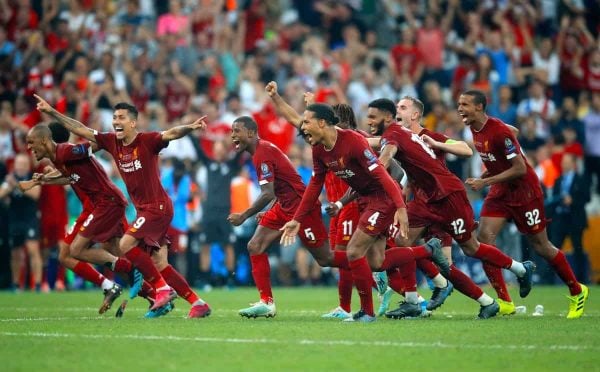 JOANNA: It's certainly not a game I'll rush to watch again, but it was one which will prove to be vital in instilling the habit of winning trophies—and we finally won a penalty shoutout!
Firmino's introduction turned the game on its head for Liverpool, and his partner in crime on the night, Mane, was also simply sensational.
Salah isn't far behind the pair after another bright showing on a night when the attack certainly took most of the plaudits.
I don't think you can underestimate the impact this will have on Adrian either, as Jonathan noted: he will be buoyed with confidence and will now certainly feel as though he is fully embedded into the squad.
Importantly, the aches and pains after 120 minutes and penalties won't feel as bad with Southampton around the corner.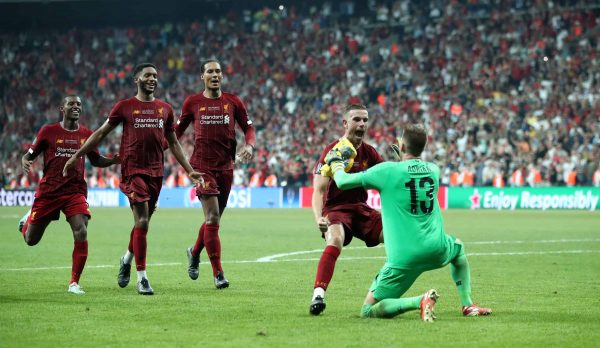 MATT: I think we're overlooking just how good Mane has been.
He only returned to pre-season training nine days before this game—and he played 100 minutes in the hot, humid conditions.
The same applies to Salah, who has only been back a fortnight and he's there playing 120 minutes, having already played vs. City and Norwich. It's incredible fitness levels.
But yes, the overall most important thing was keeping the winning habit going.
Losing this and the Community Shield would have been a negative psychological blow, no matter what people say.
The bad…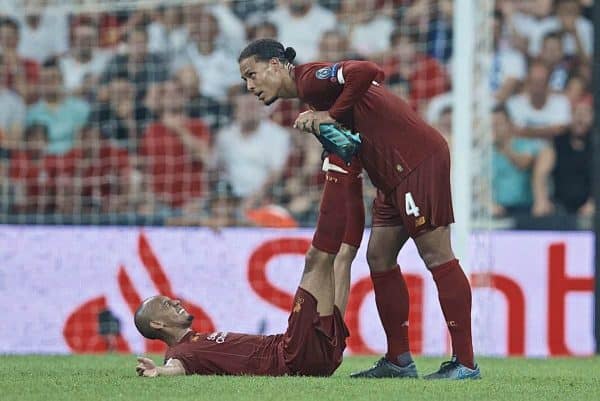 JONATHAN: Am I allowed to say that joke of a penalty decision in extra time?! And how does a TV company have more angles available to them than VAR?
The opening 45 minutes was a sloppy and lethargic performance as Liverpool struggled to get any sort of foothold on the game.
Chronic lack of energy in midfield and attack highlighted the importance of Firmino to the team.
The deplorable playing surface didn't help the situation but Liverpool looked at sea in the first half as the game passed us by.
Looking forward once the celebrations settle down, having to play extra time in those conditions was far from ideal especially with a tough away game on Saturday afternoon.
With the short turnaround and so many players visibly fatigued Klopp will have to test his squad depth earlier than expected.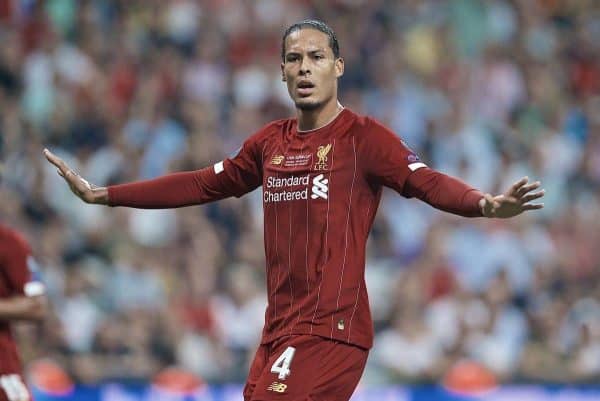 JOANNA: Now that the season is in motion results speak more than performances, but you can't really shy away from the fact that Liverpool's display wasn't great.
I've always thought that you can judge how the Reds will fare by first assessing our passing game and it was simply not up to scratch, and at one point it felt as though we were deliberately handing the ball over to Chelsea.
Too many players lost their individual battles on the night, with Fabinho and Gomez headlining those who struggled to adjust to the tempo and the Blues' movement.
Moreover, the high line we're deploying does allow us to catch teams offside but it seems to be causing us more trouble than what it's worth so far as the midfield have been unable to provide enough pressure to ensure we're not caught out.
There are improvements needed and creases to be ironed out, but at the end of the day we ground out the win and added another trophy to the cabinet.
Also, it definitely was not a penalty!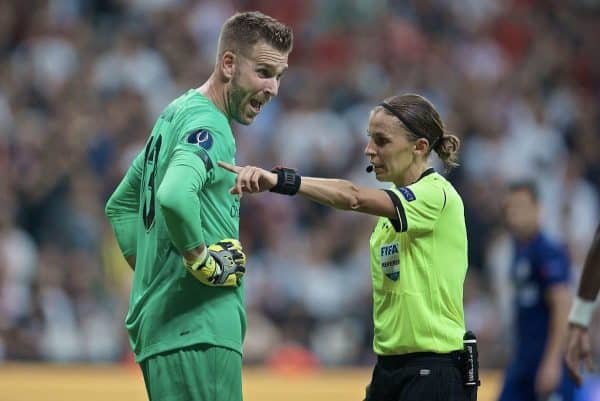 MATT: The defensive line is the thing that worries me most from these early games.
I'm sure there were good reasons for playing Gomez at right-back, and I think Trent needs his minutes managing this season, but it really exposes the drop-off when it happens.
Gomez should be a centre-back and that's it.
And the other concern is the much of the same from midfield in terms of lack of goals/creativity.
Milner looked like a midfielder who turns 34 in a few months, while clearly Oxlade-Chamberlain isn't the 'new signing' who can right away get back into the side.
Our squad is desperately thin and that's the biggest concern overall for this season.
And how important is Firmino, and is he in line for his best season yet?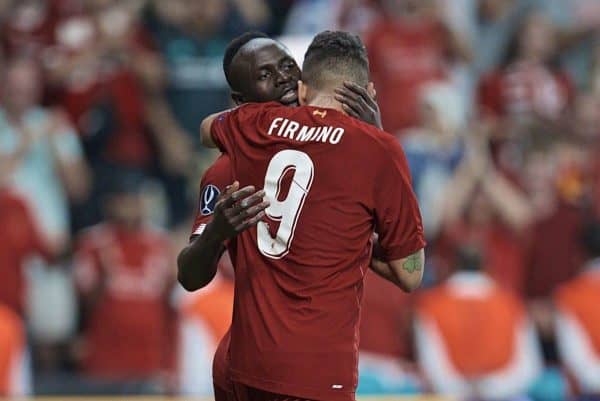 JONATHAN: I've been quite vocal of his importance to the team for a long time now but the difference he makes was so instant and tangible after his introduction.
So many elements to his game are not only critical to the game plan but he also, more importantly, brings the best out of Salah and Mane. It's the old cliche, but he makes us tick.
Two assists after been introduced at half-time highlighted his importance even more.
He is a player who is thriving on the biggest stage, his dazzling smile is getting even brighter and I really do believe he is already on course for one his best seasons with us.
After a couple of high-profile penalty misses (remember he started last season as first-choice taker before being offloaded from the role) he will also take huge confidence from tucking away the first in the shootout.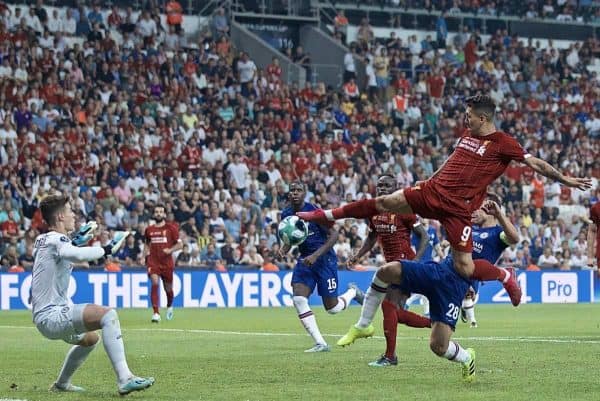 JOANNA: Firmino is undoubtedly the most crucial man in the system, he is the cog which makes the machine work, and without him Liverpool often look a shadow of themselves.
It's understandable why Klopp looked to give him a reprieve by starting him on the bench, but without his movement and influence on and off the ball we were far too one-dimensional.
When he isn't in the side there's no one dropping deep into the channel and connecting the midfield with the attack and adding the touches of genius that only he seems to be able to supply.
The fact that his introduction swiftly reaped rewards speaks volumes and he is the type of player who makes his team-mates stand taller in his presence.
It's early days but he looks razor-sharp and poised to take his game to the next level.
And I don't think you can judge his season solely on his goal-and-assist return, as he is so much more than that, but I'm expecting big things this season.
We just need to ensure we keep him fit as he will be crucial to any success we hope to have in 2019/20.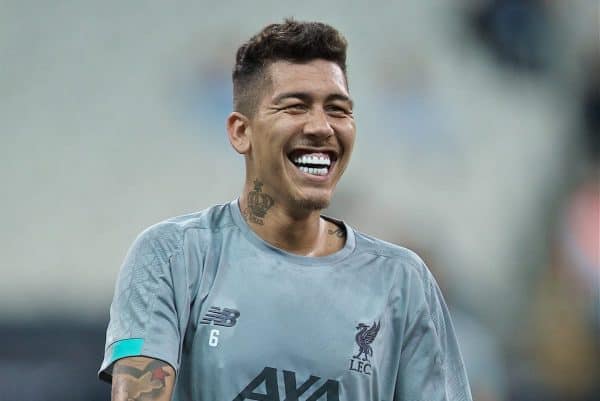 MATT: It baffles me when people don't realise how good Firmino is and what he brings to the team.
Maybe you need to have watched him in person, in the stadium, to fully appreciate and see the work he does.
He's an incredible footballer and so unique that centre-backs have no clue how to deal with him.
I'm sure Mane and Salah fully appreciate how good he is, though!
As for his 'best season'—I doubt he'll beat his 27 goals (15 in league) from 2017/18, but as we know, Bobby's game is about far more than just goals.