Harry Wilson's stunning goal against Lyon was a timely reminder of his rare talent, and the addition of his unique skills to the Liverpool squad could be a 'Moneyball' play.
The existence and inner workings of the Reds' director of research Ian Graham and his data analysis and modelling team were given a fascinating expose in the New York Times in May.
Such analysis should not have been surprising given Fenway Sports Group had previously, and famously, embraced 'Moneyball' style analytics in baseball with the Boston Red Sox, achieving phenomenal results.
While I cannot claim to have either the skills or resources of Graham's team, there is one clear statistical area where Wilson stands out and it is a comparative weakness of Jurgen Klopp's Liverpool.
Many Liverpool fans have bemoaned the lack of transfer action, but with only limited squad roles, the only clear holes which need filling Klopp's team have been looking to do so with youth.
And Wilson offers statistically rare abilities which would be pricey on the open market.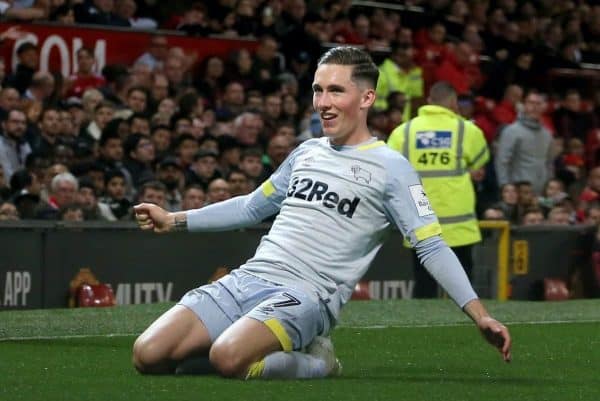 Playing for Frank Lampard's Derby side last season Wilson scored 15 goals and contributed three assists in 40 Championship appearances.
This record enabled the young Welshman to be the 10th-highest goalscorer in the second tier, averaging a goal every 216 minutes and shooting with an accuracy of 53 percent.
If we include the play-off games and cup competitions, his record becomes 18 goals and five assists from 49 games across all competitions.
This is an excellent return from a player who operates in wide midfield or an attacking midfield role, but does not in and of itself appear enough to merit inclusion in a European Cup-winning Liverpool squad.
Goals are gold dust for a midfielder or wide attacker at the elite level, but it is the type of goals Wilson scores which make him an anomaly.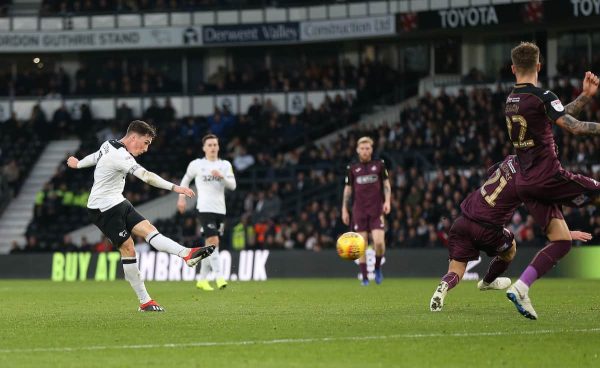 Of the 15 goals he scored in the Championship, seven were from outside the box and of those three were from free-kicks.
As a point of comparison, Liverpool's entire team scored five goals from outside the box last season in the Premier League.
In fact, Wilson scored more goals from outside the box last season than 10 entire Premier League teams managed across 38 games.
Exceptional work, but Wilson's free-kick statistics rank even higher on the scale of rare brilliance.
Three goals from free-kicks sounds like decent output until, once again, it is put into a Premier League context.
Across the 2018/19 season three teams tied in the Premier League for most goals from free-kicks, with Arsenal, Leicester and Southampton managing three apiece.
Liverpool's season total: one.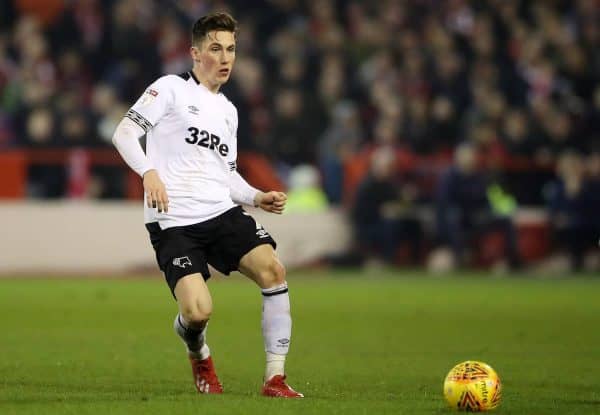 Such statistics highlight Wilson's long-range shooting ability, whether from open play or over a dead ball, as being in the top echelon.
However, can Wilson replicate his success at the Premier League level where the players and goalkeepers reach a higher calibre?
Well the current evidence suggests Wilson's shooting ability does translate to the higher level, as he scored two goals from free-kicks against Premier League teams in cup competitions last season.
One was a cleverly disguised curler against Southampton in the FA Cup.
However, the one Liverpool fans will remember most fondly was the stellar top-corner screamer at Man United, in which the 'five times' celebration was brazenly waved in front of the shocked faces of Old Trafford.
If we include these, Wilson's goal statistics from distance reach nine total goals from outside of the box, five of which were free-kicks, across all competitions.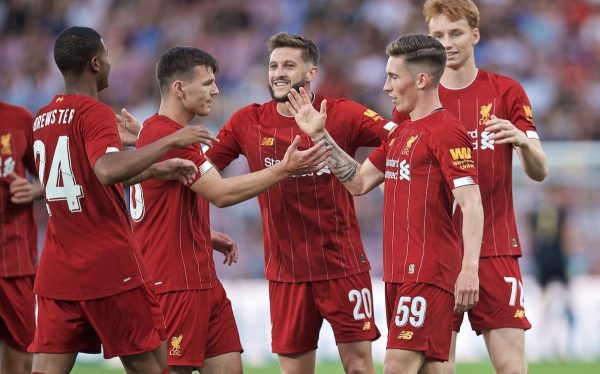 Speaking after his brilliant strike against Lyon, Klopp revealed a conversation he had with the 22-year-old on translating this ability to the top tier—noting the difference in balls used.
"We spoke the day before yesterday about the ball, because obviously in the Championship they play with a different ball," he told LFCTV.
"I don't know exactly how to describe it, but obviously now he's got used to this ball as well!"
The other statistic which definitively headlines Wilson's year at Derby is that he was the joint-second most-fouled player in the Championship, averaging 2.7 fouls against per game.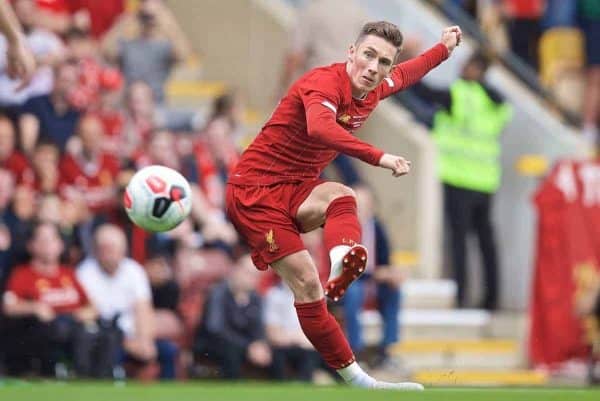 This shows although diminutive in stature, Harry is a clever player who protects the ball exceptionally well, while his ability to win free-kicks synchronises nicely with his aptitude for scoring from them.
Given that Liverpool were ranked 14th in goals from outside the box, yet finished with 98 points, the value of those goals could be questioned.
However, it is worth noting that Man City were the No. 1 Premier League team in this regard, with 15 successful long-range shots across the season.
If Liverpool are to close the gap, goals from distance offer a clear area for improvement.
The long-range goal's value is that it can bail out the team on a day it has not created clear-cut chances, or alternatively, failed to convert them.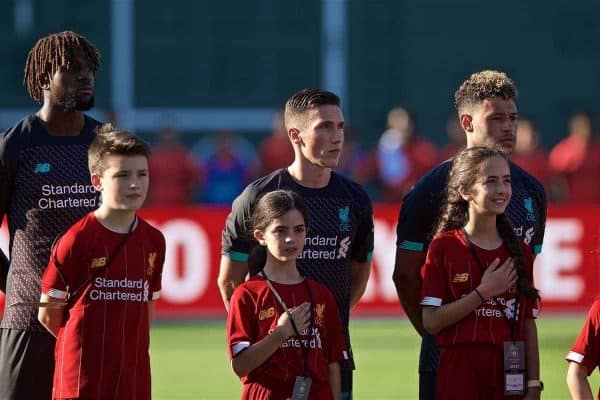 Additionally, they heighten the team's unpredictability.
Few will forget City were on their way to a 0-0 draw against Leicester in the penultimate game of last season, looking bereft of inspiration and ideas, when Vincent Kompany scored the goal of his life from range to win the game and, ultimately, the Premier League.
Liverpool have lacked a long-range shooting specialist since Philippe Coutinho packed his bags for Barcelona.
The numbers suggest Harry Wilson can be that man.