Jurgen Klopp has described Liverpool's Premier League opener against Norwich as a "proper banana skin," and reflected on a novel fact about Daniel Farke's side.
The Reds kick off their league campaign in the very first game of the season, welcoming the newly promoted Norwich to Anfield on Friday night.
After recording their best-ever points tally last time out and still not lifting the title, finishing a point behind Man City, the objectives are clear for Klopp's side in 2019/20.
Taking on a side stepping up from the Championship, at home, under the lights, in the curtain-raiser could be seen as an ideal start for Liverpool, but in his pre-match press conference the manager stressed the opposite.
Klopp praised Farke's Canaries, and acknowledged the Borussia Dortmund presence in the East Anglian outfit, with Christoph Zimmermann, Mario Vrancic, Moritz Leitner and Marco Stiepermann all at the club during his tenure.
"For them winning the Championship is like winning the Champions League for us. Because it's so long ago, you cannot really build on that," he told reporters.
"But of course both teams have enough reasons to be confident. You saw that.
"For us in the preparation for the first game of the season you always need a few games from last season as well, and that's what we did.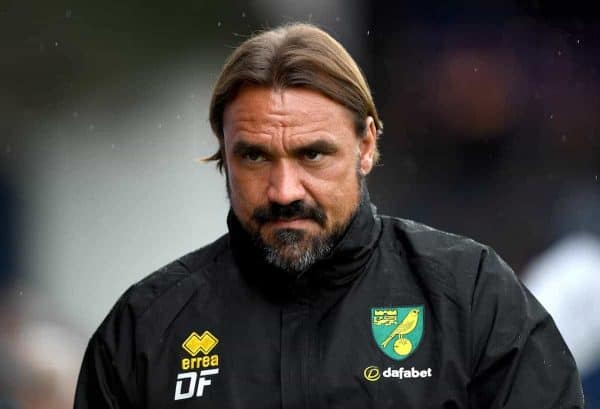 "They are really special for a Championship team, what they were last year, because the way they played: clear structure, clear plan, little coincidences in the game, everything looks properly planned. They have all my respect.
"But these kinds of fixtures, with all the stories around, are always like the proper banana skins.
"It's like it's made for something like that if you are not aware of it. If you don't go 100 percent in a game like this, you will slip 100 percent.
"They are too good for that, that's a good team, the funny thing is with that I don't think I've ever faced a Premier League team where I've worked together with so many players before!
"So that's really nice. They were really young [at Dortmund], yes, but I still know them.
"It will be really interesting, but we have to make sure we are ready.
"We respect them, 100 percent, and how it is in football you should show the respect for the opponent with the attitude and effort you put into the game, the desire you show, and all that stuff.
"We have to be, from the start, angry again, we have to be greedy again, we have to create a football atmosphere."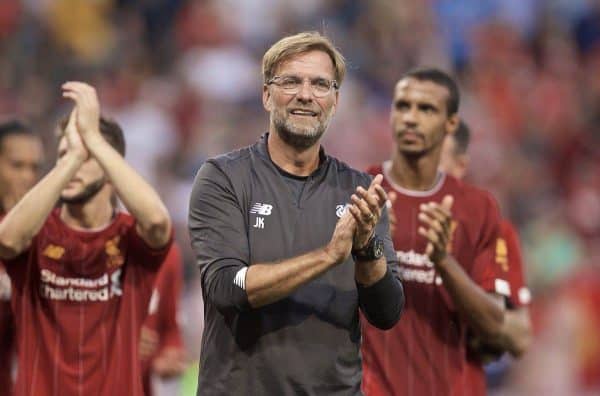 The Reds were not at their best results-wise in pre-season, but this could be expected due to the travel they were required to do, and often playing after double training sessions earlier in the day.
Klopp will be hoping this pays off with a similar performance, or better, against Norwich as that which was produced against Man City on Sunday.
Asked to reflect on the summer just gone, and his ambitions for the campaign ahead, Klopp said he was "really happy" with the shape of his side.
"People still ask you about your summer, 'how was your summer?' and stuff like this," he said.
"You have to start thinking about it: I don't know any more because so many things happened since then!
"So it was not the longest pre-season that we had in our lives, but it was a very intense one.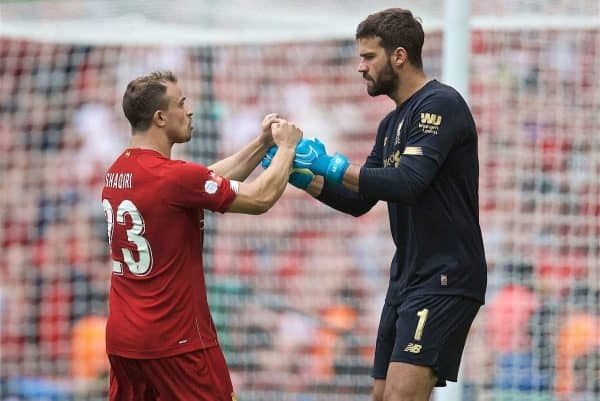 "Pre-season is very, very, very, very important, but I don't like it too much, because the games are in very, very difficult circumstances always, travelling and stuff like this.
"But it's something have to do. Now we start with, for us, a normal rhythm and I'm really happy about that.
"How it looks in the moment, apart from the injured players obviously, all our players are in.
"So, a couple of decisions to make, and then let's start tomorrow night."