Jurgen Klopp hailed the influence of new signing Adrian in typical, inimitable fashion as he called on the spirit of Rocky after Liverpool's UEFA Super Cup win.
The Reds presided over a long, sticky two hours as Chelsea held them to a 2-2 draw in Istanbul on Wednesday night, with the two sides trading blows.
Olivier Giroud put the Blues ahead in the first half, only for Roberto Firmino's introduction at the break prompting a leveller for Sadio Mane, who then doubled his tally in extra time.
However, with Adrian adjudged to have brought down Tammy Abraham in the box, Jorginho fired in the penalty to set up a shootout.
But the Spaniard's stars aligned as he dived the right way to keep out Abraham's spot-kick to ensure a 5-4 victory, on what was his first start for the club after joining earlier in August.
"What a story!" Klopp told BT Sport after the game, before showing off his best Rocky Balboa impression.
"Like Rocky, after he lost against Apollo Creed! Great, wonderful story, he kept his nerves together.
"He's really loud in the dressing room already. So, he's Spanish, emotions, he came through and it's all good.
"It's really all good, it's so nice for him.
"I don't think he won a lot in his life so it's so nice to win this really big one and be an important part in that game as well.
"He had not only the penalty [save], but he made unbelievable saves—both goalkeepers, by the way!—so I'm really happy for the boys."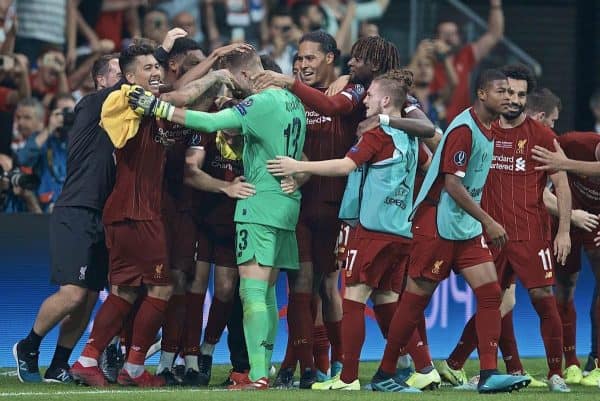 The manager was delighted with the result as Liverpool added to their European Cup triumph with another trophy on the continent.
Klopp did note, however, the gruelling nature of the game, saying "I think nobody in the stadium wanted twice 15 minutes, the last 15 minutes was really a killer."
But he kept it positive, and now the Reds will head to Southampton tired, but buoyed by the taste of more silverware, as they aim to make 2019/20 a very successful campaign.