Pepijn Lijnders has described Fabinho as Liverpool's "lighthouse," and here Edward Stratmann analyses the role he plays and how important he has become.
After a season of learning and coming to terms with Jurgen Klopp's demands, it's been fantastic to see Fabinho continue his steady upward trajectory at Liverpool since joining for £39 million in 2018.
Going from strength to strength under the German's expert tutelage, his dedication to not only adapt to life on Merseyside but to keep working and taking everything on board has ensured he's grown into an integral component of this Liverpool side.
"I now see that it was a good period for me to genuinely adapt. I'm really happy now and hope to adapt and improve even more," he explained this month.
"I've been feeling very comfortable here for some time now here at the club, in the city, with my team-mates, my compatriots in particular. So I'm very happy here and really satisfied with my performances on the pitch as well."
Starting the new campaign in excellent form, the Brazilian is emphatically proving why he's right up there as one of Europe's best holding midfielders.
An active contributor on both sides of the ball, the ultra-fit and competitive 25-year-old exudes authority and conviction in all his actions.
Pressing, Screening & Destroying

To start with his defensive output, and the way he reads the play so smartly and has such great awareness, forms a strong foundation from which to undertake his work.
Forever scanning his surroundings so he can enjoy a constantly updated mental imagery of his environment, this ensures he can position himself to block passing lanes, pick up markers in his designated area of operation or support a team-mate.
The concentrated destroyer can therefore spot danger early and deal with it.
A brilliant presser who responds rapidly to triggers such as an opponent receiving an under-hit pass, with their back to goal, in an open body posture or when they have a poor first touch, he excels at pouncing to recover possession.

In addition, the way he covers the ground quickly sees him nip in and win back the ball with some smart blindside and backwards pressure, as he often catches opponents unawares.

By checking over his shoulder when pressing, he importantly recognises how best to angle his pressing so he can use his cover shadow to block passing lanes behind him to limit the options for the ball holder.
Fabinho's proactive and aggressive counter-pressing is another highlight, for he springs to life sharply to heap pressure once the ball is lost.
This subsequently helps his team win back possession high up against teams who are in a spread-out, loose shape who are preparing for a counter of their own.
Making excellent decisions when he should drop back, step up, press, shift across or support a colleague, the considered, intelligent Fabinho rarely puts a foot wrong.

Moreover, while he's checking across his team's defensive shape, he's shown some admirable leadership qualities by communicating and gesturing to his colleagues to fix any positional issues or bring any critical information to their attention.
Transferring his impressive judgement to when he's applying his interventions, there's a lot to like about how he combines force and smarts to break up attacks.
Reading and responding nicely to his adversaries in one-on-one duels this, in combination with strength and how he uses his long legs to stretch out, ensures he's a formidable obstacle to overcome.
Other notable features of his stopping exploits come from how he competes manfully in aerial battles, reads second-ball situations and assists his team in defending set-pieces.

Providing balance and structural security, his presence vitally helps protect his central defenders when his midfielders and full-backs maraud forward as per Klopp's demands.
Although he's been left exposed on occasion by the Reds' offensively geared approach, he's crucially handled these challenging scenarios adequately for the most part.
Rarely making mistakes and essentially bereft of any real weaknesses, his defensive exertions have been full of upside.
Fabinho's Attacking Edge

Meanwhile, on the attacking end, the former Monaco star's performed at a similarly high level.
Working hard and using his understanding of space, these two attributes parlay to see him take up sound positions to be an outlet to progress attacks.
Adept at moving out of opposition cover shadows, forming numerical and positional superiorities and knowing when to support wide and central forays, his movement sees him connect play ably.
To highlight how he helps generate overloads, and this has been especially important when he's acted as the free man during buildup and when situated in the half-space to assist wing play.
Be it forming three-on-two, four-on-three or five-on-four superiorities, his knowledge of where best to position himself has been a huge asset for Liverpool to break pressing structures.


While he doesn't frequently embark on penetrative forward runs, as that's more Jordan Henderson and Gini Wijnaldum's forte, when the opportunity arises and cover is present, he's shown how effectively he can be at surging in behind.

Once the ball's at his feet, Fabinho keeps things ticking over nicely with his coherent, quick thinking passing.
If he's not recirculating possession while waiting for a weakness in the opposition block, he's used his tidy range to hit some more expansive passes.
These have come in the form of wicked switches of play, measured through balls in behind, smart vertical passing into the feet of the forwards and crisp diagonal deliveries which can crucially move defensive units two ways.


Typically striking his passes accurately and weighting them ideally, Fabinho usually finds the preferred foot of his target so they can enhance the success of their actions.
Being such an accomplished ball carrier means Fabinho's very comfortable in possession and does a fine job of weaving out of danger or provoking pressure to find a free man upfield.
Capable of beating his man with some powerful bursts or clever pieces of touch and control, the long striding Brazilian handles pressure admirably to maintain possession while surveying for a viable outlet.

The way he protects the ball and gets his body between the ball and his opponents only compounds issues for his foes, who either dive in and get turned by him or foul him due to being unable to outmuscle or dispossess him.
While he may not get the plaudits like some of his more eye-catching colleagues do, he's such a key figure in connecting, constructing and animating Liverpool's offensive packages.
Two-Way Weapon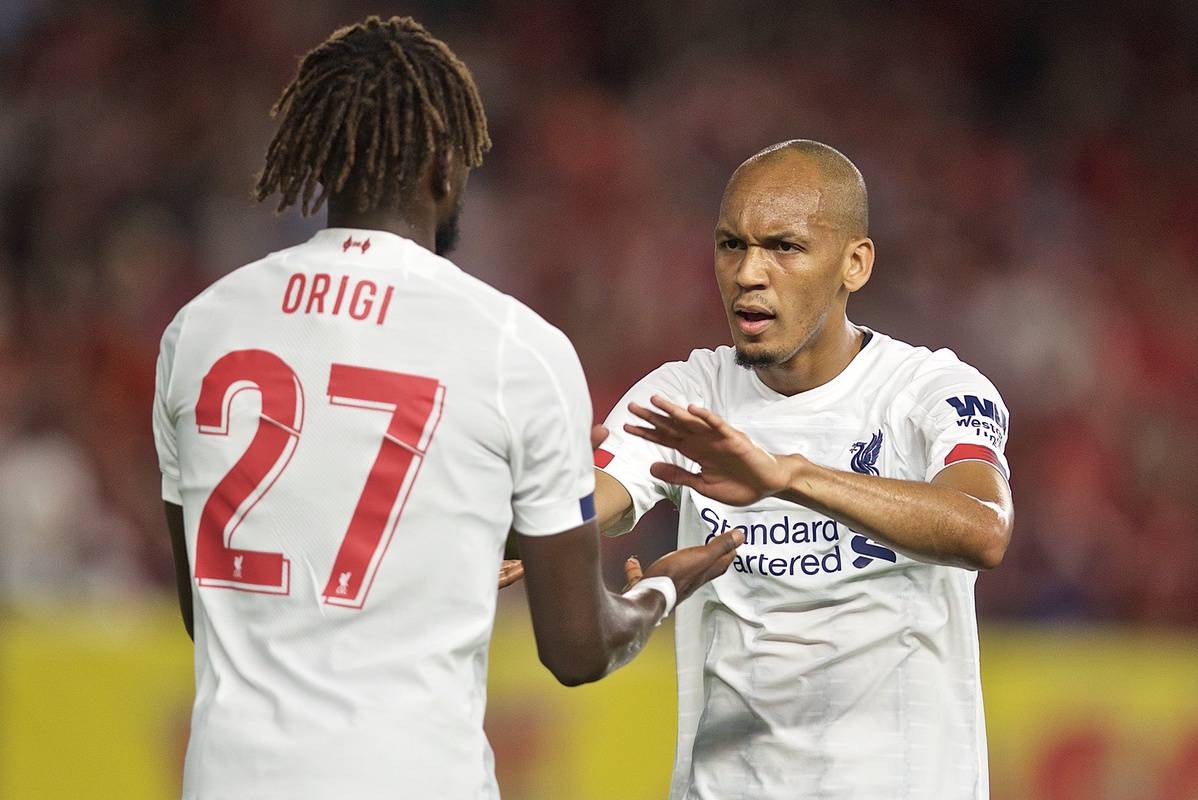 Clearly relishing fulfilling his responsibilities within Klopp's framework, his comments on his defensive midfield role make for fascinating reading.
"I've always liked to play in this position. You get to participate a lot in the game and have an important role in the creation of play. On the defensive side of things, you have to be very alert to help the team," he said.
"I try to remain calm with the ball at my feet, though not letting the calmness become slowness. I try to control the game.
"The style of our team is intensity—we try to apply maximum speed and pressure, that's what we work towards.
"I can't be left behind, you have to keep up with the rhythm of my team-mates and maintain the high speed, pressure and intensity. That's what I always aim to do."
His statistics punctuate what a two-way weapon he's been.

Per game he's completed 41 of his 45 attempted passes (90%), averaging 0.5 progressive runs, 0.8 dribbles, 0.5 key passes, 8.24 accurate final third passes (85.6%), 3.67 interceptions, 6.35 recoveries, 2.5 tackles and seven free ball pickups.
Now fully assimilated and completely happy at the Reds after a challenging initial period of adjustment, it's been wonderful to witness the multifaceted Fabinho develop into an indispensable piece of Klopp's puzzle at Liverpool.
---
* This is a guest article for This Is Anfield. If you'd like to contribute a piece for consideration please see this page. Follow Edward on Twitter, @EdwardStratmann.