Jamie Carragher has opened up on some brilliant tales and revealed some fascinating insight from his time as a Red on away days.
Over a 13-year career with the Reds Carragher featured 737 times, and all that time at the club certainly comes with an accumulation of countless memories and stories to rehash.
And so a look inside the inner-sanctum is always welcomed by fans, and when recounting his experiences on away days he let us in on the workings of a cheeky game of cards, which may have involved a spot of cheating and a number of players being out of wallet.
"When I first got into the team, we'd get a coach down, we'd play cards, but that stopped with Gerard Houllier. He didn't like money being handed over on different tables or someone being a few quid down going into a game – and rightly so," Carragher told Sky Sports.
"There was a bit of cheating from David Thompson, he and I had a little thing when playing three-card brag. If he went out, he'd look at other people's cards and give me a signal whether to stay in or not.
"One finger on the table would be ace high, two would be a pair and there were others for a flush or a run. He'd let me know whether to go in or not. That's important when you're not on big wages as a young lad!
"When it came to the match, sometimes players wouldn't get that crucial first pass right and it's as though something else was on their mind, and we'd be laughing thinking we took a couple of quid off them on the coach, maybe more.
"Steve Harkness was there as well, but everyone was trying to get the kegs off everyone. It was either adapt or die, and some died financially."
Moreover, Carragher also divulged an amusing tale on how Rafa Benitez would unknowingly disclose his starting XI to his team for away games through his room allocations.
The Spaniard first arrived on Merseyside ahead of the 2004/05 season and he was seemingly eager to pair his players with their positional partners perhaps in a bid to aid in the development of their synergy.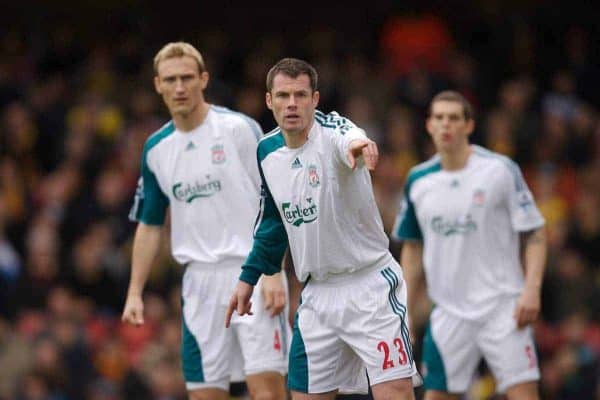 Bur for Carragher and Co. it became an obvious tell as to the lineup and it ensured it was quashed as swiftly as was introduced, meaning regular service resumed and Carra was safe to return to what would be his longstanding roommate in Steven Gerrard.
"It was funny when Rafa Benitez first came in, he put me in a room with Sami Hyypia because we both played centre-back, almost as if we were going to talk about the striker we were playing against the next day. He would put the two strikers together, the full-backs and the wingers together and so on.
"But you could work out the team from the rooms! Everyone knew if they were playing or not, so that quickly went out of the window!"
Liverpool's former No. 23 also went on to detail how Thierry Henry proved to be his toughest opponent and the way in which the frequency of the Reds' clashes with Chelsea meant he was able to work out the game of Didier Drogba and nullify his threat more often than not.
Carragher has shown himself to be a brilliant storyteller and this time has proved to be no different.