Sadio Mane's public show of frustration was played down by Jurgen Klopp who implored that everything is awesome in the dressing room, but Steven Scragg thinks that's not entirely true.
You simply don't react like Mane did after his substitution if there isn't at least a vague simmering resentment bubbling under a usually unperturbed surface.
When push comes to shove, Liverpool FC and the locations they pass through are places of work to Mane and Mohamed Salah.
To Mane and Salah, they are teammates in the same way you and I have workmates or colleagues.
Who gets on with their workmates and colleagues all the time though?
People you are thrown together with at the behest of your employers, not quite by chance, but not quite by choice, in the hope that you will combine in a cohesive rather than corrosive manner.
Of course, Mane and Salah have spent the last two years combining in a highly cohesive manner, but it shouldn't come as a shock that there is tension too.
Walking the Line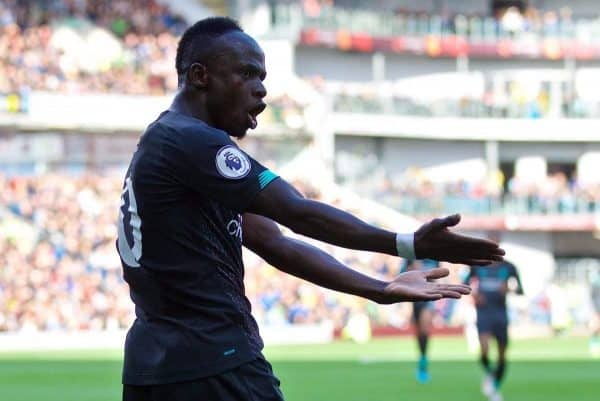 This wasn't the first time we have seen Salah go his own way when a compelling pass is available to him. It is a 'greed is good' ethos that has seen him accumulate 74 goals in what is still a relatively short Liverpool career so far.
Salah walks a fine line between selfishness and self-confidence that must upon occasion irritate those that surround him.
Everything that happened on the Liverpool bench in the 85th minute, after Mane exited the pitch to be replaced by Divock Origi, suggests that is the case. Common-sense would suggest that must be the case.
Can you tell me that you haven't had a pop at work at somebody who has taken credit for, or taken for granted your exhaustive efforts?
If you are that person who surfs on the back of others, then take a long hard look at yourself. Somebody will have a Mane-esque meltdown at you sometime soon.
Frustration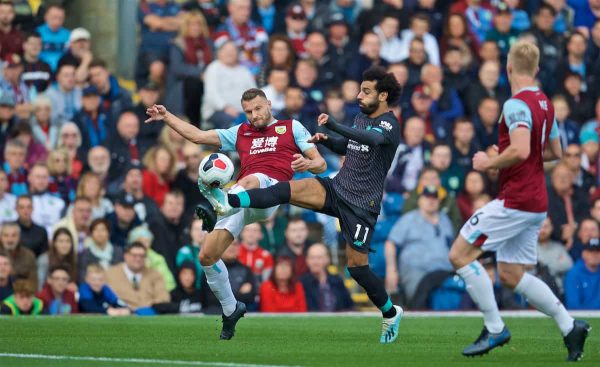 The post hit, saves made, blocks put in and Roberto Firmino taking responsibility for scoring the third goal at the end of a slaloming run by Salah was probably the final straw for the frustrated Egyptian when he rolled the ball harmlessly towards Nick Pope, rather than to the unmarked Mane in the 80th minute.
Salah had previously put his hand up in apology to Firmino when he failed to pass in similar circumstances earlier in the second half.
Suppress that desire for finding the net in Salah, however, and he would be on a significantly smaller percentage of goals than the 74 he has plundered for us so far.
Mane's outburst has its positives though.
That a player cares so much, in a game that is already comfortably won, is a wonderful thing.
It speaks of a magical single-mindedness and insatiability for more goals and bigger wins, that there is no willingness to take the foot off the accelerator.
Highfield Road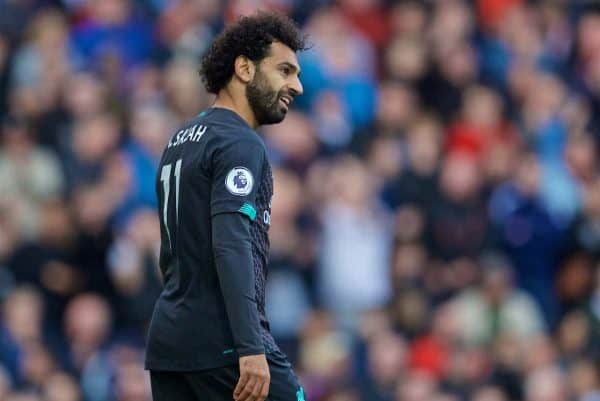 It all reminded me of a game at Highfield Road, against Coventry City, in the early exchanges of the 1987/88 season, when at 2-0 up, both goals having been scored by Steve Nicol, a penalty was awarded.
While the majority of his teammates implored Nicol to step up to the spot, to complete his hat-trick, Ronnie Whelan intervened to give the ball to John Aldridge instead.
Whelan's reasoning being that if Nicol missed, as he did in the 1984 European Cup final penalty shootout, then there was still well over half an hour in which Coventry might find their way back into the game.
Aldridge ruthlessly made it 3-0 and the destination of the 3 points was largely settled.
The 2019 version of Liverpool shows striking similarities to that iconic Liverpool vintage of 1987/88: focused, skilled, hypnotic, remorseless and clinical.
For Salah, read John Barnes in this respect. Individual flair grafted to a strong team ethic.
Bobbyness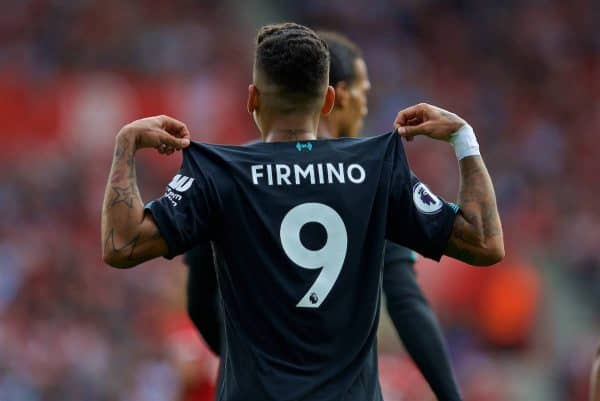 This doesn't account for Mane, however, nor does it consider Firmino. It is akin to having three John Barnes' in one team.
The Mane-Salah main billing in the final reckoning of this game detracts from Firmino's excellence at Turf Moor. He gave absolutely everything in this one.
That ball for Mane to make it 2-0, that finish for 3-0, that footwork in a celebration solely within the medium of dance, then 'that look' he gave in the tunnel afterwards in him finding the ludicrous humour of his fellow attacking siblings getting irate at one another.
If you've got brothers and sisters of your own, then you'll have been exactly where Firmino was at that point many times over.
In fact, this whole game glowed within the sheer Bobbyness of it all.
And Rest…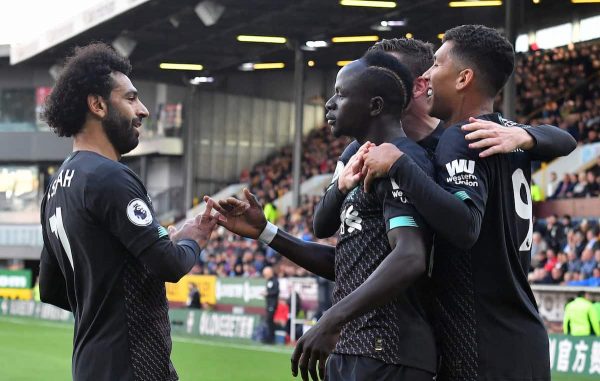 Top of the table, four wins out of four, more club records broken.
The first international break of the season is always an ill-timed one, but this one doesn't feel as bad as it should.
A time to take a step back and assess the next leg of our assault on the 2019/20 campaign; a bit of breathing space to mull over how and where to land our next punches.
Overworked in the summer at major international tournaments, Firmino, Mane and Salah can now step back from one another for a few days, before coming back to offer more of the same.
It is OK for occasional sibling antagonism to be a part of that.
It would be unhealthy if it wasn't there.