Jimmy Milner or Gary Mac? It doesn't really matter who might be the Reds' 'best free transfer signing,' explains Chris McLoughlin.
Your Dortmund pen, your Dortmund pen! Your Bradford goal, your Bradford goal!
Your Coventry goal, your Coventry goal! Your Spurs peno, your Spurs peno!
Your Barca pen, your Barca pen! Your derby goal, your derby goal!
Your baldy head, your baldy head! You're Gary Mac, you're Gary Mac…
Ohhhh, Gary Macca, Gary Gary Macca, Gary Macca, Gary, Gary Mac!
The Gary, Gary Macca song is more of a hoedown than a Liverpool chant. It lasts for longer than his hair did, has more verses than The Bible and celebrates a true Anfield cult-hero who proved to be the catalyst for a unique treble of trophies in 2001 at the age of 36.
If you can recite the whole thing, in the correct order, you've got a better memory than me. And if you can recite the whole thing, in the correct order, you've got a better memory than me. But one of the lines I've not mentioned above, a verse opener, goes like this.
"Oh we signed you on a free, oh we signed you on a free! He signed for free, he signed for free! We won all three, we won all three!"
Part of the reason that McAllister became such a cult hero is that he was a free transfer.
Gerard Houllier paid a grand total of £0 to sign him in the summer of 2000 after his contract expired at Coventry City and even though he had a quiet first half of the season – partly due to needing time off as his late wife Denise fought cancer – he became THE key player in the run-in.

Had he been a 26-year-old, £12 million signing the narrative would have been different, more along the lines of McAllister finally starting to justify his transfer fee by contributing in big games.
As far as I'm concerned he's Liverpool's best free transfer of the modern era (getting Bob Paisley in from Bishop Auckland on a free transfer tops the list when you consider what he achieved at Anfield by the time he retired in 1983!) although how long until James Milner takes that crown?
Milner clocked up his 185th Liverpool appearance and scored his 23rd goal for the Reds in the 2-0 League Cup win against MK Dons. More than that, he ran the game from left-back, as ridiculous as that sounds.
Curtis Jones was the official man-of-the-match, and Harvey Elliott got LFC's online vote, but Milner was the best player on the pitch by a mile. Not only is he still super-fit, his attitude makes him a leader and role model that every young Liverpool player should aspire to.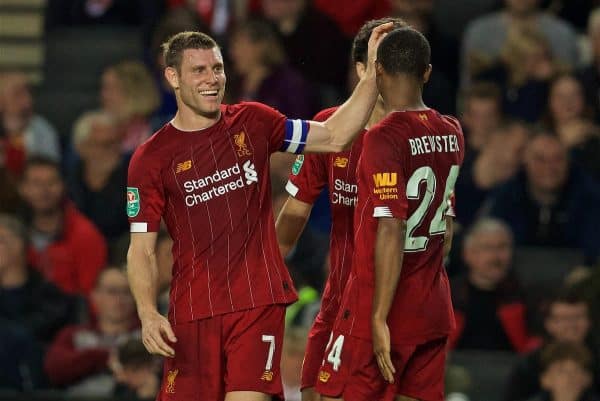 I know, for an absolute fact, that Milner doesn't enjoy playing at full-back. I asked him, when he was playing there regularly in 2016/17, about it and although he spoke of doing a job for the team and being prepared to play anywhere, he did so with the same enthusiasm reserved for a 2p increase on the price of teabags in Yorkshire.
Being asked to play at left-back, at the age of 33, in a League Cup tie at MK Dons when 11 first-team players had the night off would result in a lot of footballers going through the motions.
Not James Milner. That's James Milner who, remember, was lured to Liverpool by Brendan Rodgers in 2015 with the promise of playing in central midfield to fill the considerable void left by Steven Gerrard.
He grafted up and down the left flank, even after taking an early knock, and could, probably should, have netted before opening the scoring with a shot that was too hot to handle for Stuart Moore. He also created Ki-Jana Hoever's first Liverpool goal with a delightful cross to the far post.
Jurgen Klopp is well aware that Milner is no fan of playing at left-back and praised his display in TV interviews after that match before explaining why he is so important ahead of the trip to Sheffield United.
"Millie is unbelievably important," he said. "I said it a couple of times. He is Mr Professional, that's how it is. He is a role model for all the young boys – and not only for the young boys. He had an exceptional career so far and he looks like he has a few more years in the locker, that's really good."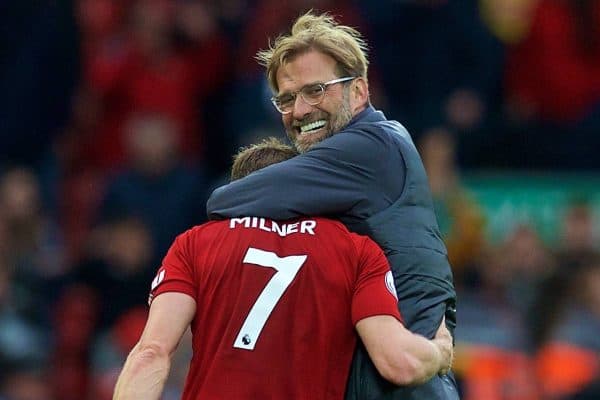 The key point here though isn't just that the Reds' vice-captain is professional, hard-working, versatile, a role model, reliable from the penalty spot or hilarious on social media, it's that he still has the quality to perform consistently well for one of the best Liverpool teams we've ever had.
No midfielder starts every game for LFC under Klopp, never mind one who is 33, but whenever Milner is asked to do a job, and wherever he's asked to do it, he does it well and contributes.
His nine assists in Liverpool's run to the 2017/18 Champions League final remains a competition record (his 14 overall is two more than David Beckham) and at the last count he's made 22 Premier League assists for the Reds during his time here.
Let's not forget the way he created Dejan Lovren's Europa League winning goal against Borussia Dortmund, or that it was his corner that Divock Origi's clincher against Spurs in Madrid came indirectly from, either.
I'd say that 23 goals, 16 of them penalties, in five different competitions is also a fair return for Liverpool's number seven so, all things considered, why isn't James Milner acclaimed through the medium of Liverpudlian song in the same way that Gary McAllister was?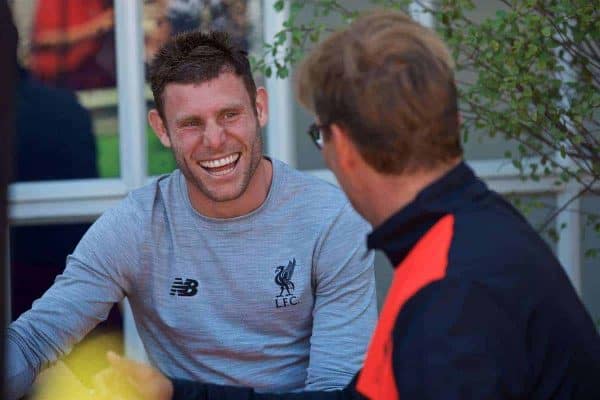 Just ramming the 'City reject' chants down Mancunian throats by helping to knock them out of the Champions League in 2018 and winning it in 2019 deserves a chant in my eyes and when you think how some other midfielders have been serenaded by Kopites over the years (I loved Maxi Rodriguez, and his song, but Milner has achieved way more than he did at LFC) it seems curious that, in his fifth season at Anfield, he doesn't have a song worthy of his contribution. It needs putting right as it's not like there isn't anything to sing about…
He signed for free, he signed for free! From Man City, from Man City!
Your City goal, your City goal! Your Spurs peno, your Spurs peno!
Your Man U pen, Your Man U pen! Your derby goal, your derby goal!
Your Dortmund cross, your Dortmund cross! He's fucking boss, he's fucking boss!
Ohhhh, Jimmy Milner, Jimmy Jimmy Milner…
---
* Chris McLoughlin writes for This Is Anfield each week; he's also senior writer for the Official LFC Matchday Programme and LFC Magazine. You can order both here.