Liverpool's saunter five points clear at the top of the table was thanks in part to a magical performance from first-half sub Roberto Firmino.
Newcastle United coming to Anfield is usually a guarantee of entertainment and this season's visit from the Magpies didn't disappoint.
From dispossessing Newcastle of the ball by their own corner flag, to rolling it into the Anfield Road end net via a deliciously delivered piece of Roberto Firmino skill—all topped off with the concern the goalscorer showed toward an injured player in a black-and-white-striped shirt—Liverpool's third goal on Saturday was quite possibly the most 'Salah' goal I've ever seen Mohamed Salah score.
Strange and Beautiful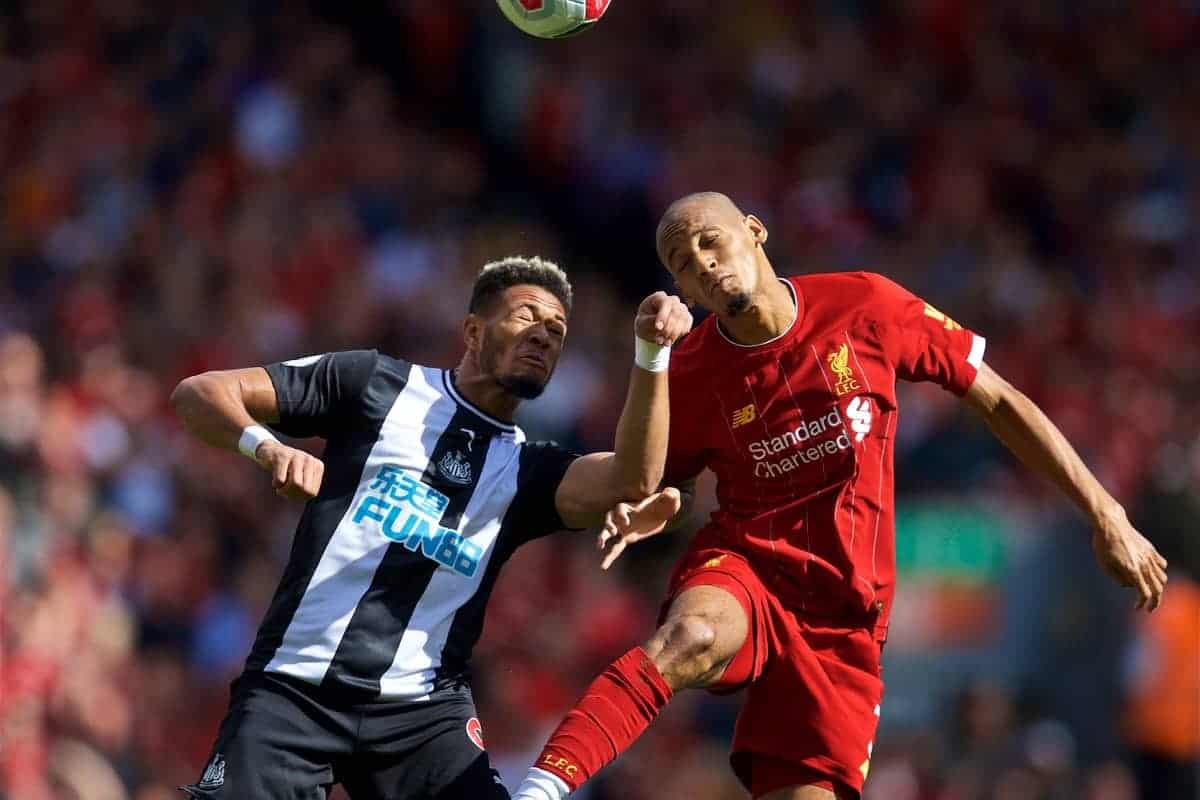 It was a strange and beautiful performance against Newcastle.
We started sluggishly; Jurgen Klopp lost his shit with the crowd at one point, for not creating the type of atmosphere his team thrives upon.
Newcastle's supporters sang in speculation of Michael Owen being a wanker, while Liverpool's supporters just shrugged their shoulders, seemingly neither in agreement nor disagreement with the accusations.
A handful of opportunities were conjured up that would have been goal of the season contenders, had they dropped into Martin Dubravka's net, most notably from Gini Wijnaldum and Andy Robertson.
The goals that did find their way into the Newcastle net should be contenders for goal of the season, however.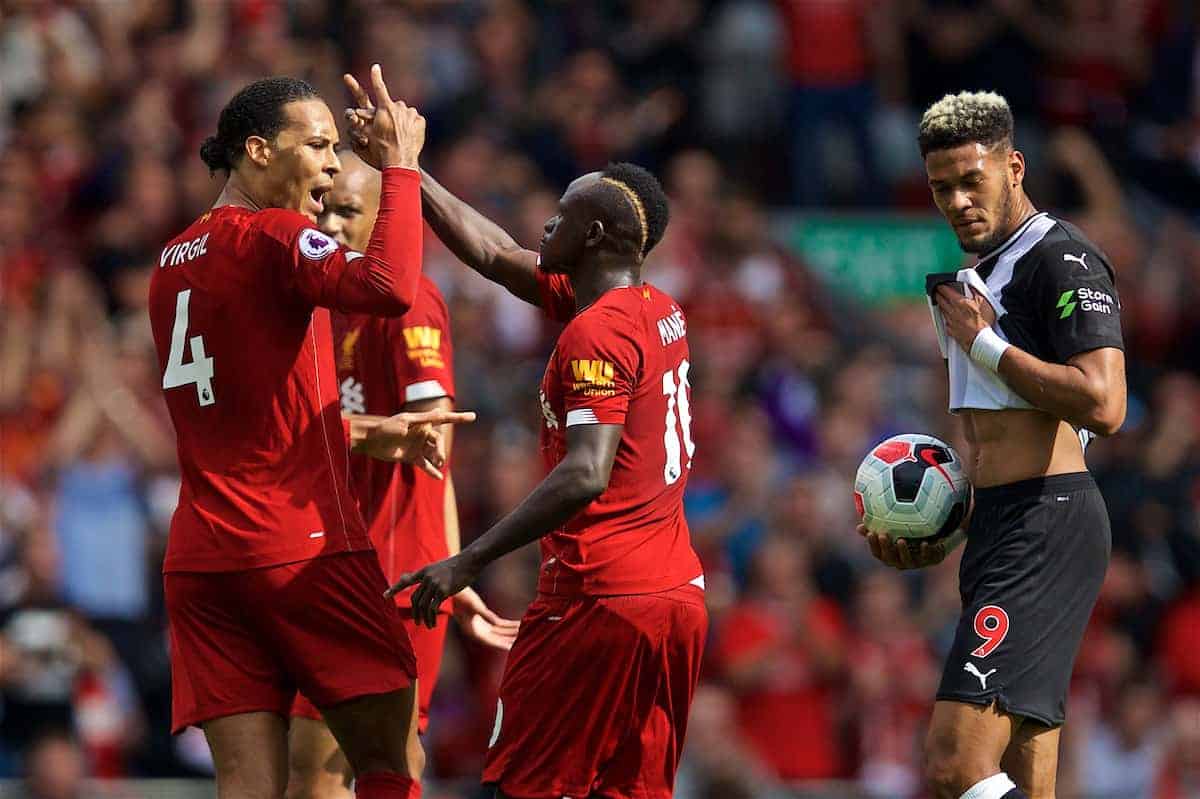 Sadio Mane just gets better and better, while the portrait of the pantomime villain, that Salah has once again been painted to be, has morphed back towards the image of a hero.
It was noticeable at Anfield on Saturday, that of the songs sang in celebration of Salah, Mane and Firmino, it was Salah's that was the one sang with less enthusiasm, at least before he scored.
This is where trying to find favouritism in one element from our bewitching front three is futile. Just embrace all three of them for what they are, both individually and as a collective.
Priceless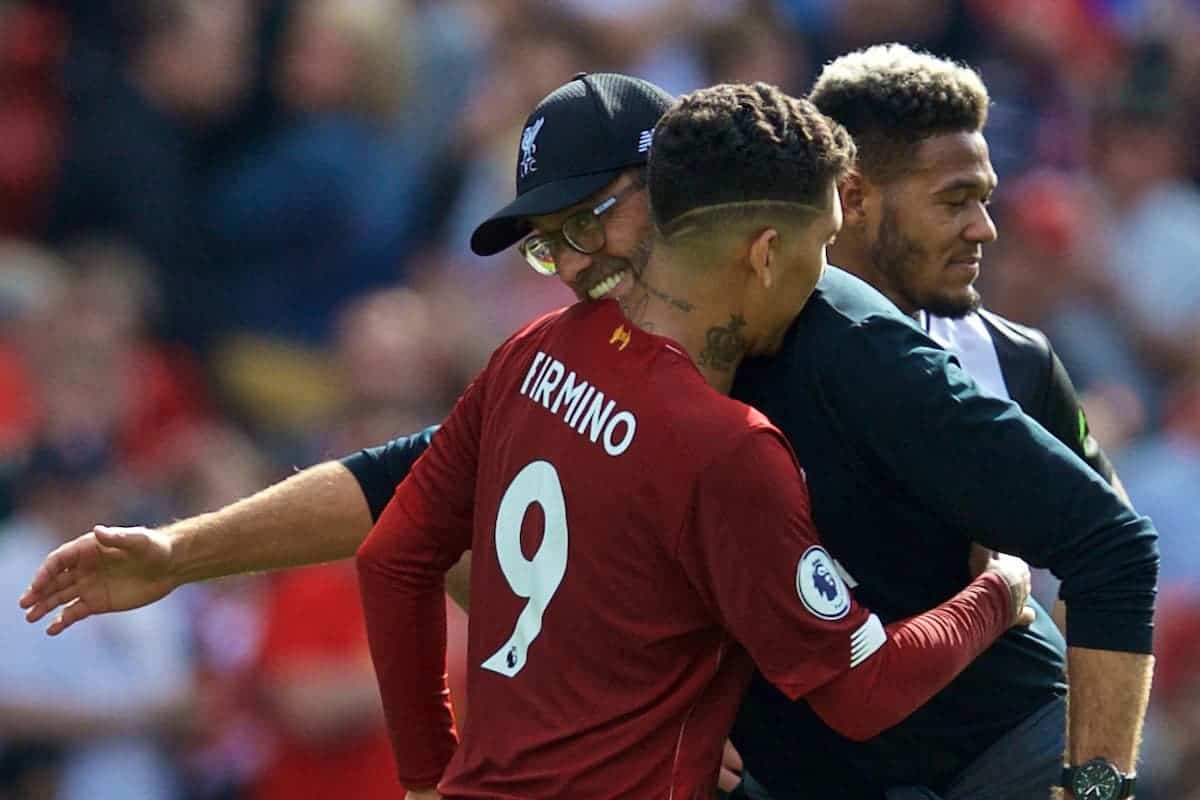 Firmino again showed his priceless quality. No disrespect to Divock Origi intended, and it must be hoped his injury does not keep him out for long, but we are markedly less fluid when Bobby sits a game out.
Nobody can open a defence quite like Bobby. The man is absolutely outrageous.
Mane is simply in the form of his life. Apparently, there are some Everton fans who genuinely believe Klopp's Liverpool are on steroids. This is as close to a compliment as we are ever likely to receive from the most militant of our cousins from across the park.
Salah is entirely Salah. There is nothing else he can be. Whereas the other two throw out surprises from time-to-time, like Firmino dropping in to cover at left-back at one point on Saturday, when Robertson went on one of his wonderful attacking adventures, Salah is that inner-child of the team, that wants the ball all the time and sulks when his mum shouts him in for his tea.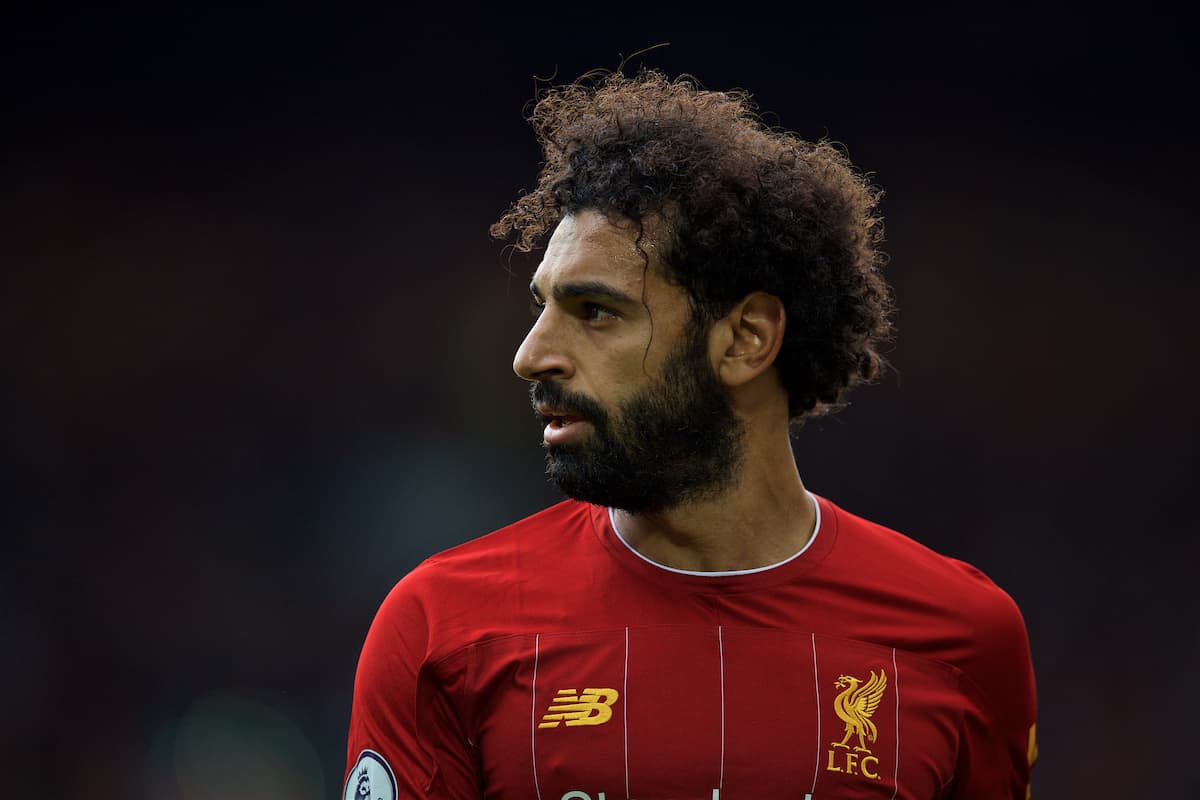 And good god, the things Salah can do with the ball leaves you bursting with pride. I've seen a lot of Liverpool teams, I've seen the greatest Liverpool teams, but I'm not sure I've ever seen a Liverpool team play with such a heightened sense of fun as this one.
Dominant in midfield, Alex Oxlade-Chamberlain grew into the game beautifully. He is slowly but surely edging towards a full physical and mental recovery from that devastating injury he sustained. Fabinho was imperious, while Wijnaldum was at his mischievous best.
A little too generous with space in defence early on, and for a short spell in the second half; Newcastle's goal had a hint of offside in the build-up, while Emil Krafth was gifted a golden opportunity that he panicked over.
Knife-Edge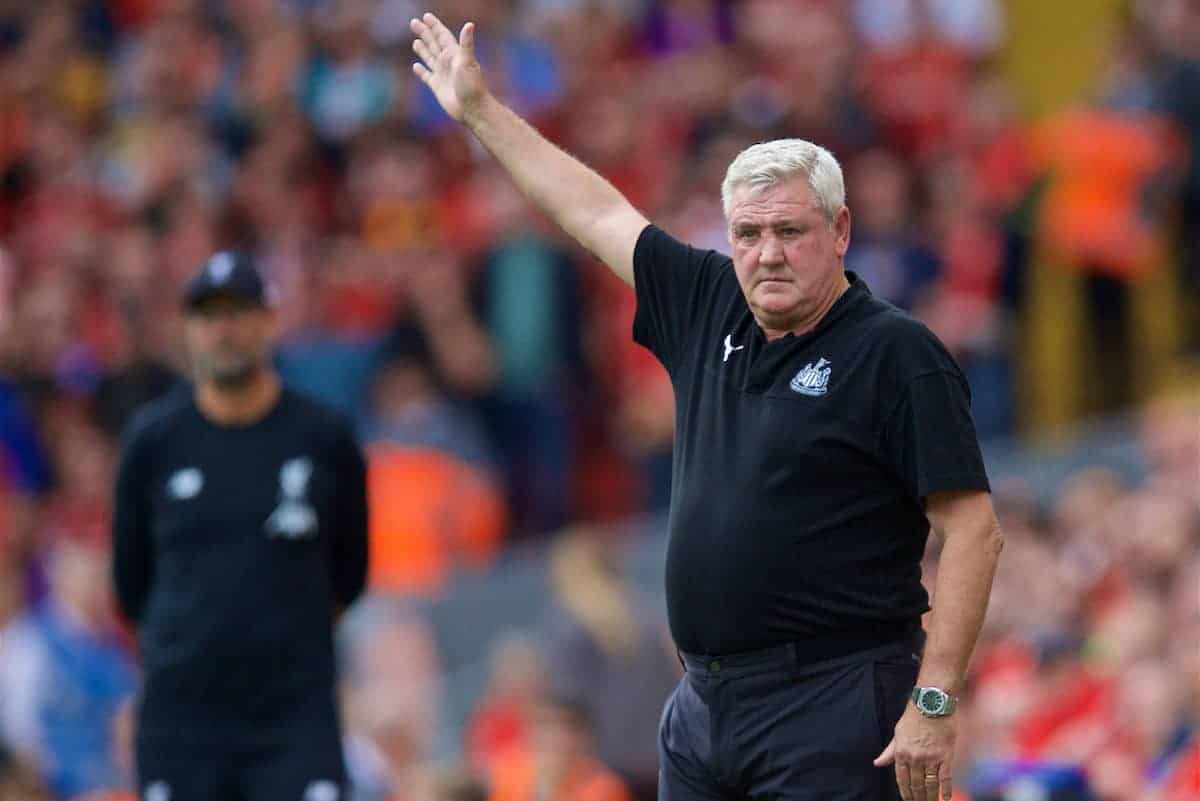 Given the amount of stylish near-misses we had, it was mad that the game rested on a theoretical knife-edge at 2-1 until the 72nd minute. In practical terms, we should have scored six and had a compelling case for a first-half penalty.
Newcastle need applauding for having a go at us.
They are the most peculiar club in the Premier League. They are a soap opera of a football club. It is still incredulous that they could wilfully let Rafa Benitez slip through their fingers, only to replace him with Steve Bruce.
Of course, there was a rendition of "Big Fat Head" to be heard. Yet, this is something which has become a Punch and Judy style of interaction with the former Manchester United defender.
Bruce basically comes across as a decent human being, albeit one who is a little too eager to ditch the football clubs he is employed by, for others that inexplicably flutter their eyelashes at him.
Unloved and unwanted by the supporters of the team he manages and far from respected by supporters of other clubs, he operates in a footballing form of suspended animation. It must be a weird, yet well-paid, existence.
This Brings Us Back to Michael Owen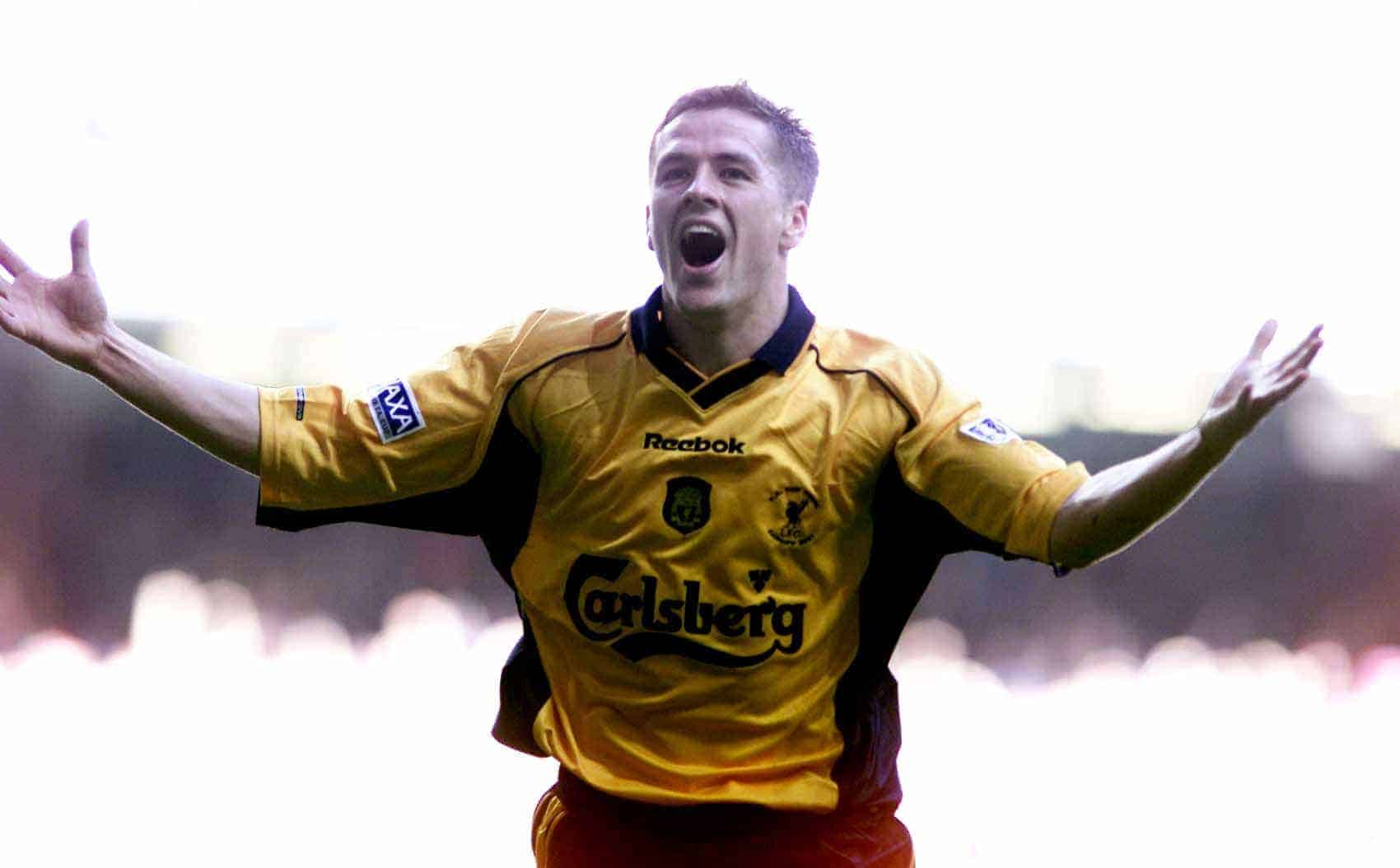 A man with a new book to sell, he has opted for an 'edgy' persona and strategy to try and shift copies. He regrets signing for Newcastle and he thinks Manchester United are closer to Liverpool than general society thinks they are.
Liverpool supporters are meant to be indifferent towards Owen because of his time spent at Manchester United.
This is too simplistic however. At the height of his Liverpool powers there was always a train of thought that he would be off and away by the time he was in his mid-20s.
Ambitious to play abroad, an eye on the biggest prizes the game can offer, a lack of patience to wait for the light at the end of an ever-stretching tunnel at Anfield and seemingly a commercial creature at heart. He was effectively Liverpool's first laminated 'sports star'.
Liverpool served a purpose for Owen, while Owen served a purpose for Liverpool. It felt like a business arrangement, in comparison to how Robbie Fowler had embraced the club.
Conversely, there was the 2001 FA Cup final. And, for those who remember it, or even more so, were there to imbibe it, as I was, they shouldn't be too hard on him.
Once in a Lifetime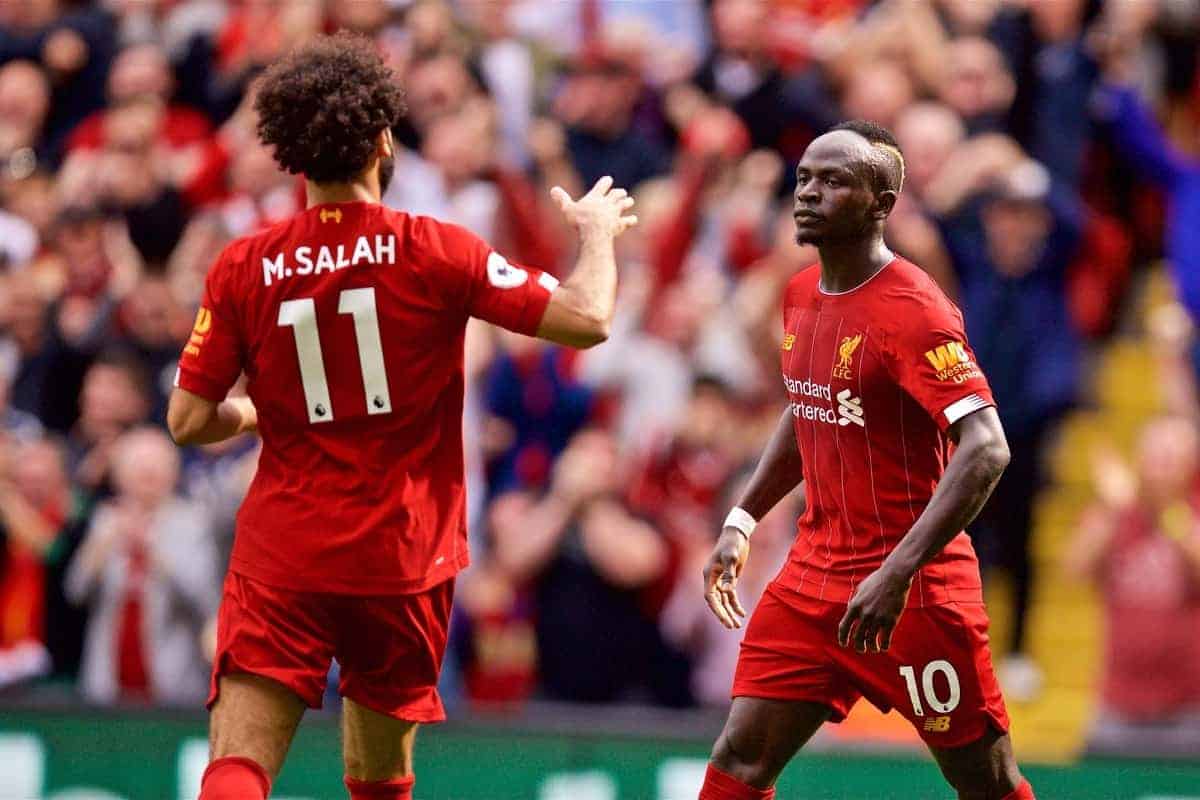 It all suddenly feels like a lifetime ago anyway, just as Steven Gerrard's slip does, which Newcastle's supporters still insisted upon singing about on Saturday.
The Liverpool of now is about the hypnotic movement of the team that Klopp built. A team that is blessed by the presence of Firmino, Salah and Mane, yet not solely reliant upon them. A team of heroes from back to front.
A team that is only going to get better and better.