Liverpool have scored some wonderful goals during Jurgen Klopp's time as manager, but what about the forgotten gems? We take a look at 10 standouts.
The Reds boss is celebrating four years in the Anfield dugout, during which time he has emphatically delivered his promise to turn "doubters into believers."
Klopp has been rightly lauded for inspiring some magnificent football from his side, with a variety of top-class goals catching the eye.
There have also been strikes that have been consigned to history, however, whether it be in losing causes or because they are subtle in their brilliance.
Here are 10 of the most underrated goals of the Klopp era.
Divock Origi vs. West Brom – December 13, 2015

This wasn't an eye-catching effort, but in hindsight, Divock Origi's strike at home to West Brom was significant.
Trailing 2-1 against the Baggies in December 2015, Origi's late deflected attempt found the corner of the Kop net, securing a point for his side.
Klopp and his players were ridiculed for 'celebrating' in front of their fans after the final whistle, but it was all part of the manager's masterplan.
It was a message of thanks to the fans, telling them how influential they can be to this team—the Anfield atmosphere has been improved ever since.
Daniel Sturridge vs. Sevilla – May 18, 2016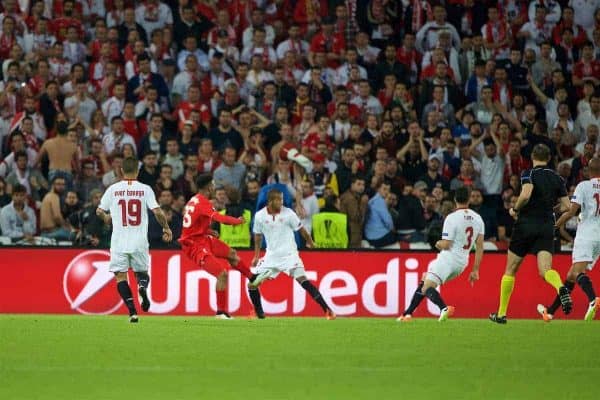 Although still cherished by some, Daniel Sturridge's goal in the 2016 Europa League final deserves so much more love.
The former Reds striker produced a stunning outside-of-the-boot finish to give Liverpool the lead against Sevilla, only for Klopp's men to lose 3-1 in Basel.
Had Liverpool won that night, this would be considered one of the Reds' great final goals.
Divock Origi vs. Bournemouth – December 4, 2016

Few Premier League matches during Klopp's tenure have been more disappointing than the 4-3 defeat away to Bournemouth in 2016/17.
A game that was made famous for Loris Karius having a nightmare at Dean Court, there was also a stunning goal to enjoy before it all went wrong.
Faced with an almost impossible angle, Origi somehow fired a shot into the net to put the Reds 2-0 up, in a wonderful show of technique.
Jordan Henderson vs. Chelsea – September 16, 2016

Jordan Henderson doesn't score many goals at all, but when he does, there is often an element of drama to them.
The Liverpool skipper scored arguably his best goal for the Reds at Chelsea in 2016, curling a perfect shot into the top corner from 30 yards.
Perhaps it's because it's Henderson, but very few mention this long-range beauty now, thought it earned the Reds a massive three points at Stamford Bridge.
Had it been Steven Gerrard or Philippe Coutinho, it would rightly belong in their highlight reel.
Roberto Firmino vs. Swansea – January 21, 2017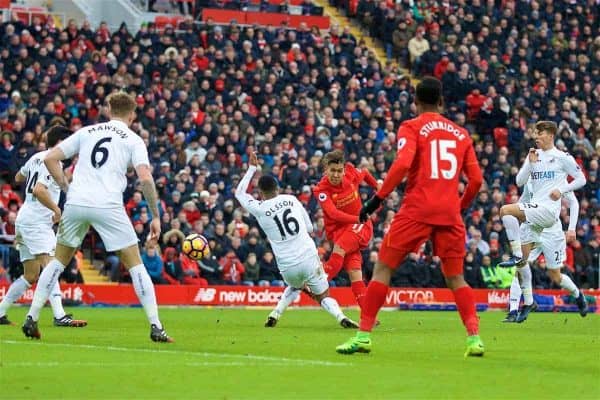 Another defeat, another classic that we've allowed to erase from our memories.
Liverpool lost 3-2 to Swansea in shock fashion in January 2017, finding themselves 2-0 down in the second half.
Roberto Firmino launched a one-man comeback, however, pulling one goal back before scoring a supreme equaliser, chesting the ball down, spinning and firing home on the half-volley.
It was a majestic goal that summed up the Brazilian's unique talent.
Gini Wijnaldum vs. Middlesbrough – May 21, 2017

It's easy to forget what a perilous position Liverpool found themselves in on the final day of the 2016/17 season.
Only a win would do against Middlesbrough in order to guarantee a return to the Champions League, and it was 0-0 until late in the first half.
Then Gini Wijnaldum stepped up with a thunderous finish in front of the Kop, easing the nerves and allowing Liverpool to cruise to a 3-0 victory.
Without that goal, things could have panned out very differently.
Emre Can vs. Hoffenheim – August 23, 2017

In terms of beautifully worked team goals, few have topped this one during the Klopp era.
Liverpool dismantled a dangerous Hoffenheim team in the Champions League playoffs in 2017 and Emre Can's memorable effort was immaculate in its execution.
A sublime pass from Wijnaldum found Sadio Mane, whose back-heel allowed Firmino to dink a perfect cross into the path of Can.
Magic.
Alex Oxlade-Chamberlain vs. Man City – January 14, 2018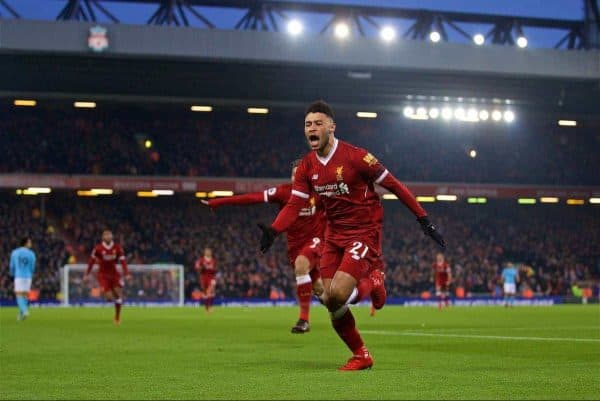 Everyone remembers Alex Oxlade-Chamberlain's Champions League thunderbolt against Man City, but what about another great strike a few months earlier?
Pep Guardiola's side rocked up to Anfield still unbeaten in the league, only for Liverpool to beat them 4-3 in a thriller.
Oxlade-Chamberlain got the ball rolling, rampaging through the midfield before firing an unstoppable low shot past Ederson.
It was the moment that he came alive in a Liverpool shirt.
Mohamed Salah vs. Tottenham – February 4, 2018

It's a travesty that this wasn't a winning goal.
Mohamed Salah was unplayable during the 2017/18 campaign and Tottenham were powerless to do anything about his genius at Anfield.
Having already scored earlier in the afternoon, a magical run and finish stunned Spurs in stoppage time, putting Liverpool 2-1 up.
Unfortunately, an even later Harry Kane penalty robbed the Reds of both a victory and a legendary Premier League winner.
Roberto Firmino vs. Man City – January 3, 2019

This could be the most underrated goal of the lot.
Once again, it has been forgotten about because Liverpool lost 2-1 to City last season, but it is one of the great Reds team goals.
They kept the ball for what felt like an eternity, passing with purpose, before Trent Alexander-Arnold found Andy Robertson, who laid it on a plate for Firmino to head home.
Watch it back—you'll realise just how good it is!