For Liverpool the 4-1 win at Genk was not as straightforward as the scoreline suggests, as the Reds were as hypnotic as they were disorientating.
No away win in the group stages of the Champions League for two years they said; a comfortable away win expected at Genk they said. Something had to give, and it did, just not in the way we may have thought, however.
When Alex Oxlade-Chamberlain beautifully guided in the opening goal with just two minutes on the clock, you'd have been forgiven for thinking the game was already up for Genk.
If You Don't Know the Score Look Away Now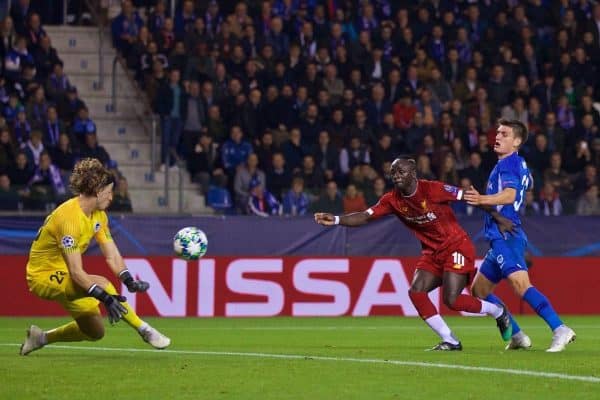 Had you not watched a single minute of the game, but seen the final score, you'd have quite reasonably presumed that it had been a walk in the park for Liverpool.
Given the style and panache with which Liverpool scored their goals, it is almost unthinkable that Genk provided the array of difficulties that they did. In this respect, our trip to Belgium was a profitable, yet disorientating one.
This was a win that challenged the senses.
Mbwana Samatta bursting through on goal, only to skew his effort wide should have acted as a wake-up call that focused minds, yet it didn't.
A quick goal at the start of a game can scramble the thought processes of the team that scores it, just as much as the team that concedes it.
As the conceding team, what is the worst thing that can happen when you ship a goal within 120 seconds of the kick-off? You can either respond positively or negatively. Heads can drop and you can be brushed aside mercilessly, or you can punch back immediately.
When you concede that early goal you are handed a very black or white choice: kick or be kicked.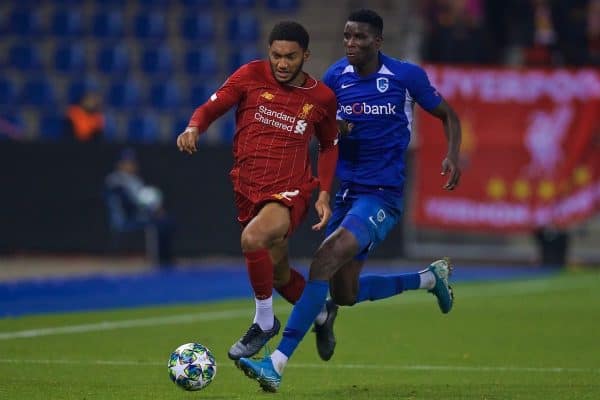 For the scoring team, there tends to be a period where they zone out. You can hope to score early, you can set out to do so, but you can't really expect it. Goals produce an adrenalin rush but scoring in the opening few minutes is always that bit more of a heightened experience than scoring 20, or 30 minutes into a game.
If you reach the half-hour mark without a goal being scored, then as a supporter you begin to get edgy, the nerves start to make their presence known. You subconsciously start to identify those who are responsible for this perceived sluggishness.
Why haven't we scored and who isn't working hard enough for us to do so? When a goal eventually comes it is laced with a thin layer of relief.
I'm not the only person to have ever peddled the theory that you can score too early.
For evidence of this, cast your mind back to the first Saturday of June; for proof of this think back to Madrid and how Tottenham Hotspur's shoulders eased after conceding so early, a swift and devastating blow, from where they were the more dangerous team for much of the next 70 minutes.
What's Samatta With Him?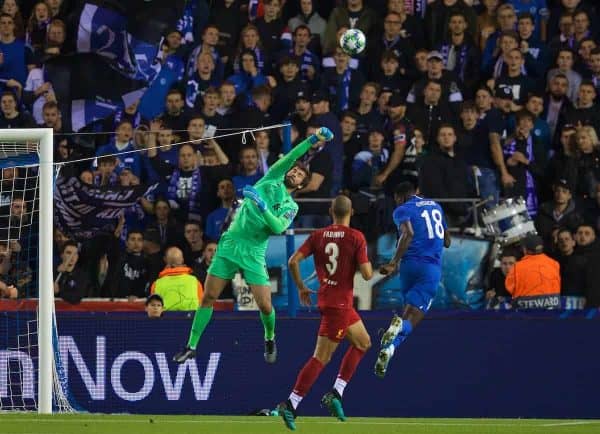 On Wednesday evening, not long after Samatta had burst forth, Paul Onuachu was soon bearing down on goal, forcing Alisson Becker to produce a low save. Onuachu was hindered in his efforts by James Milner's crucial interjection.
We were widely troubled by the speed of Genk's forward two. There is something admirably anti-modern football when a team belligerently fields a 4-4-2 formation. Genk are well within the spirit that has been shown by Red Bull Salzburg in this respect, not in formation, but in their willingness to have a go.
Both Genk and Salzburg are out there to compete, they are out there to play football and basically to enjoy their Champions League campaigns, no matter how long they might last. They should be applauded for it.
One of these two teams will likely drop into the Europa League and we will embrace a couple of Thursday evenings in the new year when they go to Old Trafford and knock Man United out of Europe's secondary tournament.
Other headaches were administered by Genk: Junya Ito fell over when well positioned, Samatta had a goal disallowed harshly-when classed in terms of his challenge for the ball. VAR spotted an offside in the build-up though. A case of the referee's call being wrong, but VAR rightly finding another reason to chalk the goal off.
Genk produced other various buttock clenching incidents.
Multitasking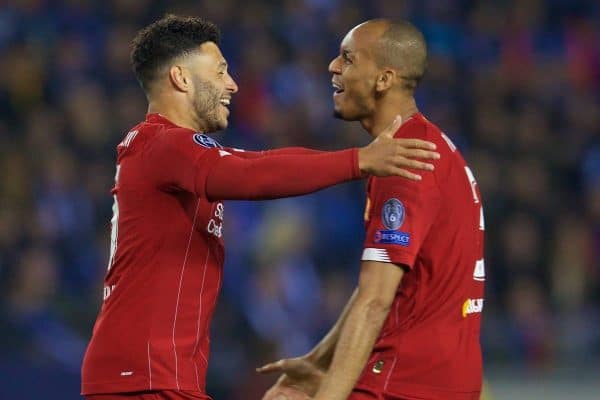 This Liverpool can multitask however, it bides its time and it punishes opposing teams that can't find goals when they are in ascendancy.
Liverpool's brand of punishment is hypnotic. Oxlade-Chamberlain's second goal was ball-striking technique at its very best. With this performance and the quality of the goals he scored, Oxlade-Chamberlain has announced that he is close to obtaining his pre-injury status, as a midfielder of growing importance.
Our second goal killed Genk off and out came the party pieces. Sadio Mane and Mohamed Salah contributed two more aesthetically astounding goals. Never mind a goal of the month competition, this was a goal of the second half competition.
Bobby Firmino played a delicious part in all of Liverpool's goals, but it was that first-half flick to play in Mane that scorched the mind most of all. Had Mane managed to put that one away, then we might as well have just disbanded the game of football there and then. Perfection attained and nothing left to fulfil. What would be the point in carrying on from there?
Genk got a consolation late on that was deserved, yet frustrating. The 4-1 scoreline distorted the endeavour Genk showed, but was rich reward for the calibre of the goals we scored.
It was a yin and yang type of game.
Sunday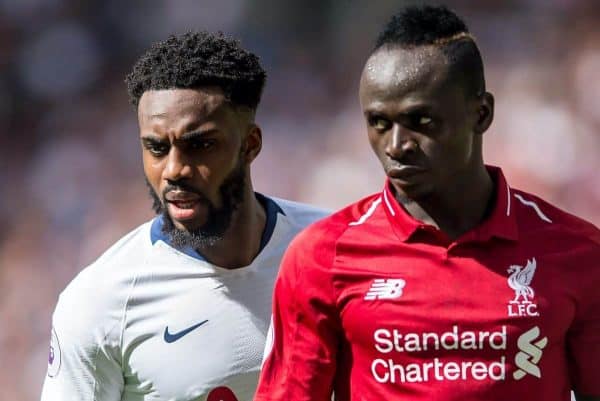 Spurs have enjoyed a European goal-glut of their own this midweek. Showing signs of rousing themselves and still stinging over Madrid, Sunday could be a wild ride.
Be prepared.