The media were critical of VAR, but praised Liverpool's comeback to 1-1 at Man United which could prove a much better result than the last Old Trafford draw.
The club-record league winning run ended at 17 games after Jurgen Klopp's side were held to a frustrating draw in Manchester.
Adam Lallana's first goal since May 2017, coming five minutes from time, rescued a vital point to keep the unbeaten start intact after Marcus Rashford's tap-in put United in front.
Overall it was a disappointing performance from the Reds yet again at Old Trafford, but still leaving with a point despite such a below-par display can only be viewed as a positive.
Here's how the media assessed the stalemate.
Reporters thought this Old Trafford draw was better than the last and further proved Liverpool's title credentials…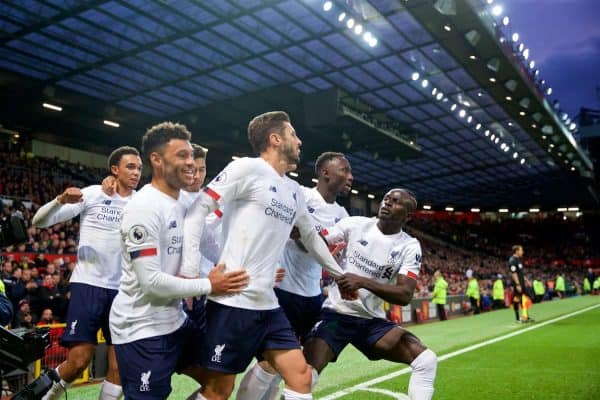 First of all, Goal's Neil Jones reflected on the silly pre-match talk of an easy Reds win and correctly stated how this was always going to be a tight game:
"It all made a mockery of the pre-game predictions, as the world seemingly waited for an away win.

[…]

"But anybody expecting a stroll for the visitors clearly doesn't know this fixture. United, written off repeatedly, were always going to deliver more than they had so far this season."
Writing for The National, Richard Jolly praised Liverpool's "powers of recovery" after once again finding a way to dig out another crucial late goal:
"Two weeks after James Milner's 95th-minute winner against Leicester City came Adam Lallana's 85th-minute leveller at Old Trafford.

"In the space of two games, Liverpool have gained an extra three points with their powers of recovery."
The Liverpool Echo's Ian Doyle said this was a better Old Trafford point than that of February, and thought the fact it was earned despite an off day perfectly illustrated Liverpool's credentials:
"While the draw here last February – and more pertinently the visitors' timid approach – was highlighted by some as the reason the Reds aren't reigning Premier League champions, events this time underlined, in a roundabout way, why Jurgen Klopp's side are clear at the top of the table.

[…]

"They refuse to give in. And, no doubt with the fire of injustice burning strong and helped by some second-half tactical tinkering from Klopp, the character that has become a cornerstone of this Liverpool side dragged them back into it."

The Mirror's John Cross noted how United's inability to beat the Reds when Klopp's side produced their worst performance of the season showed the gap between the teams:
"This was by some distance Liverpool's worst performance of the season and yet the brutal truth was that Manchester United at their best were still not good enough to beat their great rivals.

"That underlines the gap in quality and class between the two teams and why Liverpool are six points clear at the top of the Premier League and United are struggling."
Jones, however, made a fair point on how Klopp's side can't afford too many such days in pursuit of the big prize:
"As for Liverpool, their sights are set much higher. They are still in the box seat, of course, but will know that they can't afford too many days like this."
Many discussed Liverpool's off day and assessed that United may have found the way nullify the Reds…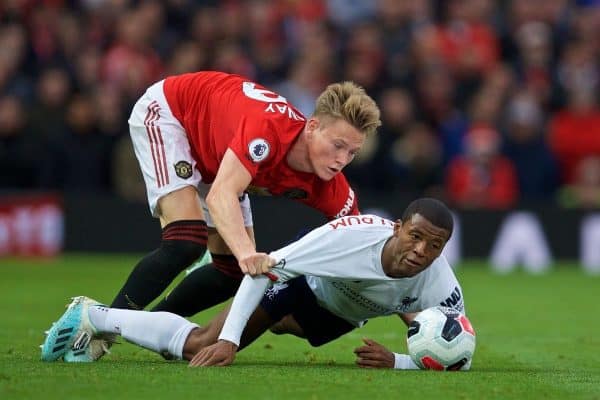 The Mirror's Rich Jones was critical of the Reds' mentality, assessing that they were simply overawed by the occasion:
"Uncharacteristically, the occasion seemed to get to Liverpool in the first-half and they were far from at their best.

"They recovered slightly after the break, but it was ultimately United who looked spirited and energised by the occasion as Liverpool ensured a rare off day."
The Independent's Miguel Delaney thought Liverpool's decision to play a more conservative game backfired and thought the Reds were bullied by United's physicality:
"It was yet another tense and scrappy game between these two sides, in a way that really did influence the final result, although there was logic to Liverpool's more conservative approach.

[…]

"Repeated performances have proved that the way to beat this more reactive United is to cede the initiative, but you still need physical application to make it work."
Similarly, the Evening Standard's David Lynch was critical of how the Reds allowed United to drag them down into a physical contest:
"The Reds allowed the hosts to drag them down to their level, panicking in possession and letting the game descend into a scrap that suited Ole Gunnar Solskjaer's men."
ESPN's James Capps thought the Reds were knocked out of stride too easily by United's harrying and felt Klopp's side didn't do enough on the ball once the influence of full-backs was limited:
"The Champions League winners looked nervous in possession as they were harried by an energetic United frontline and midfield.

"Meanwhile, the home side's effective use of wing backs pinned back Liverpool duo Andy Robertson and Trent Alexander-Arnold, cutting off a vital supply line to a front three that saw little of the ball."

Meanwhile, Delaney felt United's work in restricting Robertson and Alexander-Arnold was so effective that the Old Trafford side have provided a blueprint in how to stop Liverpool:
"United did a fine job at pegging them back, particularly at full-back.

"In fact, it wouldn't be too much of an exaggeration to say Solskjaer has become the first coach to really offer a workable solution to the problem posed by Klopp's wide defenders."
And the Mail's Ian Ladyman thought Mo Salah's absence was really felt, but also thinks Liverpool must be better prepared without the Egyptian, with a lack of creativity in midfield again an issue:
"Salah's absence really should not hinder them like it did here, nor should an opponent's desire to sit deep and work frustrate them.

"At times – as strange as it sounds when discussing such a free scoring team – Liverpool do look short of a safebreaker."
VAR came in for plenty of criticism in the post-match reports…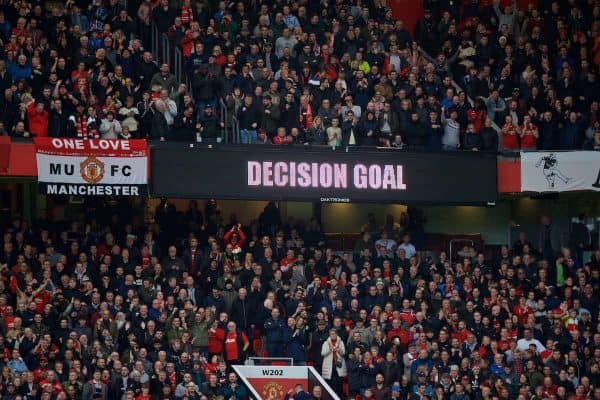 Opening the criticism, Jason Burt of the Telegraph labelled it "astonishing" that United's goal was given after Divock Origi was clearly fouled by Victor Lindelof:
"Yes, the Liverpool forward appeared to over-react but he was caught Lindelof. Astonishingly after the VAR check the goal was allowed with Klopp in animated discussions with the fourth official Jonathan Moss.

"Clear and obvious? It appeared to be."
Lynch wrote how VAR 'let Liverpool down' on the day and can't understand what needs to happen for a refereeing decision that is clearly wrong to be overruled:
"And the situation involving the Belgian had clearly been deemed worthy of inspection, so what would the Video Assistant Referee have needed to see for the strike to be ruled out?

"Perhaps Victor Lindelof not kick Origi quite hard enough to merit intervention?"
The Independent's Mark Critchley bemoaned how the technology is not providing what it is supposed to and is instead only confusing matters:
"Those incidents will be argued over and over again in the days to come, but the biggest problem with VAR remains that by attempting to implement one set of rules, it has created a whole new category which also need to be followed.

"How clear is 'clear', how obvious is 'obvious', and how far is 'too far back in the move'? A device which threatened to 'end debate' has only intensified it."
Members of the media found big positives in the work of those introduced from the bench…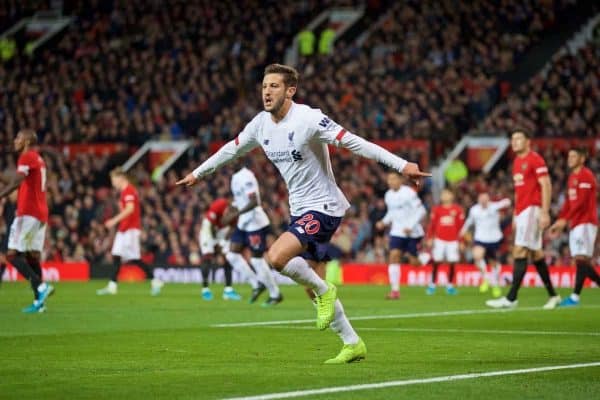 Neil Jones praised Lallana for making such a decisive contribution at a time the Reds really needed it:
"What a time for Lallana to deliver.

[…]

"He may not be first choice at Anfield anymore, but this was a big contribution from a player who has been desperate to make one."
Lynch felt Naby Keita made a great impact and believes the No. 8 should now be in line for more starts to really kick-start his Reds career in upcoming games:
"The Guinean showed an invention and composure that had been sorely lacking from the Reds' midfield all afternoon following his introduction as a late substitute.

[…]

"Such was Keita's influence, Klopp may well wish he had started his No. 8 from the off, though at least there will be plenty of chances to do that in the coming games."

Finally, Jolly again noted how Liverpool looked better in the 4-2-3-1 formation that Klopp switched to, also praising Alex Oxlade-Chamberlain's impact in the changed setup:
"David de Gea had only had to make comparatively simple saves to deny Gini Wijnaldum and Firmino but Liverpool improved after Klopp's switch to 4-2-3-1 and Oxlade-Chamberlain's introduction."